If you're in search of a good travel makeup bag I have a few favorites I'm sharing today! I've put quite a few to the test over the years and I'm rounding up the ones I swear by to haul around my makeup for travel. I've tried so many different brands, sizes and styles over many trips. I'm constantly testing different shapes in search of the best ones to pack my makeup. Finding the best makeup bag for me depends on trip length and destination. I like to have different options for makeup vs. skin and hair as I keep things separated by product type so it's easier for me to find things. I also like flat zip or snap closure pouches to carry around with me as well. Today I'm sharing the three travel pouches I brought with me on my most recent trip along with more thoughts and comparisons on a few different styles/shapes.
_________________
The Daily Edited
The Daily Edited makes some of my favorite travel makeup cases. They functional, chic, well made and I love the personalization options! I really love their Large Cosmetic Case. It's roomy with a wide base so I can fit quite a bit inside. I own this in a couple colors and I've brought this one on every single trip since I purchased it in fall 2017. It has a saffiano textured finish and both have held up really well. Another one of my favorites is their Transparent Cosmetic Case for an affordable option to the Anya Hindmarch Inflight Bags. You can read the review plus comparison in this post here. Quick note that since I bought mine The Daily Edited has changed the design slightly of the trim which you can see on their website. I usually bring the transparent one with me as well but there was a new bag from Truffle that I wanted to try this trip.
Closer look at The Daily Edited Large Cosmetic Case in Black ($100). I picked the smaller font option with blind embossing. It measures 5.3″ high x 8.9″ wide x 4.3″ deep.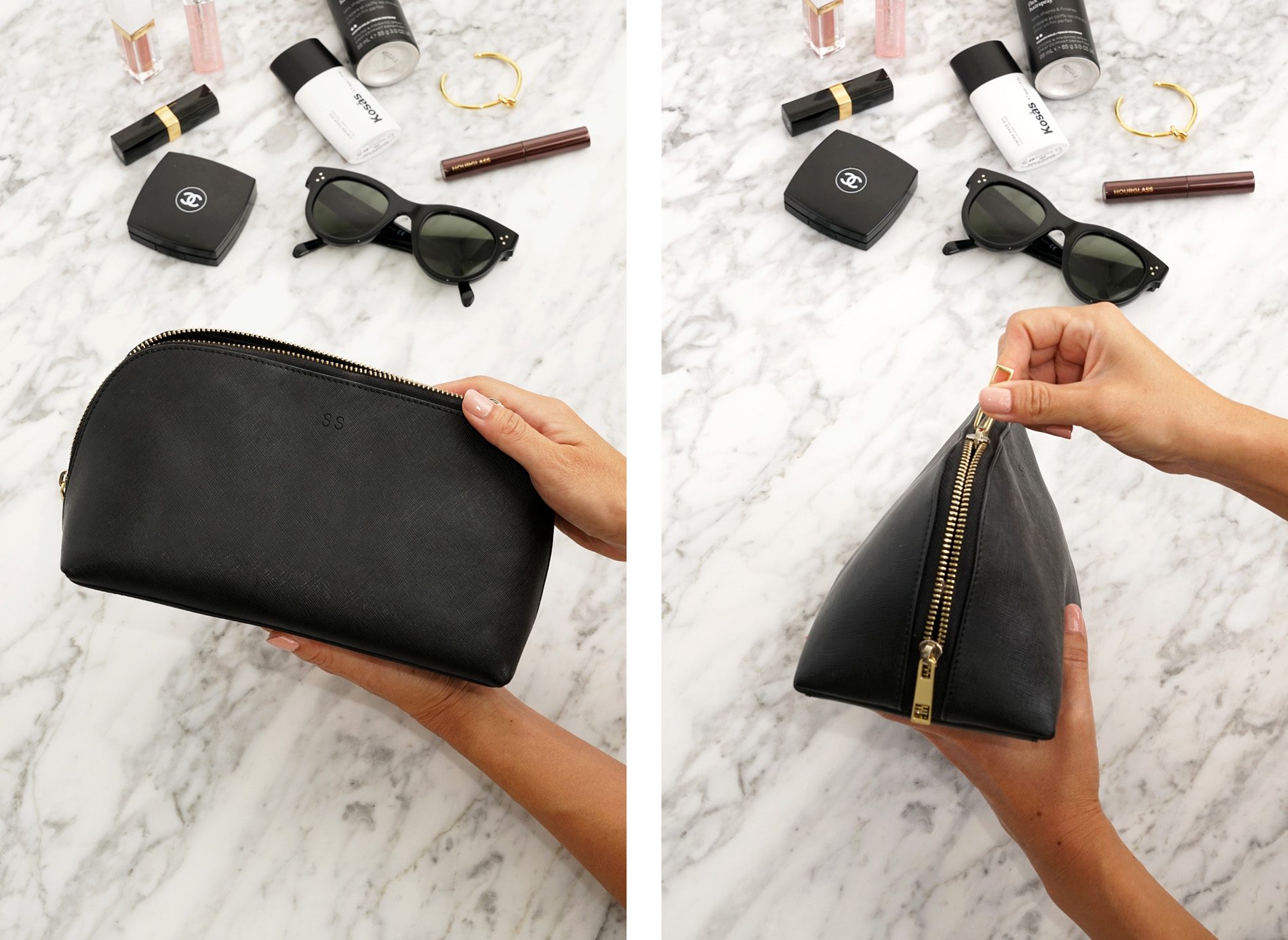 Skincare and haircare I packed inside the bag this trip:

_________________
Truffle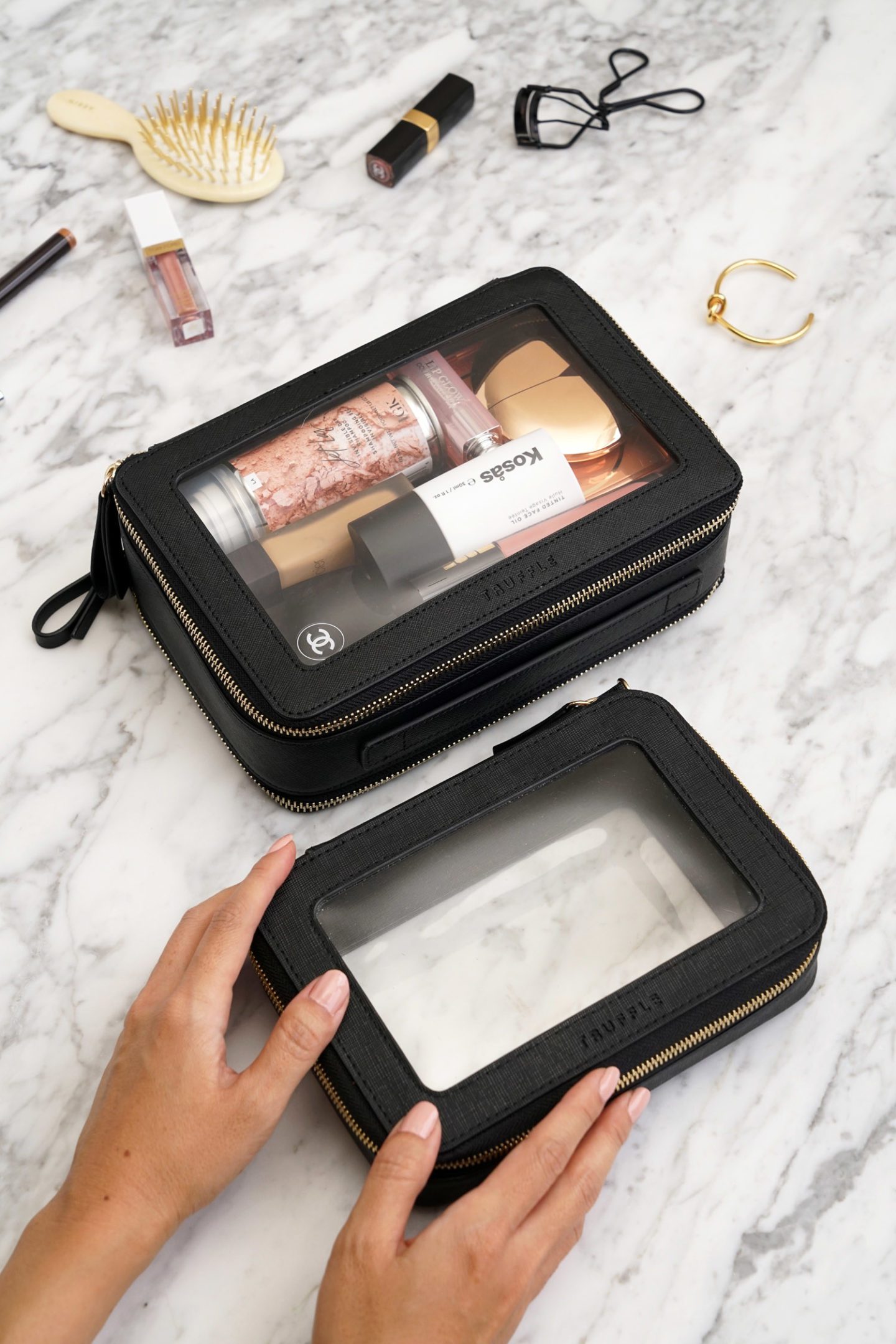 Top: Clarity Jumbo Jetset 9″ W X 3″ H X 6″ D
Bottom: Clarity Jetset 7 1/2" W X 2″ H X 5 1/4" D
Truffle has been a long time favorite as well – I carry their flat pouches with me pretty much everywhere I go. I have them in my purse, in my gym bag and they are always part of my travel uniform. I've used these for years and found that their plastic material and leather has held up really nicely even with regular use. Similar to any clear material the plastic will get get dirty with smudges but it's easy to clean. I clean mine with Novus Plastic Clean and Shine every once in a while and it removes all the sand, debris and smudges. For travel I always pack their Clarity Jetset Case with me. They're small enough to throw in my tote for day-to-day. They're also good for bringing some inflight essentials with you. For ideas on how to use it, you can see what I packed inside for our California trip last year in this post here. I also pack my on-the-go fitness beauty essentials inside it for when we go out and run. Truffle just launched a Clarity Jumbo Jetset Case which is a larger version and has two zip around compartments. It's longer and deeper so can fit more things like longer makeup compacts (I put my Naked Reloaded inside and it fit perfectly!). One half has an elastic band to help hold things in place.
A closer look at the Clarity Jumbo Jetset Case ($125). Measures 9″ W X 3″ H X 6″ D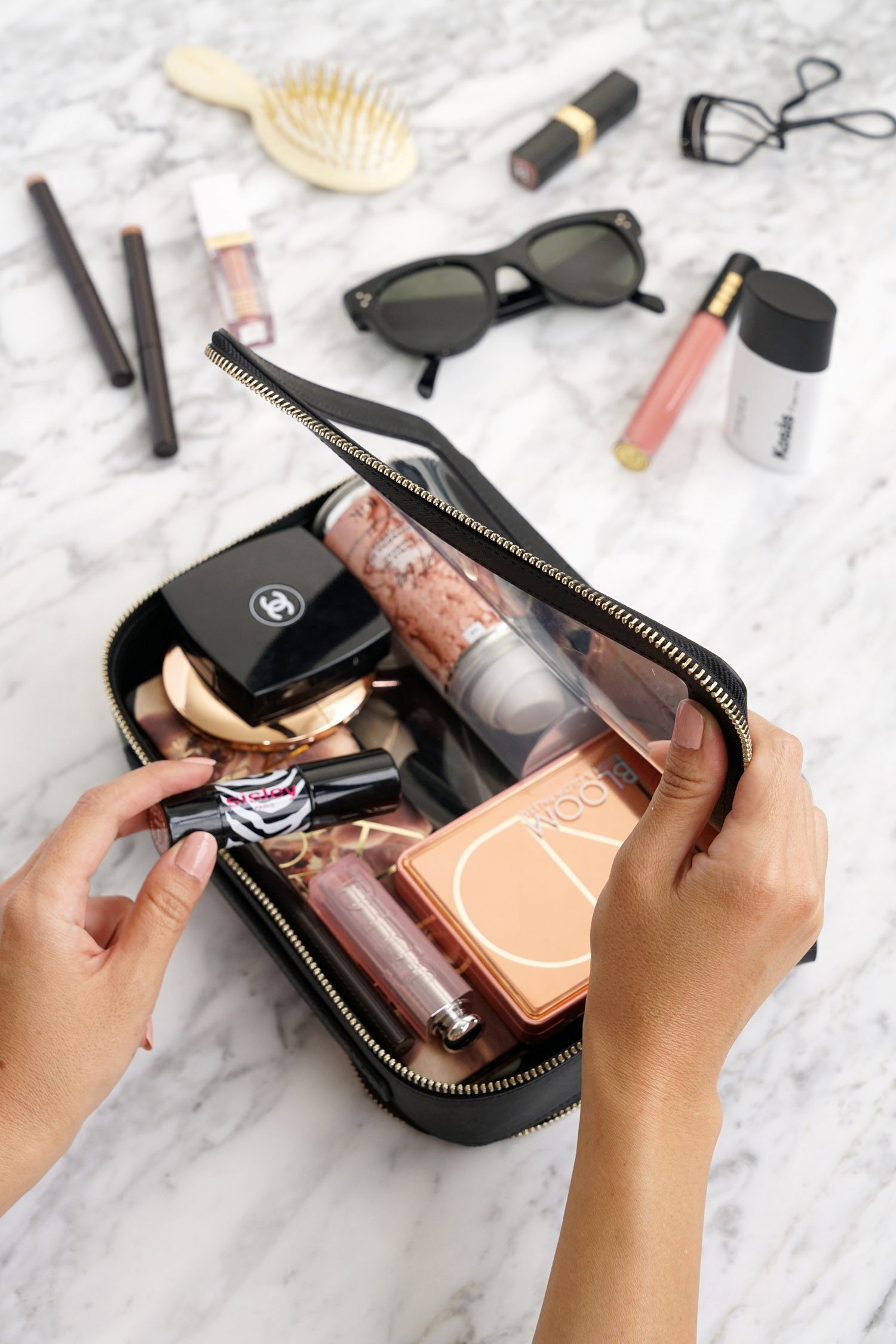 What I fit inside the Jumbo Jetset:

_________________
Clear Envelope /Flat Pouches
The third thing I never leave home without is a flat clear pouch. Ouai also makes some of my favorite clear envelope pouches. Every time I feature one I'm asked by everyone where it's from! There are two sizes, a Mini Envelope Clutch ($15) and a Larger Envelope Clutch ($25). They are so convenient to travel with because you can see everything inside it! I've found them on their website, unfortunately they're frequently sold out, the larger one is in stock right now on the US site, mini is available on their UK site. I've seen them restock a number of times in the past on the US website so I'd recommend keeping an eye if you have this on your wishlist. I also really love the Truffle Clarity Clutches in Small and Mini sizes to throw in my travel bag. Long time readers know these are always with me!
Inside the Ouai Mini Envelope that I brought to Miami with me (I also carry it with me to the beach at home as well):

Here's a side by side of the Truffle Clarity Mini ($40), measures 8″ L x 5″ H
Ouai Large Envelope Clutch ($25), measures 11.5″ L x 8.25″ H
Ouai Mini Envelope Clutch ($15), measures approx. 6.5″ x 6.5″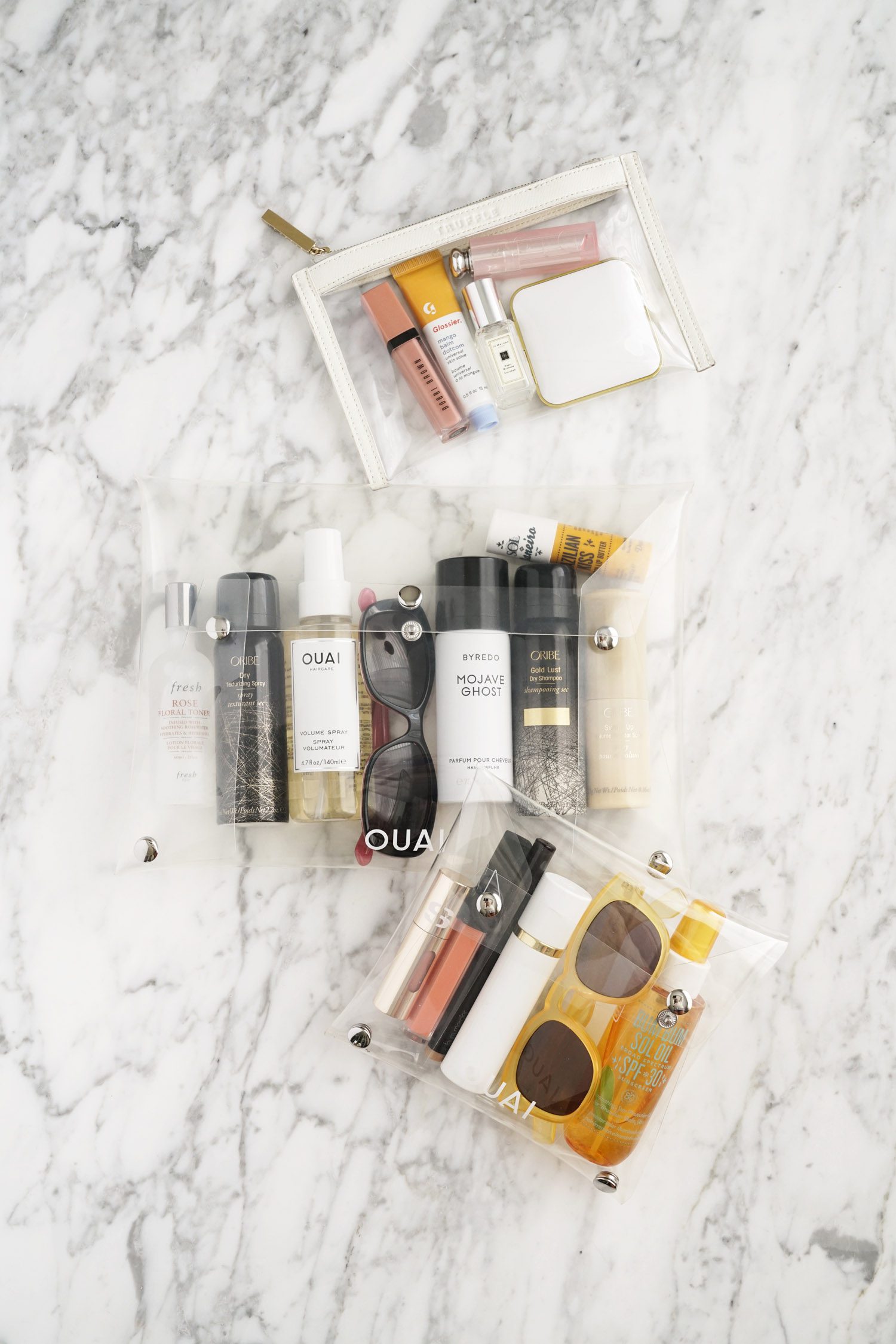 _________________
I really love having a clear makeup bag so I can see what is inside. Flat pouches are easier to pack into a tote because they're slimmer and keep things compact, but if you have larger compacts or bottles they tend to stretch out the clear plastic options. Some additional thoughts:
The Daily Edited Large Cosmetic bag is my favorite makeup bag for traveling. It's quite roomy and the shape works well for my travel style and needs. It can hold a lot of minis, compacts, lipsticks etc. The only downside is there isn't really a separate compartment for things like brushes. If you like a large open compartment style bag this is the best one I've tried.
For the clear zip bag options:

Truffle's Clarity Jumbo Jetset Case is the largest option I own. It's long enough to hold compacts like Urban Decay's Naked Palette with extra room. The elastic strap in the bottom is handy but pretty stretchy. I like that it has a handle on one end but that still lies flat against the bag. Since it's bigger it can hold more liquids and stack more products inside. The price is on the high side but it's very well made.
The Daily Edited Transparent Cosmetic Case is the middle of the road option for size. It's been a great one for me on many trips and I still think it's worth the splurge. This one is long enough to hold the Urban Decay Naked Palette as well, but the Truffle Jumbo option is larger. If you travel with carry-on suitcases or smaller soft bags this is going to be a better option as it's more compact and won't take up as much luggage space.
The Truffle Clarity Jetset is the smallest single compartment option I have. The size is perfect to throw in your gym bag or put in a small tote/travel bag for under the seat. It can hold small chargers, cords, passport, notebooks, etc. for easy access. Since it's smaller it's easy to fit into a carry on bag or tote. I've found it very versatile!

Do you need more than one? I like to have different pouches to separate items by category when I travel so it's easier to find things. I keep skin/hair care in one pouch, electronics/chargers in another, makeup in a different bag, etc.
Pricing is high for both The Daily Edited and Truffle, but I've found them 100% worth it. They occasionally do flash sales or holiday sales so I'd recommend signing up for their newsletter or follow on social for notifications on special offerings. I just ordered some more Daily Edited pieces because they had a site-wide sale for 2 days last week, can't wait to show you what I bought!
I've linked a few other more affordable clear bag alternatives below. You can definitely find other clear bag alternatives at lower price points but I still think Truffle and The Daily Edited have exceptional quality for the price! MAC also carries some clear bag squares and pouches online that I've tried in the past and liked. They didn't hold up quite as well and I had to throw a few away though.

Hope you enjoyed this post! Let me know if I can answer any other questions about these cases! What makeup cases do you like to travel with? Do you usually go on shorter trips or longer ones?
Truffle Jumbo Jetset gifted. All other items featured purchased by me.