Pat McGrath Labs has launched one of the best tinted lip balms I've ever tried with her Lip Fetish Sheer Colour Balms ($38 each for 3.5 g/0.12 oz, made in USA). She previously released a clear version (reviewed here which I bought and love) and her sparkly Astrals (I bought the Nude one, but the others looked a bit too sparkly for me). This month she launched 9 new non-shimmers in tinted colors which I think are absolute perfection. I really liked the formula of her clear version even though the price point was pretty high. Having color added feels like I can justify the price point a little more for a lip balm, but seriously ALL her lip products are phenomenal.
There are 9 perfect colors ranging from nude, pink, beige, to bright pink, plum and red. I think the color selection is very good, there's not a single bad color in the launch. I also really appreciate that she offers sets on her website that give us a price break versus buying individually. You can find the Lip Fetish Sheer Colour Balm Everything Kit for $275 with 9 colors or three variations of Lip Fetish Sheer Colour Balm Trios for $95 each.
For tinted balms my favorites have been the Dior Addict Lip Glows followed by any of the YSL Volupte line (Tint-in-Balms and Volupte Shine Oil in Stick). The Pat McGrath Balms aren't as soft in density which makes them have a less slippery feel on the lips. As much as I love super emollient balms that have an almost buttery feel, the Florida heat can make those feel like they are sliding off the lips sometimes. The Pat McGrath ones have a balmy feel but without the sliding feeling. You can feel and notice lips are moisturized but it's not heavy. There's no detectable scent or taste to me.
Color swatches very sheer on the arms/hands. Once on the lips the color shows up in a sheer to medium coverage. Even with the light ones I see my entire lip covered with pigment. They're sheer compared to her lipsticks but have enough color that you can see them on your lips. Application is smooth and perfect with every single color. Color descriptions:
521 Blow Up is a warm beige
522 Love Supreme is a cool rose cream
523 Succexy medium coral peach
524 Passion Flower is a light pink peach (turns pink on my lips)
525 Full Fantasy bright pink
526 Wild Cherry is a deep cherry red
527 Dark Devotion is a mulberry wine
528 Ultra Vixen is a deep wine plum
529 Flesh 3 perfect red brown rose
Also shown in direct sunlight below:
Swatches, first straight from the tube:
Swatches applied with a lip brush:
Lip swatches, done on bare lips, for reference my skintone is MAC Studio Fix NC35. Note Passion Flower turns pink on my lips, I triple checked and triple lip-swatched to make sure I didn't have any remnants on my lips from other colors mixing in. Also quick note, I take my photos with a flash – depending on your screen the lip swatches may look a tiny bit more glossy below. I'd describe these as having a soft sheen finish.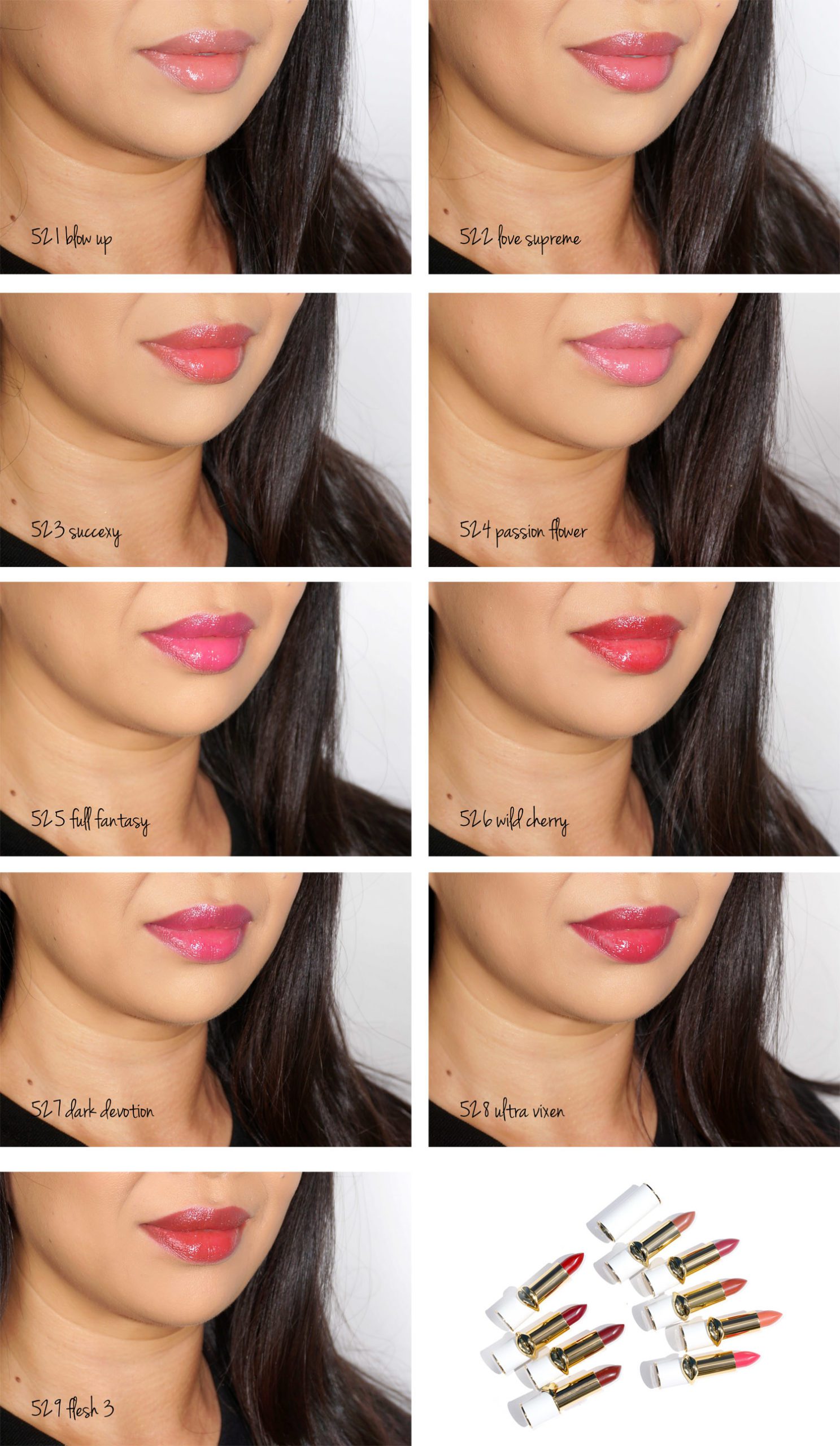 Individual close ups, I'm having a bad skin week so please excuse the patchy skin, I packed on tons of extra powder and foundation to cover up some scars and skin breakage. All lip swatches are taken indoors but with a flash: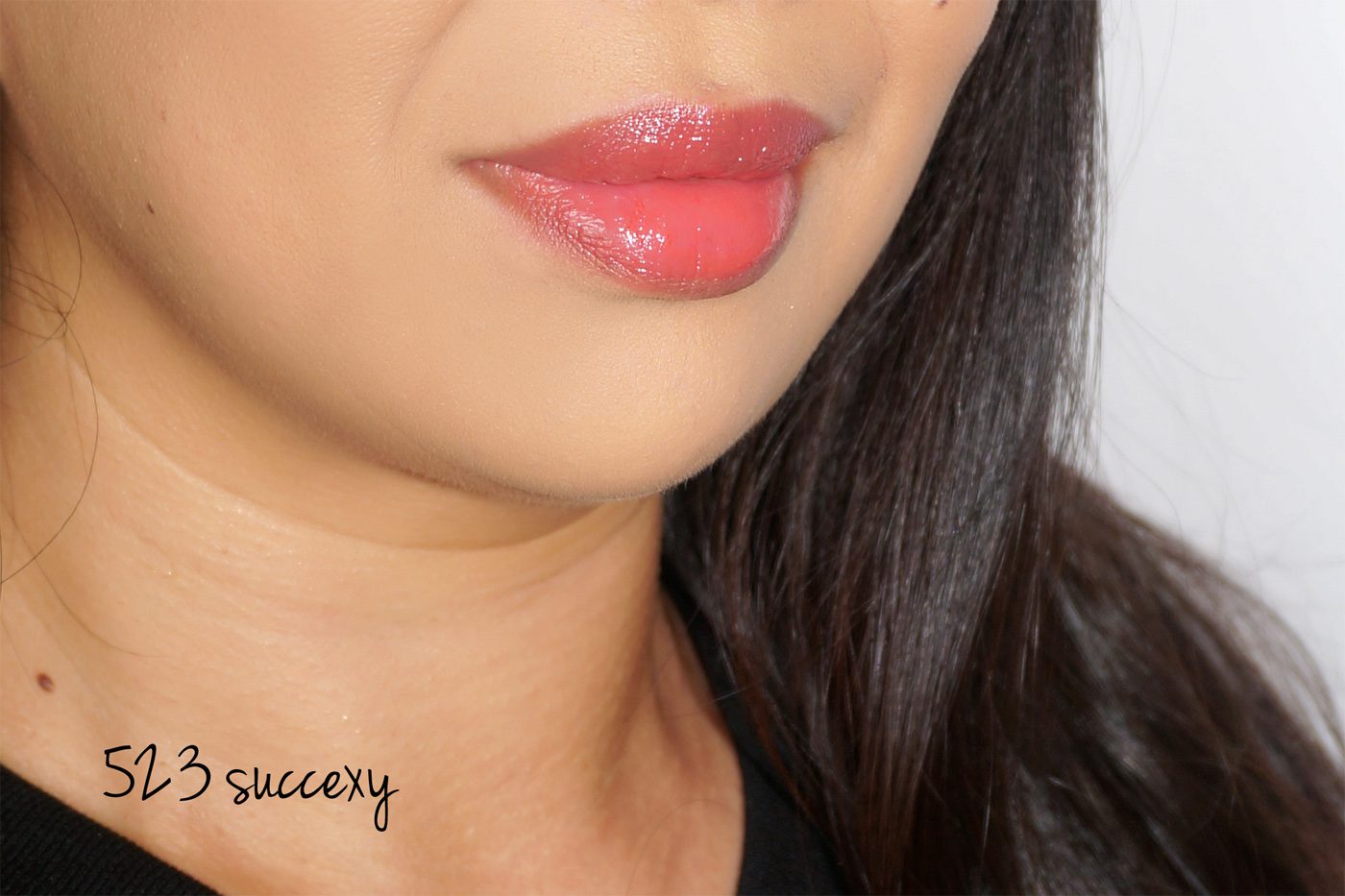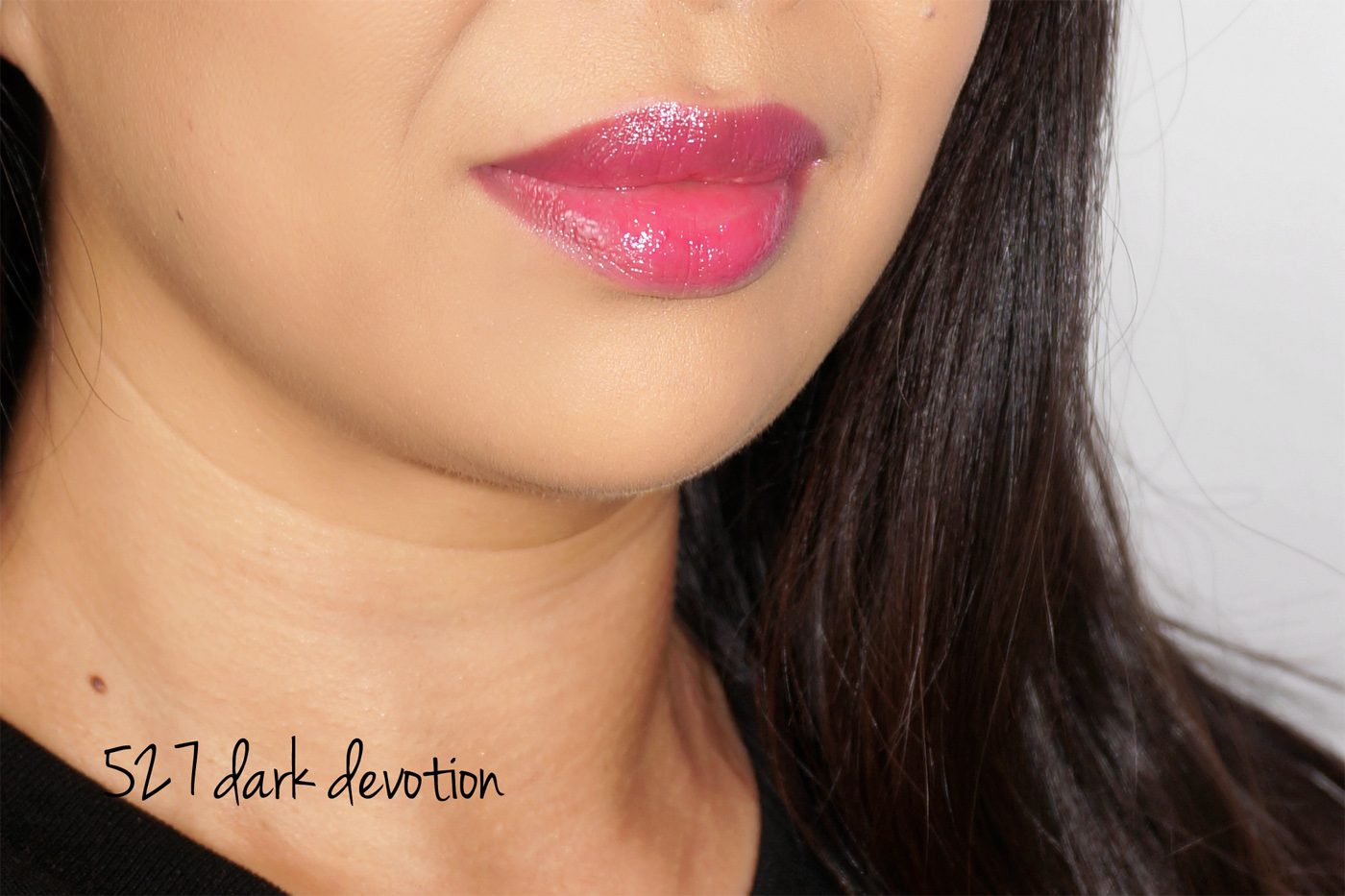 Bottom line perfect. EVERY single one is perfect. Lasting power is better than your average balm, it still won't last as long as her LuxeTrance or MatteTrance lipsticks, but for a balm I get several hours of wear without fading. Formula is hydrating and really does moisturize the lips nicely. I love the natural sheen these have and also the fact that once you apply they don't feel like they'll slide off. I still have some more lip product reviews from other brands that I'm working on including some of the new Tom Ford Boys and Girls, Sisley Le Phyto-Rouge and more, but being the gloss girl that I am, I love these balms. They're easy to wear, effortless, apply flawlessly and the colors are perfect. I think it's a little odd Passion Flower turns straight pink on my lips when it looks peach in the tube but I love it regardless.
You can find the Pat McGrath Labs Lip Fetish Sheer Colour Balms online at Pat McGrath for $38 each. Also available in her Lip Fetish Sheer Colour Balm Everything Kit for $275 with 9 colors or three variations of Lip Fetish Sheer Colour Balm Trios for $95 each.
Many thanks to the Pat McGrath team for sending these for review.