I'm on a Charlotte Tilbury kick with another review on some holiday launches. I reviewed the Stars In Your Eyes Palette a couple weeks ago and love it, but I received an overwhelming number of requests to also review her Luxury Palette of Pops Supersonic Girl. I ordered it before it sold out and also added some of her Superstar Lips to my online shopping cart. Thoughts, swatches and review today.
Case above by The Daily Edited. Tray from West Elm. Bracelet is Celine.
The Luxury Palette of Pops comes in two color options, I opted for the warmer Supersonic Girl because it launched first. It has already sold out at both Nordstrom and Charlotte Tilbury, I don't know if they will restock. I hope I can ease your mind if you missed out. It's good, but not as good as her Stars in Your Eyes or the NARS Singapore Eyeshadow Quad.
There are four glistening shadows that have intense microsparkle. It's like finely milled glitter that glides onto the lids. The color is very sheer but you can still see color once applied on the lids. The shades include a glistening pink, warm orange shimmer, shimmering warm brown, and warm red sparkle. I love the pink and brown, the orange and red both kinda morph into the same color on my eyes and it's very very warm. I think it's beautiful but more of a party palette or layering for me. As a stand alone it doesn't have deep enough shades to do a whole eye look for me as I prefer having at least one darker shade I can use as a liner or to smoke out. The Stars in Your Eyes is very different even though there are a few similar tones. To me this one is a better buy because of the versatility and color range.
Swatches:
Side by sides, Stars In Your Eyes reviewed here:
NARS Singapore reviewed here:
She also launched a new lipstick formula called Superstar Lips. There are four shades Happy Lips, Walk of Shame, Pillow Talk and Confident Lips at Nordstrom and Charlotte Tilbury. Additionally there are two shades in Sexy Lips and Wild Lips exclusive to Charlotte Tilbury's website. I ordered four from Nordstrom sight unseen.
These are an ultra slim glossy lipstick. Formula is semi-thick and glossy. They feel lush on the lips and are definitely not weightless. I think the formula is really really good but they're super tiny especially for the price. They're $34 each for 1.8 g, one of my Matte Revolution boxes says the formula is 3.5 g for the same price. Granted I have so many lipsticks so I'm not worried about using up colors or running out. I still think for the amount/size they should have lowered the price. They are scented in the same vanilla scent her other lipsticks have. The color stays put for hours, it didn't slide around even though it's glossy. Although if you're lips are prone to having product slide around, I'd recommend you add one of her Lip Cheat pencils on your lips first.
Happy Lips is my favorite, it's a happy coral peach color. Walk of Shame is a warm glossy red. Pillow Talk is similar to the matte Pillow Talk, it's a nude pink, I prefer the matte version because it shows up better on my lips. Confident Lips looks black in the tube but has that Clinique Black Honey vibe, it goes on a deep wine plum.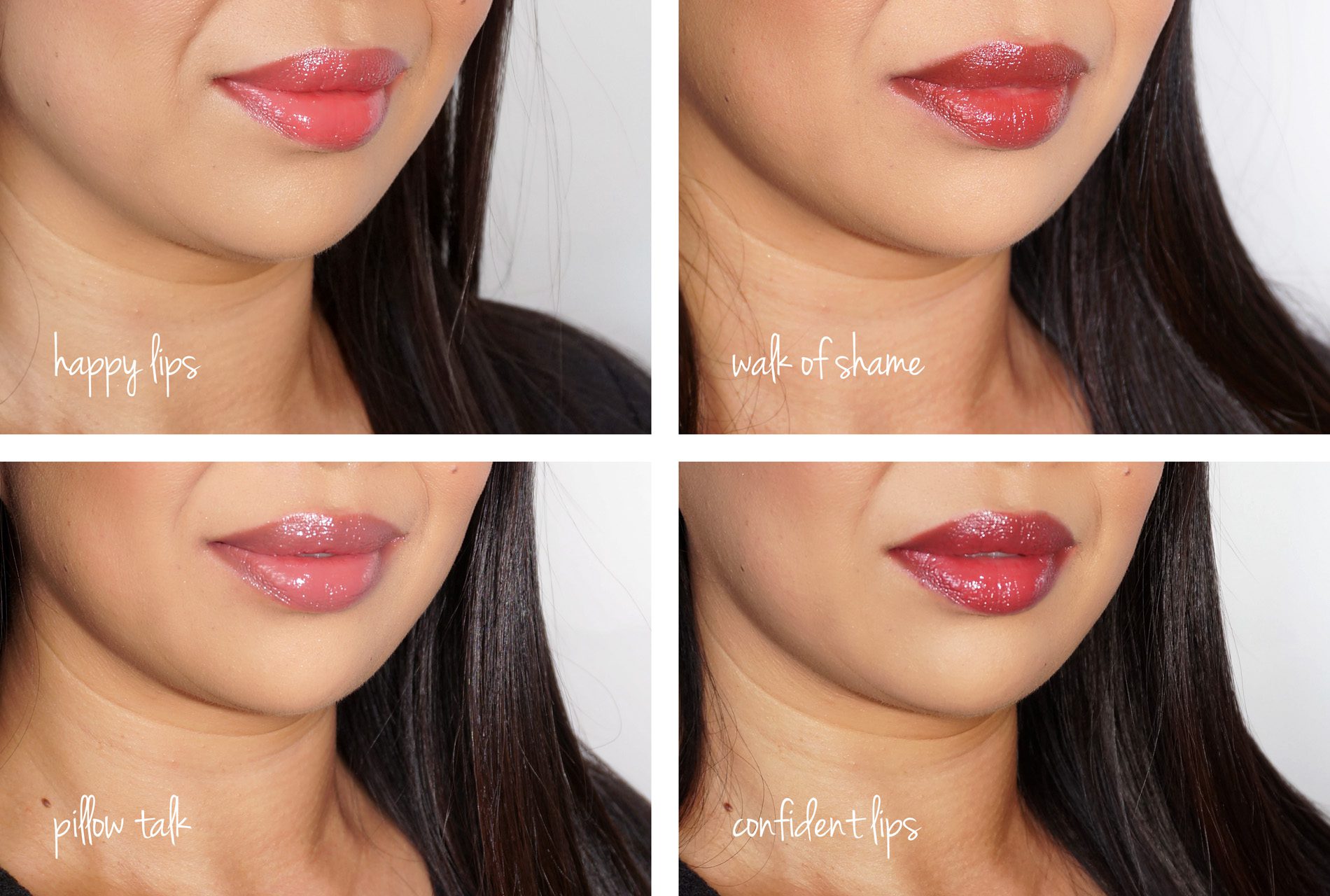 One last look, I took these photos a few days before my hair transformation (more on Instagram in case you missed it!). Also wearing Armani Luminous Silk Foundation in 6.5 + 7.5 mixed, Charlotte Tilbury Flawless Finish Powder #2, Supersonic Girl on the Eyes, By Terry Lash-Expert Mascara, Hourglass Arch Brow Pencil in Warm Brunette.
Overall I do think the Luxury Palette of Pops has a great formula for glitter sparkles. The colors in general are too warm for me to wear alone and also very sheerish on my medium tan complexion. It's going to be perfect for the holiday season but you can get a similar effect by using similar shades and popping one of the Hourglass Scattered Light shadows on top. I think her Superstar Lips are really good with a beautiful glossy sheen. For the price they are extremely small. My favorite is Confident Lips – it's the perfect deep fall holiday color that will look different on everyone but I still think flattering regardless of skin tone.
I bought the Super Sonic Girl and Superstar Lips at Nordstrom. Hoping she will restock the palette for those who wanted it! Also available online at Charlotte Tilbury. Did you check these out yet? What did you think?