Today I have a purse review of the Chloe Mini Marcie Bag. I featured it in a few travel/packing posts and received so many questions about it asking for a review. As much as I love having a good medium sized tote to carry daily things, I've found myself wearing smaller bags more often for their convenience and style. Since I'm on the petite side, smaller cross body bags often are better suited for my short frame. The Mini Marcie style has been around for a long time but I think it's still one you can wear today. I love the casual look it has. There are so many good colors – it was tough to pick one, but I narrowed it down to the Tan (medium warm golden brown) color and find it really versatile for my wardrobe. My next two picks would have been either the Black or Abstract White.
The Marcie Bag comes in a few size options, the mini one is the smallest option that I picked. It's currently priced at $890 and it comes with an adjustable strap. I have it set to the shortest option which works well for me (I'm 5'3″). The bag is made of grained calfskin leather. It's soft but pretty sturdy (so far). It's also retained it's shape well as I haven't seen any sagging. It has an open interior with two small flat pockets which I haven't made use of, but I like that they're there. The bag has a rounded but flat base so it will stand up on it's own. Measurements are approximately 6 inches wide by 7 tall, depth of the base is 3.5 inches. There's an open ring at the base to loop the strap at the bottom in. I really like the design features because it's super easy to access the contents inside, but the flap keeps everything pretty secure. The only thing I would change is the strap design. The end kinda hangs loose if you adjust it to the shortest measurement. I wish there was some kind of clasp to keep it in place/secure.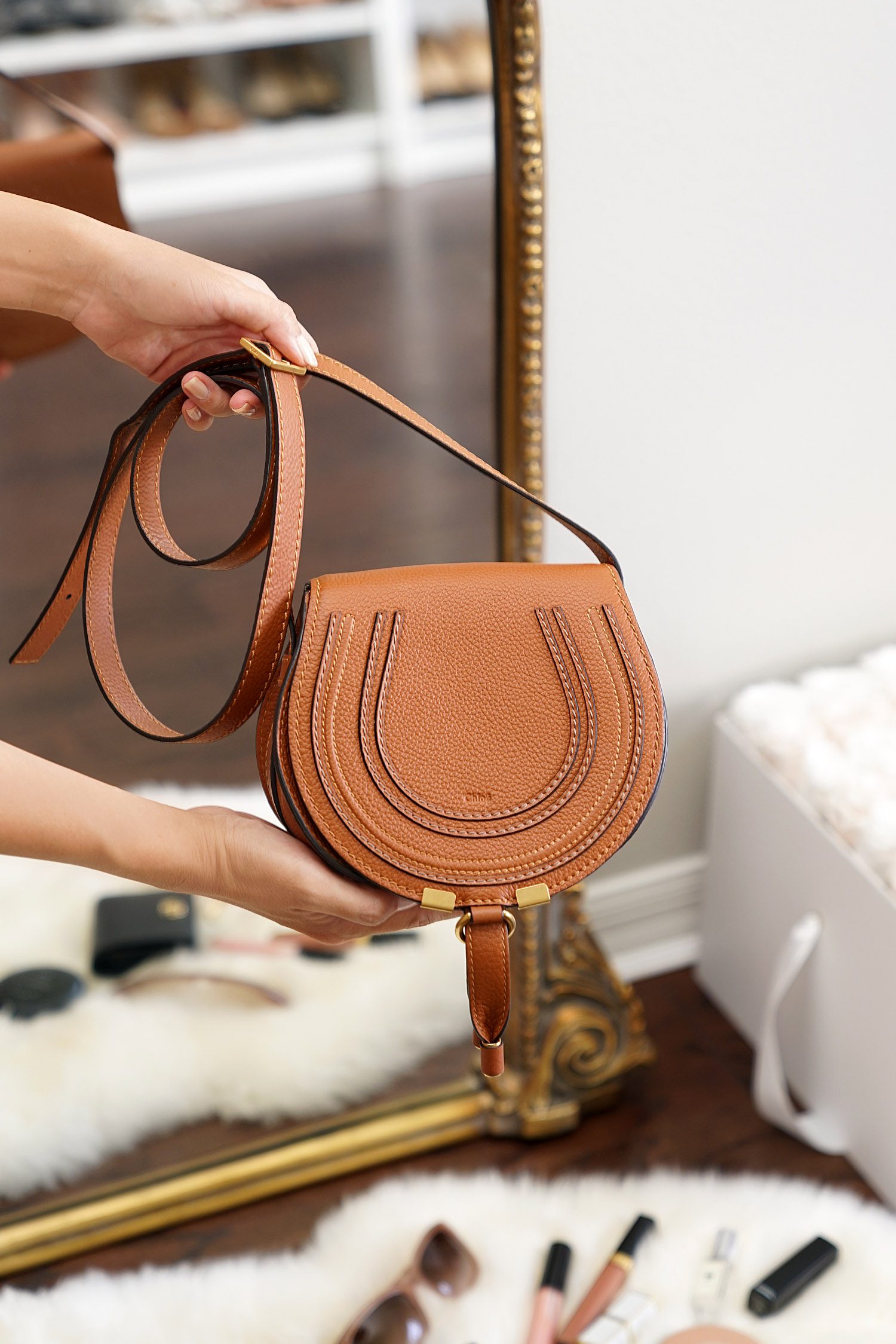 A look at the details, the front has a pretty saddle shaped front flap:
A look at the side and back, I like that it's flat so it doesn't feel like it's poking your sides when you carry it:
Inside the bag and a look at the base clasp:
Here's what I was able to fit inside my bag over the weekend. I can switch things out of similar sizes – if I skip the hand cream, I can fit a small dry shampoo inside. If I opt for a flat card case I can fit my sunglasses inside (without the case). It is small inside but not too small for me. In an effort to edit my closet and accessories I sold almost all my small wallets and accessories in a blog sale earlier this year. I slowly realized as I started carrying smaller bags that I would need to repurchase a small wallet. I did a lot of research and opted for the Gucci Marmont Card Case again. I had this in an older style in the quilted pattern. Out of all the leather goods I've had I find Louis Vuitton and Gucci to be the sturdiest regardless of leather type. The smooth leather of my older one held up really well. This one has a grained surface which I like more in general. The case has enough slots for my ID and cards that I carry. The current version has a zipper for small change and a compartment for cash. It fits my iPhone X.
What's inside my bag:
All tucked inside:
For those curious, a closer look at the Gucci Petite Marmont Leather Card Case, I bought mine from Nordstrom but this particular style has sold out several times. A few places have it on backorder online, but you can also find it at Gucci and Saks Fifth Avenue right now. It has four card slots, zipped coin compartment, and slot for cash.
A few outfits with the purse, below at the Aesop store inside Oxford Exchange in Tampa (one of my favorite places!). Top from Madewell, shorts from 7 For All Mankind, sandals by Tory Burch.
Earlier this year in Miami, top by Joie, shorts by Blank NYC (old style), sandals by Tory Burch.
One last look with a side by side of two other small cross body bags. The YSL Wallet on Chain is one I've had for many years but the interior and flat design makes it hard to carry anything except just cards and small items. It's a great going out purse or one if you just want to carry a few lipglosses or keys and phone and the quality is excellent. The Tory Burch Marsden Leather Wallet Crossbody Bag is something I bought during the Nordstrom Anniversary Sale over the summer but they still stock it. It's a great simple pouch. Inside there are slots to hold cards if you don't want to carry a separate wallet. It's on the pricey side for the design but still a more affordable option compares to the other designers.
That wraps up my Chloe Mini Marcie bag review. I really like it! I'm really happy with everything: size, shape, design and the tan color. You can find the Chloe Mini Marcie at a number of places online and in store. I bought mine from Nordstrom. Also available at Chloe, Neiman Marcus, Saks Fifth Avenue and Barneys New York.