Today Pat McGrath launches a new lip formula in her makeup line called LUST: Lip Gloss ($28 each for .15 fl oz/4.5 ml). These are high shine glosses with a cushiony feel. They are super smooth with a glossy balm feel that doesn't have any tacky or sticky and feel. The glosses are really comfortable and they have a nourishing feel. With the Lust Gloss my lips look full and plump without the tingle. There are 14 shades total with this launch and I was tickled with excitement to be able to get an early sneak peek at 7 of them. I have swatches and some first impressions of the neutrals as I just received these a few days ago. Based on my first round of testing I can't wait to see the rest of the colors. Scroll down further for the full Pat McGrath LUST: Lip Gloss review.
These glosses come in a tube with a sponge tip applicator. There is a very soft vanilla scent to them which disappears almost immediately after I apply them on the lips. The final look is shiny with all the colors with three different finishes which include creams, sparkles, and soft shimmers. Every one is smooth and chunky-free regardless of how much sparkle there is. Pigment of these glosses is on the soft side which I'd describe as sheer to medium. I can only speak to the neutrals, but with some I can build color without layering too much. I'd say if you like the Chanel Rouge Coco Gloss or Marc Jacobs Enamored Hi-Shine Lip Lacquers, you will love these. The Pat McGrath LUST: Gloss is cushiony and shiny like the Marc Jacobs glosses but with more a bit more visible pigment. They also have that pretty shine and color the Chanel ones have but aren't as thick in texture.
If you are one who needs more color and pigment for lip glosses these are going to bee too sheer for you in which I'd recommend you check out the Bite Beauty Amuse Bouche Liquified Lipsticks, Marc Jacobs Le Marc Liquid Lip Creme or Anastasia Beverly Hills Lip Glosses.
Descriptions
Pat McGrath Labs LUST: Gloss neutrals I have include:
Aliengelic

is a duochrome pink and white pearl, clear base with sparkles, sheer

Dare to Bare

is a sheer milky pink gold duo chrome shimmer, sheer to medium pigment

Flesh Astral

is a tan base with gold shimmer, medium pigment

Pale Fire Nectar

is a duo chrome pink peach pearl, it swatches on the arm almost clear but the sparkles show up more on the lips with a reflective quality that adds color, sheer

Aphrodisiac

is the perfect warm baby pink cream, coverage is medium

Flesh Fantasy

is a warm neutral tan with a hint of pink, coverage is medium

Divine Rose

is a perfect lush rose with fine shimmer, pigment is sheer medium
Swatches
Another set in direct sunlight so you can see how the shimmer shifts a little:

Lip Swatches: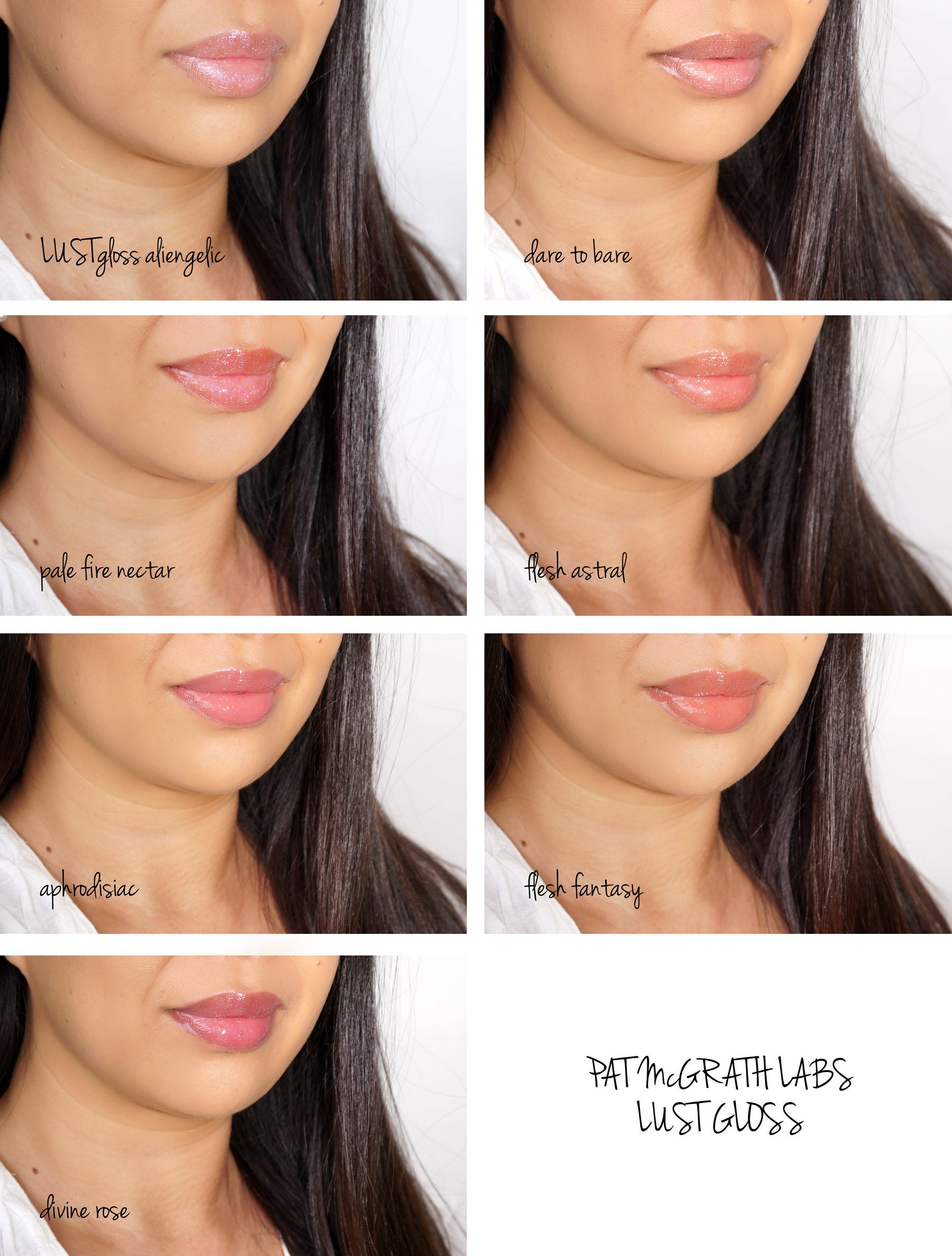 Close Ups
Close ups of each shade as some of you have asked for bigger lip swatch photos. Note I have naturally pigmented lips. If you see something that looks like a dark line around the edges, it's not lip liner, it's just my natural lip color showing through as the finish of these is slightly transparent. Aliengelic:
Dare to Bare
Flesh Astral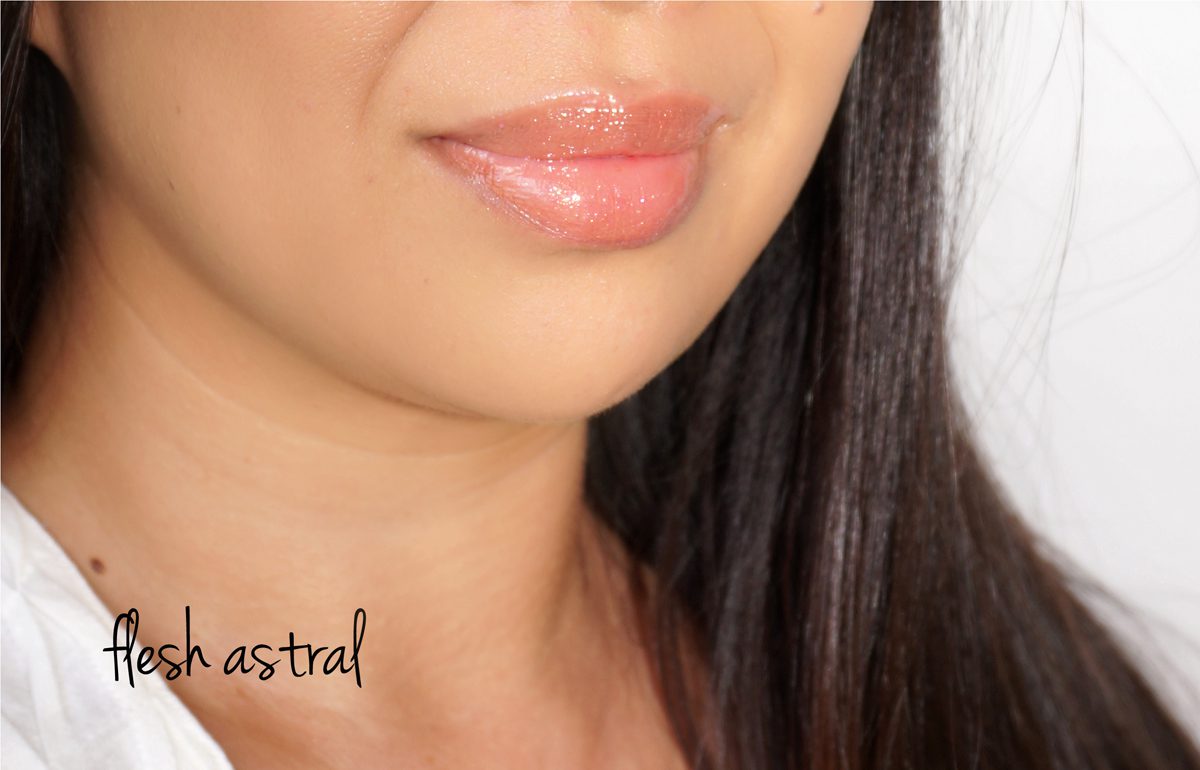 Pale Fire Nectar
Aphrodisiac
Flesh Fantasy
Divine Rose
A beauty look below with Aphrodisiac LUST Gloss, also wearing: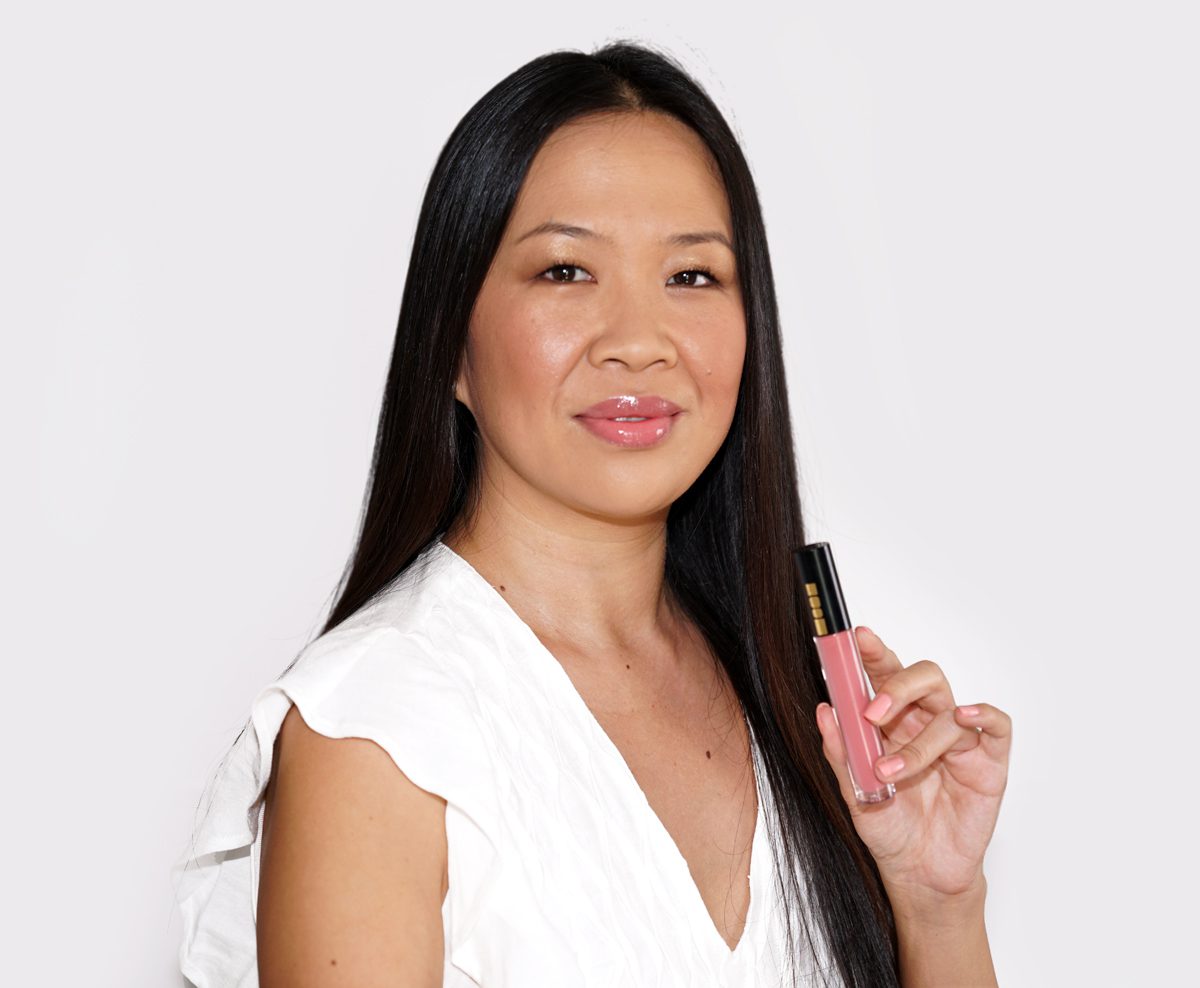 One more added from yesterday, same base + eyes as above, different items used: Hourglass Ambient Lighting Blush in Iridescent Flash + Mood Exposure mixed, Divine Rose LUST Gloss on the lips.
Lasting power is pretty good for a cushiony gloss. They stay put for a few hours and don't slide around for a long time. They aren't transfer proof if you eat or drink, but that's expected. I don't mind reapplying. The sparkles are very pretty and super wearable. As a gloss lover I'm thrilled. Packaging is sleek and no-fuss with the sponge applicator. The colors are soft and pretty, easy to wear alone or on top of a liner. If you love ultra pigmented gloss or lip products you will find these too sheer but I personally love these. I cannot pick a favorite – all the colors are ones I would wear every single day, but I do have a soft spot for Aphrodisiac, Divine Rose, Pale Fire Nectar. Bottom line love.
These glosses will launch today online at Pat McGrath Labs. They retail for $28 each individually but there are sets available that will give you a nice price break for buying the bundles.
More Pat McGrath love below:
Luxe Trance, Matte Trance and Permagel Eye and Lip Pencil Review
LiquiLUST 007 Skin Show
Lip Fetish Balm, Femmenot, Venus in Furs …
MTHRSHP Eyeshadow Palettes and Liquid Liner Review
LUST: Gloss sent by the Pat McGrath team for review.