There are new shades of the Dior Addict Lip Glow Color Reviver Balms ($34 each) and they are amazing! If you're like me you probably started jumping for joy as soon as you heard the news that more colors and formula finishes were going to be launching this spring. For those who are new to these, the Dior Addict Lip Glow is a color-changing balm that shifts in color depending on your lip chemistry. This year they've added two new finishes in a Matte and Holographic version along with two new shades of the Original Classic formula. Six new shades total.
For the six shades some are retailer specific so you'll have to shop around to find all the new ones as some are store exclusives. I found Nordstrom and Neiman Marcus have 5 of the new shades, Sephora has 1 exclusive to their store and 2 other options of the new colors. My thoughts and description of the colors and finishes. Since these will adjust to a unique shade on your skin depending on your chemistry the overall look will most likely be different on you.
Pink 001, Coral 004, Lilac 005, Berry 006 are the older shades you can see swatched and reviewed here
Raspberry 007 and Ultra-Pink 008 are both glossy sheer flushed pinks

Raspberry looks deeper in the tube than Ultra-Pink but for my lip chemistry Raspberry turned into a lighter pink on my lips
Ultra-Pink looks lighter in the tube but it gave me a deeper more flushed berry pink look

Matte Pink 101 and Matte Raspberry 102 have a matte finish with a nice blurred lip look

Matte Pink is a soft diffused pink, it doesn't brighten or deepen like the original on me, it still goes on darker than what you see in the tube which is a soft powder pink, on my lips it's a pretty soft blurred pink matte
Matte Raspberry is a cool-toned raspberry pink with a matte finish

Holo Purple 009 and Holo Pink 010 are sparkling shimmers

Holo Purple 009 gives an iridescent lilac pink that deepens on my lips (Sephora exclusive)
Holo Pink 010 gives a flush like the original Pink 001 but with iridescent flecks of shimmer
There's no detectable scent. They are moisturizing with a glossy finish for the regular and holographic shades. The matte ones have a distinct matte finish but aren't drying. Sometimes the colors will adjust deeper on my lips and give them a pink stain. Other times they'll give my lips a lighter flush.
A closer look and swatches, below top to bottom:
Matte Pink, Matte Raspberry, Ultra-Pink, Raspberry, Holo Purple and Holo Pink
Foundation worn on my face is NARS Natural Radiant Longwear Foundation in Vanuatu (all shades of the formula swatched here) with Armani Luminous Silk Powder Foundation #4 to set. All lip products were swatched on bare lips.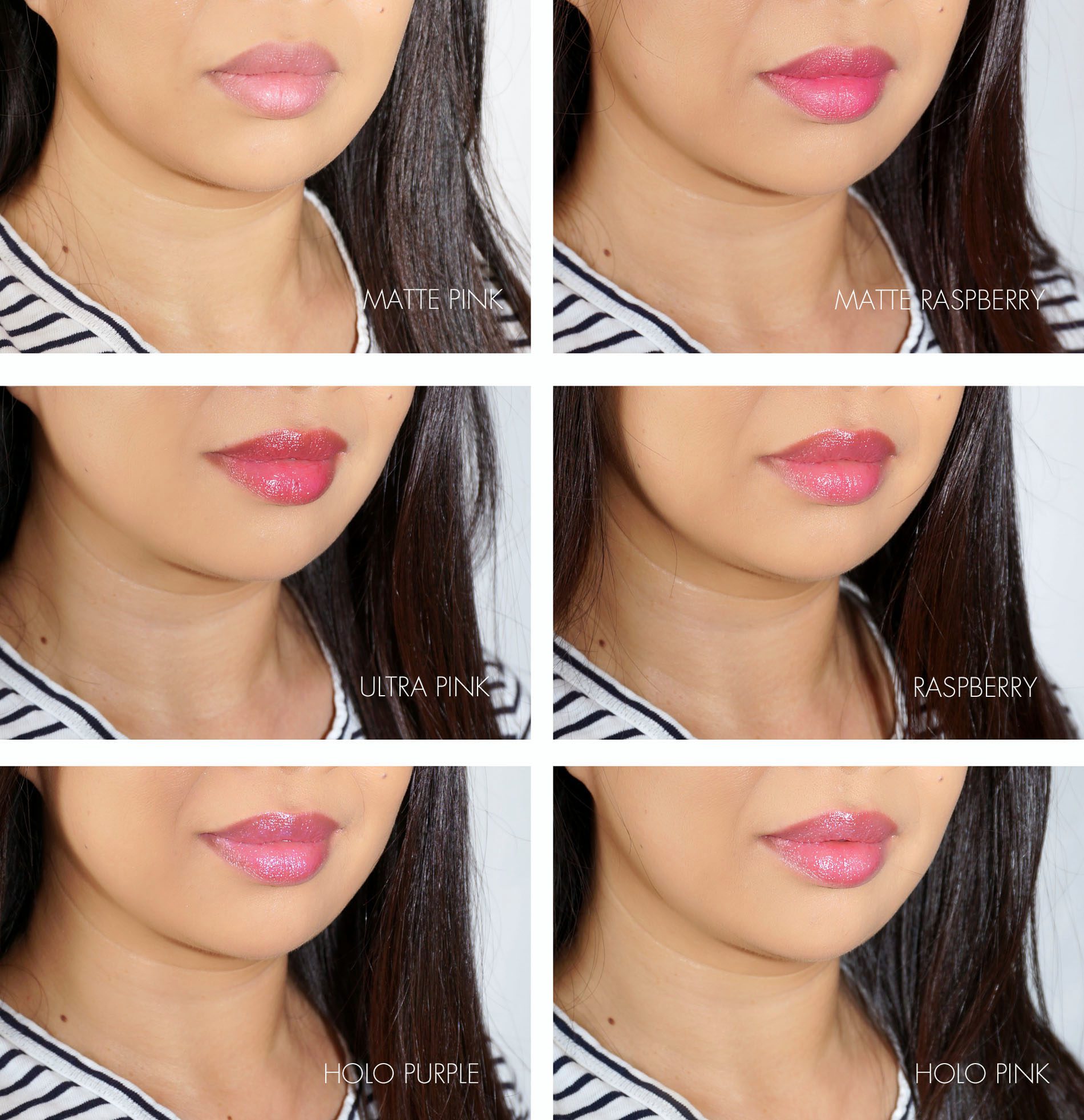 A look at the Dior Addict Lip Glows new shades in direct sunlight:
There are a few other color-changing balms on the market including the new shades of the Bobbi Brown Extra Lip Tints (reviewed here) and MAC Tendertalk Balms have made a comeback (review on the original launch here). All have a similar balmy cushiony feel, moisturizing finish and glossy look. My favorites are the Dior although each formula has a similar finish and vibe. The Dior is the most hydrating on my lips and has the softest feel to me. I also like Dior's colors the best but between the different brands I've tried they are pretty similar for formula.
Out of the new shades, my favorites are the Matte Pink, Raspberry and Holo Purple. Out of all the shades available I'd say my favorites are still probably the Coral and Lilac.
This week's giveaway in the Rafflecopter widget below. One winner will receive the new Dior Holo Pink Highlighter, Holo Pink Addict Lip Glow and Ultra-Pink Addict Lip Glow. Open internationally but you must be 18 years or older to enter and qualify. I'll pick one at random through the widget below. Not sponsored or affiliated. I will e-mail a winner within 72 hours after the giveaway ends. I usually ship prizes within a week.
Have you tried the new shades yet? Or the original ones? Do you have a favorite brand/formula of color-changing balms? You can find the new Dior Addict Lip Glows at all Dior counters now. Do keep in mind you may have to search a few stores for all the shades. I bought mine from Nordstrom and Sephora. Also available at Neiman Marcus, Saks Fifth Avenue, and Dior.