Today I'm sharing a roundup of summer beauty favorites I packed for a two-week trip! Covering everything I brought with me and favorites I used!
Travel Cases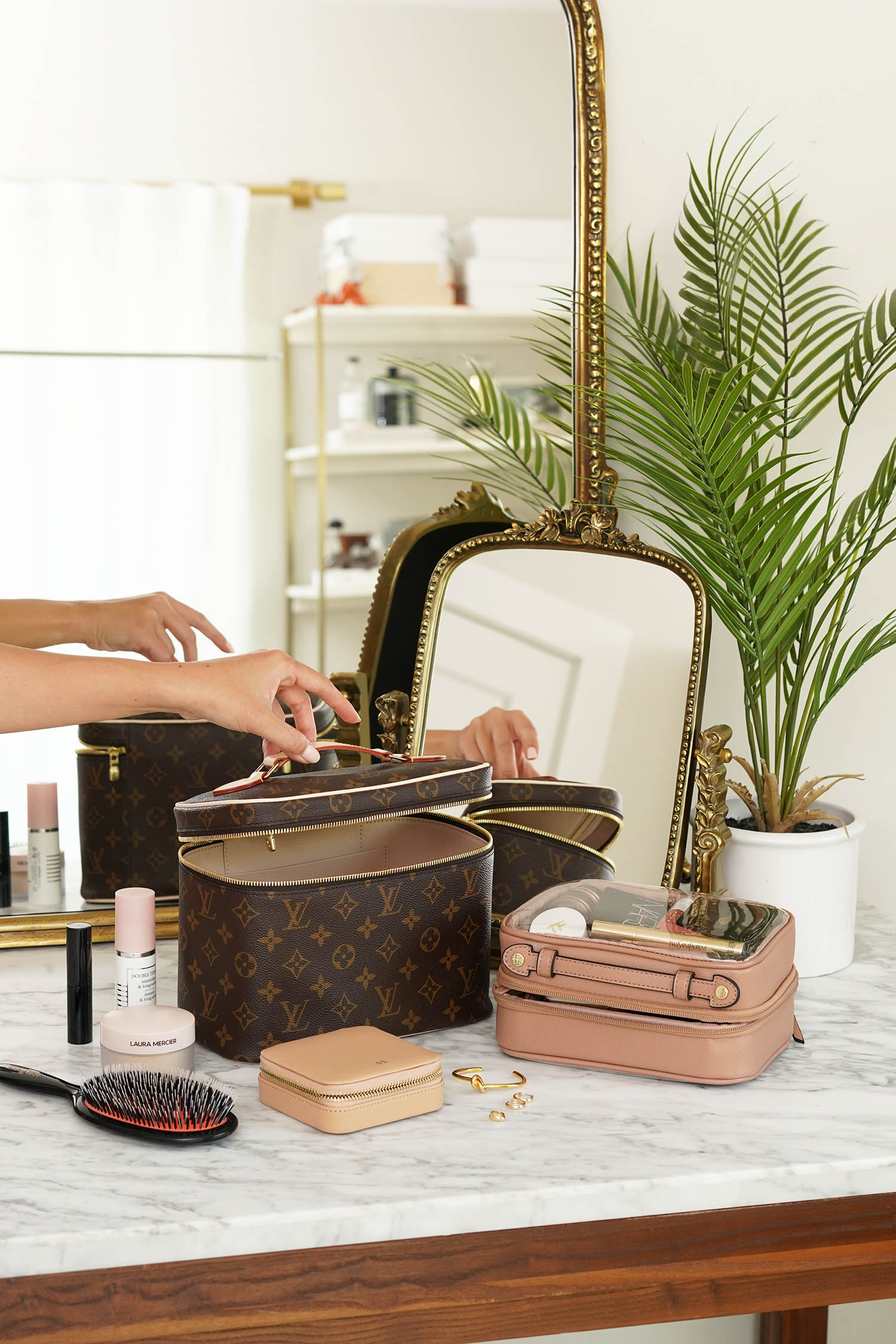 I pack beauty items in separate cases to keep things organized: one case for makeup, one bag for brushes and another case for skincare/body/hair care. I wish there was a one-size-fits all packing option where all my cases were coordinated or matched, but I haven't found the perfect set yet.
The Calpak Clear Cosmetics Case (small) has been my go-to for several trips now and I love how much I can fit inside the smallest one. (It used to be called the mini but is now called the small.) It has two zip compartments that are the same size and it folds and zips to a compact size that's easy to pack. So far the clear plastic has held up pretty well even though clear plastic can be hard to maintain. You can see WHAT FITS INSIDE here.
I own two luxury vanity from Louis Vuitton. The Nice BB and Nice Mini were quite the splurge but I really love them. I've found the BB size to be the most ideal for travel. A number of you expressed concern about keeping it clean from spills or leaks. I haven't had any issues yet with product leaking (keeping fingers crossed). If I have any liquids I'm super concerned about I'll pack it in a Ziploc before putting it in the case.
For brushes I've been using Stephanie Johnson Zip Cases. I've tried brush rolls but find they can be bulky and the separators are rarely the right size for what I need. Having a separate slightly longer bag is perfect for me to keep brushes, pencils, mascaras etc. The color I have isn't made anymore but there are different colorways at Nordstrom and Saks for the same shapes.
I was just introduced to Cadence and love them! They recently added some larger container sizes and I found them perfect to store my cleanser and some hair serums. They were 100% leak-proof for me and had plenty of space for 2 weeks worth of cleanser and hair serum. I also used some of the smaller sizes for pills. They sent me a set with pre-labeled tops for shampoo, cleanser and a few other symbols. I love these so much I plan on ordering a few more for our next trip. They're magnetic so they stack together and won't move around in your beauty case.
You can create your own custom set with different sizes and labels. 100% recommend.
Other travel case alternatives you might want to check out for different sizes and options: Mark & Graham, Leatherology, Truffle Jetset Clarity Cases, Dagne Dover Mila Toiletry Cases.
Travel Skincare I Packed
For skincare I tend to pack more than the average person because Andrew also uses my skincare when we travel and he uses a lot. This is what I packed with me:
Quick shout out for Loving Tan self-tanners if you're looking to self tan before a vacation. I tried Loving Tan for the first time this year and am obsessed. It's the only self-tanner formula I've tried that doesn't have that terrible chemical smell and it looks super natural. You can see the before and after transformation with their 2 Hour Express Formula in Medium + their Deluxe Applicator Mitt. Application was super easy and effortless. Results were pretty impressive and completely streak free. On me it lasted around 2 weeks before it started to fade.
View this post on Instagram
For hair I packed my ghd Platinum+ Styler and Dyson Supersonic. The ghd Flat Iron also doubles as a curling tool! In terms of styling products I packed the Kerastase Elixir Ultime (mini) and the Chronologiste Heat Protecting Leave-In Treatment (in one of the cadence capsules). I forgot to pack dry shampoo but picked up the Olaplex and Living Proof formulas at Sephora. Of course also packed the R&Co Dart Stick which is an essential for flyaways. The only complaint I have is that it's semi-thick so if you're vacationing in hot humid weather you will have to wash your hair daily but it's the only product I've tried that truly tames my baby hairs that have started to grow near the top of my head.
If you're looking for some great Travel Sets I brought and used a few from Colleen Rothschild. The Quench and Shine Travel Essentials Set has everything you need for hair care (really loved these and will be purchasing some full sizes soon). The Discovery Collection is also great to take care of everything from your morning to night routine, I have been really impressed with the Radiant Cleansing Balm, Clarifying Detox Mask and Extreme Recovery Cream.
I packed so much sunscreen with us and we used everything up in two weeks. If I could only use one for the body the Shiseido Ultimate Protector Lotion is hands down the best. For the face I love the Supergoop! Glowscreen the most right now. The new Chanel UV Essentiel is also excellent.
Makeup Favorites for Summer
I overpacked on the makeup but I used every single thing I packed. For a more edited version I'll list the items I used the most during our trip:
I'm going to be hosting some giveaways on the blog and social this summer! Kicking if off today with a Summer Beauty giveaway with some travel cases, my beauty favorites, skincare minis and more.
Details:
Must be US or Canada resident
Open to those 18 years or older
Will run through 6/7/2023 11:59 PM est
Winner will be selected via the widget within 2 days
Selected winner will be emailed by me and must claim prize within 72 hours or another winner will be selected and contacted
Prize package will ship within one week (US or Canada only)
Not sponsored or affiliated
To enter complete ALL the steps in the widget below