Hourglass Cosmetics launched a new eyeshadow called Scattered Light Glitter Eyeshadow ($29 each for .12 oz/3.5 g, made in Korea). I bought all five shades while at Sephora for the Beauty Insider event and every color is amazing. These are pressed pigments with micro-glitter that give the eyes a beautiful glimmer. The word "glitter" had me a little worried which is why I didn't order them online sight unseen. I love a good sparkle but sometimes glitter can be too much for what I'm comfortable wearing. These aren't too glittery for me although they are sparkly. You can wear these alone, layered over shadow, layered together or if you apply with a damp brush it will give you a more foiled look. Lasting power is excellent. I've only given these a 2 day test since I just bought these but they stayed put for hours without fall out or budging. On Friday night I'm embarrassed to admit I fell asleep with my makeup on. It's something I tell myself to never do, but it was one of those exhausting weeks. The eyeshadow was still in tact the next morning.
Shopping the shades at Sephora:
There are five shades, two are more glitzy than the others (Foil and Blaze). Shimmer-wise they are indeed shimmery but the glitter is super fine and not chunky. Even on the eyes they have a smooth finish. I like apply with the fingers. They're easy to smooth and blend out.
Aura is a soft shimmering cool pink sparkle
Reflect is a champagne neutral sparkle (my favorite!)
Foil is a very sparkly yellow gold
Smoke is similar to champagne, but more taupe
Blaze is a sparkling warm copper, glitzy sparkle
On me Foil and Blaze are the most sparkly. I don't think I can wear them alone everyday, although layered over a powder shadow tones down the sparkle a little. Also if I layer the gold on top of the copper it creates one of the prettiest multi-dimensional looks.
There is an insert inside to keep the shadows pressed and in tact:
A closer look at all the shades: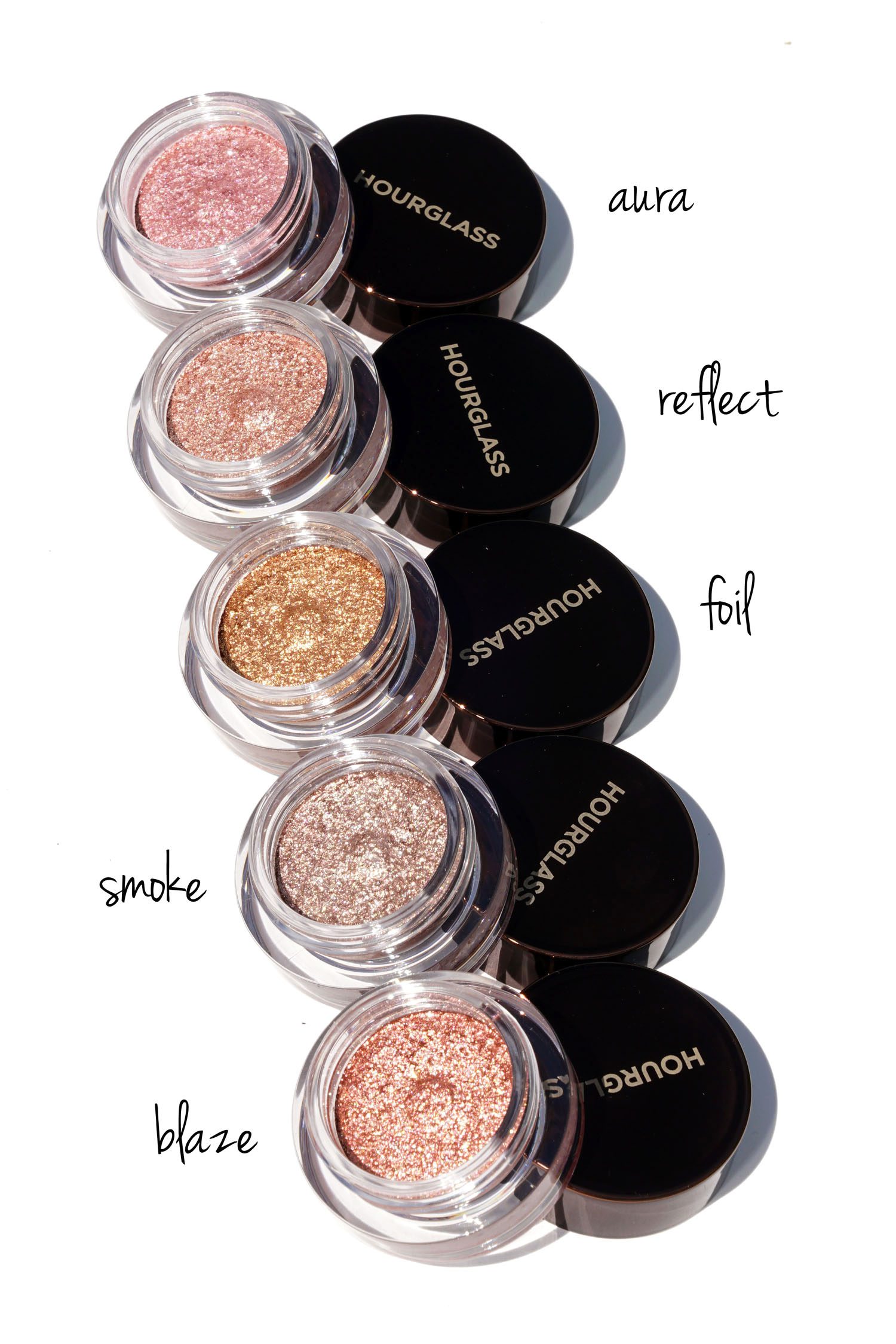 Beauty look with Reflect which is my favorite color out of the five, also wearing:
Close ups and more swatches:
Some swatch comparisons to Armani Eyes to Kill Eyeshadows (now discontinued) in 8, 9 and 5. Also swatched next to the Natasha Denona Crystal Top Coats. The Armani Eyes to Kill had a more metallic finish with less glitter. Natasha Denona's have more glitter and a sheerer base color. MAC Dazzleshadow Liquid is more like a metallic finish (review soon on these).
Bottom line I love them all. 100% worth the splurge. If I had to narrow down my picks I would pick Reflect and Smoke. They are on the sparkly side but they wear beautifully in a variety of ways. I like that they are easy to apply and that they don't have fall out on me. I think all the colors are standouts although Foil is a very yellow gold and I usually don't like gold colors like this but it is pretty when layered with other shades.
You can find the Hourglass Scattered Light Glitter Eyeshadows out now. You may have to shop around as they have sold out on a few sites. Available at Sephora, Beautylish, Nordstrom, Neiman Marcus, Barneys New York, Space NK and Hourglass Cosmetics.
If you're shopping at Sephora, don't forget you can use the Beauty Insider Appreciate promo code once online and unlimited times in store. Valid in both US and Canada:
Rouge Members: 20% off with code YESROUGE, valid 8/24 through 9/3
VIB Members: 15% off with code YESVIB, valid 8/30 through 9/3
Beauty Insiders: 10% off with code YESINSIDER, valid 8/30 through 9/3
Did you try these yet? I think they're phenomenal!