I've owned and loved the Anya Hindmarch Inflight Cosmetic Case for several years now. It was quite the splurge for me and I'm thrilled at how well it has held up over many trips. It's been a travel companion across the world. The Anya Hindmarch Inflight cases run from $275 to $425 depending on color and material. Due to the high price tag many of you have asked for a recommendation for a cheaper dupe. I've finally found one for $70 from The Daily Edited. I spotted and hauled a couple of their Transparent Cosmetic Cases in Black and Taupe during my summer New York Trip while visiting their beautiful store on Bleecker Street. I wanted to give it a proper test before reviewing it and I'm happy to report it's every bit as good as the Anya Hindmarch one. As soon as I got home I ordered a few more online from The Daily Edited. I like to have some on hand for last minute gifts and have also decided to try and have an on-the-go bag packed with a few staples so I'm not frantically scrambling at the last minute for trips. By now a few of the colors have sold out and are on pre-order again. If you have your eye on these I highly recommend doing a pre-order if you can. They are perfect for travel and in my experience they are really efficient and timely. They have always shipped product by the pre-order date listed (from my personal ordering).
I'm going to give you a side by side comparison of the Anya Hindmarch Inflight Cosmetic Case and The Daily Edited Transparent Cosmetic Case. First a few details and specs:
Anya Hindmarch Inflight Cosmetic Case

Price range $275 to $425ish (I've been told some have spotted these in airports at duty-free for less)
Color options – mine is a Black Patent, color options are often seasonal, most on the Anya Hindmarch website
Materials – clear plastic and various leather finishes and colors
Dimensions – approximately 4.7″ H x 3.2″W x 8.7″D
Compartments – two, larger zippered top and smaller zippered bottom
Where to buy: Anya Hindmarch, Saks Fifth Avenue, Net-A-Porter, Bergdorf Goodman

The Daily Edited Transparent Cosmetic Case

Price – $70
Material – PVC and saffiano leather
Dimensions – approximately 4.5″ x 3″ x W 8.5″
Compartments – two, larger zippered top and smaller zippered bottom
Where to buy: The Daily Edited online, NYC Bleecker Street Store also available inside the Saks Fifth Avenue Store in NYC
Both brand options are really close in size. By now with regular use and wear the Anya Hindmarch Inflight case isn't quite as rigid and has become a little squishy but still retains its shape pretty well. Both also have two zippered compartments with the smaller end having an elastic band to hold things in place (I rarely use this function). The logo and detailing are different with The Daily Edited only having their branding on the interior. The exterior portions on the top center are left blank so you can custom monogram them with initials or emojis! You can have the print be gold or blind. For lettering you can also customize font size and type options. I usually leave mine blank or opt for the blind initials.
Some side by sides:
Side detailing: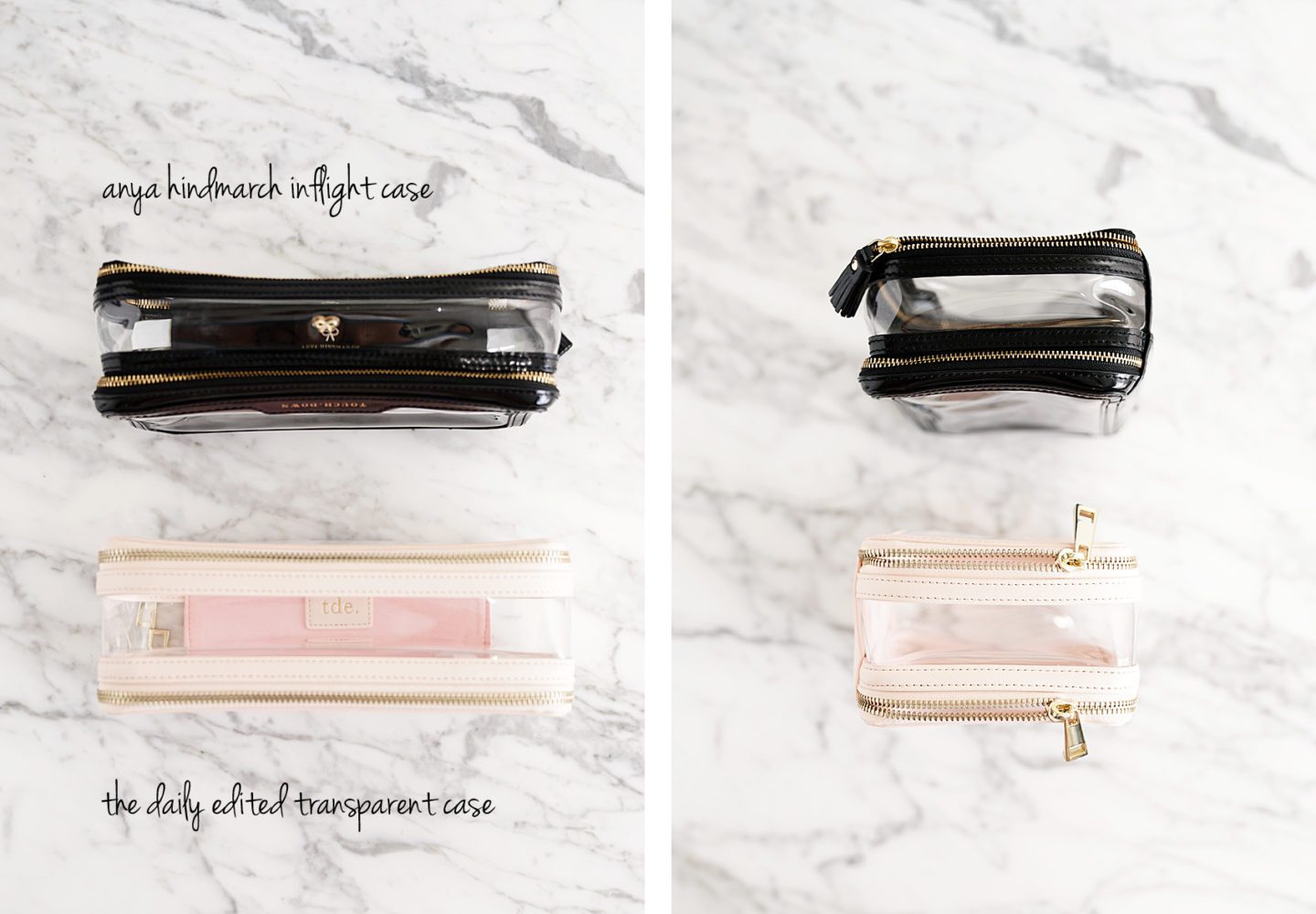 What they look like opened:
Black, Pale Pink and Taupe:
Below is a look at what I was able to fit inside my Daily Edited Transparent cosmetic case. It takes some playing around to make items fit as efficiently as possible to waste as little space. I was able to fit all this without any bulging. Since the material is a clear plastic I try not to over stuff it as prolonged stretching could possibly stretch and ruin the material. I haven't had any issues with the plastic shifting on either the Anya Hindmarch or The Daily Edited but do take care of my leather goods.
Everything I was able to fit inside with some stacking and maneuvering:
3 Tom Ford Compacts
NARS Large blush in Orgasm
NARS Highlighting Powder
4 Laura Mercier Caviar Eye Sticks
2 Laura Mercier Velour Extreme
Tom Ford Skin Illuminator
Eyelash Curler
Armani Face Fabric
Diorskin Forever Undercover
Jo Malone small perfume
Tom Ford Soleil Blanc atomizer
NARS Orgasm Lip Balm
Glossier Lash Slick
Chanel Les Beiges Tint
4 Chanel Rouge Coco Gloss
Dior Lipstick
Charlotte Tilbury Lipstick
Sisley Phyto-Lip Delight
Becca Be a Light Palette
Flat comb
A few skincare minis wedged in the nooks
A couple other mentions of similar alternatives. One is from Mecca which is an Australian company and they have launched a couple colors of their Jet Set Travel Bag. I really wanted to try this last holiday but the problem for me is that purchases from the website can only be delivered in Australia. Any international orders have to be done over the phone which was a hassle for me. The next is the Truffle Clarity Jetset Case ($85) which I own a few colors of. You can buy these on the Truffle website but this style is also now available at Nordstrom! This style has a clear top and base with leather but only has one compartment and is also smaller measuring 2″ H X 7 1/2" W X 5 1/4" D. If you need something smaller or more compact this is a great alternative. Truffle has been a long-time favorite for their flat clear pouches. I carry them constantly. I've bought every one of my close friends and family one and it always makes me happy when they send me pics of them using them!
Quick peek at some packing things I did for Miami recently (plus one newly hauled item). I'll have a full Miami recap soon as many of you have been asking me about food recommendations! We found some really great new places and I'm putting everything together in a roundup. Also shown is the Away Bigger Carry-On Suitcase, hat from Lack of Colour, Chloe Mini Marcie Bag (will also review this soon), Tom Ford Soleil Blanc Atomizer (back individually!), Kate Spade Sunglasses (on sale at Nordstrom), Tom Ford Firelust Skin Illuminator, Laura Mercier Flawless Fusion Concealer, Armani Neo Nude Powder, Chanel Les Beiges Tint, Hourglass Ambient Lighting Blush Palette (just hauled, will also review soon), Tory Burch Sienna Sandals, Celine knot bracelet.
A look at some of other items from The Daily Edited that I own. I purchased all of these myself. I've reviewed the Large Cosmetic case a number of times before. You can see it in a few travel packing posts like this one here.
Left to right: Transparent Cosmetic Case in Black, Taupe and Pale Pink, Travel Case in Taupe, Large Cosmetic Case in Black. One last look below of The Daily Edited Transparent Cosmetic Case vs. Anya Hindmarch Inflight Cosmetic Case and one tip on how to clean the plastic. As with any clear material it's going to get finger prints if you have oils on your fingers whether it's from makeup, skincare or dirty hands. I use the Novus Plastic Clean and Shine Spray or the Fine Scratch Remover to clean my plastics and acrylic containers. You can find it at places like on Amazon or The Container Store. It's pretty versatile but before you use it on anything ALWAYS make sure you do a patch test first!
One thought on how to store these and keep their shape. The ones I ordered online came with foam cut stuffing shaped perfectly to the interior of The Daily Edited cases. This seemed to help keep their structure. The ones I bought in store did not but I could have probably asked if they had any on-hand to put inside. As with any soft material, it's going to have a little bit of squishing if it's not propped up with some kind of hard stuffing material. I'm going to keep the cases stuffed when not in use. As you can see with the Anya Hindmarch, it's softened a little bit around the edges where the plastic sides are, but I've never stuffed it and it has still retained its shape nicely.
Overall I'm really loving The Daily Edited Transparent cosmetic cases. At $70 each I think they're reasonably priced for the quality and design. I especially love that they have regular metal zippers rather than the tassels. The extra tassels can be fun but when you're trying to pack and get everything to fit inside a suitcase they can get in the way because they're a bit bulky. I've only used The Daily Edited Transparent cosmetic case on one trip so far so I can't report on how long it will hold up compared to the Anya Hindmarch which I've had for around 3 years now. I have owned some of the other Daily Edited products for over a year, they've gone through some travel and lots of moving and have held up 100%.

Hope this review helps! Do you have any favorite clear makeup bags or clear travel case favorites? If you have any other questions let me know in the comments below.