I'm back with a beauty organization roundup! Keeping all my beauty products organized has definitely been an ongoing challenge over the years. So many of you have asked for a beauty organization post wondering how I store all my beauty products and the short answer is I'm still figuring it all out.
I've loved and used the Ikea Alex Drawers, Billy Bookcases, a number of larger acrylic beauty boxes, Muji acrylic organizers, things from The Container Store and Amazon – you name it! I still store things in the Ikea Alex Drawers (tall and wide ones). The best large acrylic beauty containers I've found unfortunately are from brands that are no longer around (like the Original Beauty Box and Glamboxes). I also love repurposing the Diptyque candle jars to hold pencils, mascaras, brushes, pens etc.
The main problem I've found with the large storage units whether it's an acrylic box or large drawer unit is that if anything is stacked or put in a drawer out of sight it gets neglected. While I couldn't possibly use up everything in my stash I still like to rotate things. Having a nice display or smaller organizers helps me edit my current rotation to keep certain things top of mind.
A lot of these are organizers are great to store my daily must-haves or go-to's like foundations, concealers etc. and keeps them within easy reach too! If you're looking for organizers that won't break the bank and that will keep things somewhat edited this post is for you!
Umbra Organizers
Umbra Glam Cosmetic Organizer ($25) is a really nice affordable option. By this time I've tried a few of the Umbra organizers and think they're well made. This Glam organizer comes in a white option and they also have it in a different configuration for Hair Tools. You can find it at a number of places like Umbra, Nordstrom, West Elm, Amazon.
See the Umbra Glam organizer in action here.
_______
Umbra Cascada Cosmetic Organizer ($25, available at Umbra, Amazon, West Elm)* is another style with a spinning base. It can also double as an organizer for office supplies on your desk. The compartments are on the narrower side so it won't fit larger bottles of perfume or skin care, but it's great to store and display other beauty items.
See the Cascada Organizer in action here.
_______
Bellwood Organizer ($45)* is another one from Umbra. This is super easy to assemble and is great for small spaces. Looks clean and streamlined. They also make a matching Caddy ($25).
Shop Umbra Storage Solutions
_______
Target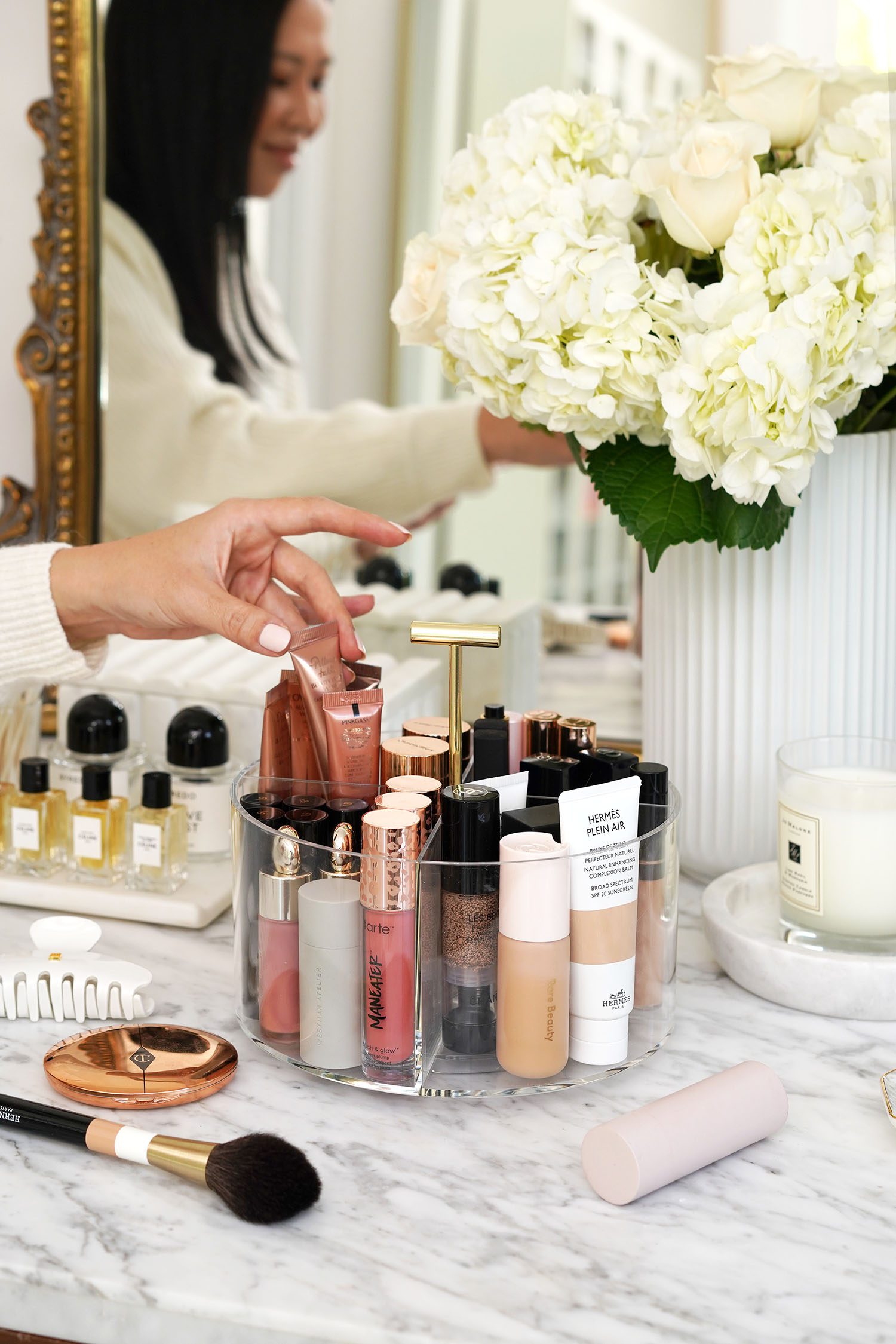 I recently made a Target run and found quite a few organizing options. They have a great storage system with different size bins in their Brightroom Collection. I bought quite a few to organize products. The only downside is that it can get a bit expensive to design the exact configuration you want.
Target Project 62 Acrylic Round Desktop Organizer ($15 each) is a spinning organizer designed for the office but also works for beauty products! It's a small-medium size which means it won't take up a huge amount of space on your vanity, counter or desk. Measures about 7.98 inches wide and 7.26 inches tall.
See it in action here.
Target Brightroom Bathroom Spinning Turntable ($25) is another one I picked up. I haven't used this one yet as it's on the larger side and takes up quite a bit of room. It measures 10.9 inches wide 5 inches deep and it's pretty good quality. You can probably find similar options on Amazon for less. They also carry a 2-tier spinner with dividers.
Shop Target Storage Solutions
Pottery Barn
Pottery Barn and Pottery Barn Teen both have a great selection of organizers for the desk and bathroom. They have a lot of gorgeous solid lacquered wood organizers and towers. They are on the expensive side but one that caught my eye is the Pottery Barn Acrylic Home Office Lazy Susan (on sale for $47.99 and with code EXTRA for 20% off clearance). This is an even smaller organizer measuring 7 inches in diameter and 7.5 inches tall. It's pricey for what it is but well-constructed and good quality.
Pottery Barn, West Elm and PB Teen Solutions
Amazon Finds
There are so many options Amazon! I ordered a Rotating Makeup Organizer ($28.98) a while ago and really like it. The quality could be better as it's a really lightweight plastic but I like the size and it works. There are moveable shelves that are easy to adjust. Makes it convenient to customize! The downside with having that much surface area is that it does tend to collect dust and debris, but that is the case with pretty much everything.
See it in action here.
_______
I really like the mDesign boxes with a hinged lid. They come in a clear and cream version. Love that they're stackable but since I want to be able to see things I try not to go crazy with the stacking. I keep my lash curlers, cotton and mini perfumes in these but the options are endless! They also have these in wider or taller configurations.
_______
I also picked up a couple of the Spice Racks which make for a nice display. They are very lightweight but it's functional and I like they way they look. There are a few configurations including a Corner Rack you can put together side by side if you want a wider display.
See the display in action here.
_______
Also really like these Tiered Riser Shelves to display and store perfumes.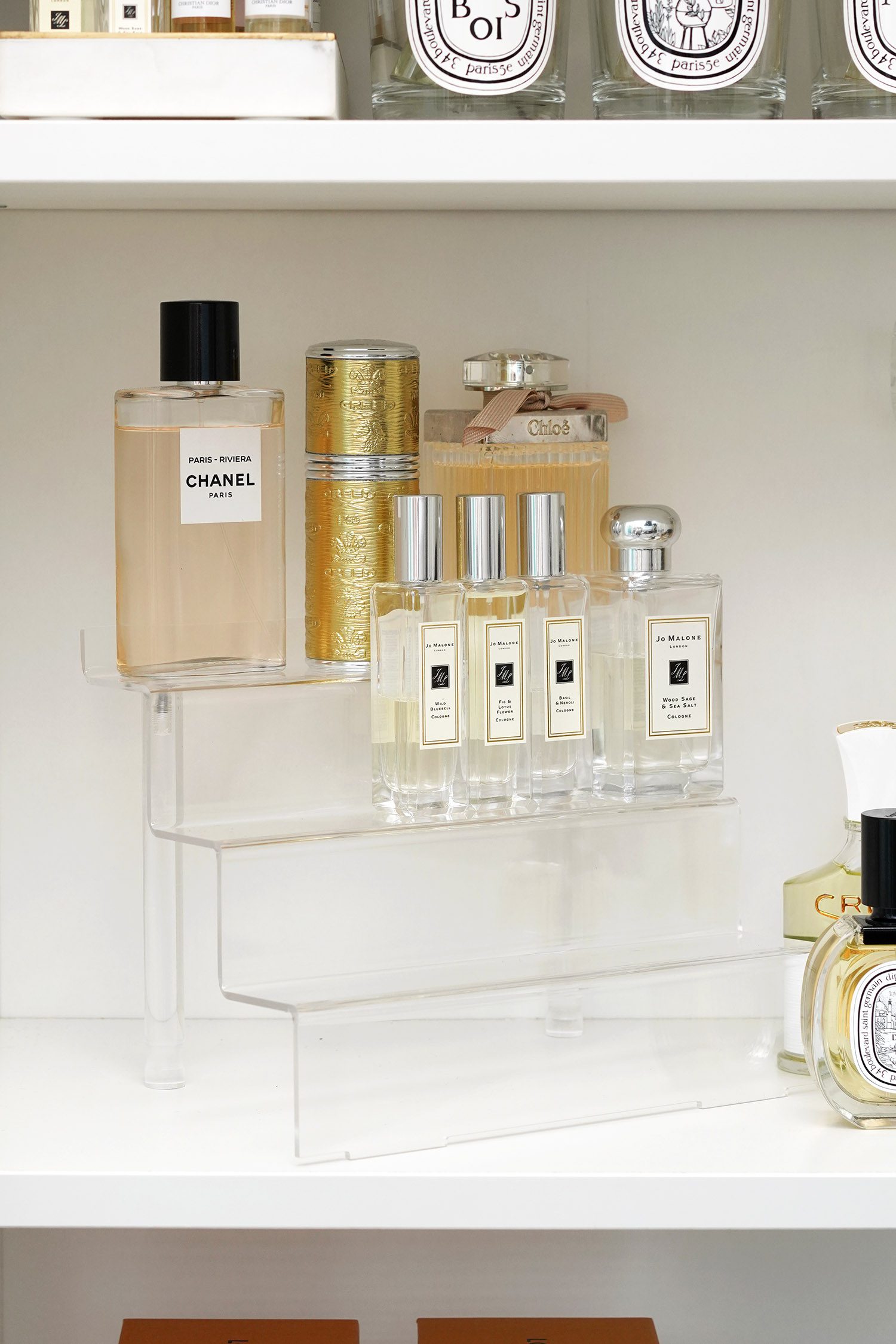 Shop my Amazon Finds
_______
Ikea Finds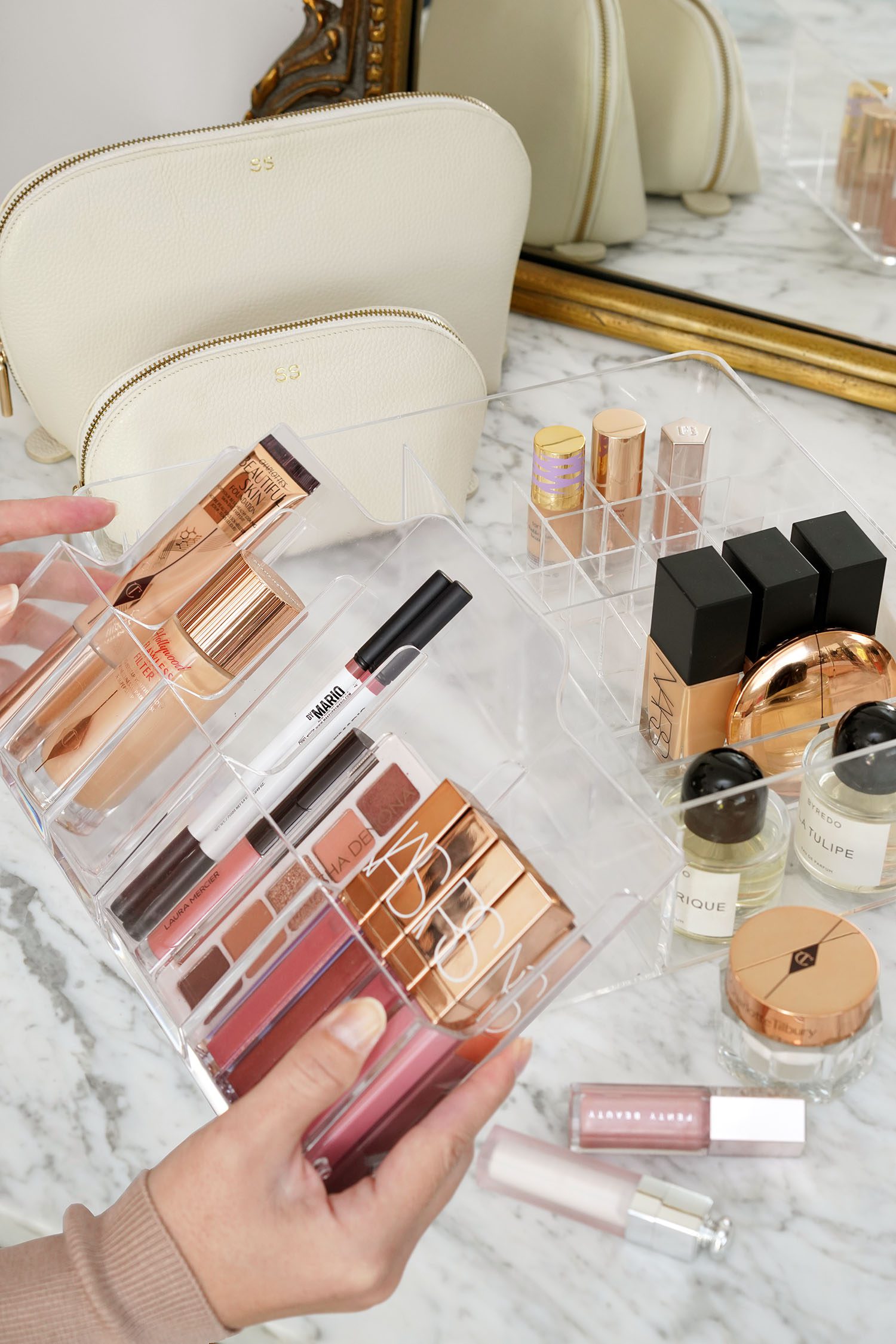 I've featured the Ikea Godmorgan Box ($22.99) a few times in the past and mine has still held up after 5+ years. Mine is a clear version which they don't make anymore. The current one has a slightly smoky tint but the design is still the same. This is a nice larger style box and is compatible with a lot of their bathroom drawers. Some of the inserts are removable too.
The same Godmorgan Line also has a Mini 2-Drawer Chest ($14.99) and Box Set with Lids ($17.99).
See it in action here.
_______
Muji Acrylic Pieces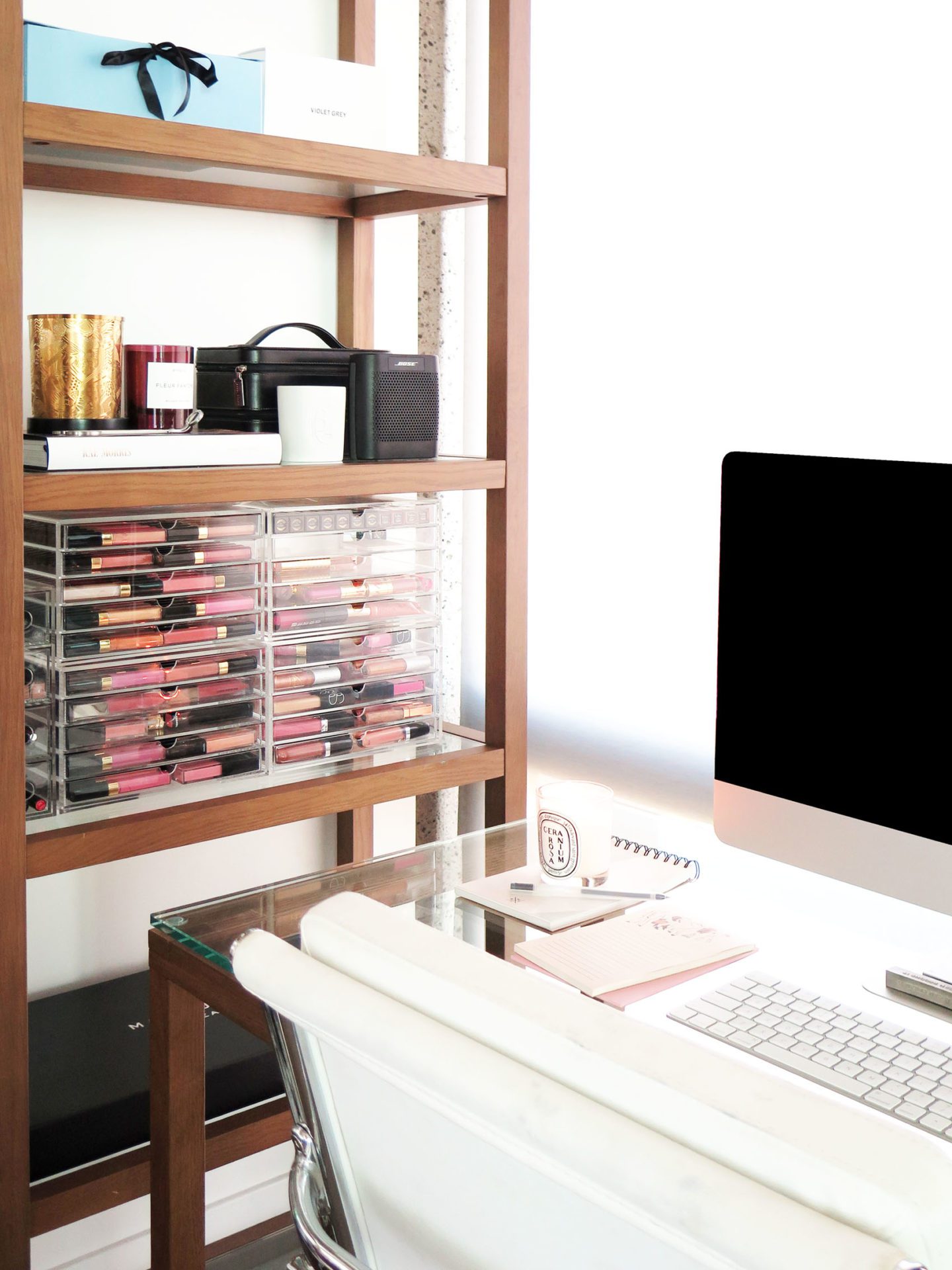 Last but not least a quick shout out for Muji. They make some of the best acrylic storage. I own lots from them and the acrylic is very well made. I've owned some for 10+ years and they still look as good as the day I got them. There are some light scratches but considering the amount of use they've gone through it's very durable.
The above photo is from my older home office when we lived in San Diego. I still have 5 Drawer Units (I stacked them 2 high) these but they're in a beauty closet. Also available in other configurations and depths like the 3 Drawer Unit.
This mini 3 Tiered Stand is also from Muji. It holds a small amount of things but makes for a cute mini display!
Yamakazi Home
Also thanks to one of my readers who commented below Yamakazi Home makes great storage solutions. Especially for small spaces. Andrew has a few of their stands (one in his bathroom). I also love their Bath Caddy (small and large) and just ordered a Rolling Bathroom Cart.
A few more options rounded up below!
1 tower / 2 caddy / 3 boxes with lid / 4 small caddy / 5 half moon box / 6 spinning tower / 7 acrylic spinner / 8 rack / 9 Five-drawer / 10 gold & marble spinner / 11 three tier stand / 12 clear box / 13 smoked box / 14 small desktop spinner / 15 larger spinner
What are your favorite beauty organizers? Do you have smaller organizers? A large one? Several large ones? Would love to hear about your favorite finds!