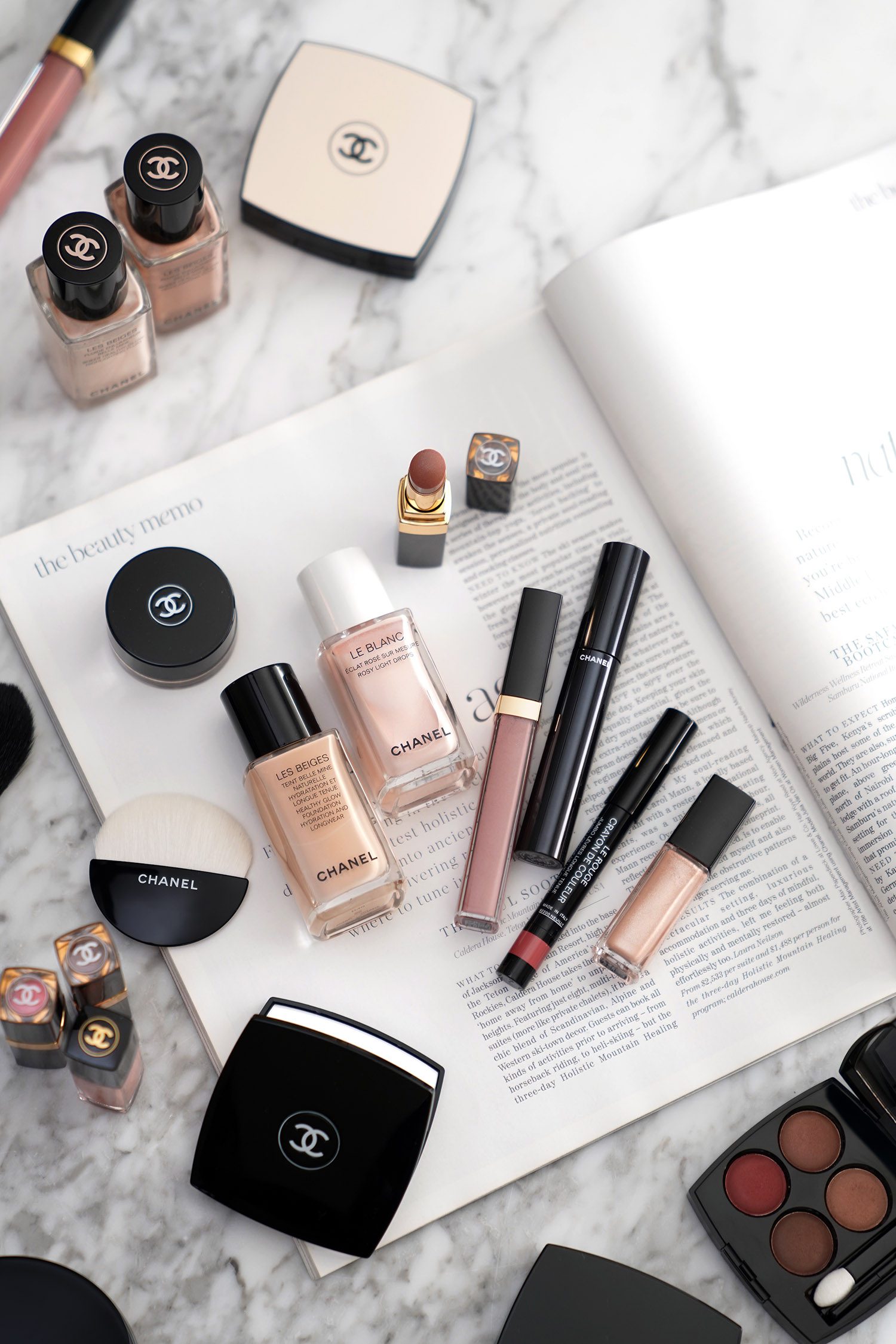 I hope you all had a wonderful Thanksgiving holiday! I've put together a Best of Chanel Makeup roundup for you today. I've been such a long time fan of Chanel – it's one of the makeup brands that inspired me to start blogging because I was so excited about finding the latest and greatest from them.
I intended on writing about the Chanel Good to Glow Cyber Monday launch but it sold out in record time and was completely gone within a couple hours! The good news is that the set included permanent items in the Chanel Makeup line so if you missed out, you can still buy the Rosy Light Drops, Rouge Coco Flash in Boy and Mirror Compact individually which I have swatched for you below. It came packaged in a red makeup bag in case you wanted to see what it looked like:
Chanel Good to Glow Limited-Edition Makeup Set (sold out, but items available separately)
I hope you find this roundup helpful if you're looking for recommendations of my favorites. You can always click on the CHANEL category tag to see a full list of all the Chanel reviews I've done. Quick note that this post focuses on makeup! I like a lot of the skincare, fragrance + body care items but wanted to give a more edited list for just makeup.
Base
The latest foundation from Chanel is the Les Beiges Healthy Glow Foundation. It's a natural medium coverage glow foundation. I like that it's not heavy or thick like the previous formulas in past years. I bought four of the shades and found that B40 (more neutral) or BD41 (more yellow) work best for me right now. It is scented so if fragrance irritates your skin do a patch test before applying. This has decent lasting power for a glow foundation – it's not too dewy or luminous but I do set with a powder.
Swatches next to a few other formulas (I've linked my previous reviews, I have swatches of other shades in a lot of those posts):
For powder the Les Beiges Healthy Glow Sheer Powder is one of my favorites for a soft diffused glow. It's a matte but has a slight translucent quality so you can buff into the skin to set your foundation. I use No 20 to set and No 30 or 40 as a warm-up/contour color. They did relaunch their Loose Poudre Universelle in extended shades this year. I bought 30 and 40 – they're pretty standard and basic. While they work, they're just not my favorite.
Blush
The Chanel Joues Contrast Blush is one of the best for a soft hint of color. Most of the colors will give you a natural look that is impossible to overdo. My top four picks are below (click on the name to see face swatches):
Highlighter
The Chanel fluid highlighters are stunning for a soft delicate glow. You can mix them in with foundation, apply them all over the face, or dab them where you want a highlight. They are sheer but noticeable on the skin.
I have collected almost all of the Chanel highlighters over the years. Most of them have been limited edition but I've linked the current powder versions available below:
Bronzers
The Les Beiges Healthy Glow Bronzing Cream is a classic easy to wear cream bronzer. It adds warmth to the skin in a natural way. This replaced the original cream bronzer and while many say they're different, I feel the new one performs the same as the original. Review + swatches here. I hope they add more shades!
Chanel powder bronzers are typically limited-edition launches with summer collections. I've been using the Les Beiges Healthy Glow Luminous Powder in Deep as a bronzer and love it! I didn't like the lighter shades as a setting powder on my skin, but the darker ones seem to work well for me as a powder bronzer that isn't too harsh or orange.
Eye Makeup
For the eyes, here are my favorites:
Rouge Coco Flash
The Rouge Coco Flash is one of my favorite sheer lipstick formulas. My original review + lip swatches here. I've added more swatches – they launched some new ones this year.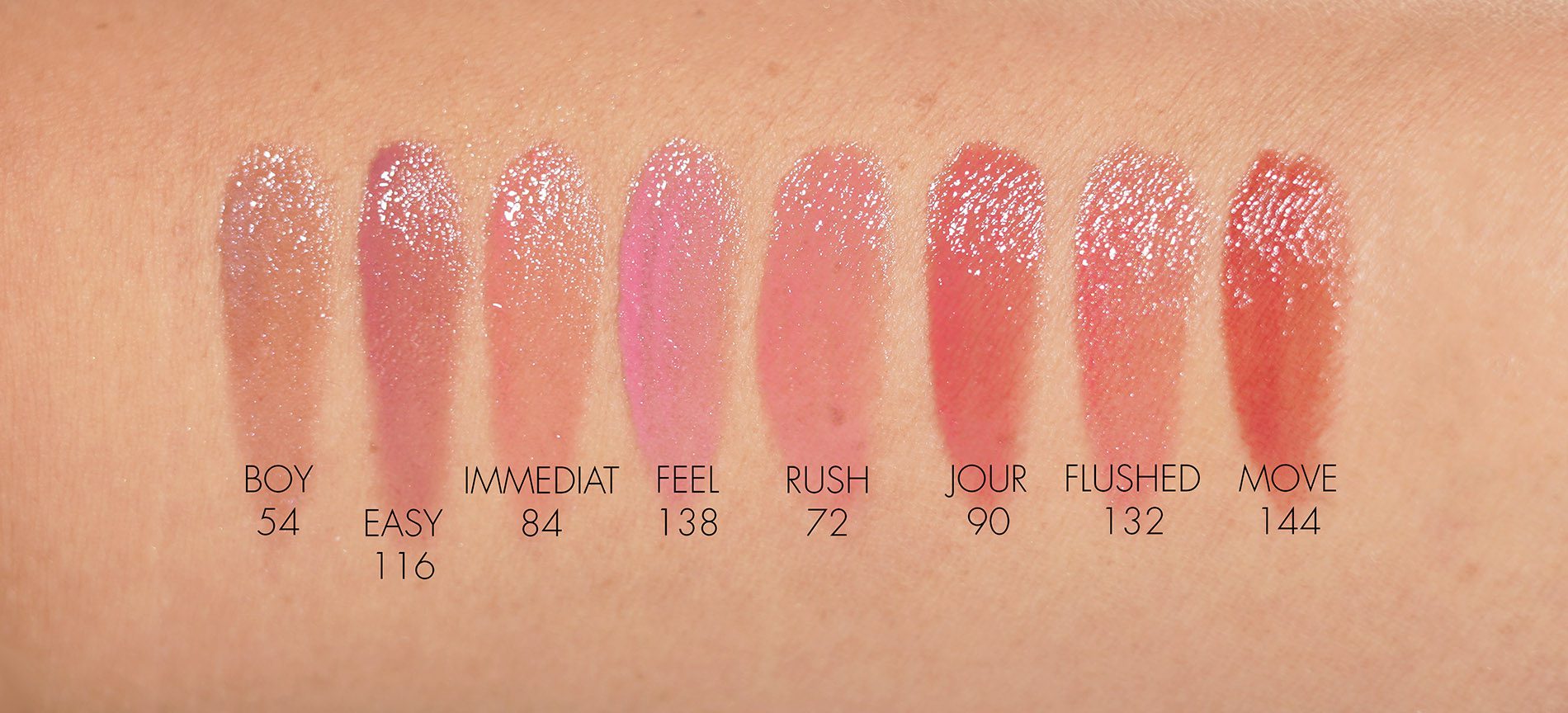 Rouge Coco Gloss
The Rouge Coco Gloss is a cushiony hydrating gloss with a lot of shine. These are semi-thick but smooth on the lips. My favorite one is 722 Noce Moscata which is a pearlescent beige. My other favorites shown above.
Also included swatches of some others side by side for reference:
My original Rouge Coco Gloss post with lip swatches here.
Le Vernis
Last but not least is the Le Vernis Nail Polish. I've been a die-hard fan of Chanel nail polishes for years. The current formula is better and longer wearing than the original version. I've done a number of posts with swatches and love them for the classic colors and long wear. I wear Organdi and Vamp the most. For a few roundups + swatches:
Best Chanel Neutrals here
Matching Chanel Lips + Nail Colors here
Makeup look wearing:
Les Beiges Healthy Glow Foundation in BD41
Les Beiges Healthy Glow Powder in No 20
Les Beiges Bronzing Cream + Les Beiges Luminous Powder in Deep
Rosy Light Drops
Les 4 Ombres in Candeur Et Experience
Rouge Coco Flash in Boy
Le Vernis in Organdi
Top from Nordstrom
That wraps up my Best of Chanel post! If you have questions about any other product not listed chances are I've tried it – so feel free to ask in the comments. Would love to hear about your favorites!
You can find everything available at Chanel.com.
Press samples indicated with a *. Other items purchased by me.