Today I have a new summer base edit! I've been putting quite a few new foundations and tinted moisturizer formulas to the test. I have my thoughts on all the formulas for you today. Side by side swatches included at the end along with a summary of my hits and misses.
For those new to my blog a quick overview on my skin type and skin tone. I have medium-tan skin with a golden undertone. Since I live in Florida I tan easily with the intense sunshine and so I fluctuate between shades frequently. My MAC equivalent is usually NC35 or NC37. For Chanel I'm typically B40 and sometimes B50. I have normal combination skin. I prefer medium to full coverage.
I'm covering thoughts on 8 formulas today. Thoughts on each one by brand and formula below.
_____________
Tom Ford
Tom Ford foundations used to be my favorites for the color and quality. I still find some hits with the new launches but the color shades and options aren't consistent across formula which makes it tricky to find the right match. I'm usually Natural 6.0 or Sable 6.5.
Tom Ford Soleil Glow Tinted Moisturizer SPF 15
Tom Ford Soleil Glow Tinted Moisturizer SPF 15 ($70, at Nordstrom) in Dune 5.7 – I have mixed feelings about this formula. This is a very sheer barely there tint. It currently does not come in my usual shade, the closest ones are Dune 5.7, Cool Dune 6.2 and Tawny 7.0. I opted for Dune (ordered sight unseen) because in some formulas it's a good match. This one is too light for me but does adjust/oxidizes a bit. Once blended disappears into a glow, like basic moisturizer. Alone it's too dewy so I have to set with powder which counters any glow it has. Formula has minimal hydration to me, just feels dewy and balmy. Lasting power is decent. You can see this one on my face here. I just don't think it's worth the price given the limited shade options and sheer coverage. It's good but not amazing to me.
_____________
Tom Ford Soleil Glow Flawless Glow Foundation SPF 30
Tom Ford Soleil Glow Flawless Glow Foundation SPF 30 ($88, from Nordstrom) in Natural 6.0 is a formula I've reviewed before. It's not new but I wanted to highlight it again as I think it's one of the best sheer-to-medium glow formulas I've tried. It has medium coverage and looks very natural on the skin. It comes with a dropper and is very fluid in texture so it's lightweight and not heavy. You can see it worn here and on the face here.
_____________
Tom Ford Shade and Illuminate Soft Radiance Cushion
Tom Ford Shade and Illuminate Soft Radiance Cushion SPF 45 ($132, available at Nordstrom) in Sable 6.5 is one of the formulas that comes in a limited range of colors. The deepest one available is Sable which I ordered and it pulls a bit lighter than most other formulas in the same color which I attribute to the sunscreen ingredient. It has beautiful coverage with a nice light reflecting glow. It is dewy so I need to set it with powder to make it work for me. Above I'm wearing just the foundation (no powder or concealer although I do have some gloss and eye makeup on). You can buy the refills for this separately at $88. I think the formula is great but the color range is terrible.
I do think the liquid pump Shade and Illuminate Foundation is just as good with a better color range, slightly more opaque coverage with a more consistent color. I opted for Natural 6.0 which I found slightly darker than other formulas with the way it dries down, but it works for me with my tan. You can see the Shade and Illuminate Liquid Pump version in Natural on my face here. If you find formulas usually oxidize on your skin you may want to try half a shade lighter than your usual color.
_____________
Tom Ford Traceless Soft Matte Foundation
Tom Ford Traceless Soft Matte Foundation ($88, from Sephora) in Natural 6.0 – I couldn't have been more excited to see this one launch! I ordered it immediately in Natural 6.0 and Sable 6.5 from Sephora. This is one of the best formulas I've tried, although I don't think I would call it a true matte. It's more of a classic soft finish with medium to full coverage. Application is best with a sponge to press and blend into the skin. Texture is very fluid but fairly opaque. Blends in seamlessly and has perfect coverage and excellent lasting power. I used it over the Kate Somerville DeliKate Recovery Cream (review + promo code here) alone without any primer and it performed exceptionally well. Natural is a good match for me right now. Sable pulls a little more olive/warm but I wanted a darker shade to mix since I tan easily.
_____________
By Terry Hyaluronic Hydra-Foundation
By Terry Hyaluronic Hydra-Foundation SPF 30 ($59, available at By Terry) in 400W – This is my second favorite launch I've tried. I don't have a By Terry counter near me so I ordered 400W and 400N sight unseen based on the shade chart. It looks lighter in the bottle but has a good dry-down and adjusts slightly once it sets. This is a fluid lightweight dropper style foundation. It's hydrating but has a beautiful soft dry down with a natural glow. I love how light it feels on the skin and it offers natural coverage. There are 5 color options and each color option is available in Cool, Neutral or Warm. I do hope they expand the color range. I've been testing some of the Tinted Powders recently and like 300 for my skin. Review on this one soon. P.S. If you've had your eye on anything from the line the By Terry website is having a really good summer sale right now!
_____________
La Mer Radiant Skintint
La Mer Radiant Skintint with SPF 30 ($95 at Sephora) in Light-Medium and Medium (above wearing Light-Medium) – I had high hopes for this but it was a huge miss for me for the formula and color range. I initially ordered Medium 42 which I found slightly too dark. It felt fairly thick and heavy on the skin which I expected based on the description. It also darkened on my skin once it set. I was determined to make it work but decided to try Light-Medium 32 since I used to love the Lifting Cushion in Shade 33 Warm Bisque.
Here's the 411: Light-Medium is very pink/peach and once it dries turns orange/pink on my skin. Medium has the right undertone but darkens slightly so doesn't match my neck. Coverage is sheer to medium. Texture is thick. Once it sets it looks like a greasy mess on my face. It feels very thick and uncomfortable – especially if I go outdoors at all. I think it would probably work better for those with super dry skin.
For a skin tint with similar coverage, I prefer the Chanel Les Beiges Healthy Glow Moisturizing Tint or the CC Cream (which is thick since it's a CC Cream, but works much better for my skin in the way it sets and lasts).
_____________
Dior Forever Summer Skin
Dior Forever Summer Skin ($52, available at Dior.com) in 002 Light – my friend Rachel of @BeautyProfessor put this on my radar for summer during one of our chats. It's super limited and so far I've only been able to find it at Dior.com. Colors run VERY dark. It's been a long time since I've worn Dior for foundation but am usually in the 30 range. I initially ordered Medium 003 which I expected to work but it was much to dark. They had an ok return policy so I returned it and ordered the Light 002 which works much better.
It still looks really dark in the tube but it's semi sheer and blends out nicely. Light works for my skin tone and gives the complexion a healthy glow – like the Chanel Les Beiges but with a more fluid texture. I suspect they made these darker in color to give the skin a more bronzed sunkissed glow, but I still think they should have offered this in a wider shade range. Coverage is sheer enough to be forgiving if you don't have an exact match. I feel lucky to have found a color that works for me but if you're on the light or fair side I think these will be too dark.
_____________
Lunasol Glowing Watery Oil Liquid
Lunasol Glowing Watery Oil Liquid* ($55 via Beautygypsy Recommends) in 03 Medium – one of my beauty friends Wafaa of @BeautyGypsy has a shopping site Beauty Gypsy Recommends where she offers custom purchases of a wide range of hard to find Asian beauty brands and products. She was kind enough to send me an amazing care package of foundations and sunscreens to try – and she picked them out all on her own! The Lunasol Glowing Watery Oil Liquid was first on my list to try and it BLEW MY MIND. It's what I wanted the Kosas Face Oil to be, but this one from Lunasol is so much better. It's a tinted fluid that offers beautiful medium coverage, it doesn't even feel like an oil! Coverage is so flawless and naturally glowy without being to heavy.
It has SPF 25 and has a unique dropper dispenser at the top to control how much you pour out. Wafaa picked Medium 03 for me as we are both similar in skin tone. This one is just a tad bit to light for me and I plan on ordering Dark 04 from her website. I can make it work with a bit of bronzer but am really curious to see if the darker color will be a better match because the formula is SO good. * QUICK UPDATE ON ORDERS – I just heard from Wafaa that Beauty Gypsy Recommends is currently not taking orders until end of August. She's working on updating her site with a note so in case you have not been able to check out on her Shopify that may be why. I'd recommend contacting her if you have any questions, she's really friendly and helpful!
_____________
Swatches below side by side of all the new shades/formulas I tried. Both photos have the same colors, just different lighting out doors.
With different flash/lighting: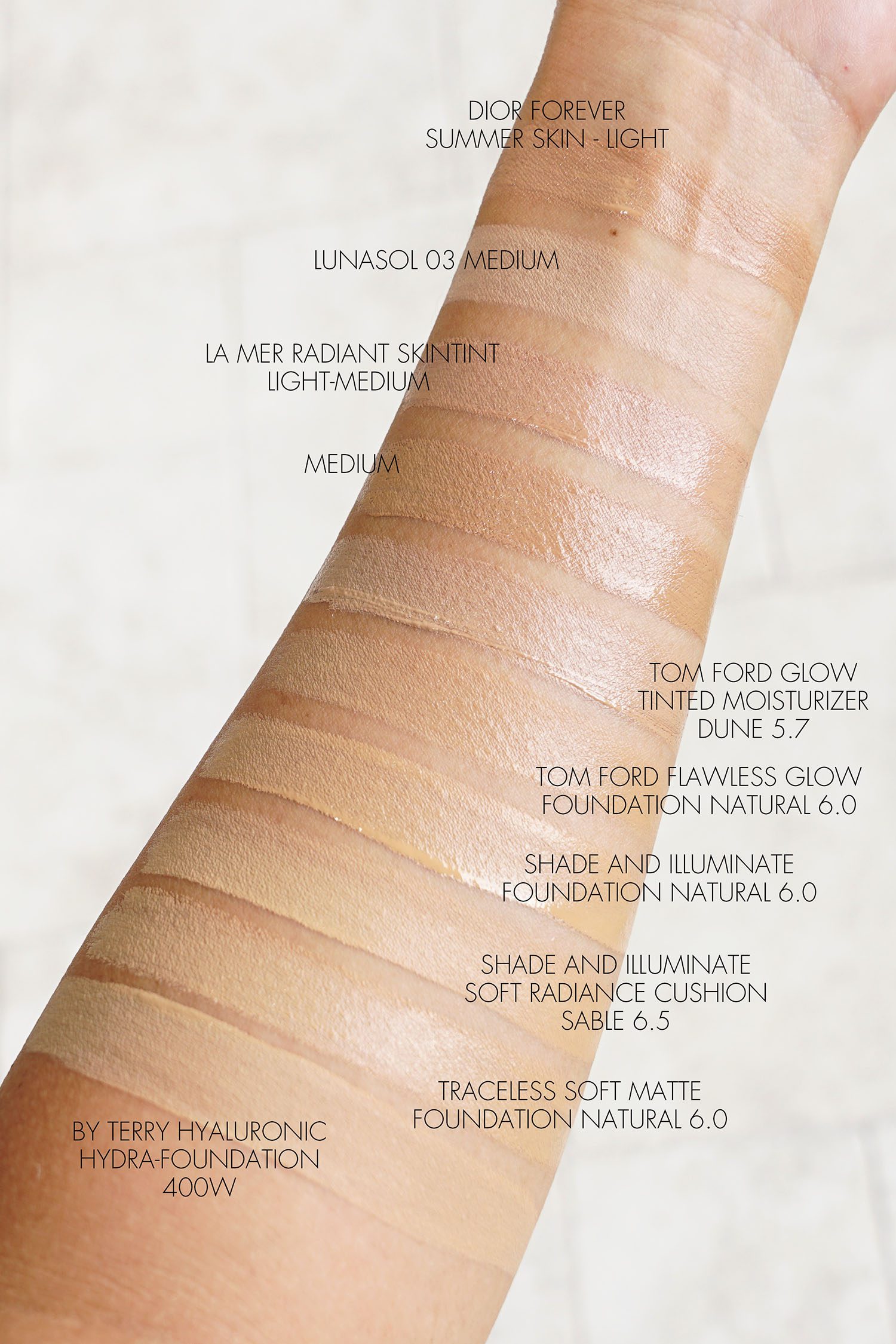 _____________
My Foundation Tools
With any foundation I feel like a sponge is the best way to go for smooth seamless application. Beautyblenders are the best sponges I've tried (and I've tried to find a dupe but cannot). The motion of pressing and blending the liquid into the skin with a sponge always gives me a better even coat of foundation even if it does soak up a lot of product. Brushes tend to apply too much product or look streaky. However I do have a few brushes I do use quite frequently for blending.
Summer Base Edit overview: Out of all the new bases I tried, my Top 2 favorites are the By Terry Hyaluronic Hydra-Foundation and Tom Ford Traceless Soft Matte. The Dior Summer Skin comes in close third but I'm docking points because of the super limited shade range. Much to my disappointment the La Mer was the worst for me.
For other base essentials I don't use a lot of concealer these days but my absolute favorites are NARS Radiant Creamy (best for under eyes or brightening), Laura Mercier Flawless Fusion (also versatile for brightening + under eyes), Pat McGrath Skin Fetish (best full coverage concealer) and formulas from Cle de Peau.
I will have an updated powder roundup to follow soon. I'm testing a few new launches and wanted to include those in the review! If you want to see which other foundations I've reviewed you can always click on my BASE MAKEUP tag or search by formula name in the search bar.
What is your go-to summer base right now? Are you wearing makeup? Sticking with your tried and true? Let me know in the comments! I hope this review helps you in case you're curious about any new formulas and foundations. Especially since I suspect most of us cannot test anything in store right now.
Press samples/gifting indicated with a *. Most items featured here were purchased by me.