Chanel Beauty Spring-Summer 2020 just launched and it offers the prettiest palette of soft neutrals for the new year. I've been playing with the items for a few weeks now and love everything. The colors are soft and glowy for a new fresh look. You can find all the pieces available now at Chanel.com. The Chanel beauty team sent the collection for review and I have swatches of everything today including:
Illuminating Powder
The Illuminating Powder Elcat du Desert is one of the softest highlighting powders I've ever tried. It's quite powdery with a lot of kick up on a brush but blends beautifully and seamlessly on the skin. It's a soft cool-toned pink embossed with a pattern that looks like a desert. The texture is smooth and gives the skin a really pretty glow. I find it unique enough to justify owning even with all the other highlighter options out there. Lasting power is excellent – it stays put all day. Pigment is soft but buildable. It's smooth and doesn't emphasize texture or pores on my face.
Baume Essentiel
This is my first time trying the Baume Essentiel. The new shade for spring is Golden Light which is a sheer golden bronze. I would love this in a pigmented powder, gloss or eyeshadow form – I think the color is truly gorgeous! The baume itself is ultra dewy and glossy. If you like the concept of a dewy highlight like the RMS Living Luminizers, then you'll love these. My bestie has been raving about the original Baume Essentiel for months wondering why I didn't buy it. Dewy balms for the face aren't my thing – but Golden Light is fun to play around with. I see myself wearing it more on the lips vs face.
On my medium skin once it's blended it pretty much disappears into a very subtle glossy glow. It almost matches my skin tone. If you have fair or light skin tones it will most likely look deeper and give you more of a bronzed look.
Les 4 Ombres
There are two new Les 4 Ombres quads for spring. Elemental is the prettiest soft palette of neutral pink and mauve with some taupe shimmer. It's very neutral-looking on my skin and reminds me of a more subtle version of the NARS Kalahari duo but in quad form with more pinks and mattes. Elemental is the perfect everyday kind of neutral quad.
Warm Memories is a warmer option with a mix of mauve, plum and shimmering orange. It's a lot more wearable than I anticipated but still pulls very warm. Pigment is medium but buildable and lasting power of both quads is excellent without any fallout.
Stylo Ombre et Contour
There are two Stylo Ombre Et Contour products which are essentially chubby pencils that are in the twist up format. The two colors for spring are perfect contouring shades for the lids. I simply swipe on the lids and blend with my finger. Contour Mauve is the perfect my-lids-but-better soft mauve nude pink. Contour Brun is a deeper but very soft brown that adds depth in a natural way for my skin tone. I tried it as a liner and it gives a soft diffused look. They are both creamy, easy to blend and have a matte finish that stays put once it sets.
Ombre Premiere Laque
The Ombre Premiere Laque is a new formula of liquid shadow. They have the perfect amount of shimmer and glow when you blend on the lids. I played around with these a few different ways – I can use one or two all over the lids for a wash of color. They also layer on top of powder shadow almost like a top coat. They are like a thicker fluid, not quite creams. Texture is easy to blend and they dry down nicely to a dry finish for long wear. These come with a sponge tip applicator which is sturdy and makes application easy. I blend either with my fingers or a separate cream shadow brush. My favorite color is Quartz Rose and Rising Sun, but really all the colors are gorgeous.
The packaging reminds me of the older Chanel D'Eau Fluids from many years ago, but the fluid ones were more of a watery bases with pigment suspended. The new Ombre Premieres are thicker and not nearly as watery.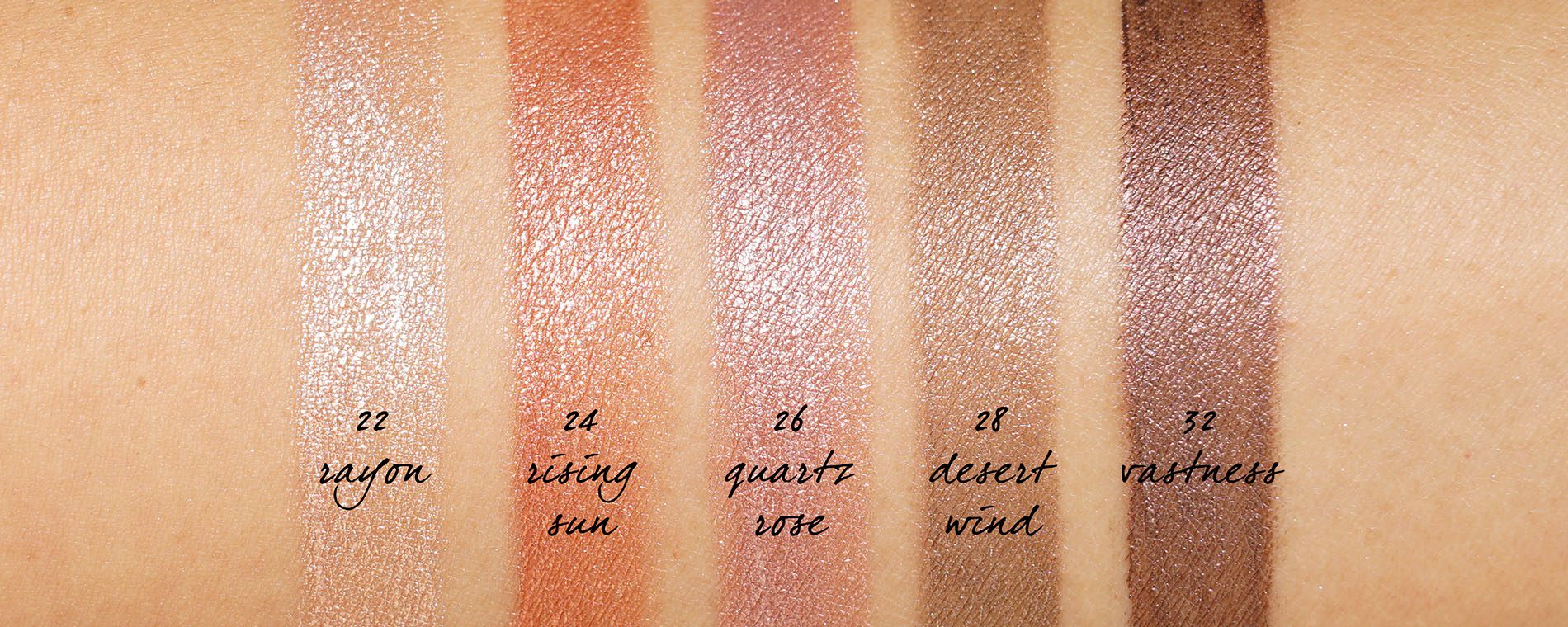 Lipsticks
The two lip colors are bold this season. They pull very warm and have super rich opaque pigment. The Rouge Allure Velvet Extreme in Endless is a warm bold pink red. I've reviewed this formula a few times in the past here and here. This is Chanel's ultra pigmented matte lipstick that has a velvety finish but does not look or feel dry. They're very creamy and opaque and smooth.
The Rouge Allure in Rouge Brulant is lighter in color but still very bold and warm. I'd describe it as a warm brick shade. Formula of both is smooth, easy to blend and they glide on the lips flawlessly. There's no detectable scent in either. The Rouge Allure formula is like a classic lipstick, bold and opaque and creamy with a slight sheen.
Le Vernis Nail Color
Last but not least are the two new Le Vernis Nail Polishes in Daydream which is the prettiest mauve pink cream and Mirage which is a gorgeous dusty purple. Both have a glossy finish. There is a very slight transparent quality to the color but I can get full coverage with 2 coats. I'm obsessed with Daydream which pulls more muted on the fingers once I get 2 coats and it dries down.
Top is Daydream, bottom is Mirage
Two makeup looks below. Look 1 wearing:
__________________
Look 2 wearing:
Overall I think this is a beautiful collection to start off the year. Everything performs well to the typical Chanel standards for high quality textures and lasting power. My recommendations for picking items would be based on your color preferences you see yourself wearing a lot. Quality-wise everything is phenomenal.
My top picks are the Eclat du Desert Illuminating Powder, Elemental Quad, Daydream Le Vernis, both Ombre Contour Pencils and any of the new Ombre Premiere Laque. I would have liked to see a few more lip options but there are always lots of launches closer to February anyways. The new Rouge Allure Camelias have just launched online but I have not yet tested them. For the eyeshadow quads, I loved how both performed. In terms of color selection I can't say whether or not they are must-haves yet as there are a lot of new launches this year including a few options from Charlotte Tilbury, Natasha Denona and Tom Ford. I'll have reviews on all of those in the upcoming weeks and will be able to compare them later. I do really like the vibe of Elemental – I think it's different from the popular reds and oranges these days. It makes for the perfect classic neutral eye.
Did you check out anything from the spring collection yet? What did you think?
You can find all the pieces available now at Chanel.com.
Spring 2020 collection provided by Chanel for review.