I have a look at two different product launches from Chanel! They recently added eight new shades of the Le Rouge Duo Ultra Tenue and also three re-promoted blushes in special edition packaging to celebrate the 40th Anniversary of the Joues Contraste Powder Blush.
Chanel Le Rouge Duo Ultra Tenue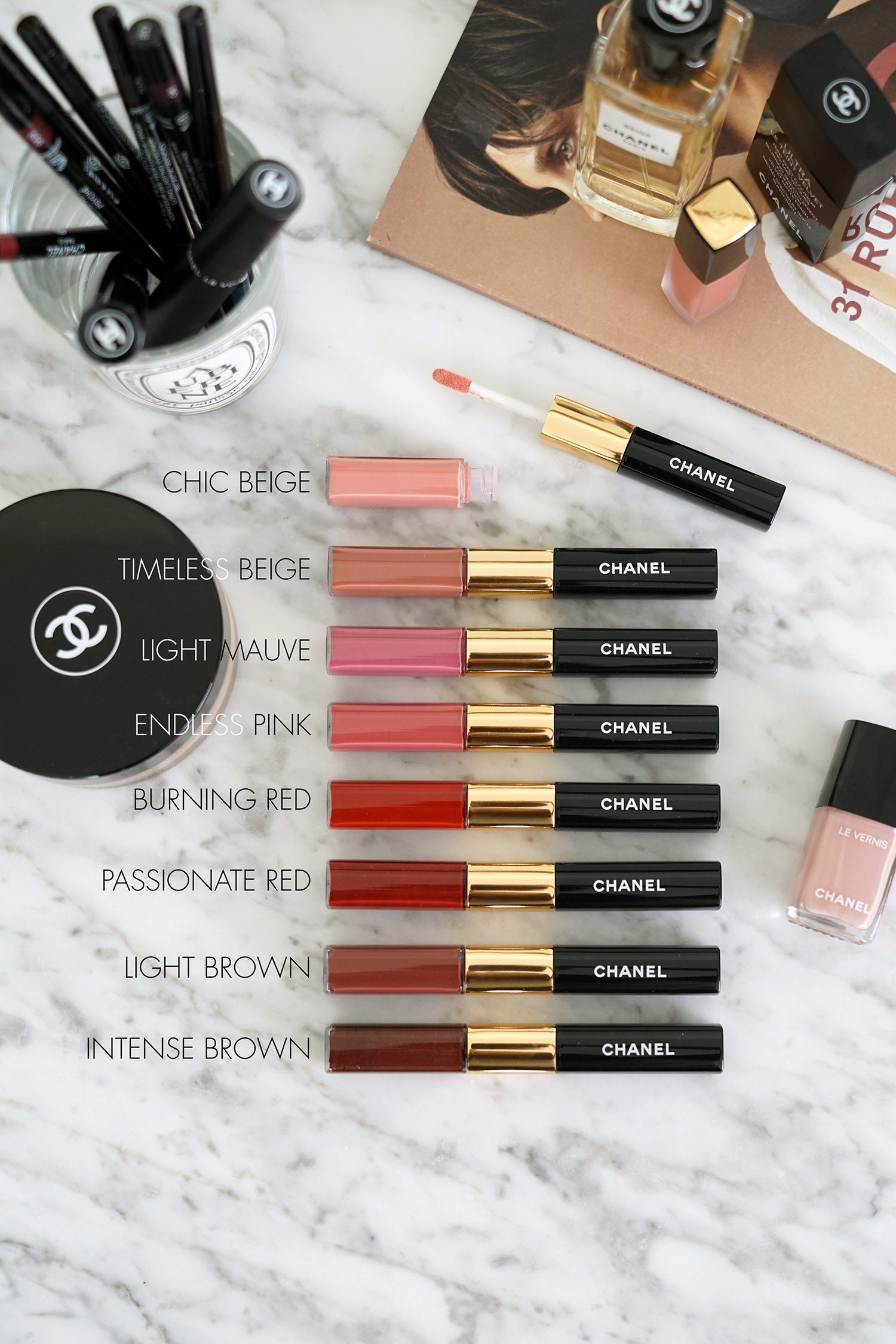 The Chanel Le Rouge Duo Ultra Tenue Gloss is a long-wear full coverage liquid lip color with a high shine top coat. These are double ended tubes with two sides. One has the lipstick with a sponge tip wand applicator, the other has a shiny gloss with a brush tip. Out of all the long-wear lip products I've tried this is one of the longest lasting formulas. The color does not budge once it sets, but you will need to reapply the top coat as needed.
I've tried a few of these in the past and really love the formula. It's best to apply on a clean lip. You can apply liner first if you prefer, but I usually just apply straight out of the tube. New shades include:
164 Chic Beige

is an ultra pale light beige cream

166 Timeless Beige

is a perfect neutral beige

172 Light Mauve

is a light blue-based mauve pink

174 Endless Pink

is a medium warm pink

176 Burning Red

is a bright bold classic red

180 Passionate Red

is a deeper bold red

182 Light Brown

is a taupe brown

184 Intense Brown

is a dark cool-toned brown plum with a hint of shimmer
Swatches below alongside a few of my other favorites (you can see other ones on the face in this post here, Intense Nude and Intense Caramel are still my favorites).

Quality and pigment is excellent for me. The only ones that didn't work for me were just because the colors didn't suit my coloring. Chic Beige is too pale for my complexion and Intense Brown is too deep/cool toned. Out of the new colors I think Timeless Beige is the best easy to wear everyday color. Beige can be hard to pull off as many are too pale, too yellow or too flat. Timeless Beige is perfect! I also love Endless Pink for a pretty warmer brighter but still  neutral pink shade. I think the reds are phenomenal too.
Chanel 40th Anniversary Joues Contraste
This year marks an anniversary milestone for the Joues Contraste Powder Blush. They launched classic colors in a special limited-edition compact with a burgundy colored CC logo instead of the white. Colors are existing shades so if you already own them I don't think there is a need to repurchase unless you are a Chanel collector and love the packaging. I do believe that different countries featured different colors in this launch. The US colors include:
02 Rose Bronze

a soft shimmery pink with an iridescent sheen (this color was one of my first Chanel splurges when I started getting into makeup!)

260 Alezane

a classic beige with a hint of gold shimmer

320 Rouge Profond

is a classic flushed red
All three have that classic soft texture all Chanel blushes have. I do think the formula and color payoff has improved over the years and these have very good pigment while still having a natural look.
Makeup Looks
Looks wearing 6 of the 8 new lip colors and all 3 blushes below. Full beauty breakdown wearing:
Most of the looks have the gloss top coat on top of the liquid lip color.
Overall I think Chanel launched some beautiful classic colors that you can wear on an everyday basis. I want to try a few more shades of the Le Rouge Duo Gloss. I used to love and own Darling Pink and think I may repurchase it. A number of you have mentioned you loved Intense Rosewood so I will probably give that one a try as well.
I think the three repromoted blushes perform well. They have a soft but buildable texture that is easy to wear. All three show up on my medium tan skin. If you've used Chanel for a long time you know that their blushes have been sheerer in the past – I do think the formula has improved over the years.
You can find the new Chanel launches online at Chanel.com now.
Have you tried these yet? What did you think?
6 of the Le Rouge Duo Ultra glosses and 3 blushes provided for review.