There are so many new foundation formulas out this season and today I have a review of the Chanel Ultra Le Teint Velvet Foundation ($50 for 30 ml/1 fl oz). It comes in a small black squeeze bottle with SPF 15 and is available in 13 shades. There are three undertones, B for beige (usually what I wear), BR beige rose (has pink undertones) and BD for beige dore which is the first time I've seen this color name but it might not be new. The active ingredients are Octinoxate 5% and Titanium Dioxide 3.1%.
The Ultra Le Teint Velvet Foundation seems to have replaced the Perfection Lumiere Velvet which I used and loved many years ago. It's been a long time since I've used the older formula so I can't really compare the new to old but from what I recall it has a similar effect. The new Ultra Le Teint Velvet Foundation has a lightweight oil-free fluid texture and smooth blurring effect on the skin. It feels very lightweight and glides on nicely offering medium coverage. It has a powdery feel with the dry down but isn't too matte. I've found it sets quite nicely with a semi-velvet matte finish but not dry or cakey like some matte base formulas have. On my combination skin it lasts nicely all day requiring only a small touch up on the nose mid-day.
I have swatches of a selection of the colors, I didn't have all the colors to swatch, B40 is swatched twice with both sets on the top and bottom: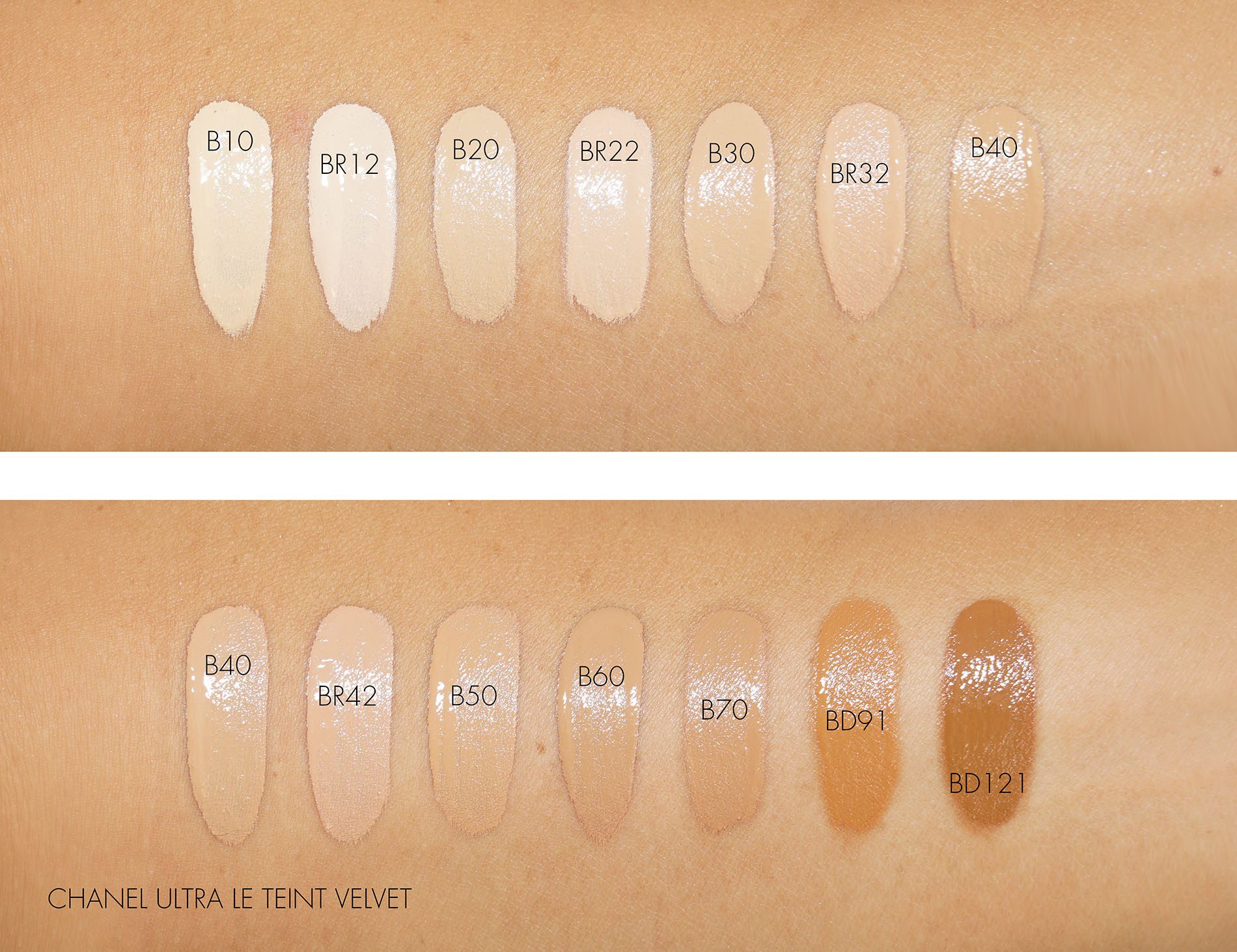 A few comparisons to other Chanel base formulas: Les Beiges reviewed here, CC Cream reviewed here

My color match back in San Diego and earlier days of blogging was almost always B30. Since moving to Florida I'm exposed to intense sun and am outdoors more so I'm now a B40 or B50. With this Ultra Le Teint Velvet Foundation formula I found I can get away wearing either B40 or B50 right now. I tried both on my face, 40 on one side and 50 on the other. I can barely tell the difference when it's blended out even though from swatches there is a clear difference between the colors.
Below is a look at B50. Once applied it adjusts/warms up slightly but there isn't a huge amount of oxidation or darkening. I would recommend picking your regular Chanel shade with this formula. For application, I tried three ways: with the fingers, with a Chanel foundation brush and with a beautyblender sponge. My favorite way is the sponge method, but the formula is really easy to blend with fingers or a brush.
Top left: bare skin (just have brow makeup on)
Top right: a swatch of B50
Bottom: B50 applied all over with a brush
Full look with the Ultra Le Teint Velvet Foundation in B50, also wearing:
Full list of ingredients from the box below for the US formula. It does contain alcohol and dimethicone but neither irritated my skin. There are some foundations that have a high concentration of alchohol that irritate and dry out my skin. If you have sensitives your mileage may vary but this one works well with my skin which makes me believe it's in a smaller quantity than others like the L'Oreal Infallible line (which looks great on the skin, but causes a lot of irritation for me).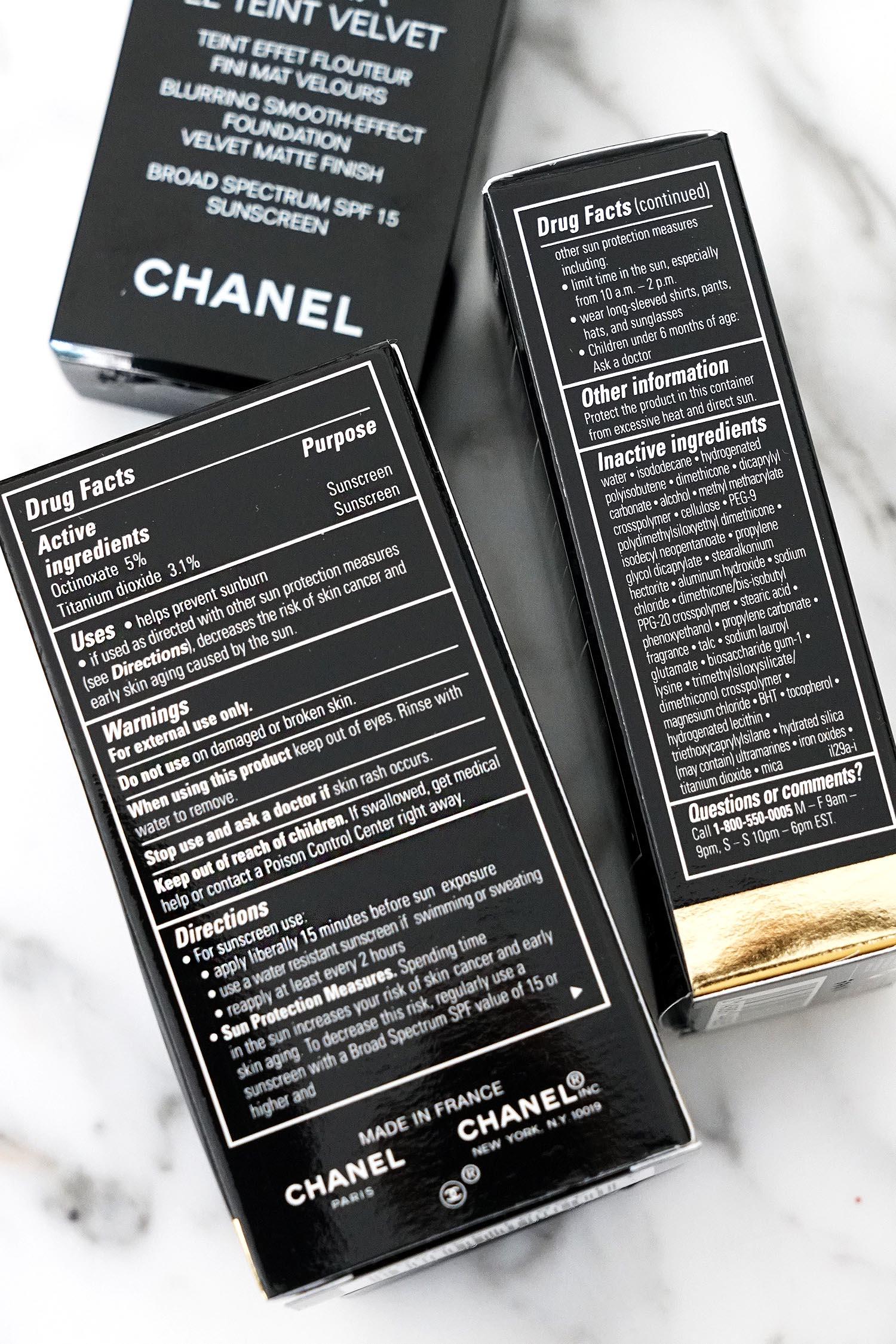 On the nails Pure White (review here)
Overall it has performed really well for me. I'm relieved the SPF and alcohol content in this base did not irritate my skin as I've had a really rough summer testing sunscreens. I give it a solid A+ for me and think the undertone works just right for my skin.
I'm still in the process of trying out a few other foundations including the new Fenty Beauty, Natasha Denona, Charlotte Tilbury and Zoeva formulas. I'll have a roundup to come as soon as I get through all of them. First impressions are the Charlotte Tilbury one has the most similar effect with the matte finish but isn't quite as lightweight in feel.
You can find the Chanel Ultra Le Teint Velvet Foundation out now at Chanel.com, coming soon to all Chanel counters (your store might already have it!). Have you tried this yet? What did you think?
Chanel foundations gifted and provided for review.