Continuing holiday beauty reviews with a look at the Pat McGrath BlitzTrance Lipsticks ($38 each for 3.9 g/0.13 oz, made in USA). Pat McGrath continues to launch innovative colors and formulas in a way that makes me want to go beyond my usual conservative makeup comfort zone and try new things. These BlitzTrance Lipsticks have intense sparkle and pigment. They're described as an "iridescent lipstick that releases a full-coverage blast of explosive color with multidimensional, high-shine effects" and I could not describe it better. They're opaque, ultra-reflective, explosive in color pigment and luminous.
These lipsticks are very sparkly but the sparkle and glitter varies per shade. I'll describe them in more detail next to each shade description. There is a little bit of texture from the sparkle with a couple of these but it's not a harsh texture and once on the lips I barely notice it. Lasting power is really good – the color base is emollient and has a hydrating feel so it helps the glitter adhere and it doesn't migrate. Only Pat McGrath can make me want to wear sparkle this intense. I was prepared to tell you that they are way too sparkly and intense for me based on the online swatches I saw, but some of the colors are really wearable and I think the bolds are going to be particularly beautiful for holiday parties or dinners.
There are currently 7 shades available. I received 6 of these as press samples and then picked up the 7th color from my local Sephora. There is another 8th shade listed online as "coming soon."
Nude Romantique

is a refined peachy pink shimmer, it has lots of sparkle but this is one of the more subtle sparkles

Flesh Fatale

is a medium bronze nude shimmer, also has softer shimmer

Fuchsia Perfect

is an intense cool-toned bright blue based pink sparkle

Cyber Orchid

is a bright cool-toned purple pink sparkle (it's similar to Fuchsia Perfect, Cyber Orchid just has more blue tones)

Rebel Red

is the most stunning metallic red I've ever seen, sparkle is chunkier in this one with a noticeable texture

Club Kiss

is an intense plum-red shimmer, sparkle is also very metallic and bold

Blitz Gold

is a yellow 24K gold metallic, it's smoother in shimmer, but very foiled

Electra

is listed as "coming soon"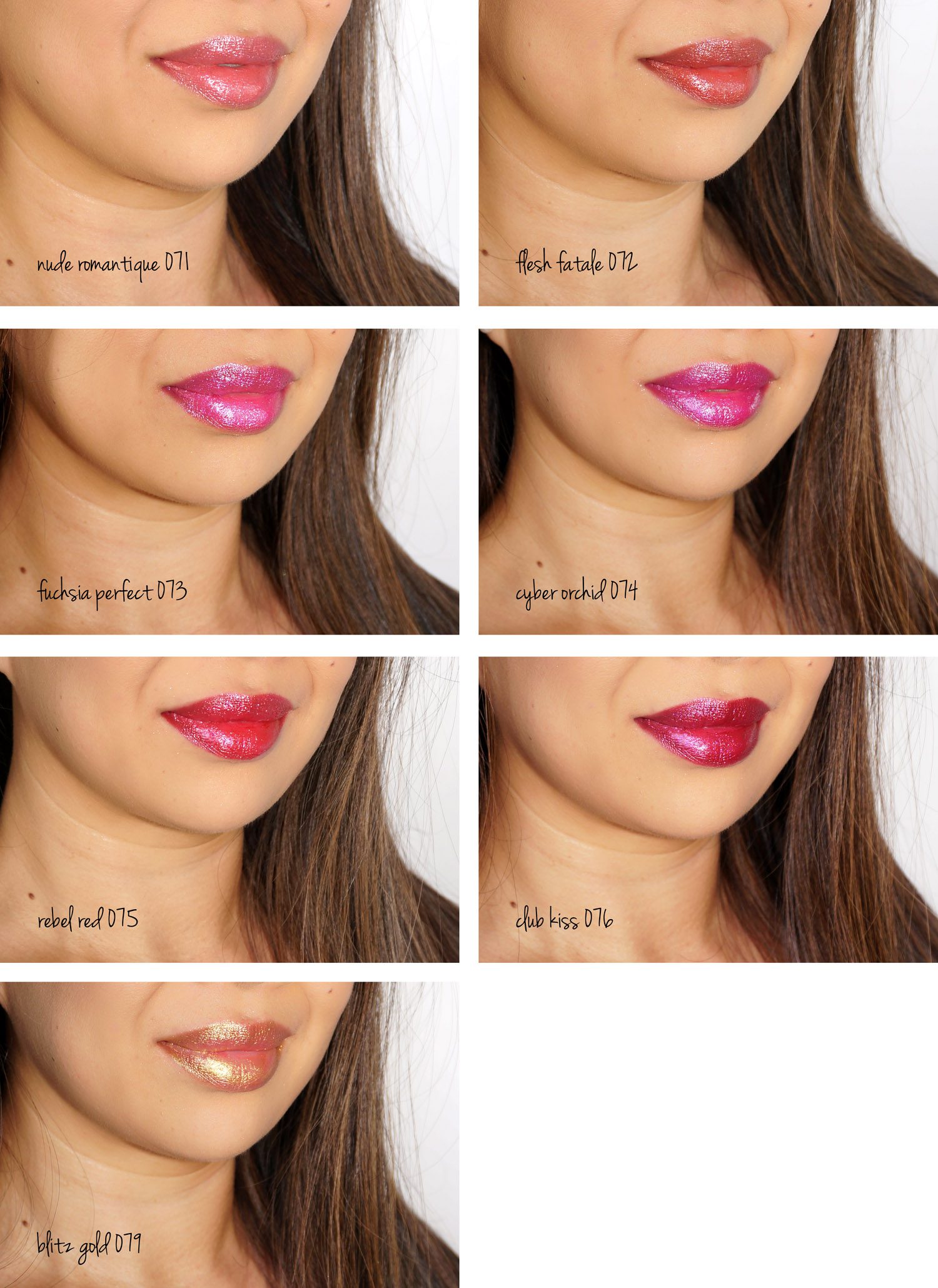 I'd recommend looking at the @patmcgrathreal Instagram page for live swatch videos to get a better sense of the sparkle. The ones I have don't capture the sparkle quality quite as intense as I see in real life. Although I do think the studio lights used on social emphasize the sparkle and glitz a little more intensely than they actually appear.
Close ups of each color below, Nude Romantique:
___________________
Flesh Fatale:
___________________
Fuchsia Perfect:
___________________
Cyber Orchid:
___________________
Rebel Red:
___________________
Club Kiss:
___________________
Blitz Gold:
For me the only two colors I did not like are Cyber Orchid (it's really blue on me) and also Blitz Gold (I just don't like really yellow golds) – but this is just a matter of color preference. If you don't like sparkle or glitter in your lip color I think it's going to be a safe pass for you. If you like bold colors and don't mind some shimmer and glitz I think they're really worth checking out. Out of all the shades Nude Romantique and Flesh Fatale are the most conservative in color and shimmer.
I think these have the perfect festive holiday feel. For me they're a little too sparkly for everyday wear but I do think the neutrals Nude Romantique and Flesh Fatale are ones I can wear without feeling too sparkly. Rebel Red and Club Kiss are my favorites out of the entire collection. I always feel like bold reds and plums draw so much attention to my already full lips – but these two are so stunning and festive I think they're going to be fun for holiday. No detectable scent or taste with these! Lasting power is really nice.
You can find the Pat McGrath Labs BlitzTrance Lipsticks out now online at Pat McGrath. Available at $38 each or in various bundles and sets on her website.
6 shades provided for review. Fuchsia Perfect purchased by me.