MAC launched a new formula of matte lip color called Powder Kiss Lipstick ($19 each for 3 g/0.1 oz, made in Italy). These were seen all over the backstage beauty photos in recent fashion week coverage and I thought these were going to be too trendy for me but was pleasantly surprised. Long time readers know I really do not like matte lips. These are described as, "A moisture-matte weightless lipstick that delivers a romantic blur of effortless soft-focus colour." Depending on your lipstick finish preference these are going to be hit or miss for you. For me these are a solid win.
The Powder Kiss Lipstick has a soft blurred matte finish without looking or feeling dry. They have a weightless texture and finish that almost feels like it's wearing an airy cloud on the lips. The finish is cushiony with full smooth coverage and I am truly surprised at how lightweight it is. MAC describes these as having moisture-coated powder pigments which seems so interesting to me. They're not really as hydrating as a lip balm, but I do think they have some moisture in them given the fact that they do not look dry on the lips.
I tried these individually on their own. I suspect with some of the lighter shades you can mix and blend together for an ombre lip or to create your own custom color. There is only one shade that didn't work for me by itself which is the palest option Best of Me. Still it applied smoothly without any patchy issues.
The packaging is just like the regular MAC Lipsticks but it has a slightly matte finish resembling the finish of the lipstick formula. Some have commented on the scent of these. I didn't notice it while swatching or playing with them until I gave them a good whiff right out of the tube. It has MAC lipstick scent with a powdery slightly rubber smell. It's not strong enough to bother me but it is noticeable. I consider my nose to be sensitive and it did not bother me.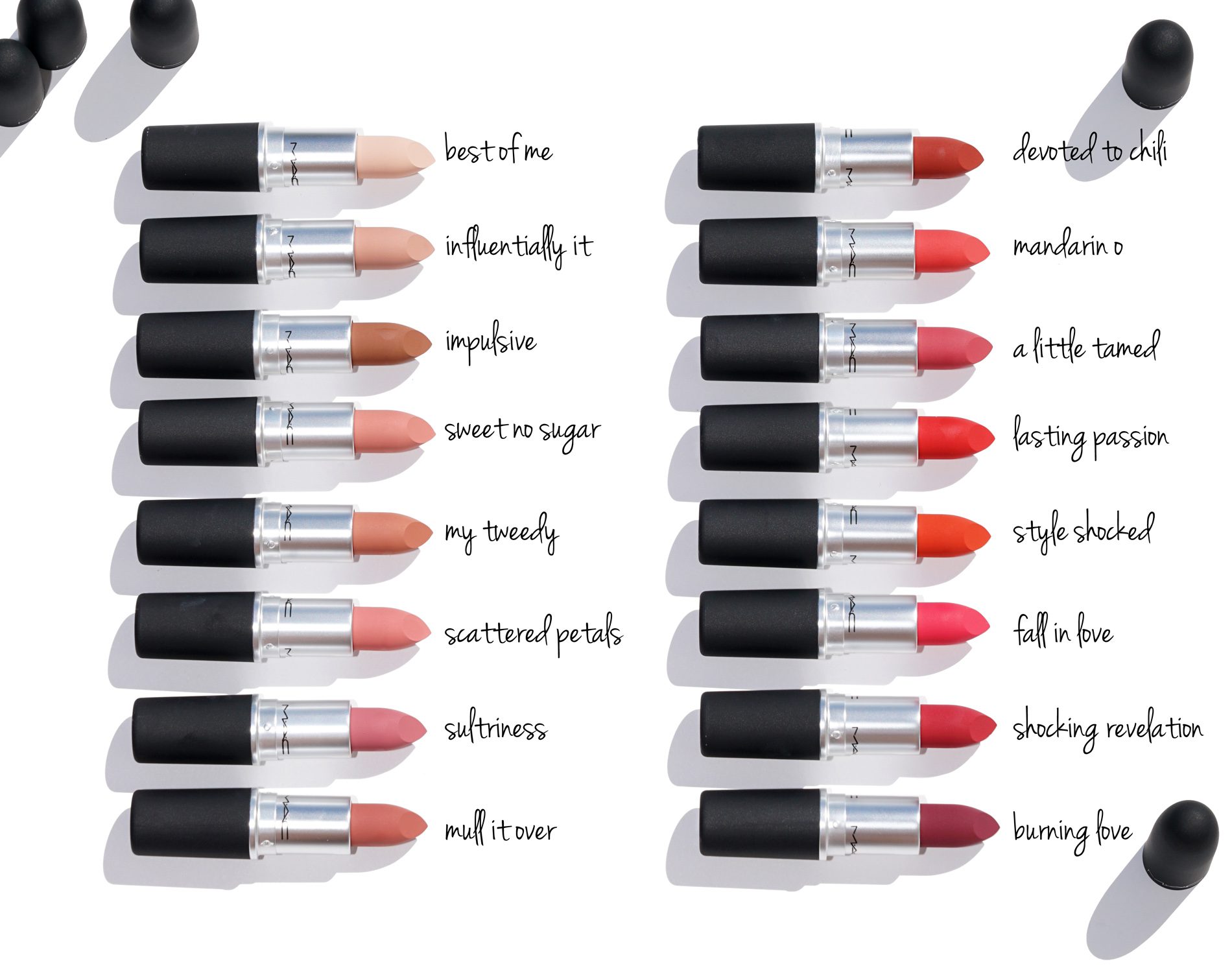 First a look at all the shades plus descriptions:
Best of Me is a pale milky beige
Influentially It is a pale nude beige
Impulsive is a medium warm brown
Sweet No Sugar is a light warm pink
My Tweedy is a peachy pink blush nude
Scattered Petals is a medium pink
Sultriness is a cool toned pink
Mull It Over is a peach pink-brown
Devoted to Chili is a brick red brown
Mandarin O is a bright orange
A Little Tamed is a muted pink rose
Lasting Passion is a bright red with blue pink tones
Style Shocked is a vibrant coral orange
Fall In Love is a hot pink
Shocking Revelation is a hot pink red
Burning Love is a perfect plum
A closer look at the lighter neutrals, Best of Me, Influentially It, Impulsive, Sweet No Sugar, My Tweedy, Scattered Petals, Sultriness and Mull it Over.
Swatched on bare lips, skintone reference I'm MAC NC35 in Studio Fix and Studio Fix Fluid.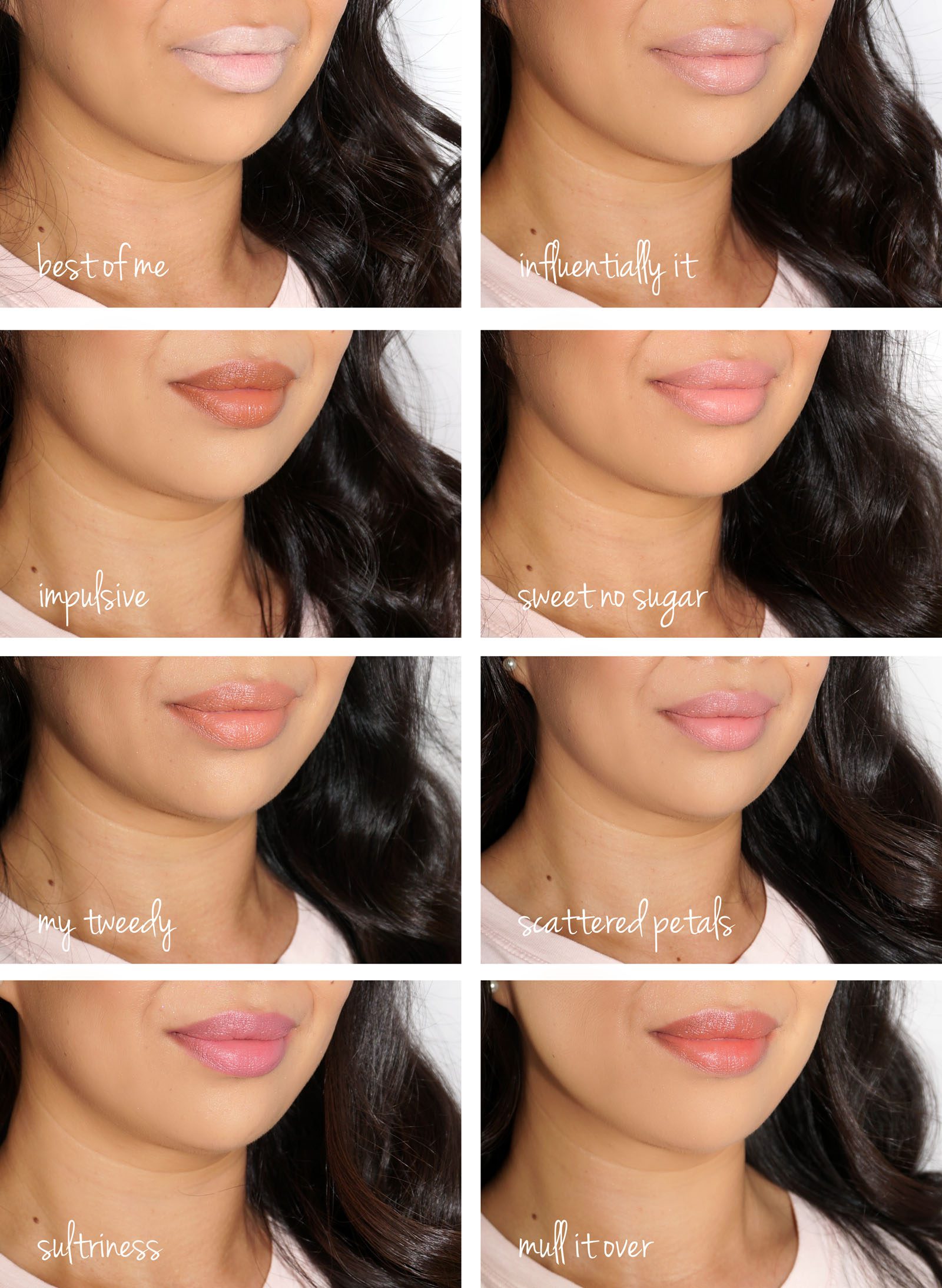 Deeper bold shades including Devoted to Chili, Mandarin O, A Little Tamed, Lasting Passion, Style Shocked, Fall In Love, Shocking Revelation, Burning Love.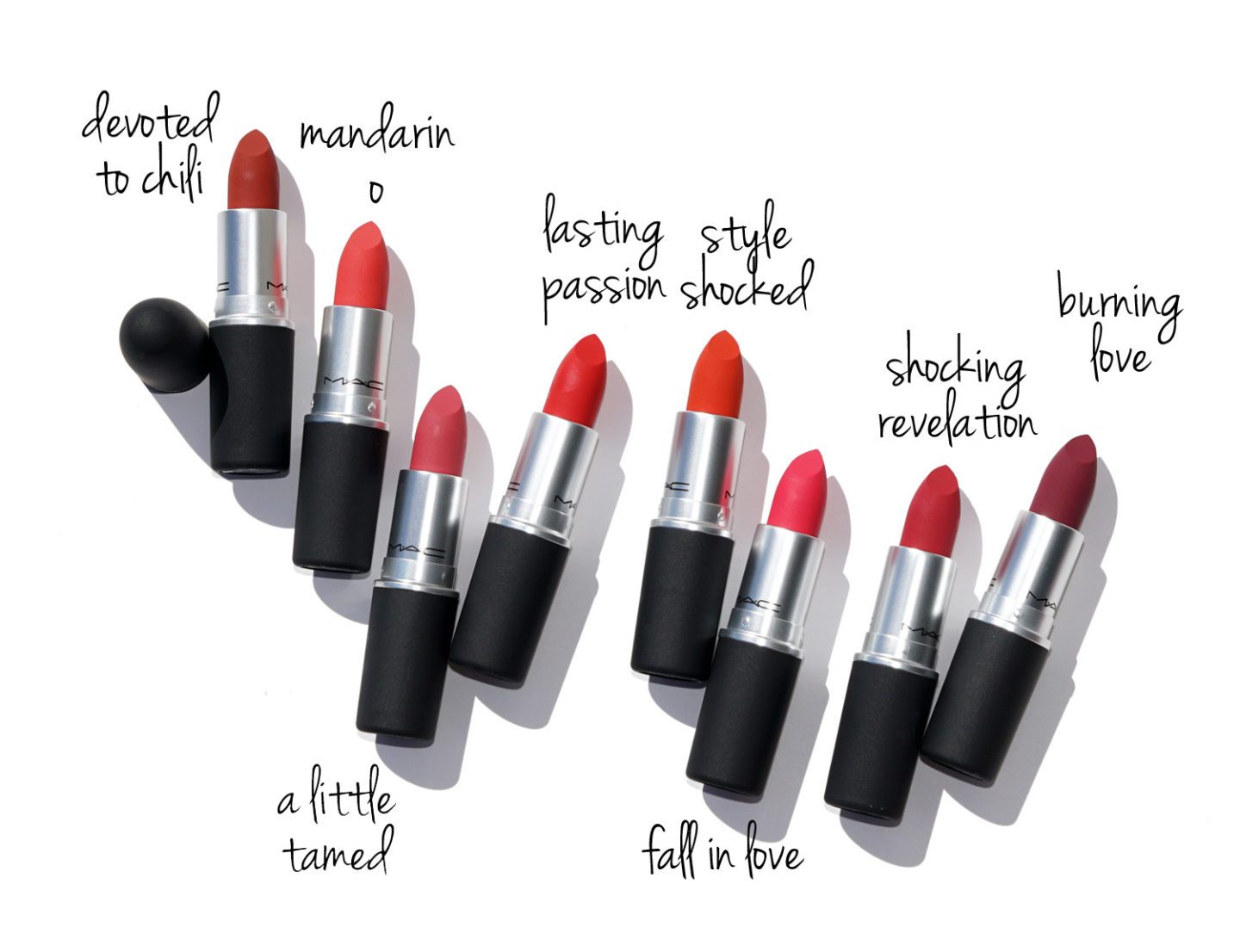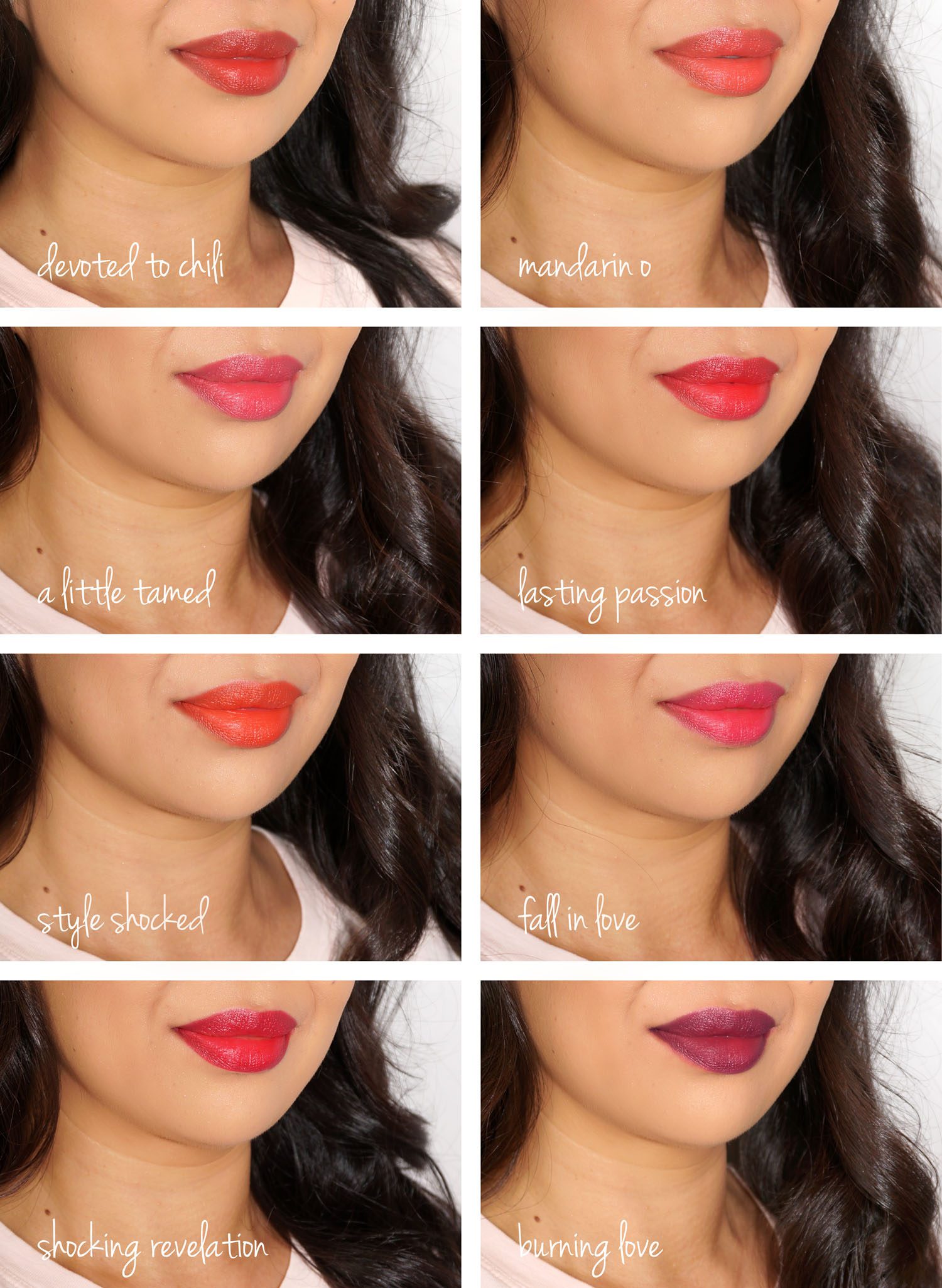 Bottom line I'm impressed, especially since I'm a glossy lip girl. I really like how these glide on and give a blurred lip effect without looking or feeling dry. There's no tugging at the lip when you apply. I also love the weightless feel. They did not dry out my lips. Lasting power is very good, it stays on and adheres well without fading for hours. Color isn't transfer-proof though. My top 3 picks: Burning Love, My Tweedy and Sultriness.
A few thoughts on this formula compared to a few others I've tried and like. MAC Matte Lipsticks are heavier and more opaque in finish with a thicker feel. Pat McGrath Matte Trance has more impact pigment-wise, it has more weight to it while the MAC Powder Kiss feels like air. Charlotte Tilbury Matte Revolution almost feels like it drags on the lips by comparison, and in reality it doesn't really drag on my lips, but if you swipe it compared to the MAC Powder Kiss, the MAC glides on easier/smoother.
Available now at all MAC counters. Online at MAC Cosmetics, Nordstrom, Ulta Beauty, Bloomingdale's, Macy's and Saks Fifth Avenue. Have you tried these yet? Or do you have any matte lipstick favorites?
MAC Powder Kiss provided courtesy of MAC Cosmetics for review consideration.