Marc Jacobs Beauty launched new lip glosses in stick form called the Enamored Hydrating Lip Gloss Stick ($28 each for 2.1 g/0.074 oz). I've been such a huge fan of the Enamored Hi-Shine Lip Lacquers I was eager to try the new formula. I ordered five sight unseen. I picked the neutrals which turned out to be a lot lighter in color than I anticipated but still lovely. My picks:
Sugar Sugar – sheer nude cream
P(r)each – sheer soft peach
One Mauve Time – perfect mauve
Sweet Escape – baby pink
Mocha Choco-Lata – perfect nude beige
These are emollient sheer smooth gloss sticks. They have a very shiny finish and moisturizing feel. Lasting power is medium – they won't disappear quickly but they aren't budge-proof. The gloss sticks have a melt-on texture. Packaging is slightly longer than the Enamored Hi-Shine Lip Lacquers but similar in style. The Enamored Hydrating Lip Gloss Stick has a removable pull off cap and the product comes in a twist-up tube that clicks with each twist. The only downside is you can only twist up, you can't twist back down. The good thing is each click will only push a small amount of color up.
The two lightest shades Sugar Sugar and P(r)each were patchy with the first application, once you have it warmed up a little it smooths out. Close ups of each color below with lip swatches.
Mocha Choco-lata!
Sweet Escape
One Mauve Time
P(r)each
Sugar Sugar
All side by side: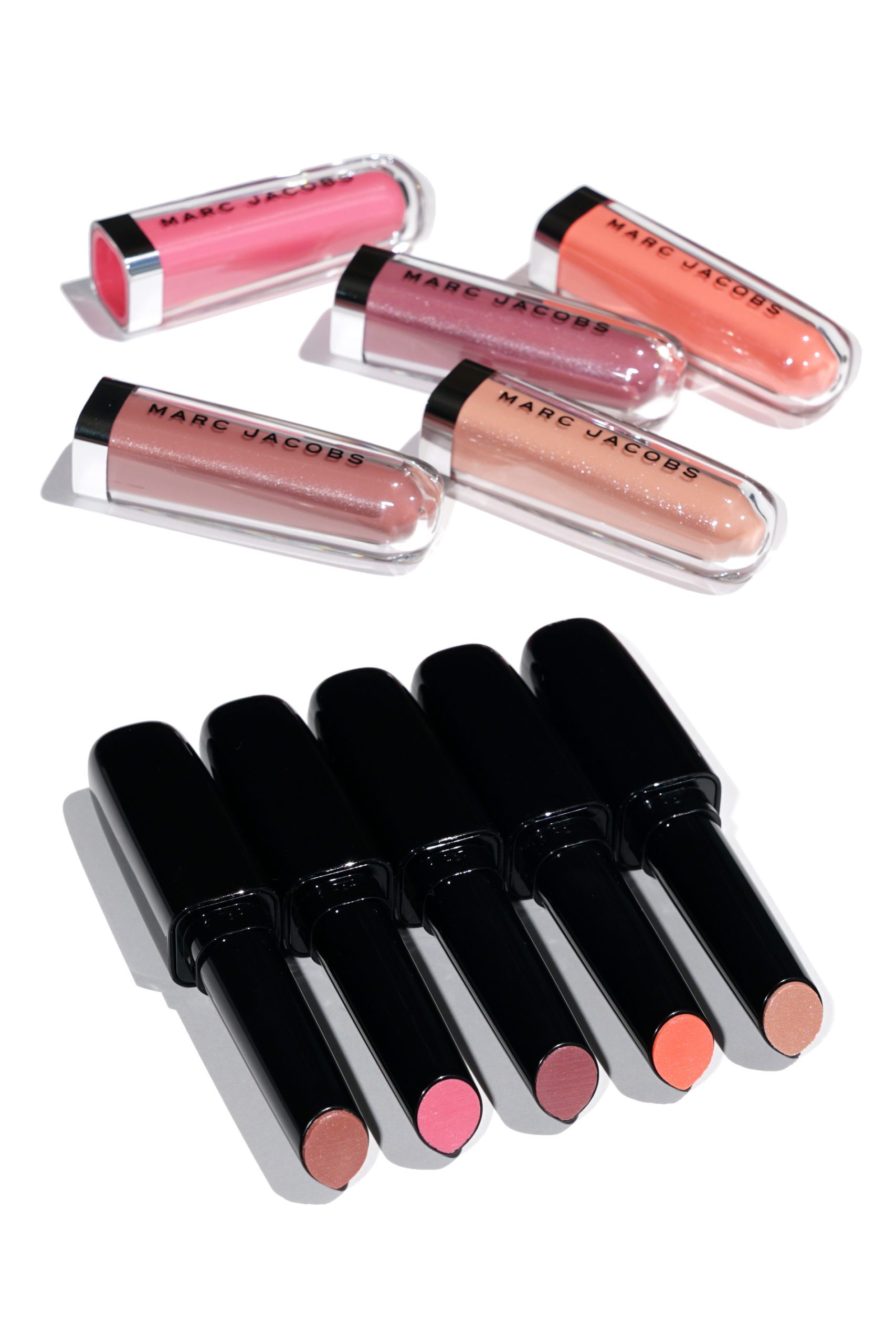 For quick reference my MAC foundation shade right now is the Studio Fix Fluid in NC37. Lip swatches as always done on bare lips.
If you want something light and glossy these are great. I think the color selection is a lot more wearable for me compared to the Le Marc Liquid Lip Crayons. The glossy texture feels similar to me although the crayons are full coverage while these new gloss sticks are a lot sheerer. I'd say if you like the feel of the YSL Volupte Tint in Balms or Chanel Rouge Coco Shines you will most likely really like the Marc Jacobs Enamored Lip Gloss Sticks. In terms of glossy lips though my favorite product this season are still the Pat McGrath LUST Glosses although the formula is completely different and also in liquid form.
They are sheer so depending on how much color you want these might be too sheer if you prefer a lot of pigment. I give them a thumbs up – although I do wish the packaging would click up and down. The only shade I think is iffy is Sugar Sugar – this is mainly because I find pale colors challenging to wear in general. If you see the last photo of my natural lip you'll see that there is going to be a contrast between pale colors and my lip. This is why you'll often see a dark ring around the outer edge if the product is slightly sheer or transparent. It's my natural lip color showing through. Since I have full lips if I cover it entirely with product it makes them look EXTRA huge.
Based on how light and sheer these colors are I was tempted to order the other three shades which are deeper/brighter. I have not seen them at stores near me yet but have decided to pass for now. My top two picks are Mocha Choco-lata! and One Mauve Time.
You can find the Marc Jacobs Enamored Hydrating Lip Gloss Sticks at Sephora, Neiman Marcus, Net-a-Porter and Marc Jacobs Beauty. Have you tried these yet? What did you think?