MAC launched two new collections of metallics and shimmers called Supreme Beam and Dazzleshadow Liquid. I feel like MAC created the original glow with so many outstanding items. I think it's amazing to see how long the shimmer and highlighter trend has been going on since then.
The Supreme Beam Collection has what MAC calls a "heavenly halo" theme. Everything feels like a throwback to the 90's for me and I can't get over how nice the new glosses are this launch! By popular demand they've brought back some cult classics for the face with the Illuminating Loose Powder and Hyper Real Foundation. The new formula of Dazzleshadow Liquids has a liquid eyeshadow formula that stays put all day. In today's post we have:
The Grand Illusion Glossy Liquid Lipcolour comes in the same packaging as the Retro Matte Liquid Lip Colours. The formula itself isn't new but there are 10 new shades with this launch. I felt the original launch last year had colors that were too trendy for me. This round has more wearable options. They have a shiny finish (no matte drydown like most liquid lip colors do). They have a very smooth non-tacky feel and have full smooth coverage. Even for metallics they are streak-free. Colors are iridescent and shimmery. Pigment is very good and they have a soft cushiony feel and a slightly minty scent.
Colors include:
Polar Fleece – pale iridescent opal pink
Goldiloxxed – metallic light peach tan
Autumn Russet – perfect warm russet shimmer
Just Hustlin' –  metallic taupe pink lavender shimmer
Party Sparkle – duo chrome pink lilac
Sugar Poppy – iridescent blue pink
Dance All Night – metallic lilac
Ruby Princess – iridescent purple
Spoil Yourself – goregeous metallic pink
It's Just Candy – metallic candy red
Lasting power is really good. I wish this formula came in soft shimmers or cream colors. They feel comfortable, glossy and lightweight. I can't pick a favorite, but Spoil Yourself, Goldiloxxed, Dance All Night and It's Just Candy are really pretty.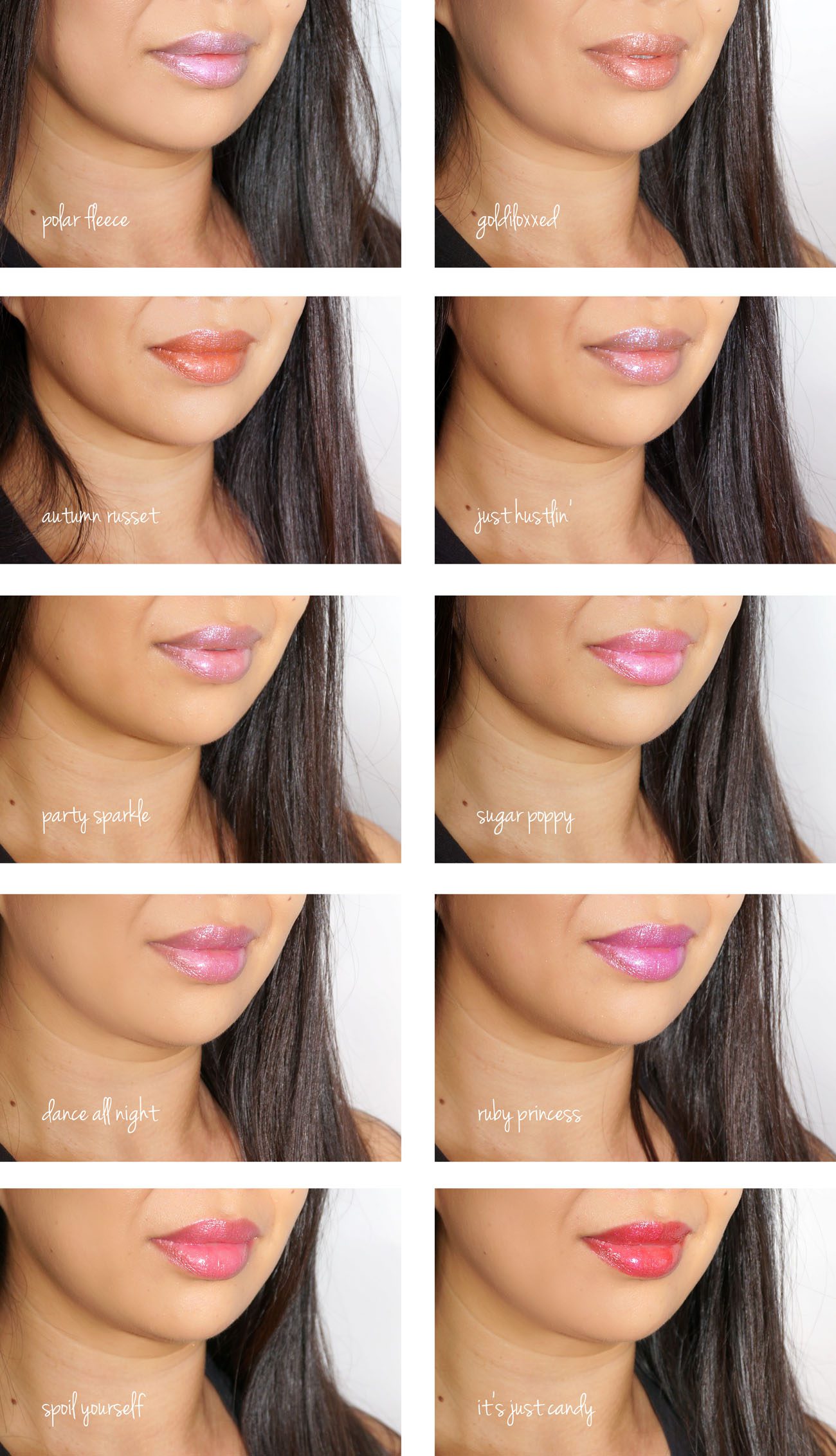 There are also two complexion products. They brought back the Iridescent Loose Powder in Silver Dusk and Golden Bronze, both must-haves in my book. Silver Dusk is like the perfect fairy dust with a pale silver pink shimmer. Golden Bronze is a deeper bronze shimmer. I've swatched them below next to the Mineralize Skinfinish in Shimpagne, Soft and Gentle and Cheeky Bronze.
Hyper Real Foundation is back in four metallic shades. I actually remember this as an actual foundation formula with skin shades and a shimmer glow mixed in. There are four liquid illuminators you can wear under foundation all over, mixed in with your base or on top to illuminate areas. I found it best when I mixed a little in with my MAC Studio Fix Fluid or Next to Nothing Foundation. I did try it all over under foundation and it was too glowy for me. It also worked well as a highlighter on top of my base. Colors include Violet FX (flashes violet), Gold FX (flashes gold), Rose Gold FX (perfect rose gold peach shimmer), Bronze FX (shimmery soft bronze). By comparison the MAC Strobe Creams are thinner and more lightweight in texture with a sheerer finish. I also feel they have more of an iridescent duochrome flash while the Hyper Real Foundation has more of a traditional glow.
The last part of the metallic launches this round is the Dazzleshadow Liquid. These have different finishes. Some are glitters and others are metallic sparkles. Online some have a description called "Satin" for finish but to me the satins are still very metallic and shimmery. These blend easily and stay on the lids all day long. They set nicely and once they do they don't budge. At the same time they don't crease and once they dry they don't make the lids shrink or shrivel.
They have a sponge tip applicator which I use to swipe on the lids. Then I blend with my fingers.
Colors I have are:
Everyday is Sunshine – metallic champagne with a hint of peach sparkle
Flash and Dash – gold and silver glitter
Beam Time – rose gold that flashes champagne
Love Yourself – cool metallic pink
Rayon Rays – metallic brown rose copper
Overall if you're looking for more ways to glow MAC has you 100% covered. I did try a full look with everything in the collection and for me it was too glowy to wear everything shimmer. I did more testing and found that it was best to incorporate 2 shimmer areas max with this collection, such as face and eyes, or lips and eyes, or lips and cheeks. I think everything is well made but if you have a lot of shimmers I'd recommend you shop your stash. If you're a true beauty junkie and have been for years there's a high chance you already own and have been hoarding Silver Dusk from years ago. One jar will last you a long time and if you missed out I highly recommend you get it now.
I think all the formulas are standouts. Everything applies smoothly and blends flawlessly. If I had to pick just 1 item from each category it would be: Gloss in Spoil Yourself, Hyper Real Foundation in Rose Gold FX, Silver Dusk Loose Powder and Beam Time Dazzleshadow Liquid.

You can find the MAC Supreme Beam and Dazzleshadow Liquid collection out now. Available at MAC Cosmetics, Nordstrom, Ulta Beauty, Macy's and Saks Fifth Avenue.
All MAC items featured in this post were provided for review except Dazzleshadow in Love Yourself and Rayon Rays which I bought on my own.