MAC has some really cute sets out for the holiday season! I've ordered a few as gifts this year and and ordered the Velvet Teddy's Party Crew Vault ($80, value of $145) for myself! I managed to buy it before it sold out at Ulta and Macy's last week and today it just launched online at MAC Cosmetics. If you have your eye on this neutral lip set act fast! I suspect it will sell out very soon.
All the colors in this set fall under the same neutral color family with slight variations in undertone and finish. I really love the Velvet Teddy Matte Lipstick color so I knew I had to get this set. Love that each one is full-sized and I think the pink and gold case is really cute! So far Velvet Teddy and Teddy 2.0 are both available individually, the other shades are exclusive to this set.
The difference in undertone is more noticeable and visible in real life. In the photos they all look very similar with subtle differences. Colors and formulas include:
Teddy 2.0 Powder Kiss Lipstick

– this is a soft diffused matte with an almost airbrush finish, it has medium coverage

Velvet Teddy Matte Lipstick

– full coverage matte long-wear lipstick

Very Teddy Love Me Lipstick

– satin slightly glossy finish with a nourishing creamy feel

Love Teddy Love Me Liquid Lip Colour

– a comfortable glossy liquid lipstick with a beautiful shine (this one pulls more neutral-cool on me)

Velveteen Teddy Retro Matte Liquid

– liquid lipstick with a matte dry down, budge proof once it sets

Teddy Kiss Powder Kiss Liquid Lip Colour

– a soft whipped matte liquid lip with an airbrushed smooth powdery look, this is the deepest and pulls more of a rose tone
Colors are swatched below with different lighting, the combination of flash + lights reflect on the glossy finish of some of the formulas. I think the stock swatch photo online at MAC does a great job at showing the differences in undertone. I also added a few MAC Lip Pencil swatches in Boldly Bare, Whirl, Spice and Soar for reference.
Below each lip color on me, also wearing: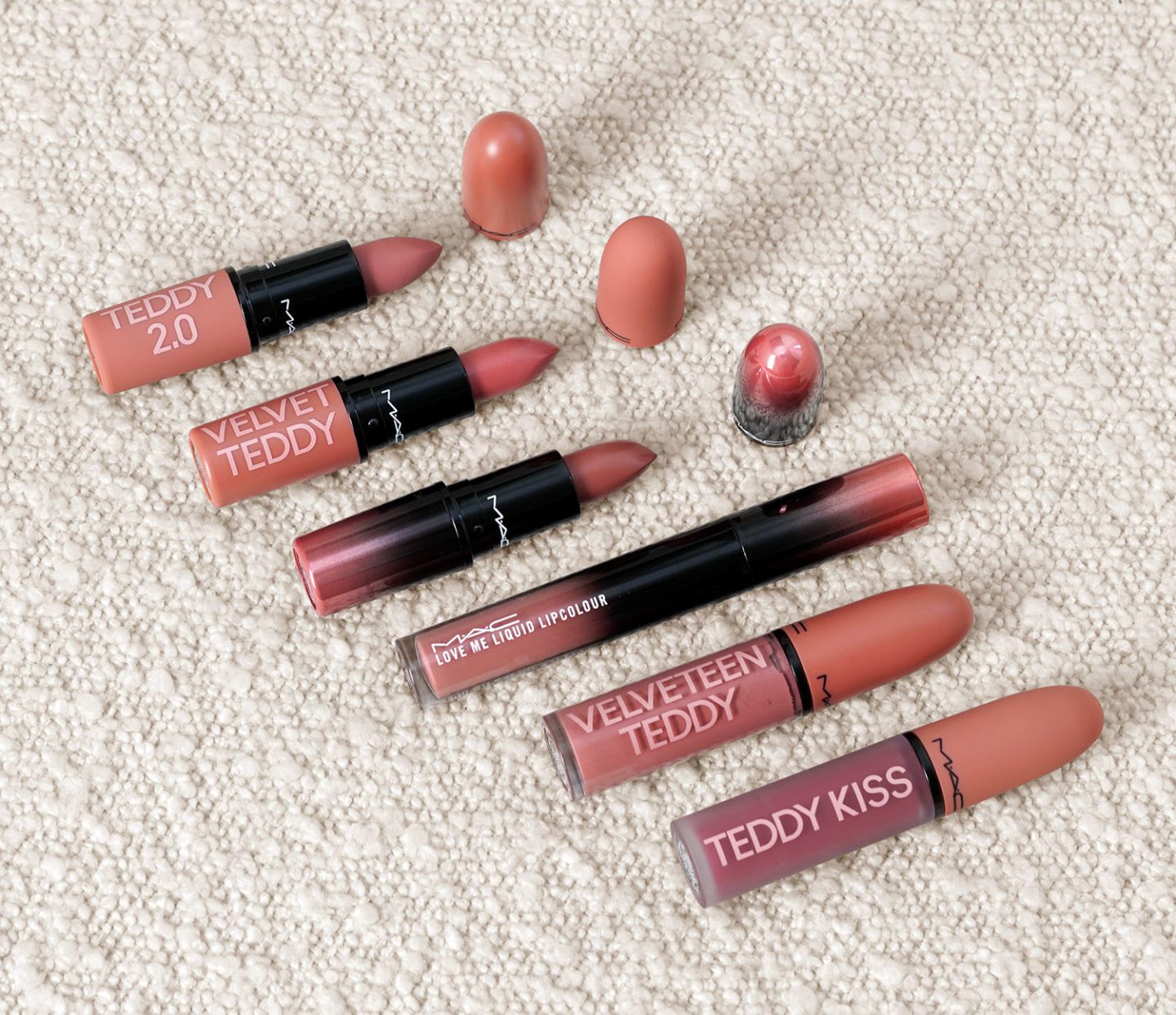 Overall love. I have so many neutral nude lipsticks at this point I don't need another one but I love MAC's holiday twist on their classic Velvet Teddy lip color. Out of all the formulas I think they're all really good. I have a soft spot for the Love Me Lipstick and Love Me Liquid Lip Colour since I'm a glossy lip lover at heart.
Shop the Post

Available this holiday at MAC Cosmetics.