There have been quite a few new launches from Hourglass over the past months and I have a roundup review today. They have some complexion products for the face in their Veil Lineup, a new Ambient Lighting Blush Palette (Nordstrom exclusive), and a new mascara. Items reviewed today:
Up first is a look at the Nordstrom Anniversary Sale Ambient Lighting Blush Palette. This has one new shade Surreal Glow and two repeats in Luminous Flush and Mood Exposure. Surreal Glow is the new color which is a soft light peachy pink glow which was actually in the Hourglass Holiday 2016 Surreal Light Palette. Each powder is hand made so no two are identical and colors can be the slightest bit different depending on how much color you get in each swirl. The Surreal Glow in my Nordstrom Palette is slightly deeper than the one I have in the Surreal Light Palette. If you're an Hourglass fan there's a high chance you already own 2 of the blush colors. I wish they would launch palettes with all new shades, but I do like these for their convenience, especially for travel.
Swatches: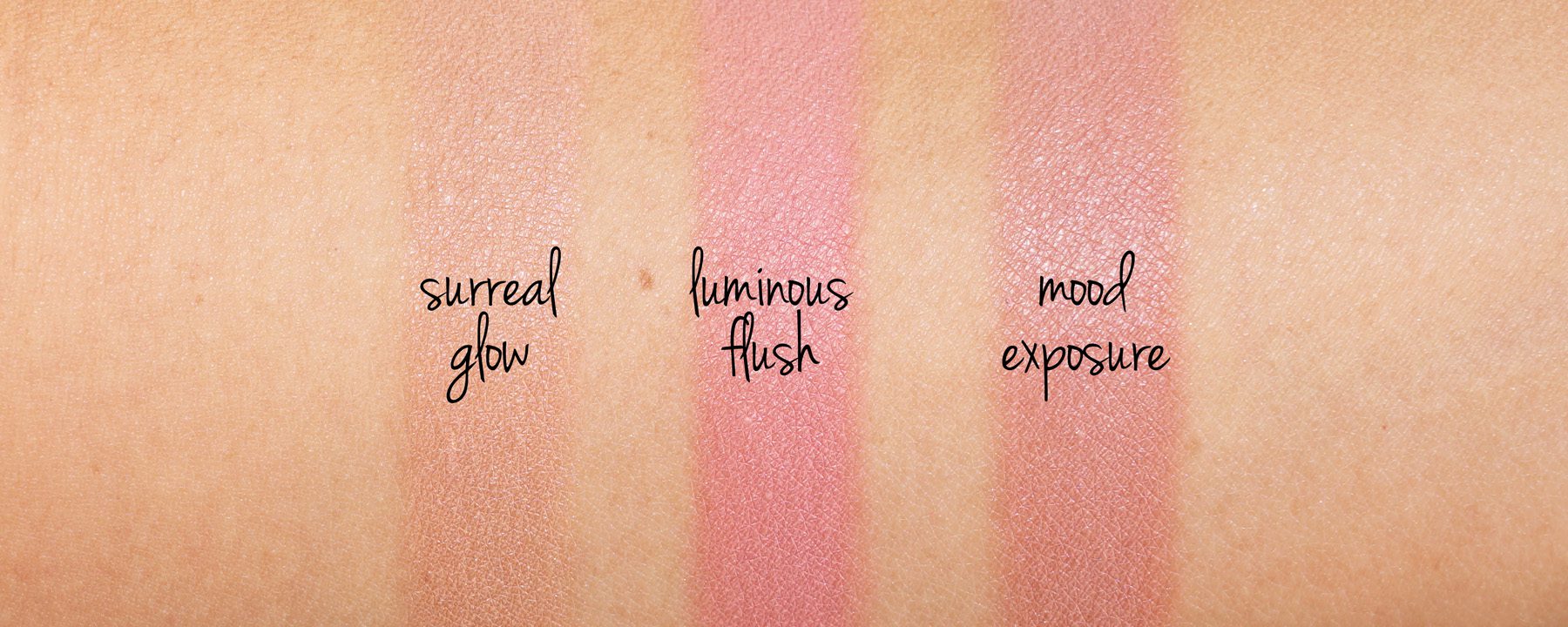 Swatch comparisons below to a few colors from two previous Hourglass palettes in Holiday 2017 Ambient Lighting Edit Volume 3 and Surreal Light Holiday 2016. I also found one close dupe with is the MAC Mineralized Skinfinish in Nuanced (reviewed here). The difference being Nuanced is a lot more shimmery and frosty so it's more dramatic and won't quite give you the same effect. Color-wise it's the closest one I have.
Next are the Veil Product additions including the Veil Translucent Setting Powder, Veil Powder Brush and Veil Retouching Fluid in Natural. Their Veil Mineral Primer has been a long-time best seller for them. It's an oil-free version so best used with oil-free foundations. Earlier in the spring they launched a few additions.
The Veil Translucent Setting Powder is an excellent translucent setting powder that doesn't add any white cast to the skin and sets the face in a very natural way. On me it keeps makeup staying set all day without any cakey look. Texture is ultra fine and it does have a very subtle blurring effect to smooth out pores. It's talc-free, invisible on the skin and has no flash back. The Veil Powder Brush is a double-ended brush that is loose and fluffy. I really love the way it feels on the skin and it performs really well. I use the larger side for loose or pressed setting powders and the smaller one is perfect for their blushes. It's not quite as matte as the Marc Jacobs Coconut Setting Powder. The Hourglass one also has a lighter weight feel compared to Laura Mercier's Translucent Setting Powder. All three are excellent, I cannot pick a favorite but I'm really pleased with the way the new Veil Translucent Setting Powder has performed.
The Veil Retouching Fluid is the best thing I've tried to highlight and enhance complexion. It has just the right amount of pigment and sheerness to apply under eyes, between brows upwards and anywhere you want to brighten the skin. Most of us use concealer to highlight and brighten. A good blending technique with a damp beautyblender will do the trick to smooth everything out, but in my opinion I think most of the concealers are too opaque to apply on wide areas of the face. I still do it occasionally when my foundation doesn't have enough coverage, but in the Florida heat layers on layers of makeup are prone to caking eventually. For this formula the color Natural is my best match. It cancels out redness but in a natural way. It doesn't cake or crease. It's easy to touch up mid-day on top of your makeup and blend.
I swatched all the colors in store, sorry for the poor lighting quality but I took this in the mall with my iPhone, but I hope this helps as a reference for the color range. I feel like the gaps in between each color are fairly decent. The pigment is sheer and quite forgiving so I think you can easily find a match.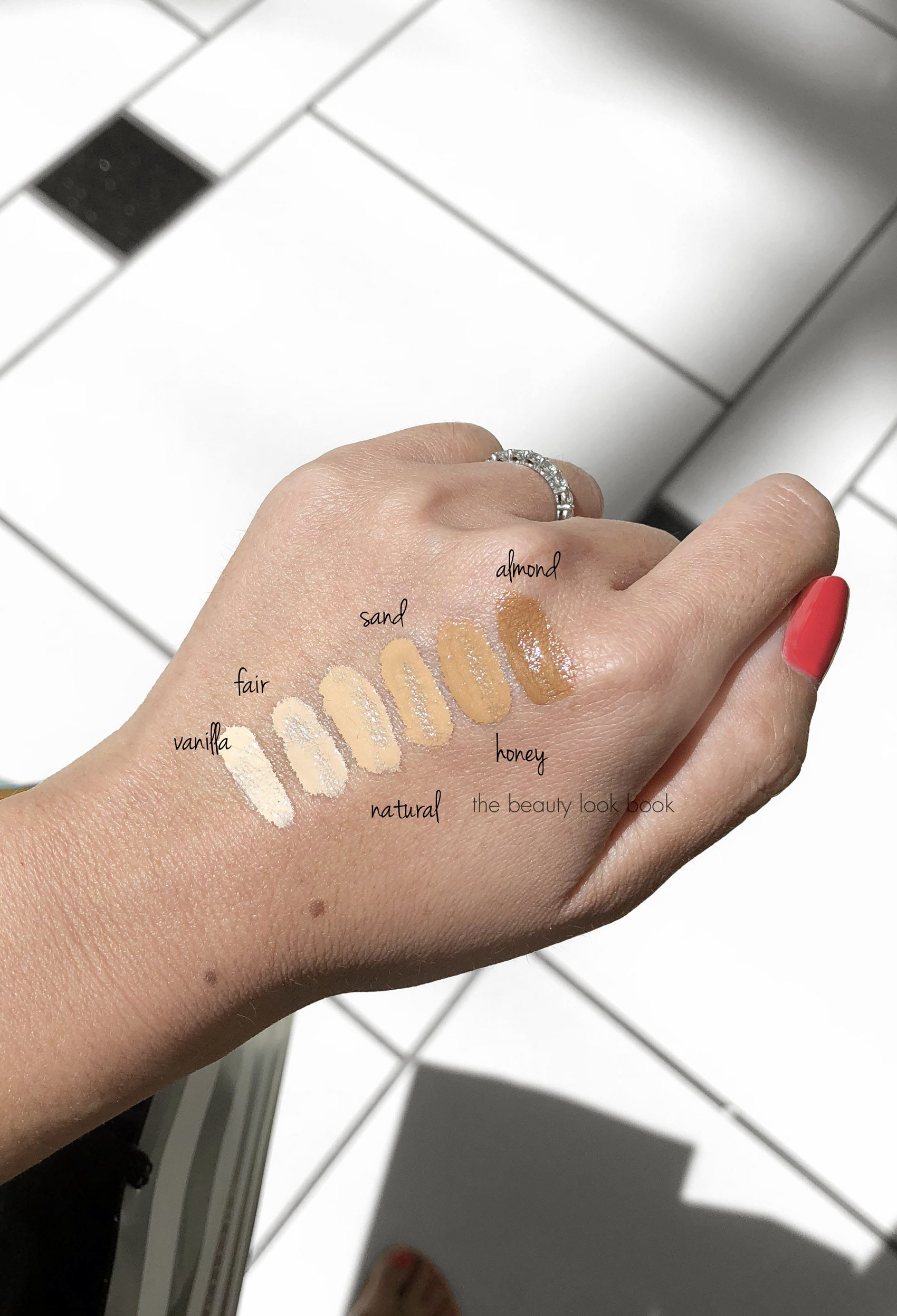 Swatch comparisons to Laura Mercier Flawless Fusion Concealers in 3C, 3N and 3W (all shades swatched here), NARS Radiant Creamy Concealer in Custard, Macadamia and Ginger, Urban Decay All Nighter Concealer in Med-Light Neutral and Medium Neutral
Look wearing:
Last but not least is their new Caution Extreme Lash Mascara. I think it's very good but it's not my favorite as I cannot get it to consistently hold the curl. What it does do is give volume, intense color, and dramatic lashes. It stays on all day with zero smudging in my experience. It has lasted on multiple tests through Florida humidity, a swim in the ocean and an afternoon at the beach. It really looks amazing when it works! The holding the curl issue isn't always working for me but so many mascaras don't hold the curl for me. My solution is to sometimes layer different formulas for added volume and lasting power. A lot of you have messaged me saying you use this trick all the time! Right now my top two favorites are still the L'oreal Lash Paradise Waterproof and Tom Ford Waterproof Extreme. If I layer this new Hourglass mascara with the L'Oreal it works like a charm 100%.
Overall some nice additions and a few things to consider as beauty staples. The Hourglass Ambient Lighting Blush Palette is a Nordstrom exclusive, but all other items can also be found at Sephora, Beautylish, and Hourglass Cosmetics. If you're looking for minis to try Sephora has a few options with a Mini Caution Extreme Lash Mascara and a Veil Prime and Set Mini Duo available. Have you tried these yet? What did you think?
Veil Translucent Setting Powder, Retouching Fluid, Veil Brush and Caution Mascara provided for review.