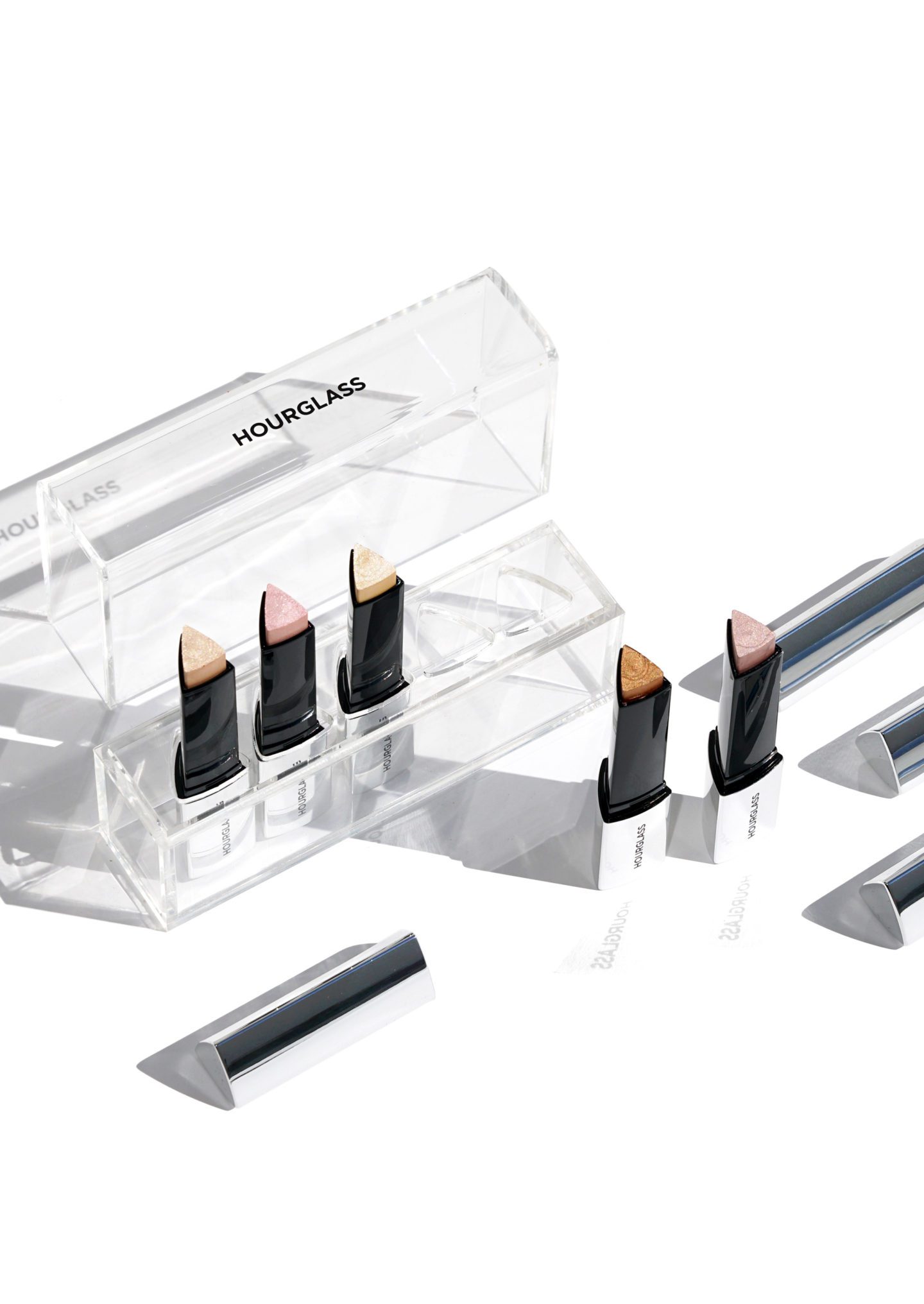 Hourglass is on a roll with new launches this spring and they have a new product called the Vanish Flash Highlighting Stick ($42 each for 0.21 oz/ 6.1 g). Their Ambient Lighting Powders are among my favorite for a luminous glow and now they've launched a Cream Stick version with five shades of their Vanish Flash Highlighting Stick. These are smooth easy to apply highlighters that come in a similar package to the Vanish Seamless Foundation. The formula is lightweight but creamy. According to Hourglass you can use these for the underglow as a base underneath foundation or for an overglow on top of foundation on high points like cheekbones, brow bone, nose or cupid's bow. I've tried both and like them on the cheeks and eyes. The formula has enough creaminess to allow it to blend but it's not so dewy that it will pull your foundation/powder. They have a soft dry down but it's still creamy in finish. We are having Florida's version of winter right now so I don't know how these will hold up in hot weather or humidity, but for now it has stayed put all day without sliding off the face or eyes.
The shimmer is medium – it's definitely glowy. Straight from the tube it's metallic but if you blend it out it smooths nicely to a radiant finish without a harsh frost. If you liked the concept and colors of the Ambient Lighting Strobe Powders but found those glittery (I personally loved them here but I know lots of you complained about the sparkle) you might want to give the Vanish Flash Sticks a try instead because there's no sparkle fallout.
Vanish Flash colors include:
Champagne Flash – a champagne pearl shimmer
Pink Flash – light pink shimmer
Gold Flash – pale yellow gold shimmer
Bronze Flash – warm bronze gold
Rose Gold Flash – looks more pink mauve oyster on me

Champagne Flash
Above wearing the NARS Velvet Matte Skin Tint in St. Moritz, Tarte Shape Tape Concealer in Medium, La Mer Pressed Powder in Light, Chanel Rouge Coco Gloss 722, Marc Jacobs Eye-Conic Eyeshadow Palette in Glambition, Diorshow Brow Styler in Universal Brown, L'Oreal Lash Paradise Mascara in Blackest Black.
Pink Flash
Gold Flash
Rose Gold Flash
Bronze Flash
Overall a solid winner. My favorites are Champagne Flash and Pink Flash. In the face beauty looks above I only applied the highlighter for the three shades I  did looks for to show what they look like alone. I typically don't just wear highlighter – I'll usually add a blush or bronzer as well. I really like these on the eyes as well. For application Hourglass recommends you blend with one of their brushes. I've found they work well straight from the tube and then I blend with my fingers. Or I'll take my fingertips and rub them on the stick then apply onto the cheeks. They're really quite versatile. If you're in the market for a cream highlighter I'd recommend checking out one of these.
You can find the Hourglass Vanish Flash Highlighting Sticks out at counters now. Five shade options total. Available in stores and also online at Sephora, Nordstrom, Net-A-Porter and Hourglass Cosmetics.
Do you have a favorite Hourglass highlighter? Have you checked these out yet? What did you think? If not – what's your current favorite highlighter?
Vanish Flash provided courtesy of Hourglass for review.