Hourglass fans rejoice because they've added new products to their Ambient Lighting Collection with their Ambient Strobe Lighting Blush ($38 each for .15 oz/4.2 g) and two new shades of Ambient Lighting Bronzer ($50 each for .39 oz/11 g). As a long-time fan of the Hourglass highlighters I'm thrilled to be able to review the new shades and swatch them for you.
Up first, a look at the blushes. For those new to the Ambient Strobe Lighting Blushes these are the most glowy blushes in the Hourglass line. I find that on my medium toned skin the colors appear borderline more like highlighters than blush. The shimmer is finely milled but on the glowy side. While I don't see any frost in them, I will note that if you don't like shimmer, you may want to opt for the Ambient Lighting Blushes instead. They have more color and less glow.
What I love about these is that they are glowy without being too frosty. They apply smoothly on the face and don't emphasize pores. I do find they warm up a little bit about 30 seconds after application, however they don't oxidize in color.
Ambient Strobe Lighting Blush comes in 4 colors:

Incandescent Electra is described as a cool peach blended with Incandescent Strobe Light
Brilliant Nude is described as a deep amber blush with Brilliant Strobe Light
Euphoric Fusion is described as a lilac blush blended with Euphoric Strobe Light
Iridescent Flash is described as a vivid magenta with Iridescent Strobe Light
Note that three of the four Ambient Strobe Lighting Powders were in the limited-edition holiday palette and Incandescent Electra has been released as an individual color for quite some time
For reference you can see the review/swatches of the Strobe Lighting Powders here
Face swatches of all four on medium-olive skin. On the face I'm wearing the Hourglass Vanish Seamless Foundation Stick in Nude. Lip colors worn with each blush listed below: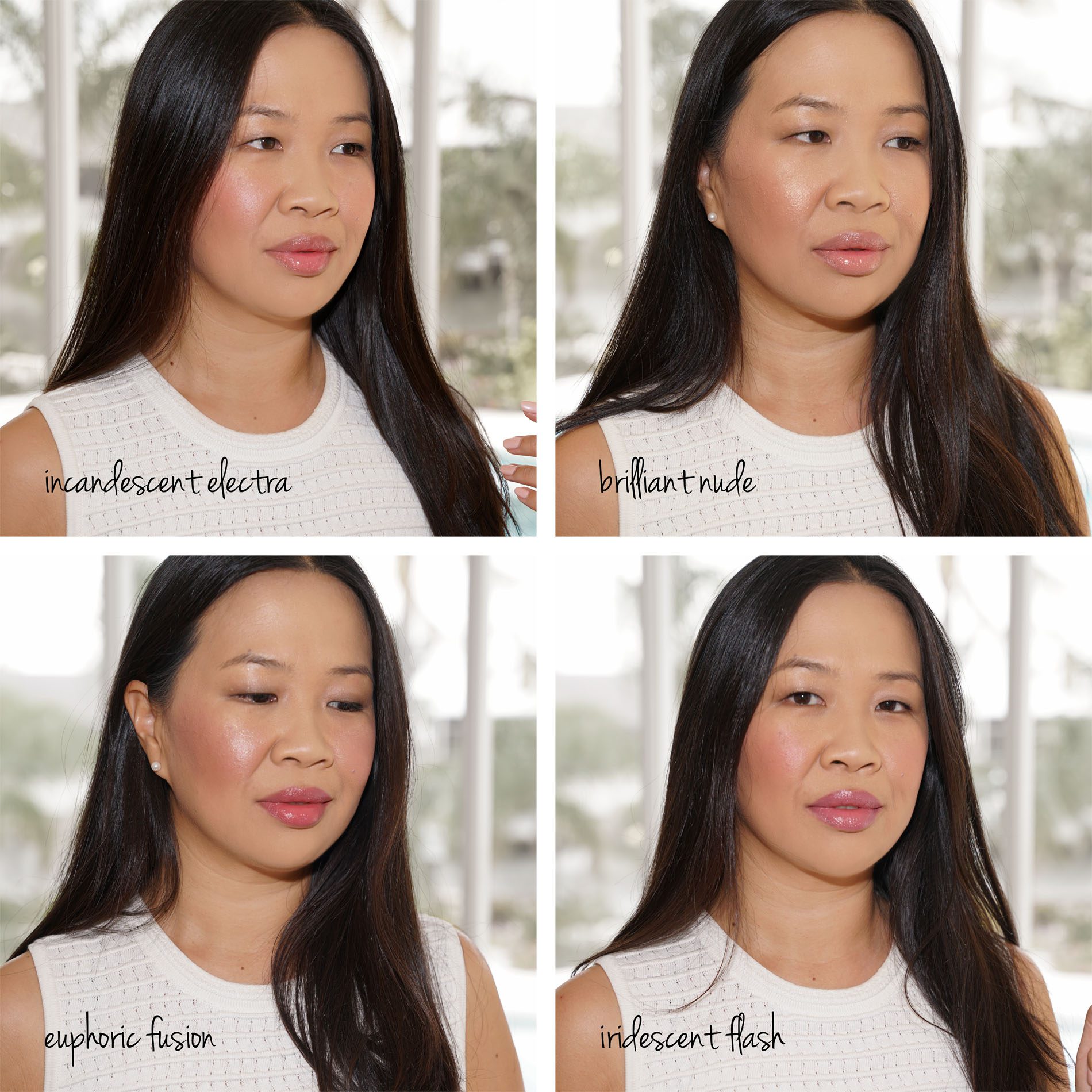 Up next are the bronzers. The original two bronzers Luminous Bronze Light and Radiant Bronze Light looked almost identical on me. The variation for me was slight but I do suspect colors will vary depending on how much highlighter versus bronzer you have mixed into yours. The powders are hand made which means each one is unique and different. I really loved Luminous Light and I still do. On me for some reason Diffused Light pulls warm even though it looks cool-toned in the pan. I love Nude Bronze Light because it appears slightly more matte than the other two. That being said they all look similar on me. The difference is in the undertone. These bronzers also warm up a little after application but they don't darken or oxidize. A little goes a long way and they are super easy to apply/blend.
Ambient Lighting Bronzers are now available in 4 shades:

Luminous Bronze Light is a medium toned bronzer with Luminous Light highlighter mixed in (reviewed here)
Radiant Bronze Light is slightly deeper and warmer with Radiant Light highlighter mixed with a beige base (reviewed here)
Nude Bronze Light is a new shade with a neutral nude bronze and a soft matte nude powder
Diffused Bronze Light has a mix of cool brown bronze and a pale yellow powder
These were swatched with a heavy hand on the face to try and show the difference in undertone. On the lips is GIRL Lip Stylo in Idealist for all the face swatches below. To me they all look very similar. Nude Bronze Light seems to be the darkest on my complexion. Brush shown below is the Hourglass Brush #2. I have a couple of their brushes and need to explore more of them. They are synthetic and PETA friendly. They're among the softest smoothest brushes I've tried. I think they're under-rated.
If you missed out on the holiday palette you can find the shades individually now. I swatched my palette next to the individual ones and the colors, pigment and texture are the same. I still stand by original review and feel like the Ambient Strobe Lighting Blushes have more of a highlighter feel on me, but I still love them. For the bronzers variations will most likely be more apparent on you if you have lighter or deeper skintone. I'm right in the middle where all four have a very similar effect. My favorite is Luminous Bronze Light.
Bottom line beautiful powders, gorgeous packaging, seamless application. I love a good glow and these have a perfect mix of shimmer and color to look natural but still noticeably glowy.
You can find the Hourglass the blush and bronzer additions now at Sephora, Nordstrom and Hourglass Cosmetics.
Have you tried these yet? Or did you buy the palette over the holiday? What did you think?
Many thanks to Hourglass for sending the Ambient Lighting Bronzer and Strobe Lighting Blushes for review.