I'm catching up on some recent new MAC launches – there are so many I feel like you can literally blink and miss them! Today I've rounded up three launches with the Strobe Collection, Mineralize Blush and Galactic Glitter.
_____________________
Strobe Collection
Up first is the Strobe Collection which brings us new ways to glow. MAC is truly one of the leading trendsetters – I feel like they were the first to launch amazing highlighters and glow creams! In this collection we have:
Strobe Body Lotion in Opalite ($33 for 3.4 fl oz/100 ml) is a soft thin lotion with a beautiful pink iridescent gleam. If you're looking for something that has a more natural sheen versus glitter/sparkle this is the one for you! It has the prettiest soft pink glow without being overdone. It's also lightweight and not sticky which is going to be a plus for me in Florida heat.
Prep + Prime Fix+ Shimmer in Pinklite and Goldlite ($26 each for 3.4 fl oz/100 ml) is the Prep + Prime mist with shimmer added! There are little metal balls in the bottles to stir up the shimmer since it settles. These add a very natural sparkle to the face when you set. On me it's very very natural, Pinklite has pink flecks while Goldlite has a warm gold sheen.
Extra Dimension Skinfinish in Whisper of Gilt and Show Gold ($34 each) are both repromotes, I feel like Whisper of Gilt is the classic soft gold champagne everyone needs to try! Show Gold has a duochrome sheen and is more glitzy on the skin. The formula in general has a high shine shimmer frost finish.
I have all the other Extra Dimension Skinfinishes so I swatched them below in case you haven't seen them before. Left to right: Whisper of Gilt, Show Gold, Beaming Blush, Double Gleam, Glow With It, Oh Darling, Soft Frost, Superb.
Strobe Lotion swatches were hard to capture. Once you blend it disappears into the skin to give the most beautiful gleam! I swatched it straight out of the tube along with the Strobe Creams (for the face):
_____________________
Mineralize Blush Matte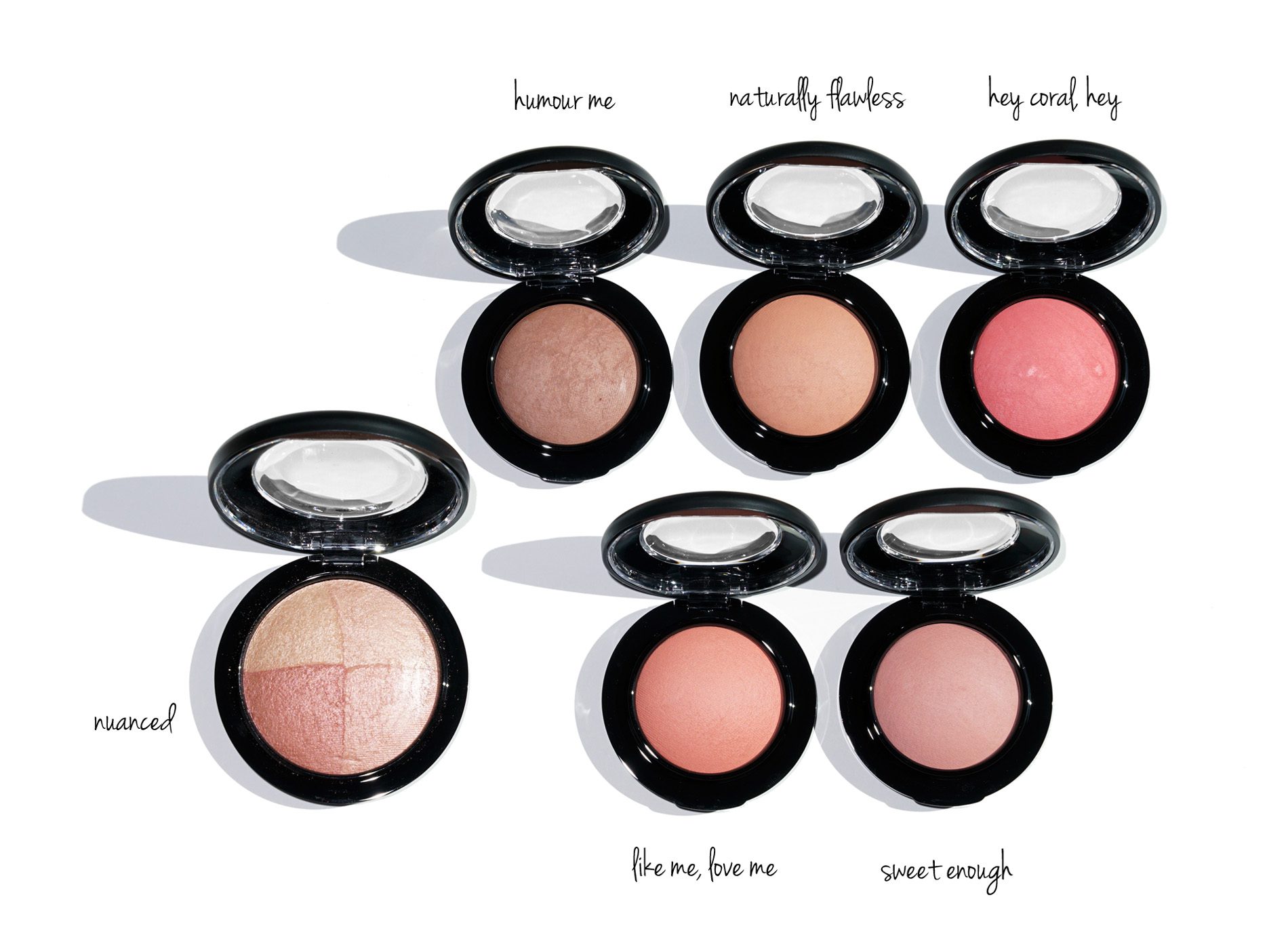 The Mineralize line has been a favorite of mine for their highlighters and powders. Mineralize Skinfinishes in Global Glow and Lightscapade are my favorites in the shimmer finish and I use the Mineralize Skinfinish Natural in Medium Plus and Medium Golden to set makeup. I've collected a number of the blushes over the years but this launch they added a matte version. They are on the sheer side and are very natural. If you want a natural blush these are amazing! There are also four highlighters each with 4 shades in the pan. I picked up one. The MAC highlighters usually last all day long on me, the blushes are sheer and faded by afternoon. I still like them for the natural look – they are easy to touch up without looking muddy.
Mineralize Skinfinish in Nuanced ($34 for 8 g/0.28 oz) is a soft quad with neutral pink tones, when swirled it gives a soft pink sheen to the skin, it is on the shimmery side but on me it did not emphasize pores or texture (your mileage will vary depending on your skin type)
Mineralize Blush Matte ($29 for 4g / 0.14 oz)

Humour Me is a dusty brown neutral
Naturally Flawless is a soft nude peach
Hey Coral Hey is a soft coral pink, I initially thought this would be a dupe for Chanel's Foschia Rosa, but the MAC one is a lot sheerer and lighter
Like Me Love Me is a light medium peach
Sweet Enough is a mauve pink neutral

Two beauty looks with the Mineralize Skinfinish in Nuanced (left) and Mineralize Matte Blush in Hey Coral Hey (right). Base worn is Sunday Riley The Influencer Foundation 190, MAC Mineralize Skinfinish Natural in Medium Plus, Hourglass Arch Brow Gel in Soft Brunette, Charlotte Tilbury Eyeshadow Quad in Transformeyes.
_____________________
Galatic Glitter – New Lipglass Shades
I almost skipped the Galactic Glitter launch just because of the word "glitter." There are new glitters in the small pigment glitter jars which I don't wear, but what caught eye were the new Lipglass shades ($ for)! There are a number of new colors along with a few repromotes. If you're new to MAC lipglasses they have a wide range of colors. Last year they redid the packaging to what you see above. My original haul and picks here. They are semi-thick with a high shine and slightly sticky. This makes them last a long time on me and they don't budge. If gloss is prone to sliding around on you, I'd recommend adding a liner first. New ones I bought:
Very Go Lightly is a sparkling pale champagne
Mystic Powers is an iridescent pink opal glow
Elemental Forces is a warm beige
Good Juju is a pretty warm pink shimmer
All Things Magical is a perfect mauve pink shimmer
Magically Delightful is a medium-warm pink
Soar is a classic mauve (repromote in this collection but it was always sold out when I stopped by the counters near me!)
_____________________
Overall lots to love with MAC. I can always find something new that catches my eye. Since I've been collecting MAC since my high school days I've accumulated a lot of their products so it's only natural that one begins to see similarities between launches.
If you're a MAC junkie like me and already own a lot, I'd say my top picks to check out are the Strobe Body Lotion, Nuanced Mineralize Skinfinish and Matte Mineralize Blushes. I'm obsessed with Lipglasses in general and am happy with all the new shades. My top 3 favorites are Elemental Forces, All Things Magical and Magically Delightful.
One last thing that I wanted to mention is that the MAC Gently Off Wipes + Micellar Water are now available in the small travel size. This makes them more travel-friendly as the full size is HUGE! I bought two of these the last time I was at the store. They're not as emollient as the Regular Wipes.
You can find the MAC launches out now. I usually purchase mine in store or online at MAC Cosmetics or Nordstrom.

Press samples include the MAC Strobe Collection. All other items purchased by me.