Today's post is another one by popular request. It seems like neutral nail polishes are what a lot of you need recommendations for and I totally understand the pain of finding a good one. There are so many neutral options but many are that either too sheer, too light, too pink or really beige and if you're like me you'll go to the store, look at all the OPI or Essie options and think hmmm a lot of these look really similar. I've found that something with a bit of pink and nude mixed together works best for my olive skintone. I'm still on the hunt for the perfect light nude peach that isn't too yellow, too orange or beige. I love the look of OPI Samoan Sand on others but on me it's a bit too dark and a bit too peachy. I did a similar post back in 2014 of my Favorite Nude Pink Polishes. Today I have an updated version although a few of them will be on repeat because I just haven't found anything better.
If you see me wearing a nude polish, there is a really good chance that it's either Tom Ford Sugar Dune, Essie Topless and Barefoot or Burberry Nude Pink. All three are very similar – the difference is slight in undertone but pigment and wear time is also different. Many times you just don't know what a color will look like until you try it on your hands. Something that looks incredibly boring in the bottle like Tom Ford Sugar Dune ends up being one of the prettiest soft nude pinks ever. If you think all these look the same you're right but I'll add descriptions on what makes them each unique so you can find the right one for you.
Lineup in natural light: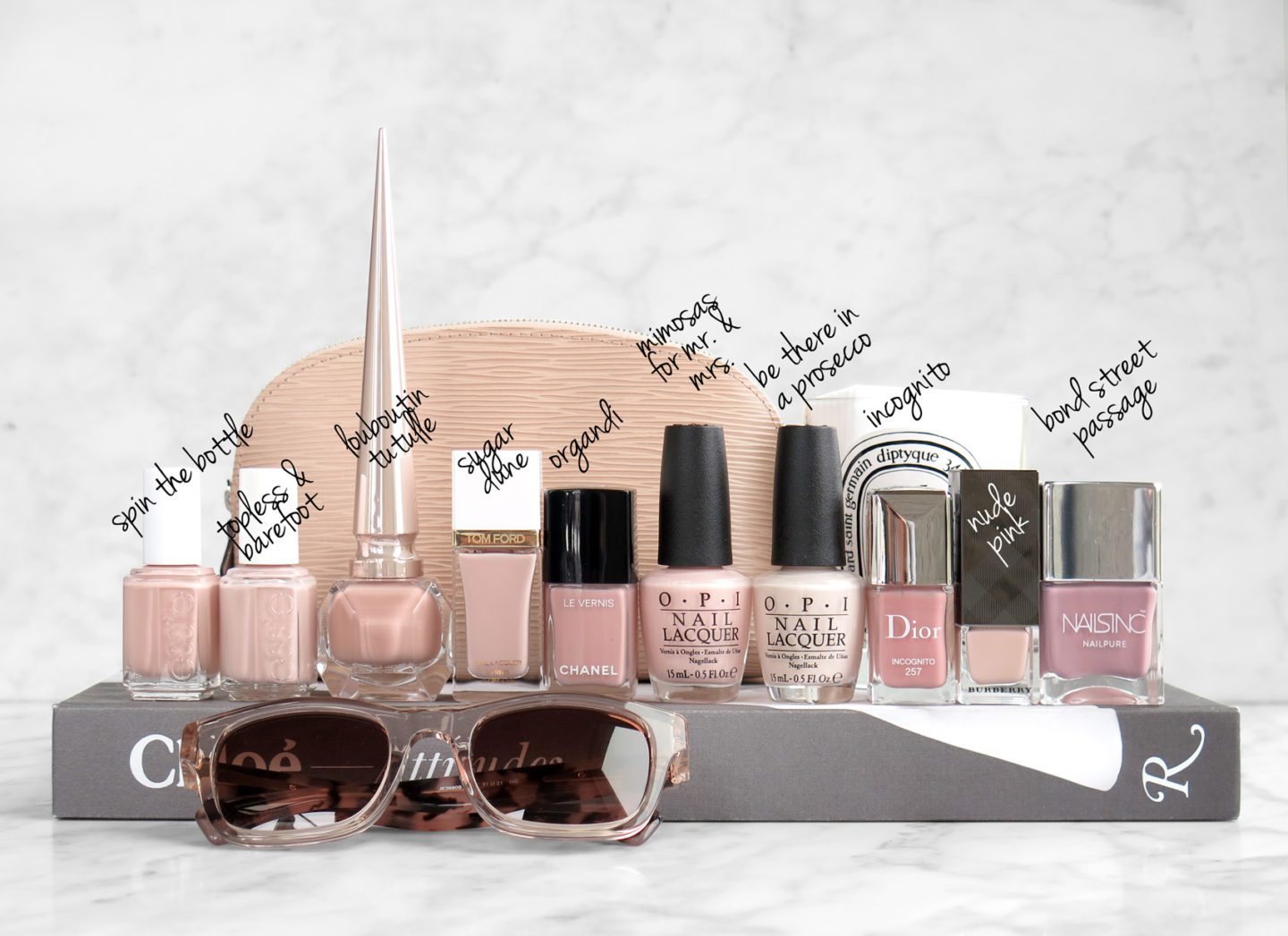 Descriptions as I see them and notes on how many coats it takes for full coverage:
Swatches on the nail wheel, all of these have two coats with the exception of OPI Mimosas for Mr. and Mrs. which has 4 and Essie Topless and Barefoot which has 3: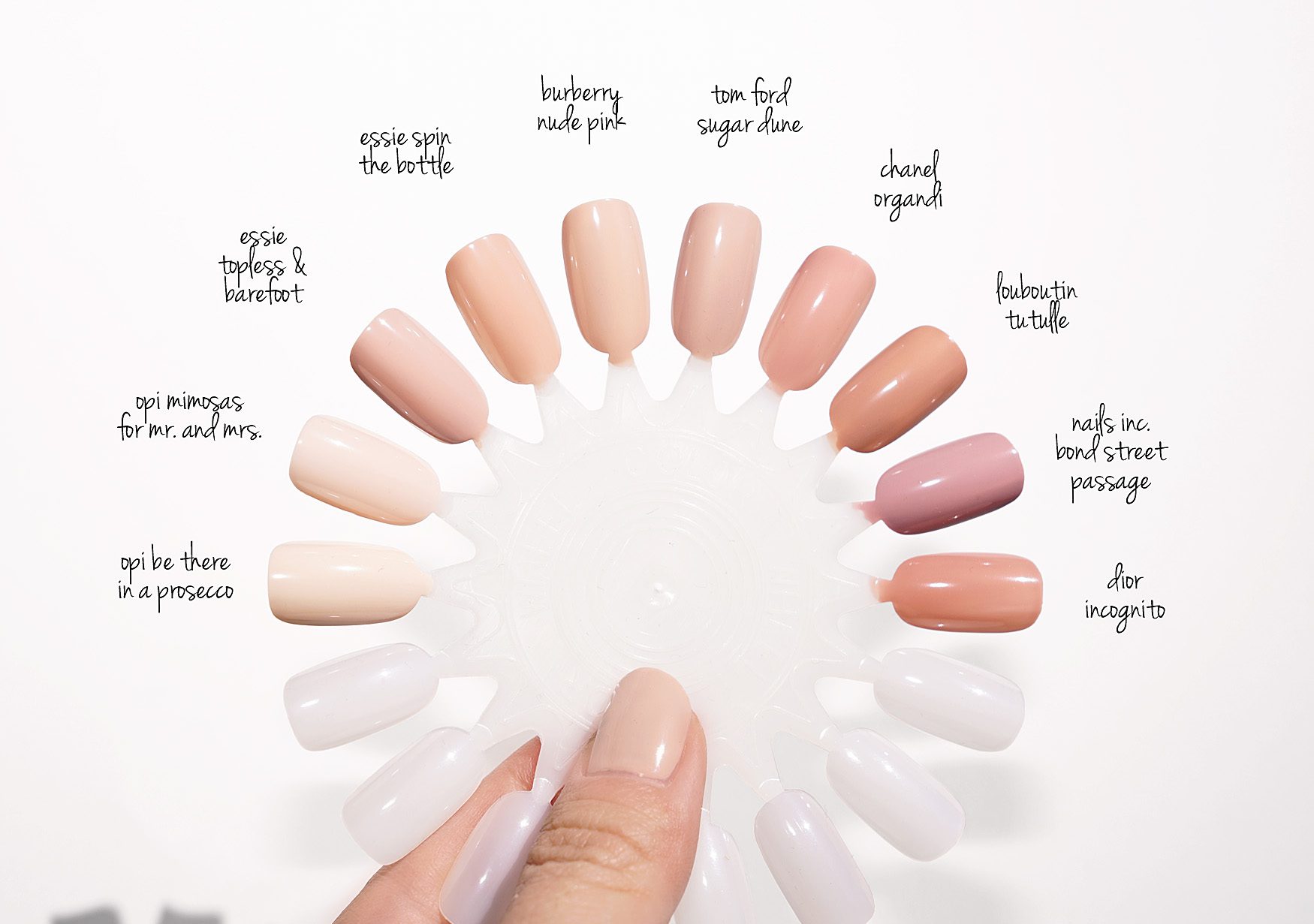 Swatches in natural lighting for each of these polishes, OPI Be There in a Prosecco (Ulta Beauty), two coats:
OPI Mimosas for Mr and Mrs (Ulta Beauty), three coats:
Two coats, mug from Etsy:
Essie Topless and Barefoot (Ulta Beauty), three coats:
Essie Spin the Bottle (Ulta Beauty), three coats:
Burberry Nude Pink (Nordstrom), two coats:
Tom Ford Sugar Dune (Nordstrom), two coats:
Chanel Organdi (Chanel.com), two coats:
Louboutin Tutulle (Nordstrom and Sephora), two coats:
Nails Inc Bond Street Passage (Sephora), two coats:
Dior Incognito (Sephora), two coats:
Another look of the polishes lined up in sunlight with flash:
You definitely do not need all of these, but I hope this helps compare colors in a side by side and swatch manner. I've accumulated many polishes over the past few years and these are my favorite neutrals that you can still find today. A few other favorites have been limited-editions from Dior and you can't find them anymore so I didn't want to include those in the roundup. As many of you have asked for recommendations that are in the more affordable price range I included Essie and OPI to the mix. I usually consider myself a lover of brighter or bold shades for the fingers like Chanel Camelia or Louboutin Miss Mars, but I really like the clean and almost brightening look of neutral nails.
My top three favorites of the moment: Tom Ford Sugar Dune, Louboutin Tutulle and Chanel Organdi.
Do you have any neutral favorites? I know the word "neutral" can mean something different to everyone, but I'd love to hear what yours are! They don't have to be nude pinks like the ones I featured, let me know what has worked for you and if you can share your skintone that would be super helpful as well 🙂
Save
Save