Today I'm rounding up all of the best decorative trays for your vanity! I'm always on the hunt for better ways to organize, display and store my beauty products. I love trays of all shapes and sizes because it helps me keep things in place and makes things look less cluttered! So many of you have asked questions about where I get all of my trays so today's post is a comprehensive roundup.
Many of you have also asked for an updated makeup storage/organization post. You want to know how I store everything from the best acrylic organizers, boxes, shelving, drawers etc. I haven't done one since we were in San Diego in my Home Loft Tour (3 years ago!). We've done a lot of moving around over the last few years since we've moved to Florida. I feel we have been in a long transition phase as we took our time to explore the different areas of Tampa Bay. We've finally found an area we truly love that feels like home to us now. I will be putting together my full beauty organization setup in a separate post. Today's roundup focuses on all my vanity trays.
_________________
Restoration Hardware Bath Tray
Measures 12″W x 7½"D x 1¼"H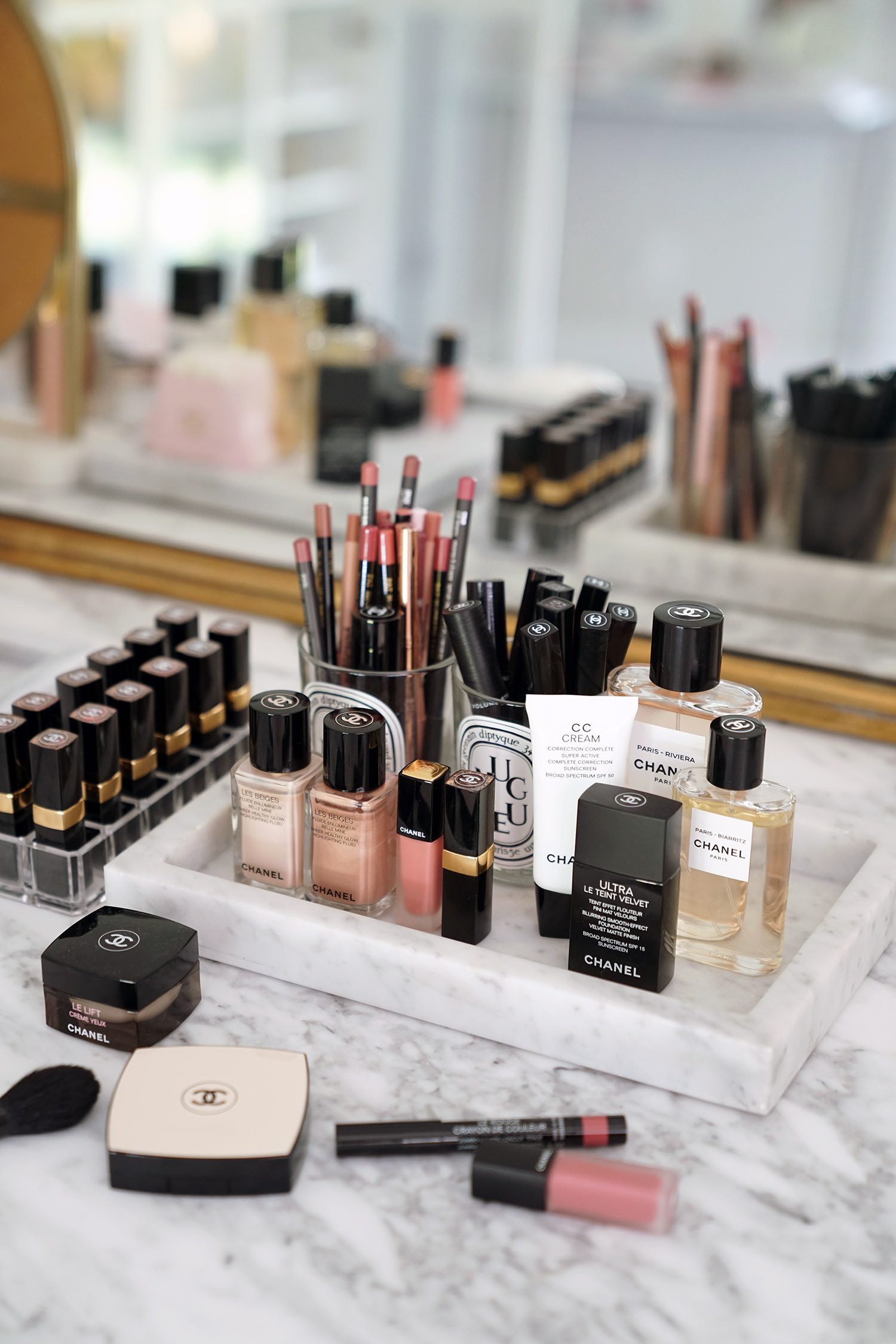 I've loved and used my Restoration Hardware trays for years! It's held up really well over many years and moves and it's such a classic piece. The one you see in most of my photos is their White Italian Carrara Marble Bath Tray and it's a single solid piece of marble with the center interior carved out. It looks like the rectangular ones I own have been discontinued from their website although some of their other Bath Accessories are still available. I'm trying to find a high quality dupe but haven't found one yet.
_________________
Crate and Barrel French Kitchen Marble Rectangle Tray
Measures 14″W x 8.5″D x 1″H
I ordered this Crate and Barrel French Kitchen Marble Tray because of the rave reviews and the $39.95 price seemed like a steal! I think for the price it's a great buy. However it is not a single piece of solid marble. The base and four sides are bonded together with some kind of smooth white grout or epoxy which is visible where the pieces are connected. The cut isn't 100% exact so some of the corners have more white grout/glue showing in between the corner lines than others. It's not a deal breaker and overall it's well made. Also this is not totally noticeable once you have product (or food) set on it.
Side by side of the Crate and Barrel (larger on the left) tray next to the Restoration Hardware Tray (smaller on the right). If you look closely at the photo, you can see the white grout showing in the corners on the top right and bottom right corners of the Crate and Barrel Tray – I do think each piece will be different though. Yours might not show any!
_________________
Goop Marble Petite Round Tray
Small measures 8″ in diameter, 1.5 inches high
I love the small but still practical size of the Goop Marble Petite Round Tray ($50). I do not think it's carrara marble as the veining and coloring isn't quite as nice as other marble furniture pieces I own, but I think it's really well made and I love the size. The Petite Size is currently in stock ($50 for 8 inches) and I just ordered the Grand Size ($80 for 12 inches, currently on waitlist). They've restocked multiple times since I first ordered mine. More views of it and full breakdown of the makeup in the photo listed in my Everyday Makeup Favorites post here.
_________________
West Elm Marble Cheese Board Round
Measures 14 inches in diameter (from my Best of Cle de Peau)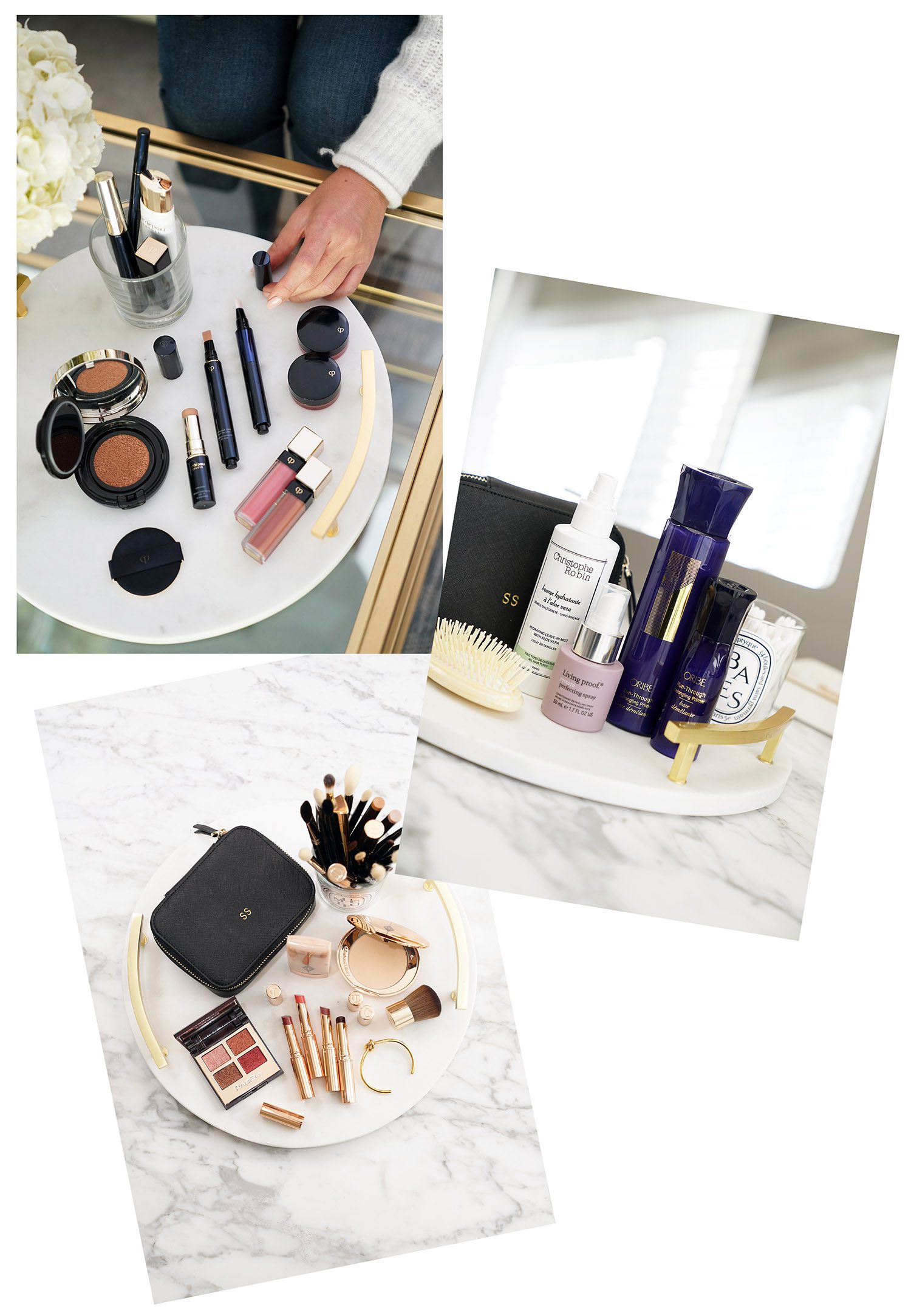 I love West Elm! I stalk their site on a weekly basis. Their Marble and Brass Cheese Board Round ($49.50) is perfect for our kitchen to display a few candles and room sprays. I also borrow it for a prop on some of my beauty shoots from my Best of Cle de Peau, Charlotte Tilbury review and Hair Care Favorites to name a few. I really should just order a second one.
_________________
Marble and Brass Cheese Board – Rectangle
Measures 14″w x 10″d x 2″h
I also love the rectangular Marble and Brass Cheese Board ($49.50). You've seen this in my bathroom, on my vanity, on my desk etc. It's heavy and I love the quality. There are some other options that I think are super cute including the Cake Stand (could double as a stand for beauty products) or their Marble Brass Footed Board.
_________________
Acrylic Trays
CB2 Measures 14″W x 6.25″D x 2″H
I've gone through several acrylic trays over the years. I had some larger square options from West Elm and CB2 that I loved but got rid of over some past moves. Acrylic tends to scratch as you move product over the surface (even the sturdy durable options). Over time they wear down. I do like the CB2 Acrylic Tank Tray for my sunglasses and also for my desk. Note that this style does not have rubber feet (I added them on my own) so if you don't want it sliding around I'd recommend adding them. They're easy to find at a wide range of places. I ordered some from Amazon and really like them. The Container Store has some options for acrylic trays which are decent and functional, but in my experience not the best quality.
For those curious the sunglasses from top to bottom in the photo: Black round (Celine), Brown square (Tom Ford), Honey brown round (Ray-Ban), Beige round (Ray-Ban), Dark brown round (Ray-Ban), Pink small (Chanel, old style).
_________________
West Elm Mirrored Trays
Small Size Measures 15″ x 10″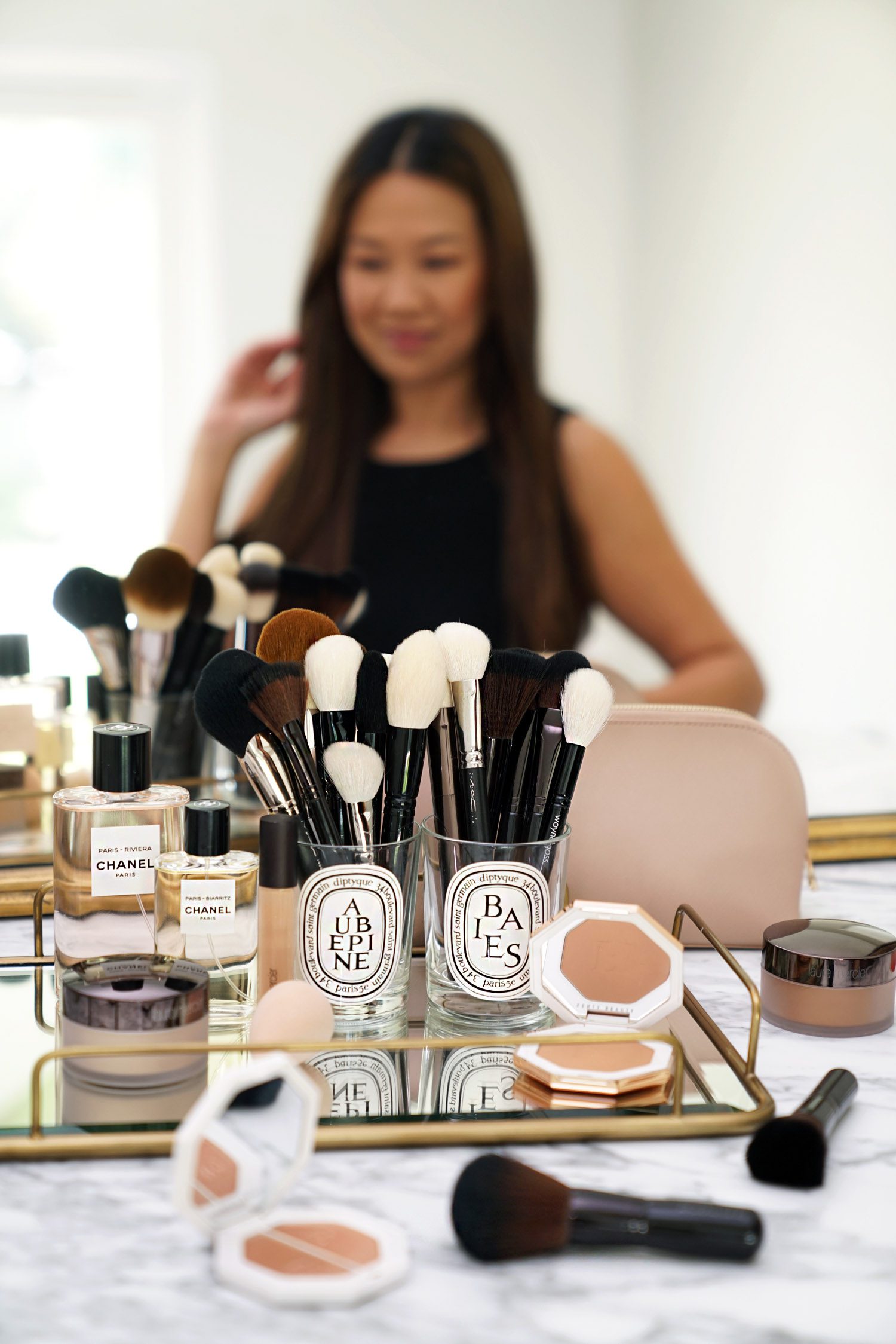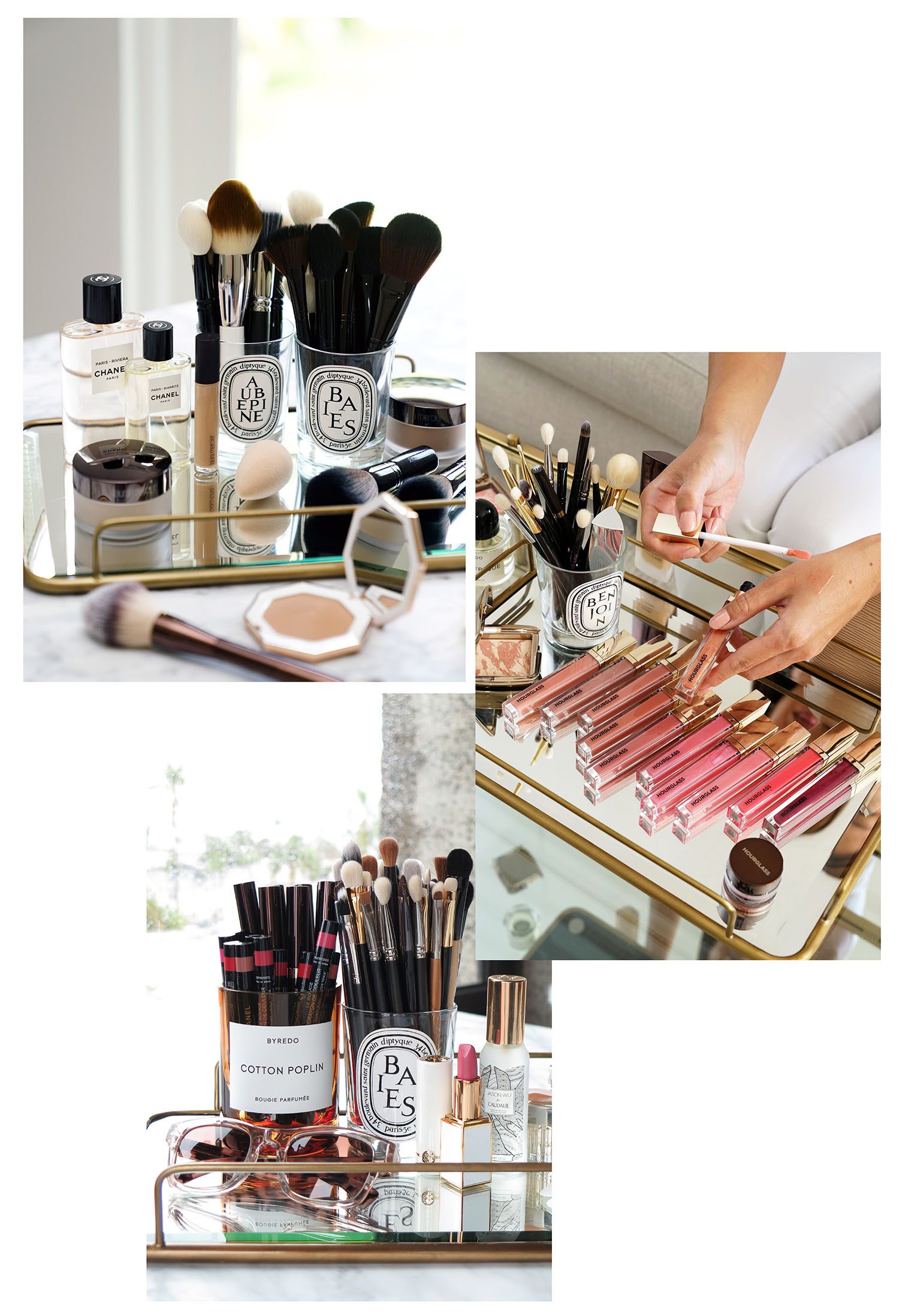 I love the look of mirrored trays, especially with any brass or gold accents! However they're high maintenance as they scratch easier than other surfaces and show every speck of dust or finger prints. Mirrored trays are easy to clean, I just find I have to clean and dust them frequently. This Fishs Eddy Gilded Cafe Mirror Tray – Brass from West Elm has held up for many years though. It's the same one I've had since I lived in San Diego. There are a few scratches as it has been well loved. I have the small size but they have a larger option too.
_________________
Lacquered Trays
Medium Shown measures 7.2″w x 10″d x 1.1″h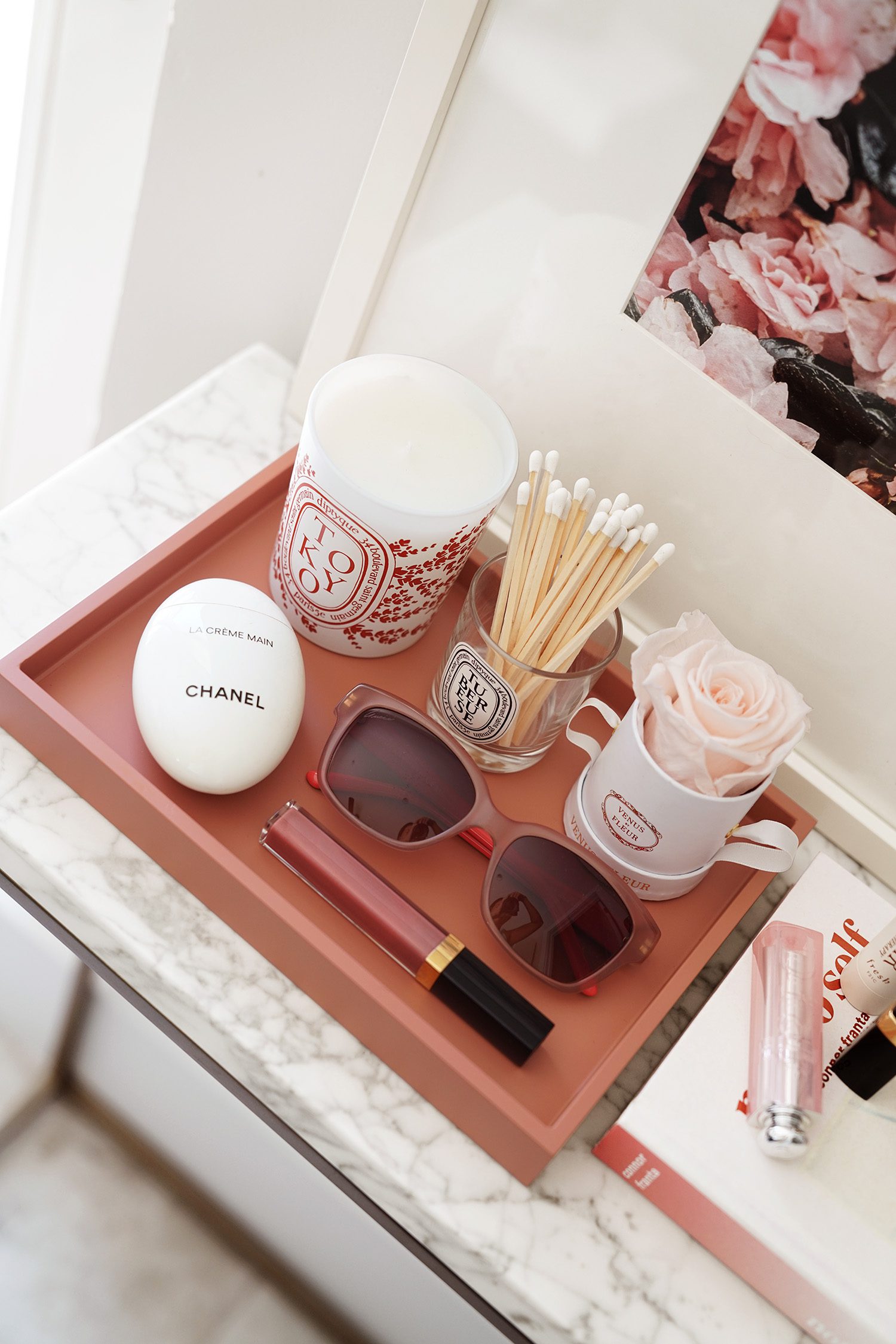 Most of my lacquered trays (gloss or matte finish) have been from West Elm. I've loved and used them from years! I've bought them long before I started blogging. As we've moved around I have switched and rotated them with other styles. This one is the Color Block in the Medium Size. I like that it's on the compact side and easy to fit in small places/shelves. They also have other colors and sizes which I have but haven't put to use yet. CB2 also makes nice options!
_________________
Marble Wine Coaster
Measures 4.75 in diameter and 1.75 high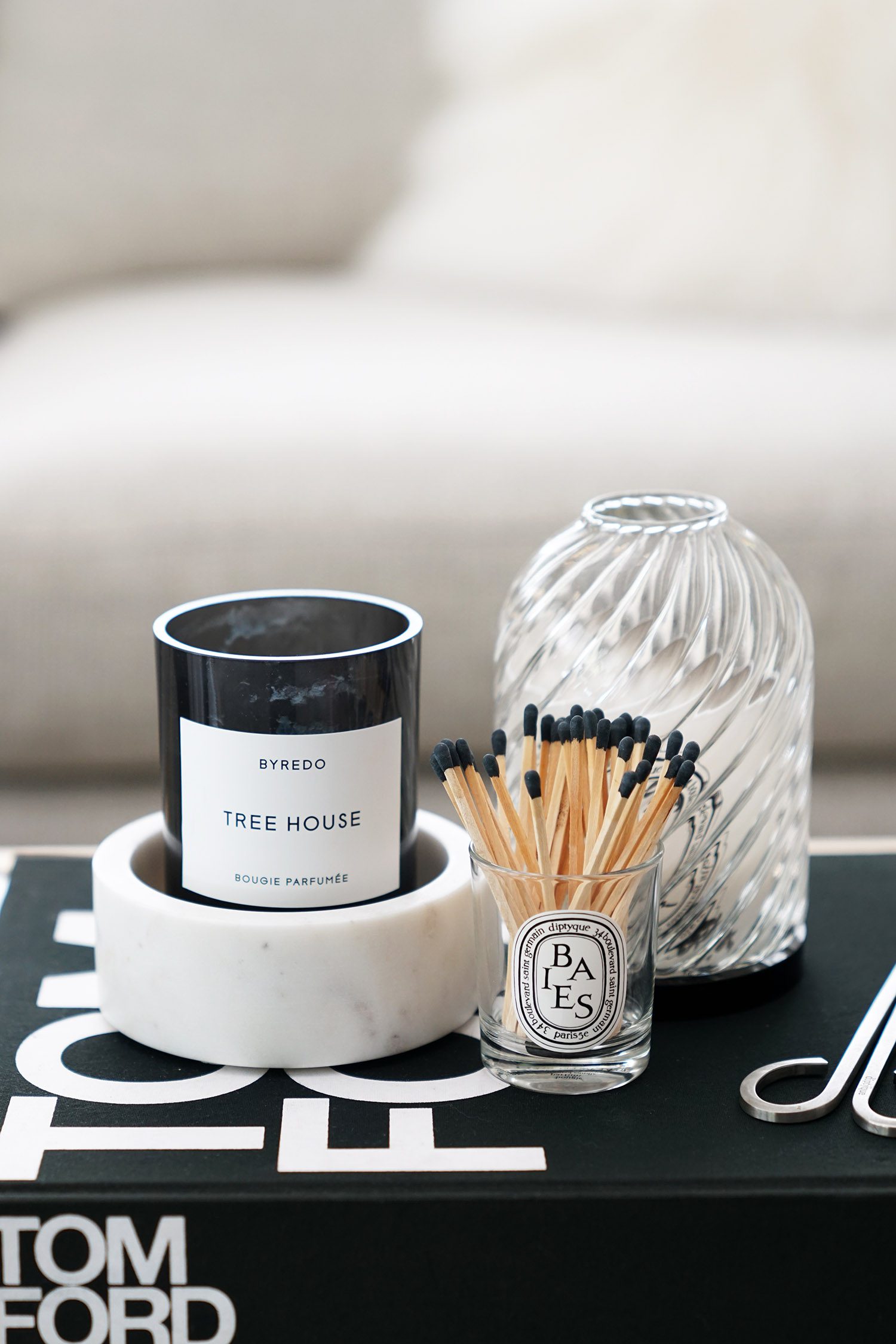 This Williams Sonoma Wine Coaster ($15.96 on sale) is the perfect size to hold a Byredo Candle or standard size Diptyque Candle. It's also tall enough to store small things like my Slip Silk Scrunchies or rubber bands. Long matches from Tommy Bahama. Photophore from Diptyque (older style, but current versions here). Wick Trimmer from Diptyque.
_________________
Small Marble Brass Inlay Tray
Measures 9″w x 4.5″d x 1″h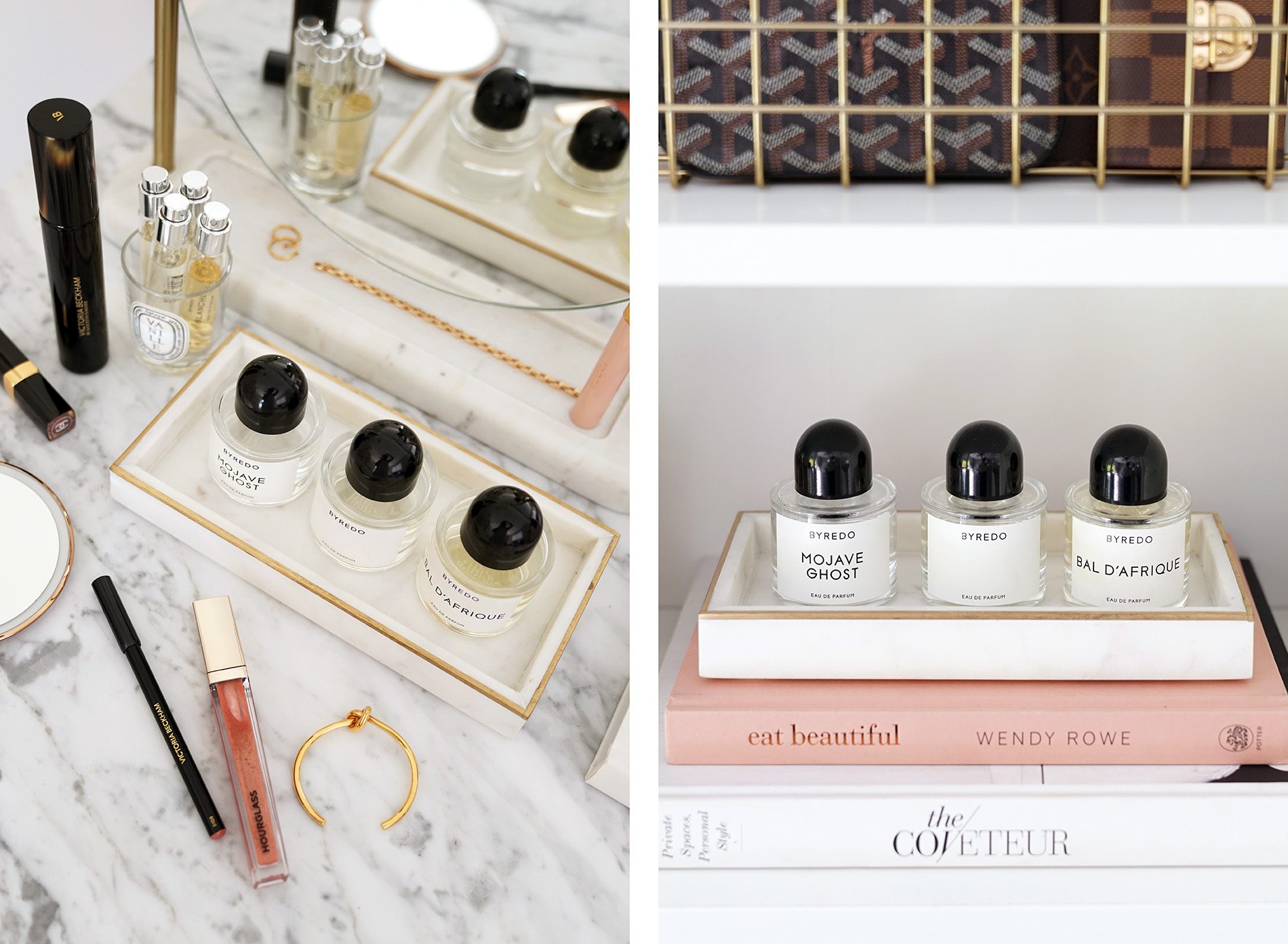 If you want an extra small tray to keep things super tidy, I think the Small Brass Inlay Marble Tray ($40) from West Elm is really lovely. It's quite small and only holds a few things but it well made, heavy and looks lovely on the night stand, shelf or desk!
Trays added to my Ikea Billy Bookcase shelf (option is with doors):
A few extra tips on finding the perfect tray(s) for you:
Some trays do not come with anything on the base. You might want to buy a set of thin small felt pads if you have a surface that might get easily scratched. Adhesive bumpers/rubber feet are also another option if you want the tray to stay in place and prevent them from sliding around. I ordered a bunch from Amazon (also for furniture too). You can find these easily at Target or any home improvement store etc.
Look for products that aren't labeled "tray." Some other things will pop up on search that can double as display trays. For example on home good sites like West Elm or Crate and Barrel (etc.) type in the search bar words like dish, board, trivet, cake stand, coaster etc.
I tend to look for small to medium trays for beauty product storage as larger ones can get cluttered REALLY fast for me. If you're organized it should not be an issue or problem at all though! I also have a console and shelves that are on the narrow side so finding a smaller tray has been ideal for me.
Sites like West Elm, CB2 and Crate and barrel often have sales on their sites. Lots are happening this weekend for Memorial Day. Target has some really nice affordable home decor options but the seasonal launches tend to sell out quickly.
If you stain your marble with watermarks or oil, it's possible to remove by applying a baking soda + water mixture. Mix it into a paste and apply to the stained area. Leave on for 24 hours and then wipe away. For smaller stains that haven't settled too long it should absorb any oil and remove them! This has worked for me when oil from skincare or water from a cup/jar has left a ring on my tray. Your mileage may vary depending on what the stain is made of, how big it is, how long it's been there etc.
Beauty organization post to follow soon but leave all your questions in the comments below so I can add them to my list for FAQs! I hope you found this roundup helpful. I'm asked on a daily basis "where did you get your marble tray?" – the answer is usually that I have several! This post has them all in one place so now for reference.
Trays featured:

Other decorative accents/accessories featured:

Do you have any trays you love for your beauty products? Or do you tend to display them on a shelf, drawers or boxes? I'd love to hear how you organize your beauty stash!