Today I'm taking you inside our loft with a peek at our living space. Over the past couple of years so many of you have asked for a home tour. I've shown snippets here and there but as a rather private person I've been a bit hesitant to share our home, but today I'm finally giving you a look into our loft.  This post is bittersweet for me because as this post is being published we've actually packed everything up inside a moving truck and are on the road as we are relocating to Tampa, Florida! If you remember our Florida trip over the holiday this was a trip to explore the area and see if we could actually live there. I've lived in California for pretty much my entire life but both my husband and I felt like we were ready for a change of scenery and so decided to embark on a new adventure. There were a number of reasons we picked Florida, but the main reasons were weather and pet-related. We both like warm weather (I can't remember the last time we've seen snow!) and the warm Florida climate seemed like the perfect place to transition to. Also because we have two dogs and a cat we ruled out cities for the time being. Our dogs need a nearby park or a backyard to run around in. The past few weeks have been a whirlwind of emotions for me. I can't help but feel excited, sad, thrilled, apprehensive, and happy all at the same time. California has been home and I've never lived in another place since I was seven (aside from a couple months of travel) so leaving kinda breaks my heart. However we aren't really saying goodbye. Who knows what will happen in the future, we may return or might find we fall in love with another city. Right now we're saying yes to new adventures.
Enough rambling, onto our home tour. When we moved into this loft we were looking for a small-to-medium yet modern looking space. The floor to ceiling windows were just to die for beautiful and we fell in love with it as soon as we saw it. The concrete building was so different from our beach house that we had lived in previously for almost a decade. Out of all the places I've lived this has definitely been one of the most unique and memorable. I wanted to document bits here and there for memories and thought I'd share it with you too.
I have an empty space photo to show, this is what it looks like right before we moved out, empty just like it did when we moved in. Since it's a loft it's primarily an open space although the kitchen area is lined up  on a dividing wall to separate the bedroom/office area. Shown below our Away Carry-Ons reviewed here.
How we furnished the living room below. Since lofts tend to be small, all space had to be used or multi-purpose. The living area also has a work out section with a treadmill and a marble desk that doubles as a dining area and work space. By the time I took these photos we had already started packing up some of our things but this is pretty much what it looked like while we lived here. I'll list our furniture at the bottom by room.
Our loft is basically one big open space however we did have a partial dividing wall to separate an area for the bedroom and a corner by the window that I could use as my blog/work/storage area. The bedroom area was large enough for a king size bed and Ikea closet units with plenty of room for dressers and a side chair (not shown).
Bathroom:
My work corner and a peek at how I organize my beauty products. Organization has always been a challenge. As a beauty blogger I go through quite a bit of product for testing and also for use. Being able to find things is essential especially for referencing items for comparisons or just know where something is when I want to use it. The organization system has always been evolving. I'll do a separate post on organization for beauty. For now here's a look at the different items I've tried. My husband had begged me for months to invest in a good tall cabinet or tall drawer unit. I was reluctant to install a closet system anywhere because for beauty products I either needed shallow drawers to be able to see things laid out versus stacked. Or I needed something clear to be able to see things easily.
Since I don't use products from a single brand, bur rather many and also since makeup and skincare comes in a shapes, sizes, heights, widths etc. finding something to store a wide range of items has been challenging. I started with Muji acrylic drawers which I find great for lipstick, glosses, small compacts, but it requires you to lay things flat. Also sizes are limited. It took me over a year of research to decide what other acrylic units to invest in. Many are expensive and the biggest deterrent for me was the time it took to make and ship the units. Some said it would take anywhere from 3 to 6 weeks as each one was custom made. I lack patience when it comes to shipping so I didn't order one until I found two options that would ship immediately. GLAMboxes launched on QVC with inexpensive quick shipping so I ordered the GLAMboxes GLAMpetite with a Partial Lid ($199). Another one I found with good reviews is the Original Beauty Box and they did not have a long wait time for shipping so I also ordered the Deluxe Beauty Box ($159) to compare. Both are well made and the drawers slide easily and smoothly which was really important for me. I haven't seen a wide range of acrylic units so I can't report on quality comparisons to other brands, but both are functional, well made, sturdy and work well. Since the Original Beauty Box has drawers that are taller it worked better for me. Although it can get heavy if you stack items – I haven't had any issues opening the drawers with what I put inside though. I liked the Original Beauty Box so much I ordered two more.
Other storage units include Ikea Alex Drawers (I like the wider ones). Inside I use Container Store plastic bins and lipstick dividers to store and organize products. They aren't completely filled with plastic bins as I find some items are ok free floating.
To organize new products to be tested or swatched I started using clear plastic shoe boxes from the Container Store. The ones I bought were relatively cheap in price and look and feel cheap, but they are functional and fit my bookshelves perfectly so right now they work.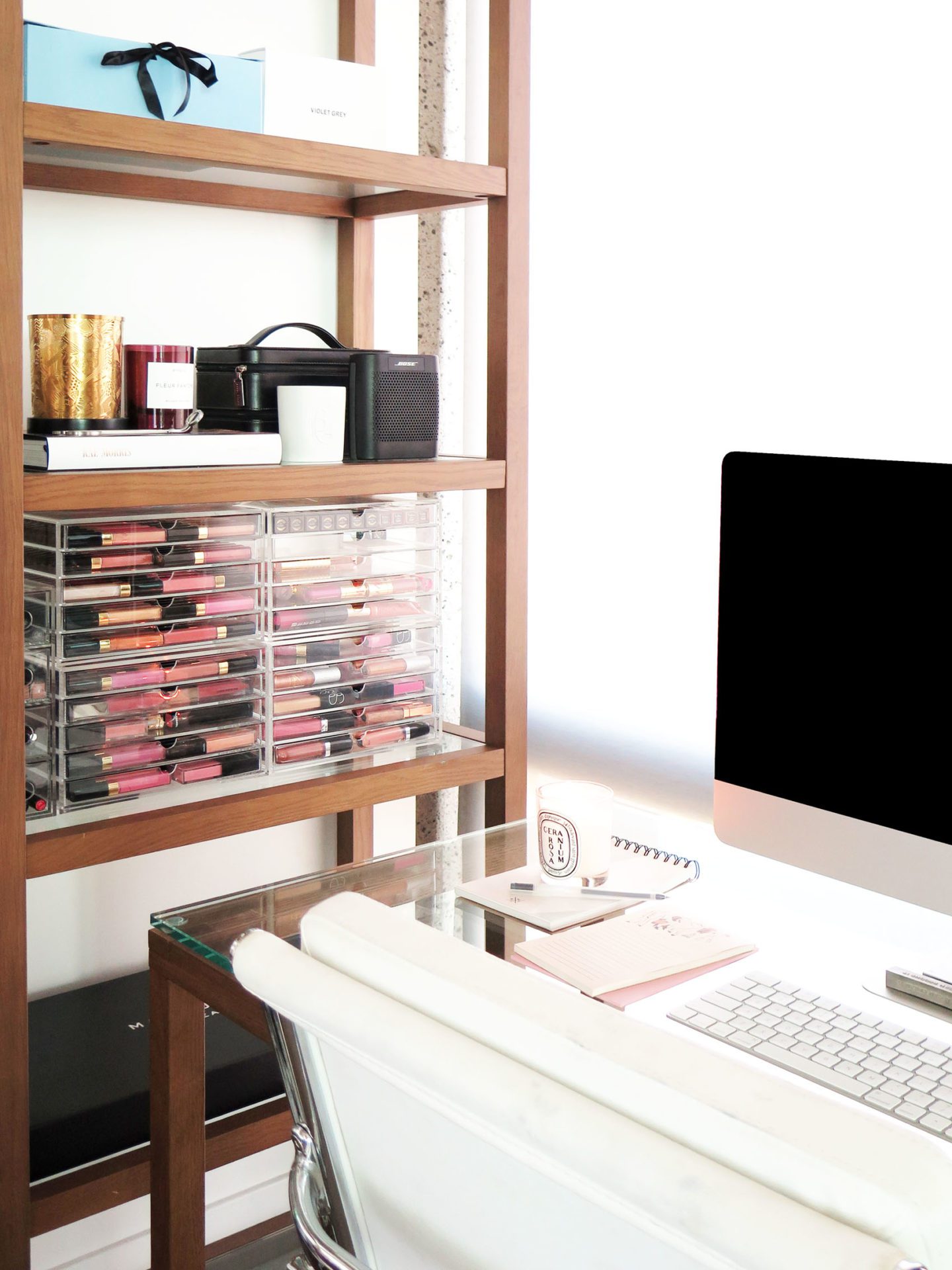 Below, left to right: GLAMboxes GLAMpetite with a Partial Lid, Muji Acrylic Stand, Ikea Alex Drawer with Container Store plastic dividers
I've tried to list everything by room for those curious about where we bought our home furnishings. It took us at least six months to fully furnish the place as we found it challenging to find what we wanted that would ship within a reasonable time. It had been a few years since we did major furniture shopping so we did not realize that buying furniture would require sometimes several months for delivery time. If there's anything I missed let me know – I will be traveling cross country this week but will get back to you as soon as we've had a chance to settle in.
Living Room
Bathroom
Bedroom
My Office Space
I hope you enjoyed this home tour even though by now we have moved on. There were some areas such as our closet, kitchen details and bathroom areas which I didn't photograph but hope this gives you a glimpse into how we decorated and styled our home. My husband and I have similar but different tastes. He loves more color and fun accents while I would be thrilled to have an entire monochrome house with neutrals. I think we found a good balance with this one. For our next home the space we will have is going to be 2x the size of our loft so there will be a lot of space to fill and decorate.
Many of you have asked how we keep the loft clean with three fluffy pets, all of which have white fur and shed a lot. My husband is the organized and clean one so he did a lot of research on vacuums and pet grooming. We have used an iRobot Roomba for the past 10 years. They get regular use on a daily basis so we've gone through 3. We always bought the cheapest option which runs around $400. For Christmas Andrew decided to get the iRobot Roomba Robot Vacuum 980
as my Christmas present. It's more than double the price but works noticeably better and hands down well worth the investment – especially if you have pets or if your home gets dusty easily. If you want a list of the other vacuums he's bought I can list them in this post, but the Roombas are a life saver.
I'll be on the road for the next several days and will have limited access to my computer while we make our way across the US to our new home. You can follow along on Instagram @beautylookbook as I'll be posting a few things here and there along the way.
Hope your week is going well! More fun beauty reviews to come as soon as I've settled in. I was able to get a sneak preview of the new Tom Ford Soleil items yesterday (details on Instagram and if you can catch IG stories before they disappear) and everything is to die for! I also bought three of the Rouge Coco Glosses which I'll be putting to the test while on the road.