I have a luxury beauty roundup featuring my favorites from Cle de Peau Beaute. They have so many beautiful high quality pieces many of which I consider to be tried and true staples. Today I'm partnering with Nordstrom to round up my top ten beauty picks I think are worth the splurge. I purchase and restock most of my Cle de Peau products from them and have for years, especially their bases. All of my personal favorites and the shades I use discussed below.
Below wearing the Radiant Cushion Foundation O30 and Radiant Liquid Rouge Shine in Sepia
Above left to right: Brilliant Enhancer, Radiant Corrector for Eyes, Concealer
1) Brilliant Enhancer
The Brilliant Enhancer comes in one shade which is a sheer pearly highlight. It has a click pen applicator with a brush tip and provides the most natural looking liquid illuminator I've ever seen. You can use it anywhere you want to add brightness or a highlight. I find using it on the eyes, cheekbones or even under eyes under concealer gives the skin a very soft radiant effect. It's sheer and glowy and never looks overdone. I will sometimes click dispense product onto the back of my hand first and then use my fingertips to apply on the face although the brush works too!
2) Radiant Corrector for Eyes
The Radiant Corrector for Eyes is ideal for brightening or concealing dark circles under the eye area. It has a brush applicator and has a less opaque formula compared to the stick version making it easier to blend for under the eye area. It goes on smoothly and has good coverage without looking heavy. I use the shade Ochre.
3) Cle de Peau Beaute Concealer
The Concealer in Ochre is the best opaque formula I've tried for a full coverage concealer. I've used Almond in the past but Ochre is my best match now for my Florida tan. I warm up a little bit from the stick with my finger before patting and blending on the face. It is versatile for spot concealing, to cover redness around the nose or to cover redness under the eyes. It has SPF 25 which was introduced sometime last year. To me this newer version is just as good as the original version.
4) Radiant Cushion Foundation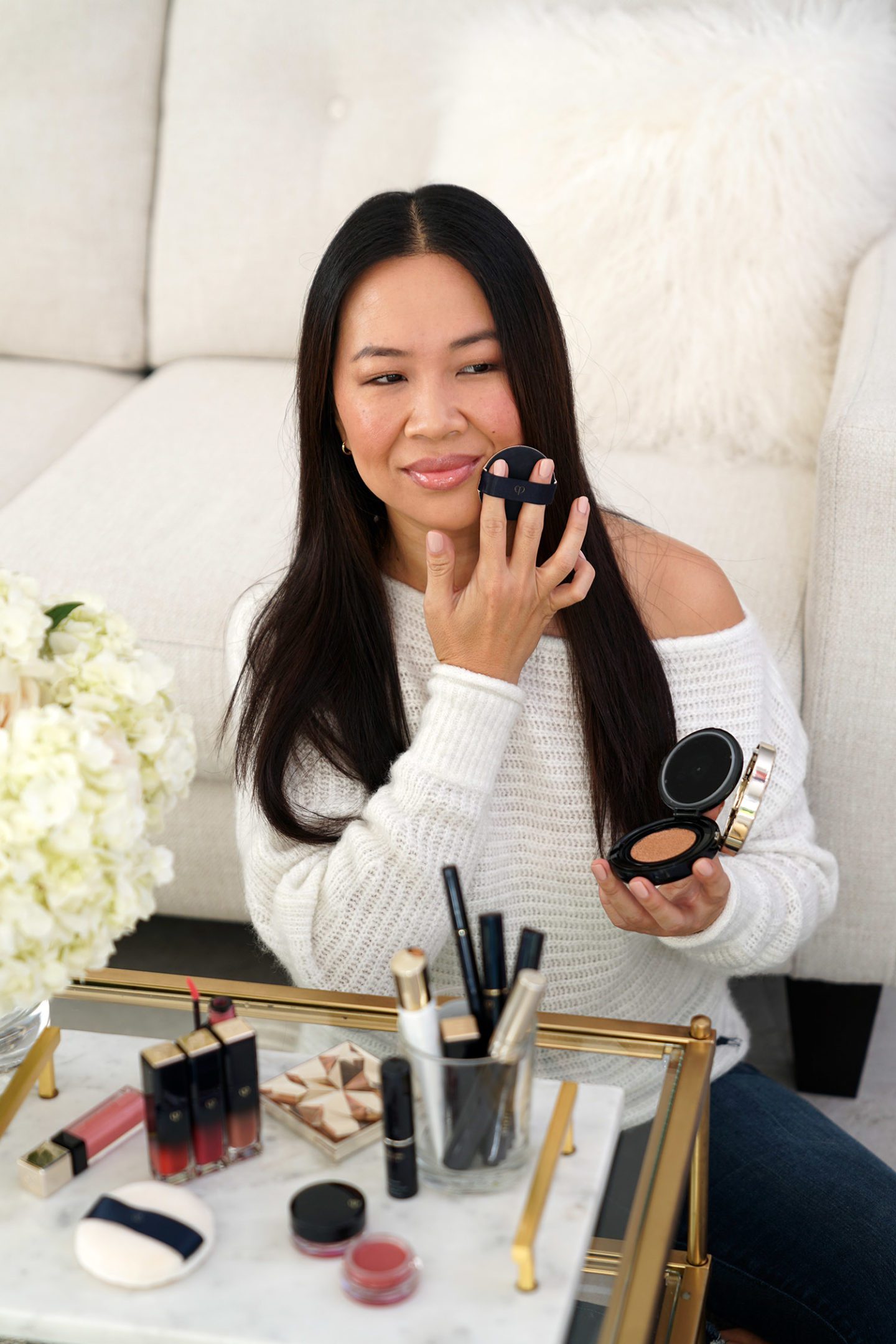 The Radiant Cushion Foundation in O30 is the only foundation I currently use from the line. I do want to try more formulas but many of my old favorites have been reformulated. This cushion has medium to full coverage with a very natural luminous glow. I love that it looks radiant without being too dewy. Skin looks smoothed out and healthy and stays put all day without budging. It has buildable coverage but still feels lightweight.
5) Cream Blushes
The Cle de Peau Beaute Cream Blushes are newer tries for me. I cannot believe I did not discover these sooner! They're creamy pots that have the most beautiful powder dry down. I'm not the biggest fan of cream blushes because they're often too dewy for me but these are hands down the best I have EVER tried. I have two shades right now in 1 Cranberry (one I'm wearing in this post) which is a soft rose and 2 Pale Fig (brighter warm pink). I have the other two on my wishlist to order soon. They blend so beautifully into the skin and are the longest lasting cream blushes I've tried. They look natural but give a perfect amount of color. You can apply with fingers easily or a small cream blush brush. A little bit goes a very long way.
6) Intensifying Liquid Eyeliner in Black
I tried some eye makeup basics based on rave reviews and they 100% live up to the hype. The Intensifying Liquid Eyeliner has two tips, one short and one long. It is the best liquid eyeliner I have ever tried to date and has surpassed all my other favorites. I love that you have two options to control the thickness of the line. I also think the formula has the perfect density and fluidity to dry quickly so it doesn't bleed at all.
7) Perfect Lash Mascara in Black
Another eye makeup product I ordered recently was the Cle de Peau Beaute Perfect Lash Mascara. I purchased it on a whim as I was curious to see if it lived up to the hype. Few mascaras do it all for me but this one worked out perfectly for everything I wanted. It adds volume, holds the curl, doesn't smudge and the curved brush makes application easy. I like that the brush is dense enough to coat my lashes with just a few coats. I will definitely repurchase!
8) Radiant Lip Gloss
For lips one of my favorite gloss formulas is the Cle de Peau Beaute Radiant Lip Gloss. They have a cushiony feel and beautiful shine without that sticky finish. They are sheer so I recommend layering on top of a liner or lipstick if you want more coverage. My favorites are Warm Crystal, Charm, Dream Stone and Star Dust. They have a tiny amount of shimmer to make the lips look lush and full.
9) Radiant Liquid Rouge Shine Liquid Lipstick
Above wearing Sugar Jelly
The latest lip launch from Cle de Peau Beaute is their Radiant Liquid Rouge Shine Liquid Lipstick. They also launched a matte version which I tried as well (swatches of my picks below) but I'm partial to the shine version. They're glossy high pigmented liquid lipsticks with the most juicy looking colors. I picked four and hope they launch more colors in this formula! Sepia is a perfect nude, Sugar Jelly is a baby pink, Delicious Dream is a juicy soft red pink, Bird of Paradise is a gorgeous orangey coral. I like mixing the colors as well. (My shine and matte picks swatched below.)
10) Face Cotton
Last but not least is the Cle de Peau Face Cotton which has been one of my go-to's for years. They're thick and plush and hold the shape. They won't disintegrate with toner or makeup remover and they don't leave fibers on the skin. I repurchase it constantly and my most recent haul I bought the Cleansing Foam Set which has the cotton in it along with some other skincare products. It is 100% worth the price for me.
That wraps up my Top 10 Cle de Peau Beaute favorites! I have tried some of their skincare items but for me the highlights are some of their makeup products. I really want to try their current Serum since I used to be obsessed with one of the older formulations.
You can find the full line of Cle de Peau available at Nordstrom. They often have nice Gift With Purchases available, especially during Bonus Point Events. I recommend checking it regularly if you plan on stocking up on anything!
What are your favorite Cle de Peau Beaute products? Do you have any tried and true skincare items you recommend?

Thank you Nordstrom for partnering to sponsor this post. All products purchased and selected by me.