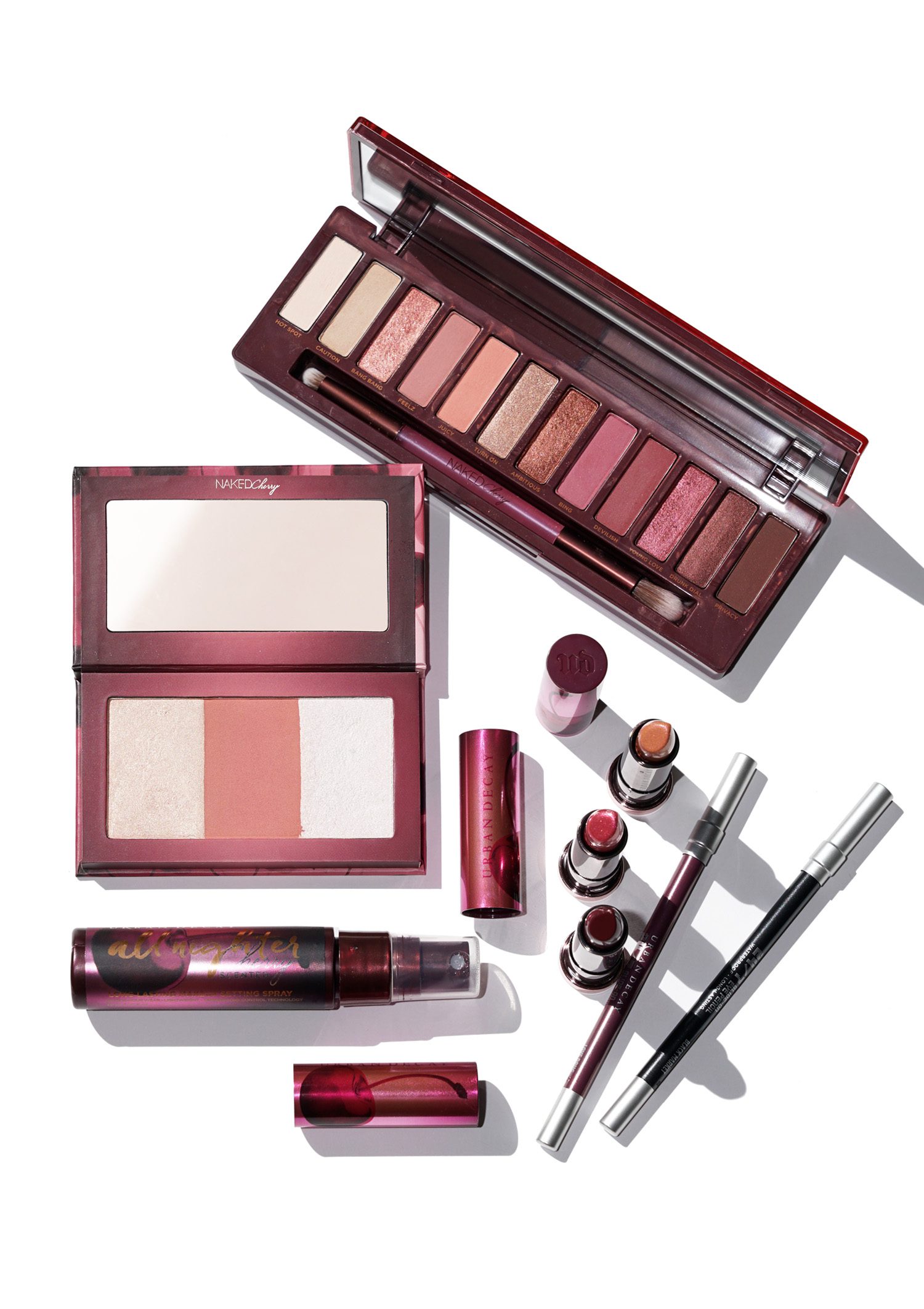 I have an Urban Decay Naked Cherry Collection review + swatches for you today! This is a collection I did not expect to work for me based on the color scheme. I rarely wear reds or pinks on the eyes (Naked Heat was too warm for me) so I was pleasantly surprised to find the colors are actually easy to wear for my neutral-makeup loving self. I've been the biggest fan of the original Naked, Naked 2 and Naked 3 eyeshadow palettes. Anytime anyone asks what palette I'd recommend to start out their makeup collection it's one of those (sad that the original one was discontinued though!). In the Naked Cherry launch we have:
The star in the collection is the Naked Cherry Eyeshadow Palette. Urban Decay makes some of the best eyeshadow formulas for their mattes and shimmers. They're buttery smooth, have excellent pigment, are easy to build and layer. They also stay put, even the glitters. Naked Cherry pulls more pink and plum with cranberry tones rather than cherry colors to my eye, but I'm all for that because a true cherry red would probably not work on my complexion.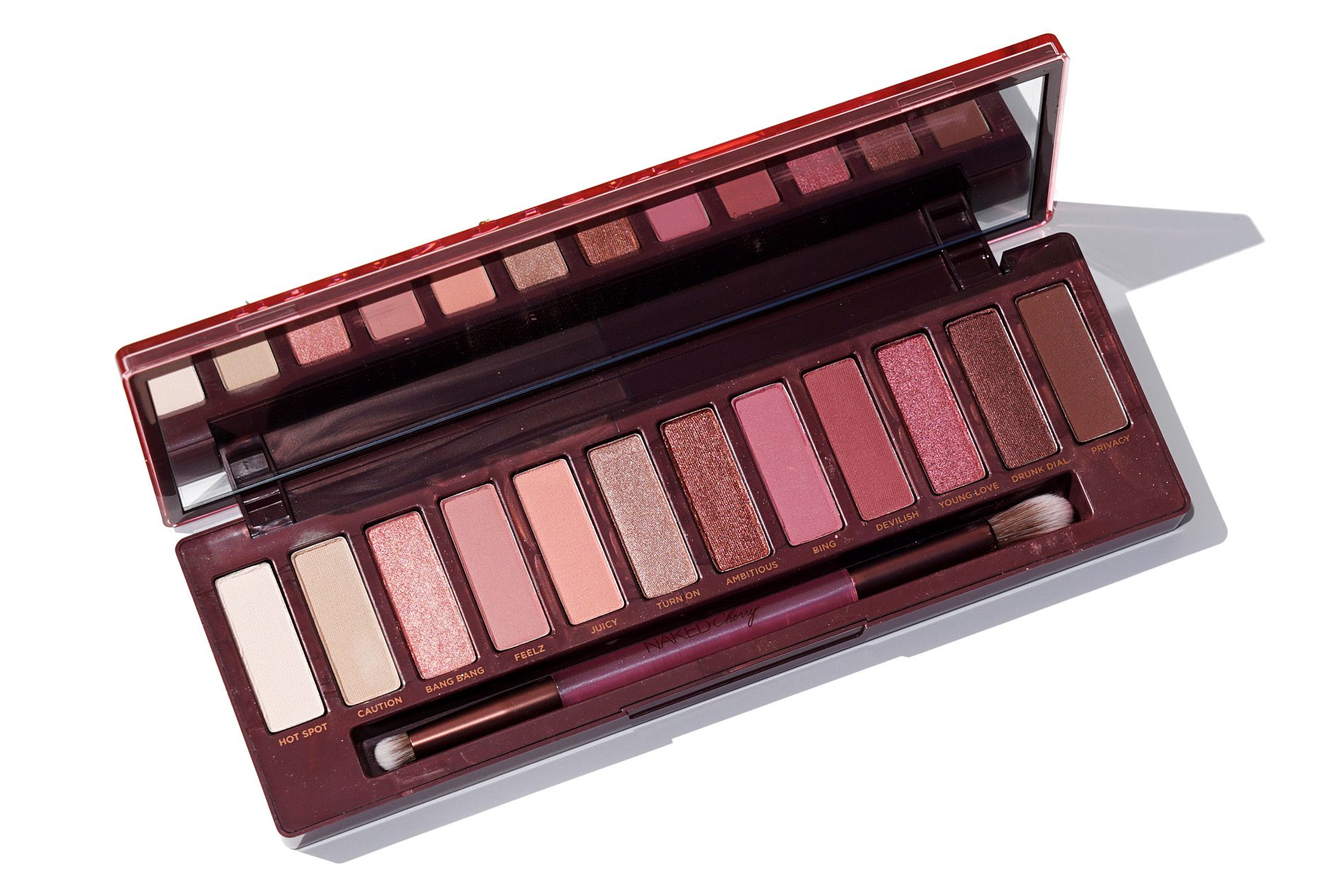 Colors include:
Hot Spot perfect matte pale pink cream
Caution sheer cool beige matte
Bang Bang shimmery warm soft pink
Feelz matte mauve
Juicy matte warm pink
Turn On shimmering light mauve grey champagne
Ambitious shimmery warm bronze with plum tones
Bing matte violet mauve
Devilish matte warmish purple
Young Love shimmery plum cherry color
Drunk Dial deep shimmer plum
Privacy matte plum brown with red tones
Below wearing the Naked Cherry Eyeshadow shades in Bang Bang, Feelz, Ambitious and Drunk Dial, Urban Decay Vice Lipstick in Devilish, Naked Cherry Highlight and Blush Trio. Also wearing Charlotte Tilbury Magic Foundation in 6 + 7, mixed, Charlotte Tilbury Flawless Powder #2, Hourglass Arch Brow Pencil in Dark Brunette, Too Faced Better than Sex Mascara.
A lot of you have asked whether I prefer the Naked Cherry palette or the Charlotte Tilbury Stars in Your Eyes. It's a tough call because while there are similar tones, I find them very different. The Charlotte Tilbury has more shimmer and glow with lighter warmer gold tones. It has more of a glam feel because of the shimmers. The Naked Cherry has a more monochrome feel with pink, plum and cherry colors. It also has more variety in the deeper colors for plum/pinks. Right now if I had to pick one it would be the Charlotte Tilbury one simply because I like the gold and champagne colors. I do think the Urban Decay one is more unique compared to what I already own.
By request, swatching them side by side (review + swatches of the Charlotte Tilbury one here)
Naked Cherry 24/7 Glide-On Eye Pencil in Love Drug and Black Market are smooth eyeliners. The 24/7 Glide-On is among the smoothest pencils I've tried and they never tug or dry out. They haven't always been smudge proof on me and don't last 24/7 like a liquid liner but they do stay put without sliding around for several hours on my eyes. I usually top/set with a deep powder shadow as a liner to help it stay longer. Your mileage may vary depending on how oily your lids are.
Love Drug is a shimmery plum, Black Market is a satiny black with a sheen. I've swatched a few other pencils I still have next to the new ones:
The Naked Cherry Highlight and Blush Palette was very different from what I expected. Colors swatch with medium pigment on the arms, but on the face it is sheer. Also there's almost a secret shimmer in one of the colors you can't see in the pan. Once swatched the colors are a soft champagne with a hint of pink, sheer light cherry pink (goes on a lot more natural than I anticipated) and a duo chrome pink flash shimmer. The good news is that this is a palette I think is impossible to overdo. It applies smoothly, doesn't emphasize pores or fine lines, colors blend naturally on the skin. But if you need pigment and color this might be too natural for you.
Vice Lipsticks in Juicy, Devilish and Cherry are new to the launch with special-edition cherry packaging. They're not scented (thank goodness, because I don't like cherry smells). I've tried a few Vice Lipsticks before and find the formula hit or miss depending on color. Some were really dry and patchy on my lips, but others are smooth, creamy and comfortable. All three in the Naked Cherry line are excellent. Juicy is a unique sheer shimmery iridescent peach with copper and bronze micro shimmers. It's sparkly but not gritty on my lips. Devilish is a bright berry pink with micro shimmers. Cherry is the perfect deep cherry cream. Coverage is sheer-medium for the shimmers, full for the cream. Application is smooth and there's a slight sheen to the finish. Lasting power is very good. They're creamy and semi-thick so they adhere to the lips but they don't feel heavy.
Naked Cherry All Nighter Scented Makeup Setting Spray is something I was so reluctant to try simply because I don't like cherries. I did try it though and it's actually a lot more pleasant than I expected. It smells like a sheer sweet cherry, almost like a toned down candy cherry. It performs just as well as the regular All Nighter Spray to set makeup and keep it in place for hours. I still don't know how I feel about scented face sprays that smell like fruit. I'm all about ones that smell like rose or lavender, but the only one I truly love that is food scented is the MAC Fix+ in Coconut because I love anything coconut.
Natural look wearing Juicy Lipstick, the lighter shades of the Eyeshadow Palette and the Highlight Blush Cheek Palette. Same base + brows as what's listed in the photo above.
Overall a really cute collection! I think the eyeliners are definitely dupeable, so if you have black or plum in your stash you can probably recreate the look with something similar. Love Drug does pull a little more cherry in color and Black Market is more of a muted black rather than a classic deep version. I feel like the Highlight and Cheek Palette is going to be hit or miss for many of you. If you're lighter than me it will show up. I'm right at the skin tone where it gives a barely there glow. If you're darker I suspect it will be too sheer/light for your complexion. The eyeshadow palette was an unexpected YES for me. I'm still a peach/gold/bronze kind of gal for eyeshadows but it's nice to branch out here and there with colors you normally wouldn't wear. Considering I rarely wear reds or pinks I find myself being braver with color and love trying new combinations.
You can find the Naked Cherry Collection out now. I'm really surprised to find that several items have sold out here and there. You may have to do a little shopping around to find all the colors you want.
Available at Sephora, Ulta Beauty, Nordstrom and Urban Decay.
Have you tried these yet? What did you think? If you wear warm or pinks or reds what's your favorite palette of the moment?

Naked Cherry collection provided for review.