By popular request I have a review of some items from the Tarte Shape Tape family. I've used the Shape Tape Contour Concealer for a few years now in Light-Medium and Medium. So many of you have asked for a review of the foundations so I stopped by my local Ulta and bought both the Shape Tape Hydrating and Shape Tape Matte foundations. I also picked up the Quickie Blending Sponge to test out and today I'll add some thoughts on a few primers from the brand as well.
My shades in the foundation are Medium Sand. My concealer shades are Light Medium and Medium.
Up first is a look at the Tarte Shape Tape Hydrating and Matte Foundations. I found my best match was Medium Sand. These come with a large sponge tip applicator like the concealer. The colors in each formula are the same name but the shades are slightly different.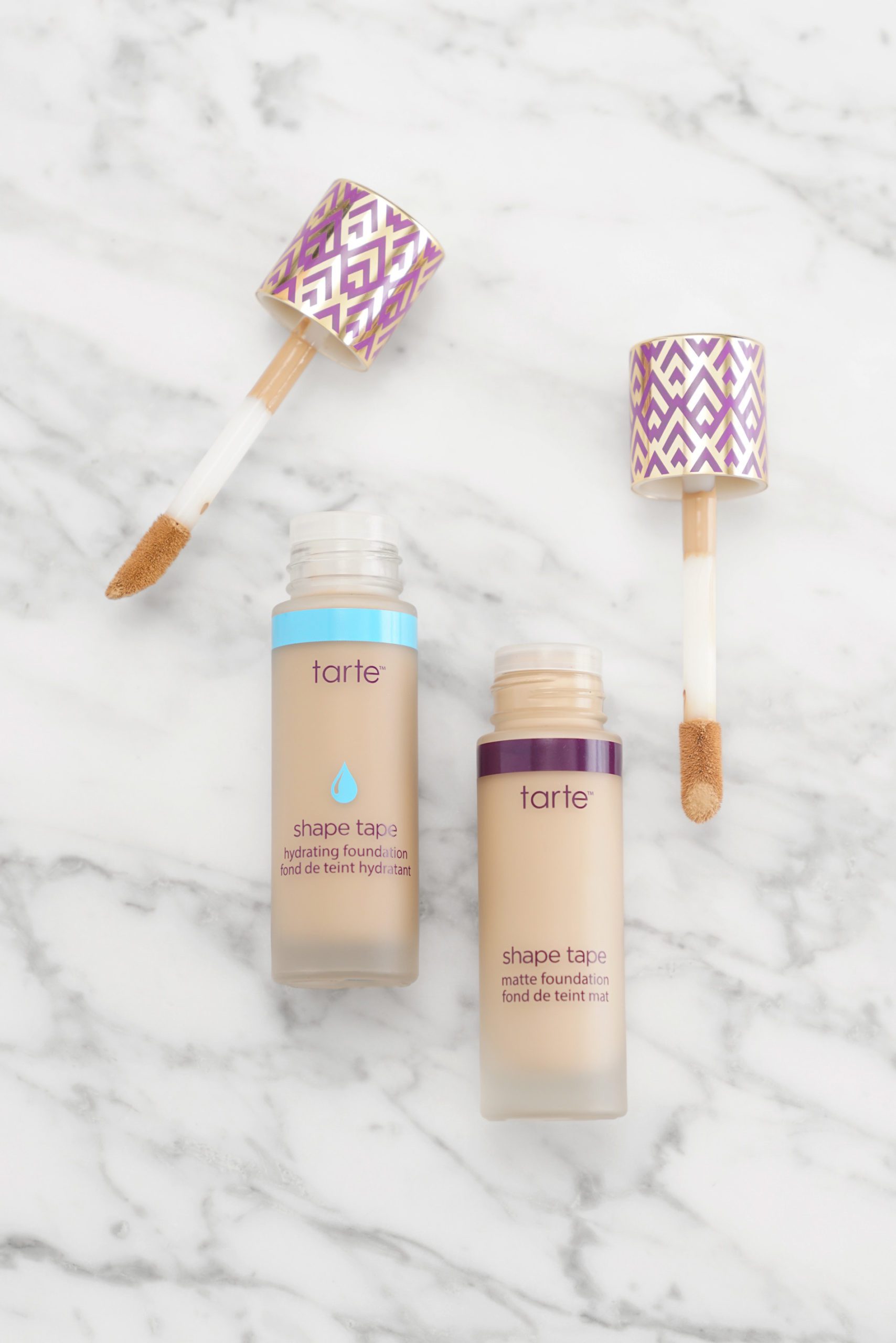 The Matte version runs a lot lighter but it worked out for me as it oxidizes and warms up on the skin after application. I would have preferred a formula that is in the middle of hydrating and matte, but out of the two I prefer the Hydrating Foundation one by far. It's medium in coverage with a smooth glowy finish. It has some plumping ingredients which I found did seem to make the face look smoother than normal and minimized fine lines. I found it worked well over a variety of primers. Since I have normal combo skin it can get a little dewy looking after a few hours so a couple touch ups were definitely needed, but otherwise it lasts all day on me without fading or budging.
The Shape Tape Matte Foundation did not work for me. I found the coverage and finish was always patchy. It emphasized texture, it looked extremely flat and it did not work well with my moisturizer or base routine. I did try with some oil-free primers since the formula is oil-free as well and was able to get it to work well with the Laura Mercier Oil-Free Primer and it did ok with the Tatcha Silk Canvas. It didn't work with the Tarte primer for me. It was like applying matte on top of matte and looked like sand paper. For me it worked best with the Laura Mercier Oil-Free primer but I still wasn't a fan of the finish and felt it looked cakey and creased around my smile lines and forehead. This being said I am going to hold onto it and retest in the summer.
Bare skin vs both formulas on the face without any powder/concealer added. Lipstick worn is Pat McGrath Labs LuxeTrance Sextrology. Application is with a sponge. You can definitely layer for more coverage. Below I have one layer blended all over the face. If you use a tinted powder it helps even everything out more.
Swatch comparisons:
Left to right:
Next is a look at the Tarte Shape Tape Concealer. This one is among the most popular concealers in the beauty world. I have found I really like it but there are formulas I like better. This one is full coverage and very opaque. I have to make sure my face is well primed and slightly dewy (ie not completely matte) otherwise the opaque texture cakes on me. Sometimes a quick spritz of MAC Fix+ after foundation is enough to add some more hydration to my skin under the eyes for this. I've gone through a tube of Medium. Sometimes I am between Light Medium and Medium. On spots it works really well to cover. I always set with a powder. I use this regularly but still find myself reaching for NARS or Cle de Peau more.
Swatch comparisons:
Shown above left to right:
Finally a quick look at some primers and a sponge from Tarte. Some are exclusive to Sephora, others are available only at Ulta so you may have to shop around. I've had a few minis of the Brighter Days Highlighting Moisturizer and think it's just ok. It does a nice job at giving the skin a soft illuminating glow but I've tried better glow bases from Charlotte Tilbury, Sisley and Erborian to name a few. The Timeless Smoothing Primer is one of my favorites to make makeup last long and gives it smoother better application. The only downside is it is on the thick side and has that silicone feel. Still it does a great job at smoothing the skin for even looking makeup. The Double Duty Beauty Quickie Blending Sponge fell short of my expectations to be on par with the beautyblenders. The Tarte tool is a decent sponge but doesn't have as much bounce as the beautyblender which makes it better to blend foundations or creams.
Two primers I like with the Tarte Foundations include the Laura Mercier Oil-Free Primer and Tatcha Silk Canvas. I'm typically not a primer person but living in south Florida I've experienced some very humid days. I've been experimenting more with primers to help extend the wear of makeup.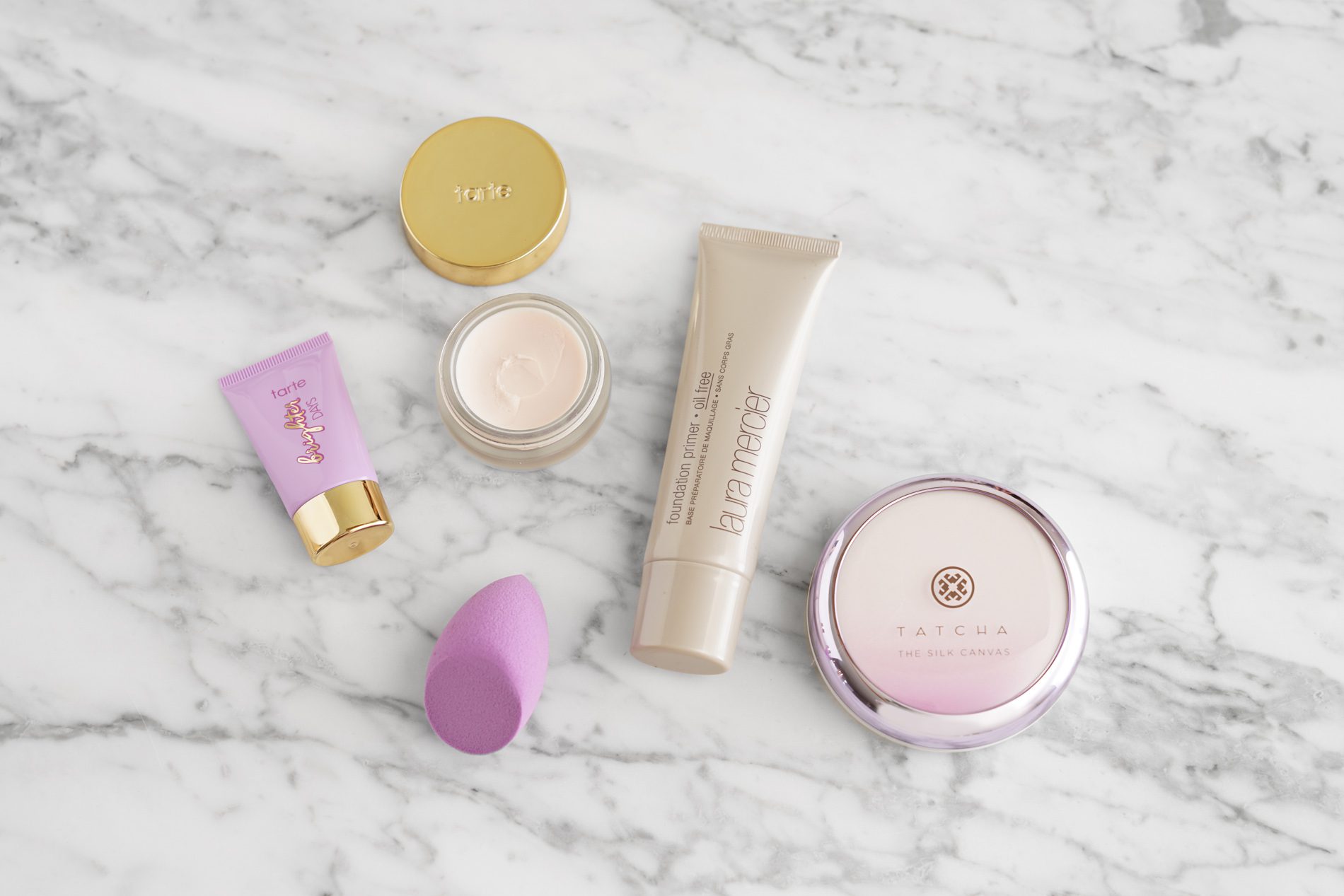 Overall thoughts: some hits and misses. I really like the look, feel and finish of the Tarte Shape Tape Hydrating Foundation. If you have dry skin I think it's definitely worth looking into. The Matte version is a miss for me right now, but once the real heat is back I'm going to give it another try. The Tarte Shape Tape concealer is definitely worth looking into. Right now at Ulta they have a promo if you purchase a Tarte Double Duty Shape Tape Foundation you can get the Tarte Double Duty Beauty Shape Tape Contour Concealer for $15 (offer valid 3/18/18-4/7/18). For the sponge I don't think it's worth the price savings to buy over the beautyblender. I was really hoping it would be a dupe but it's not.
You can find the Tarte Shape Tape foundation and concealer available exclusively at Ulta and Tarte. Have you tried these yet? What did you think of the formulas?