Pat McGrath launched her new Huetopian Dream Collection and the new palette is absolutely stunning. All the items are available now online at Pat McGrath Labs and Sephora.
Mothership IX Eyeshadow Palette Huetopian Dream
Mothership IX Eyeshadow Palette Huetopian Dream ($125) is probably my favorite palette launch to date from Pat McGrath and if you don't mind wearing glitter sparkle toppers I think you'll love it too. It has a mix of smooth shimmers, mattes, duo chrome shimmers, intense shimmers and sparkle glitter toppers.
The shimmers and mattes apply smoothly on the skin while the sparkle toppers are more chunky with the glitter flecks. Colors include:
Skinshow Nude Xtasy – cool toned champagne shimmer
Secret Eden – soft plum pink matte
Bronze Desire – sparkling bronze
Bronze Solaris 005 – glittery golden yellow
Astral Venusian Orchid – white gold glitter
Xtreme Plum Noir – deep matte plum brown
Cosmic Bloom – complex rose pink sparkle shimmer
Shockwave – matte coral pink
Blitz Sextreme – duochrome bronze purple silver shimmer
Astral Amethyst Moon – sparkly lilac purple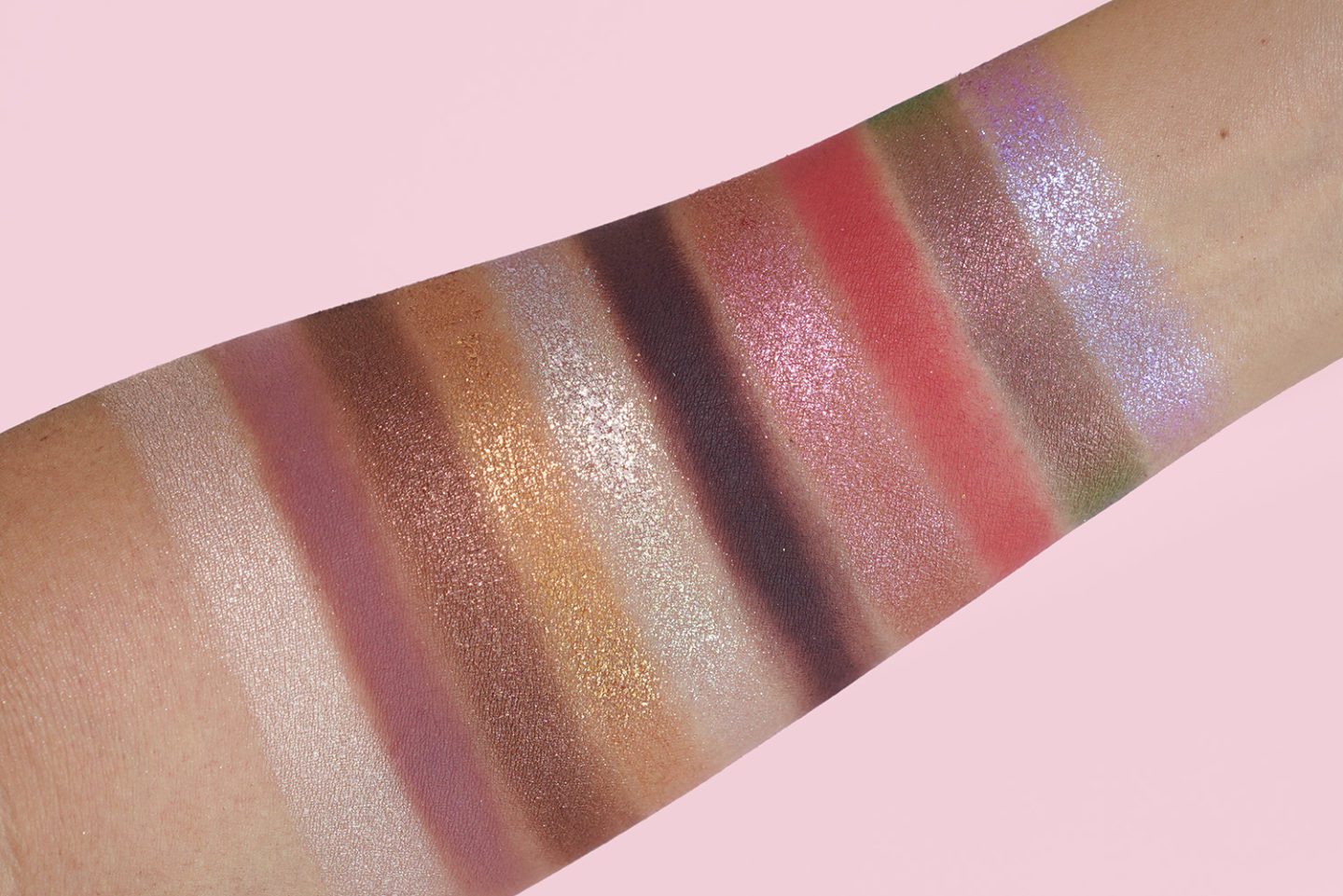 IntensifEYES Artistry Wand
Another new launch is the IntensifEYES Artistry Wand ($32) also available in a Duo Set ($52). This is a multi-purpose product which is quite interesting and I don't think I've seen anything like it. You can apply it to the lids to prime for eyeshadow (in particular the glitters or sparkles to make them adhere better). Or you can also apply on top of shadow and it transforms it into an almost liquid formula. I think it's quite unique but for me not essential as it's an extra step I don't think is necessary.
FetishEYES Mascara
For the eyes the FetishEYES Mascara ($30) has been a repromoted which I think is a good basic everyday mascara, but I actually prefer the Dark Star Mascara formula for better volume and length.
I did a look on my Instagram Reels wearing the palette, also wearing:
Pat McGrath Skin Fetish Sublime Perfection Foundation in LM14 (review here)
Pat McGrath Skin Fetish Sublime Perfection Concealer in LM 13 (review + swatches here)
Pat McGrath Huetopian Dream Eyeshadow Palette
Victoria Beckham Eyeliner in Cocoa
Pat McGrath Skin Fetish Divine Blush in Divine Rose
Pat McGrath Lip Fetish Divinyl in Divine Rose 2 (review here)
Pat McGrath LUST Gloss in Aphrodisiac (swatches here)
View this post on Instagram
I think the colors in the palette are gorgeous. The texture, pigment and lasting power are all excellent. There is some fall out with the glitters when I apply but once product is on the lids (I pat on with fingers) they pretty much stay put. As much as I love it though I wonder how many of you are glitter/sparkle wearers. I think she does such a great job on her palettes for that extra glam vibe – I wonder if she will ever launch an all matte palette or one without glitters.
I have heard that some think this one is similar to other palettes. Based on what I have Huetopian Dream seems different enough to me to justify owning, although I do not have the Mothership VIII Divine Rose II which looks like it could be similar in some of the tones. In case you want to see swatches of other palettes/quads I've reviewed, I've linked them below:
You can find the Pat McGrath Labs Huetopian Dream collection out now at Pat McGrath and Sephora.
Pat McGrath Huetopian Dream collection provided for review.