Pat McGrath just launched her new Divine Blush Collection featuring nine powder blushes, a new highlighter, a new eyeshadow quad and new lip colors. I received a press kit with a selection of items from the new launch including 3 of the blushes. I loved the formula and colors so much I ordered the remaining colors and will review them when they arrive.
Everything is available online at Pat McGrath.
In today's look:
Eyeshadow Quad
Her new Venus in Fleurs Luxe Quad in Voyeruistic Vixen has four shades with a smooth metallic shimmery pale cool-toned pink champagne, a glittery duo-chrome pink orange copper with chunky flecks of sparkle, a matte reddish plum brown and a beautiful metallic bronze taupe with a soft golden sheen. Colors shift depending on how the light catches the shimmers.
Colors each have a different kind of texture but pigment is smooth, easy to blend and layer. I do think the glittery shade is best applied as a topper in a patting motion with fingers to avoid fallout. The glittery color is very sparkly and glittery.
I think the quad is beautiful. As a non-glitter wearer I almost wish the sparkle shade was a duochrome shimmer, but I really love the other colors in the palette and I do think that sparkle is fun to add more glitz and glam to the eyes.
Skin Fetish Blush + Highlighters
There are 9 new Skin Fetish Divine Powder Blushes. These come in a single mirrored compact with a gorgeous embossed pattern. There are two finishes in a demi-matte and a satin with soft shimmer, but on my skin they all apply with the same kind of soft finish. They have a silky kind of powdery feel on the skin and blend out nicely. I haven't done extensive testing on all of the colors on the face as I just received them, but the two I tested did last for hours on the skin without fading, darkening or oxidizing.
Nude Venus is my favorite so far which is a soft peach. Nymphette is a lighter pink with a soft pink pearl. Cherish is a perfect pink. I think the colors are perfect wearable shades that I want to wear everyday. These have a soft texture and pigment is semi-sheer for the 2 lighter shades Nude Venus and Nymphette (but buildable). Pigment in Cherish and I suspect the deeper shades is richer and a bit more opaque.
She added a new Skin Fetish Divine Glow Highlighter in Golden Nectar which surprised me. In the compact it looks like your standard pale gold shimmer. On the skin it reveals a more peachy glow which you can see in the compact when you hold it at an angle. This one is truly beautiful! It's quite shimmery but has a smooth finish and does not emphasize pores. Pigment is very strong but this one is easy to blend out.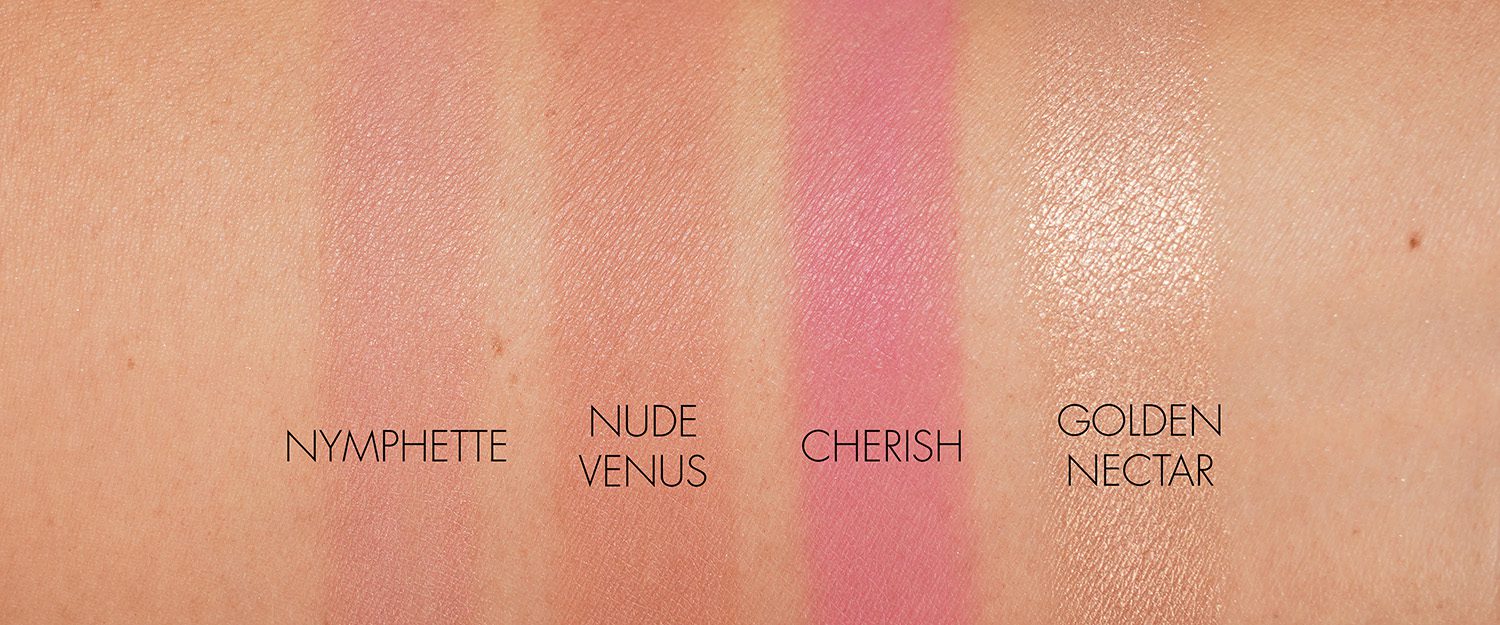 New Lip Colors
I'm the biggest fan of the Pat McGrath MatteTrance Lipsticks and I love her new Dream Lover. This is my perfect peachy nude pink color. It has a similar vibe to Christy and Divine Rose but the undertone is a bit different. Unfortunately hand swatches make them all look the same but the other two are a bit more pink while the new one is more peachy. Coverage is opaque, smooth, flawless and matte without looking dry.
For her Lip Fetish Balms she launched two new shades in Divine Rose 2 a soft neutral cool rose pink and Flesh 7 a plum brown that pulls more red/plum on me (because almost all brown tones with any hint of plum pull red on my lips). Both have really good pigment for a balm. These are effortless to apply and I love the colors. There is a soft vanilla like scent but it's subtle. Since they are balms they won't have extremely long lasting power. I'd say they last longer than the YSL Rouge Volupte Shines and about the same as Chanel Rouge Coco Blooms.
Last I added a swatch of her LUST Gloss in Earth Angel. It's a repromoted and it has the prettiest color shift when you see it in person. Photos can't do it justice but I added a swatch anyways.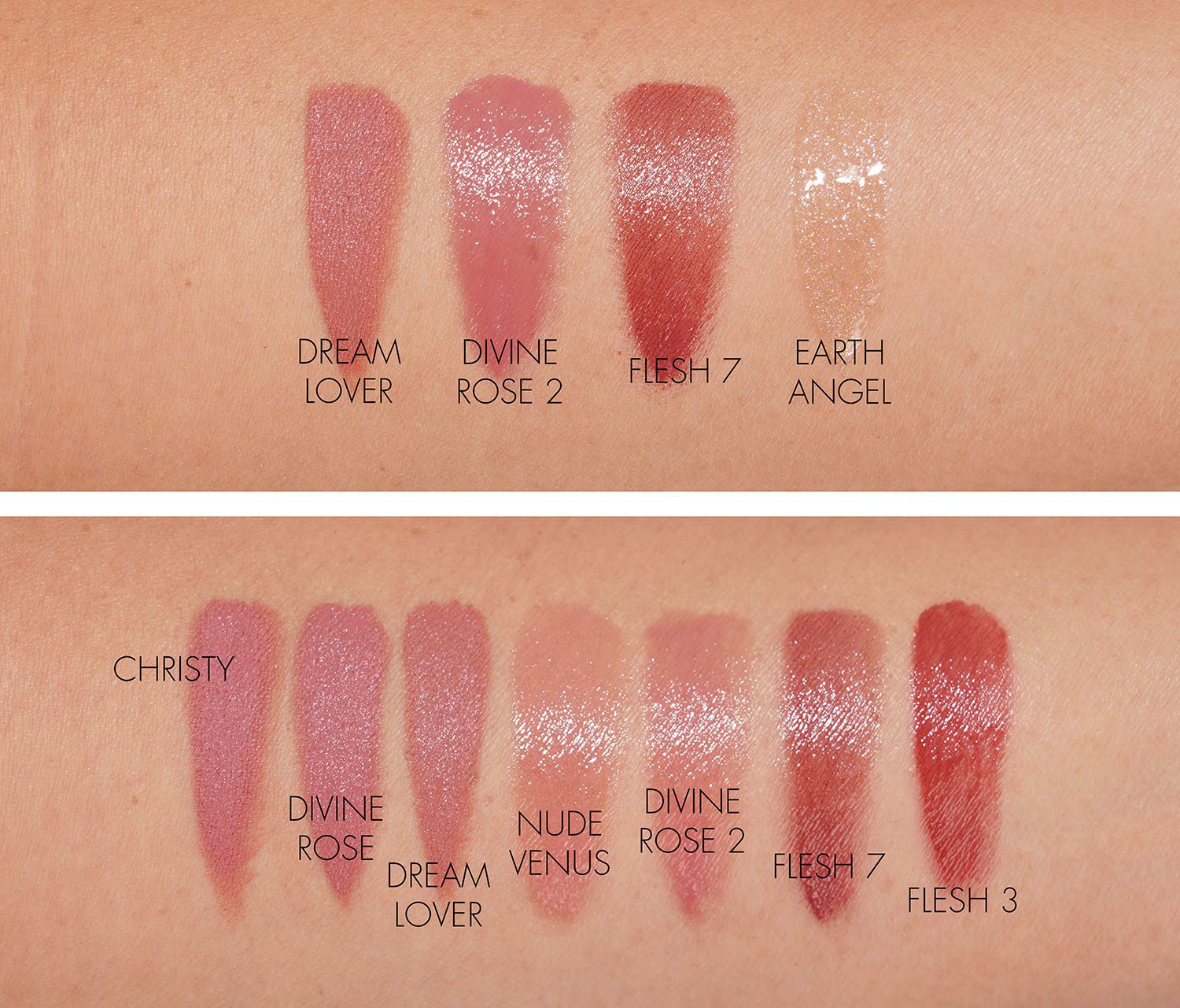 Looks Wearing the new collection, my foundation shade right now is the Pat McGrath Skin Fetish in Medium 15. Eyeshadow palette is the Voyeuristic Vixen in all the looks.
LOOK 1 wearing Blush in Nude Venus and Matte Revolution in Dream Lover:
_______________
LOOK 2 wearing Blush in Nude Venus, Highlighter in Golden Nectar, Matte Revolution in Dream Lover: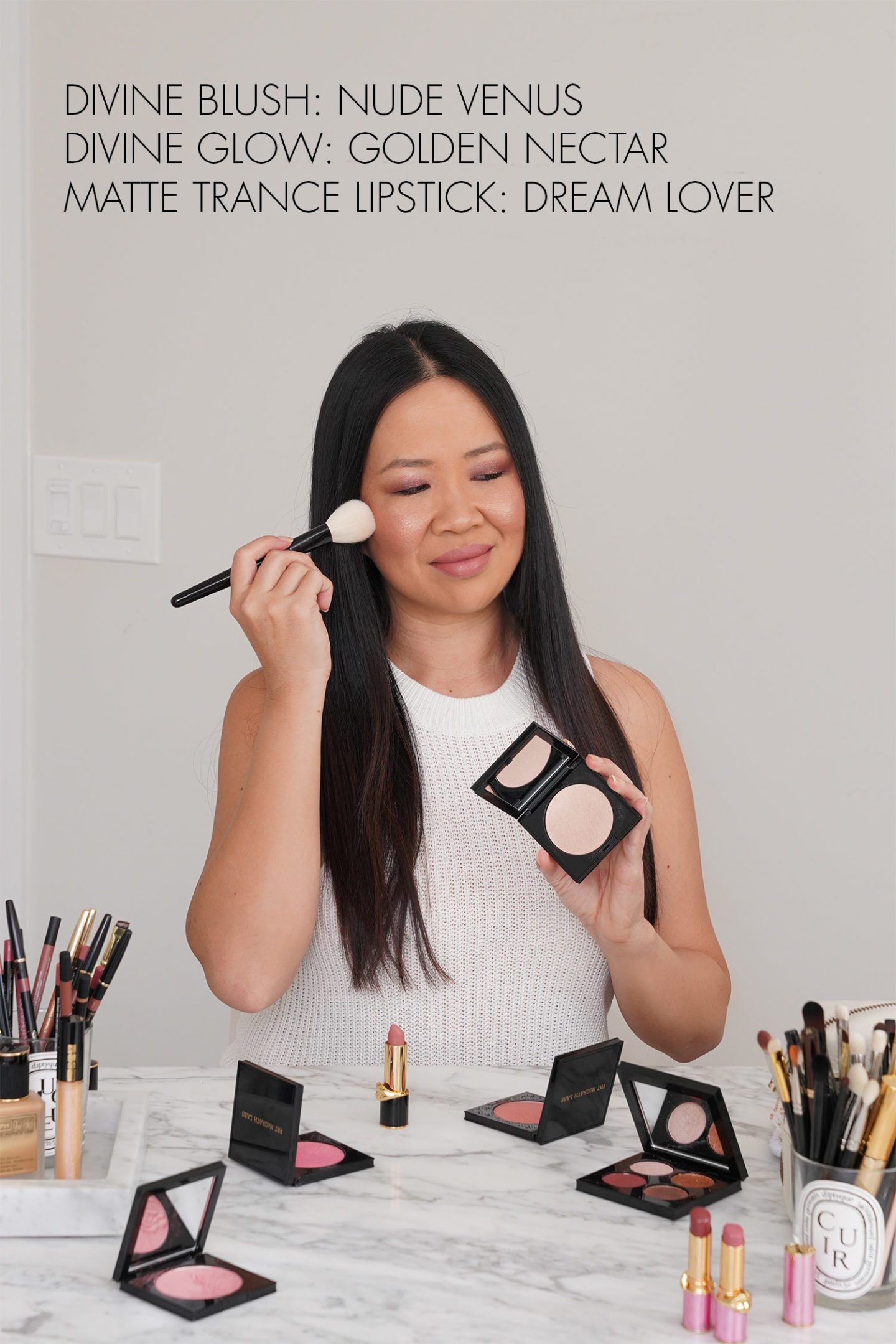 _______________
LOOK 3 wearing Blush in Cherish and Lip Balm in Divine Rose 2:
_______________
LOOK 4 wearing Blush in Nymphette and Lip Balm in Flesh 7:
_______________
Overall love everything! I don't know that I could pick a favorite because I think they are all stand outs. Even though I have so many lip colors I always look forward to her lip launches and the colors in this new collection are gorgeous.
I have high hopes for the other blush colors and will keep you posted when they arrive! Everything is available now at Pat McGrath. I love that she has bundles available at a price break if you buy her sets. The collection should also arrive at Sephora end of the month.
Did you order anything from her launch yet? What did you get?
Pat McGrath Divine Blush Collection items provided for review.