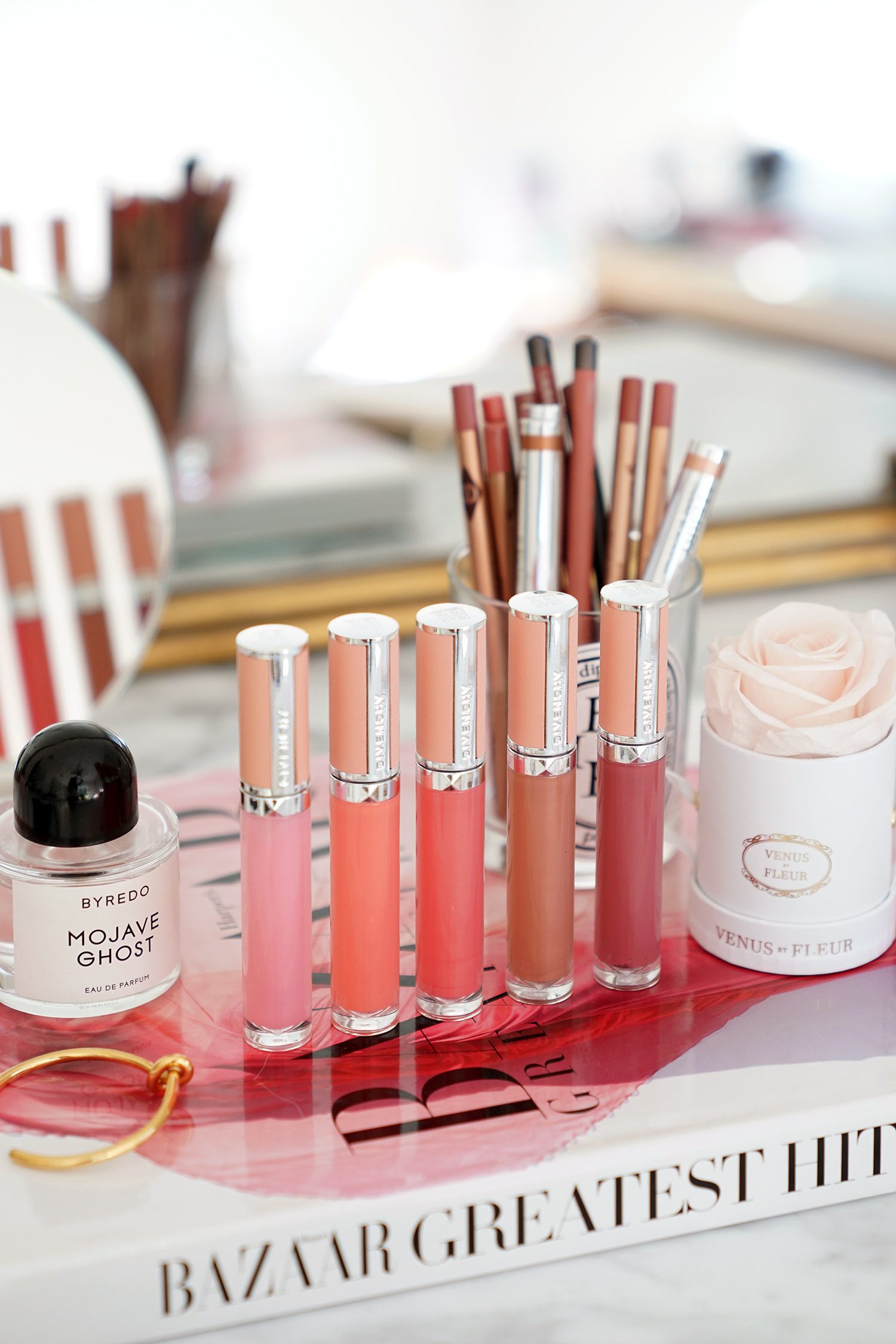 Givenchy recently launched their new Le Rose Perfecto Liquid Balm ($36 each) and I'm completely obsessed! I hauled a few shades from Sephora including 001 Perfect Pink, 30 Vital Glow, 23 Solar Pink, 17 Nude Chill and 14 Nude Soul. These are smooth cushiony tinted liquid balms that have a very smooth feel. The balms have shea butter, cranberry oil and pink pepper extract. They're not weightless as they are balmy but they feel comfortable on the lips, are nicely hydrating and have a floral fruity sweet smell.
There is a very subtle plumping effect but it seems to be very natural and I didn't notice any tingle on the skin.
Pigment is sheer-medium on these. It's natural but color is visible. There's one color-shifting shade 001 Perfect Pink which is similar in concept to the Dior Addict Lip Glow. The rest are tinted balms that don't shift in color once applied. I think the Liquid Balm is much better than the original twist up stick Le Rose Perfecto Balms. I reviewed them a little over a year ago and hated them – they applied on me so patchy! These Le Rose Perfecto Liquid Balms have much better application with the color payoff.
Colors have names and numbers, on the actual tube label there are just the numbers:
______
001 Perfect Pink
001 Perfect Pink doesn't always look the same on me. Sometimes the pink is a softer pink, other times it turns into a vibrant flushed pink color. (Also worn here.)
Beauty breakdown look wearing:
______
30 Vital Glow
30 Vital Glow is a soft medium peach-orange cream.
______
23 Solar Pink
23 Solar Pink is a coral pink with a very slight hint of shimmer. On the lips the shimmer isn't visible.
______
17 Nude Chill
17 Nude Chill is a brown beige nude with a subtle golden shimmer.
______
14 Nude Soul
14 Nude Soul actually looks more like a soft muted rosewood plum rather than a nude.
_________
Bottom line love! These make for some really lovely tinted lip balms. They're the perfect hybrid of a balm and gloss to me. If I had to compare the texture of the Givenchy Le Rose Perfecto Liquid Balms to another product I would say they have a similar feel to the Marc Jacobs Enamored Hi-Shine Lip Gloss, but just not as shiny and slippery feeling. Lasting power is pretty good – I found they stayed put as long as I didn't touch my lips to any food or drink. Hydration seems to last on the skin even after they've faded.

I bought mine from Sephora. Have you tried these yet? Do you have any favorites from Givenchy Beauty?