Today I have a full Kosas roundup and review. I've been playing around with the line for quite some time now and I've tested every product they have launched. Today I'm excited to share a closer look along with a list of what I think are the hits and misses. Overall I love the vibe and well edited look of Kosas products. They're a clean beauty line which I know many of you are passionate about. You can find the full list of ingredients for every product on their website.
Tinted Face Oil
I reviewed the Kosas Tinted Face Oil a year ago and my shade match is still Shade 6, but I no longer use this. This is not my favorite product in the line as I can't wear super dewy products on the face. I can wear something that's luminous but since this is an oil it's very dewy and sheer. It's more like a skincare product rather than a base. In the Florida heat this doesn't hold up outdoors. You can read the full review, swatches of Shade 5, 6 and 7 along with before/after photos in my review here.
Revealer Super Creamy + Brightening Concealer
One of their newer launches is the Revealer Super Creamy + Brightening Concealer which I absolutely love! It is a really nice creamy concealer perfect for brightening and highlighting. I like it under the eyes – the creamy texture means it doesn't cake or crease on me. It also has caffeine to help with puffiness which I always need help with in the mornings. I was sent a few shades to try. I like Shade 5 for brightening and Shade 6 for a closer match. It has medium coverage and is super easy to blend. I always set concealer with a powder to make it last all day. On me with a powder the Kosas concealer performs exceptionally well.
Swatches next to a few other concealer shades including NARS Radiant Creamy Concealer in Macadamia, Ginger and Praline and MAC Studio Fix Concealer in NC35 and NC40.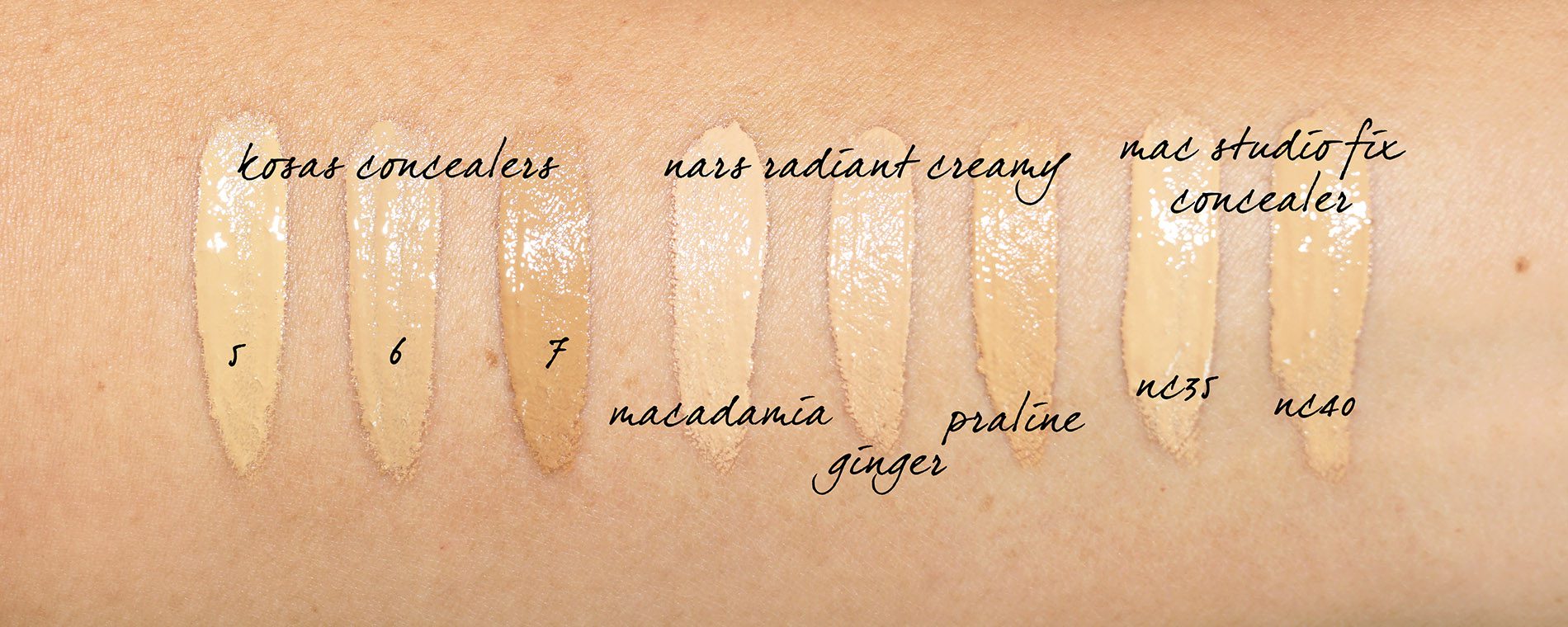 Color and Light Pressed Powder Blush
For the cheeks I'm completely obsessed with their Color and Light Pressed Powder Blushes. I bought every single color and think they're really easy to wear and incorporate into your everyday look. I know many of you are most likely more interested in the Color and Light Pressed Powder Creams – I skipped reviewing these as I tried a couple and found them too emollient and dewy for my preference. In general I cannot wear most cream blushes – it's simply too hot and humid here for me to have them last!
Powder is the way to go for me on these, I like that they have a soft finish. Note that the highlighters for the regular duos look similar on my arm swatches and they are almost identical on me. If I look closely I see subtle differences in the undertone. There is a more noticeable difference in the highlighter side for the High Intensity colors.
The Color and Light Pressed Powder Blushes come in six shades, each duo has a blush color with a satiny finish (slight shimmer) and a lighter colored highlighter (also has a soft shimmer). On my skin the these are among the softest powders I've tried in texture and finish – they have a very melt-in-your-skin kind of feel. Pigment is buildable and noticeable. Highlighters are more like a diffusing powder on my skin. You can wear each shade individually, layered or mix them!
Papaya 1972 is a soft but bright peach and light ivory champagne
Papaya 1972 High Intensity has a deeper peach and brown under tone with slight shimmer
Contrachroma is a soft muted rose brown with a champagne beige shimmer
Contrachroma High Intensity has more bronzy brown tones
Longitude Zero is a soft cool rose pink with a light pink shimmer
Longitude Zero High Intensity is a deeper more intense pink with a more intense pink shimmer
I like Contrachroma and Contrachroma High Intensity the best. Papaya 1972 has a pretty brightening effect on my complexion but I have to apply with a very light hand or else it can turn orangey as it warms up on the skin.
10 Second Eyeshadow
The 10 Second Eyeshadows are shimmer pigments suspended in a fluid. You simply shake the container to mix up the pigment and then apply with the sponge tip applicator onto the eyes. I think the concept is fun and unique but they aren't the easiest for me to apply. I think creams are easier to work with, blend with fingers or a brush and layer with powders. These Kosas fluid shadows are nice if you want one wash of color all over the lids and maybe add a liner to complete an easy eye look. I do love the way Globe wears, but on my skin once it's blended out it becomes a bit more diffused. Lasting power is pretty good with these! I kept the neutrals to try out. There are some other more fun interesting shades in the lineup but I'm rarely wear those colors so I gifted them away to friends who love blues and purples.
Lipstick
I think the Kosas Lipsticks are the best thing in their line. They're creamy and super smooth. Colors are classics that you can wear everyday. Of course I gravitate towards the neutrals but there are some pretty amazing looking reds and plums. Vegas is exclusive to the Kosas website, but all the ones are available at other retailers like Sephora etc. They have different finishes, some are full coverage, others are more sheer but still have good color payoff. They have a slight vanilla scent like MAC lipsticks. Formula is more hydrating but still lightweight in feel and they did not dry out my lips or make them peel at all.
I love that these have a magnetic closure so they snap closed!
Vegas is an opaque beige nude cream
Undone is a full coverage rose pink
Stardust is a sheer pink beige
Rosewater is a sheer neutral-cool rose pink
Wet Lip Gloss Oil and Hyaluronic Lip Balm
For hydration and moisture, they have two kinds of lip products. Their Wet Lip Gloss Oil has been featured on the blog a few times before and I think they're excellent! They have a smooth glossy finish and feel with the most beautiful shimmer finish (except the clear one which is just clear). I love a good shimmery gloss and these are easy to wear.
Jellyfish is a clear gloss
Dip is a perfect medium beige pink nude shimmer
Malibu is the perfect medium pink shimmer
Fruitjuice is a juicy plum with shimmer
Jaws is the perfect sheer red
They also have a product called the Hyaluronic Lip Balm. There is a clear option and two tinted shades:
Rush is a soft pink
Pulse is a medium tan brown pink
Both are perfect for that healthy flush of color to make you look like a better version of yourself but still natural. The pigment is medium and definitely noticeable on the lips. They feel hydrating and smooth.
Sun Show Bronzers
The Sun Show Bronzers are really fun shimmery domed bronzers with shimmer. There are three shades and they each have a pearl finish. Light is a light shimmery golden bronze (on me this is like a highlighter). Medium is the best tone for my medium skin to look like a bronzer. Deep swatched very dark on the back of my hand I didn't think I would be able to wear this even with a light hand so I haven't tried it. I may try it as an eyeshadow.
They're super soft and easy to blend out. Pigment is medium but buildable. They melt into the skin beautifully and have a soft silky finish to them. I love the green packaging – it adds a fun touch to these!
I put together six different looks wearing a mix of the colors reviewed above to give you an idea of how they look on the face. You can definitely layer on the blushes or bronzer for more color/pigment. I have a medium tan complexion.
For my base in all photos I'm wearing the Laura Mercier Flawless Fusion Foundation in Buff with the Kosas Revealer Concealer in Shade 6. Face is set with La Mer Pressed Powder in Medium. Nail polish is OPI Be There in a Prosecco. Tank by Re/Done.
Look 1 / Blush is the Color and Light Pressed Papaya 1972
Lips are the Undone Lipstick
_________
Look 2 / Blush is the Color and Light Pressed Papaya 1972 High Intensity
Lips are the Stardust Lipstick
_________
Look 3 / Blush is Color and Light Pressed Contrachroma
Lips are Lipstick in Vegas
_________
Look 4 / Blush is Color and Light Pressed Contrachroma High Intensity
Lips are Wet Lip Oil in Dip
_________
Look 5 /Blush is Color and Light Pressed Longitude Zero High Intensity
Lips are Wet Lip Oil Gloss in Malibu
_________
Look 6 /Bronzer is Sun Show Bronzer in Medium
Lips are Wet Lip Oil Gloss in Jaws
_________
The top hits for me are the Lipsticks, Lip Oils and Hyaluronic Lip Balms. I really love the look and feel of the powder blush duos as well! Misses for me are the 10 second eyeshadow and face oils simply because they're not in the format/formula I usually gravitate towards. I wouldn't say either of them are bad, I just don't reach for them a lot and prefer other formulas/finishes.
Bottom line, lots to love with some solid products to explore. I love the classic look of the lipsticks and how they are creamy, naturally flattering in a polished way and easy to wear for any occasion. If you've been curious about the line I hope you find this brand overview helpful!
You can find the Kosas line at a few different places online, I've ordered product from both Kosas and Sephora.

Color and Light Pressed Powders and Rosewater, Undone and Vegas Lipstick purchased by me. Other items have been provided and sent for review.