By popular request I'm doing an updated roundup of my favorite makeup bags. A number of you wanted a comparison between a few brands like The Daily Edited and Cuyana so after having tested several styles I have a review for you today! Many of these can double as travel bags – I have a separate article on travel packing and travel makeup bags you can read here. You can always click on my Packing Tips tag as well to see what I was able to fit in different cases on various trips. Today's post focuses more on makeup bags for the purse, to organize essentials at home or day trips rather than travel.
The Daily Edited
The Daily Edited is a line I've used since 2017 and I think they have great products! The large cosmetic cases in Black and Taupe have held up really well since I bought them back in 2017. I've used them during moves, while traveling across country and on numerous vacations (see what I packed for a San Francisco trip here). Right now my two favorites from the brand are the Large Cosmetic Case and the Clear Cosmetic Case. I order these directly from their website and shipping is usually very fast.
The Daily Edited Large Cosmetic Case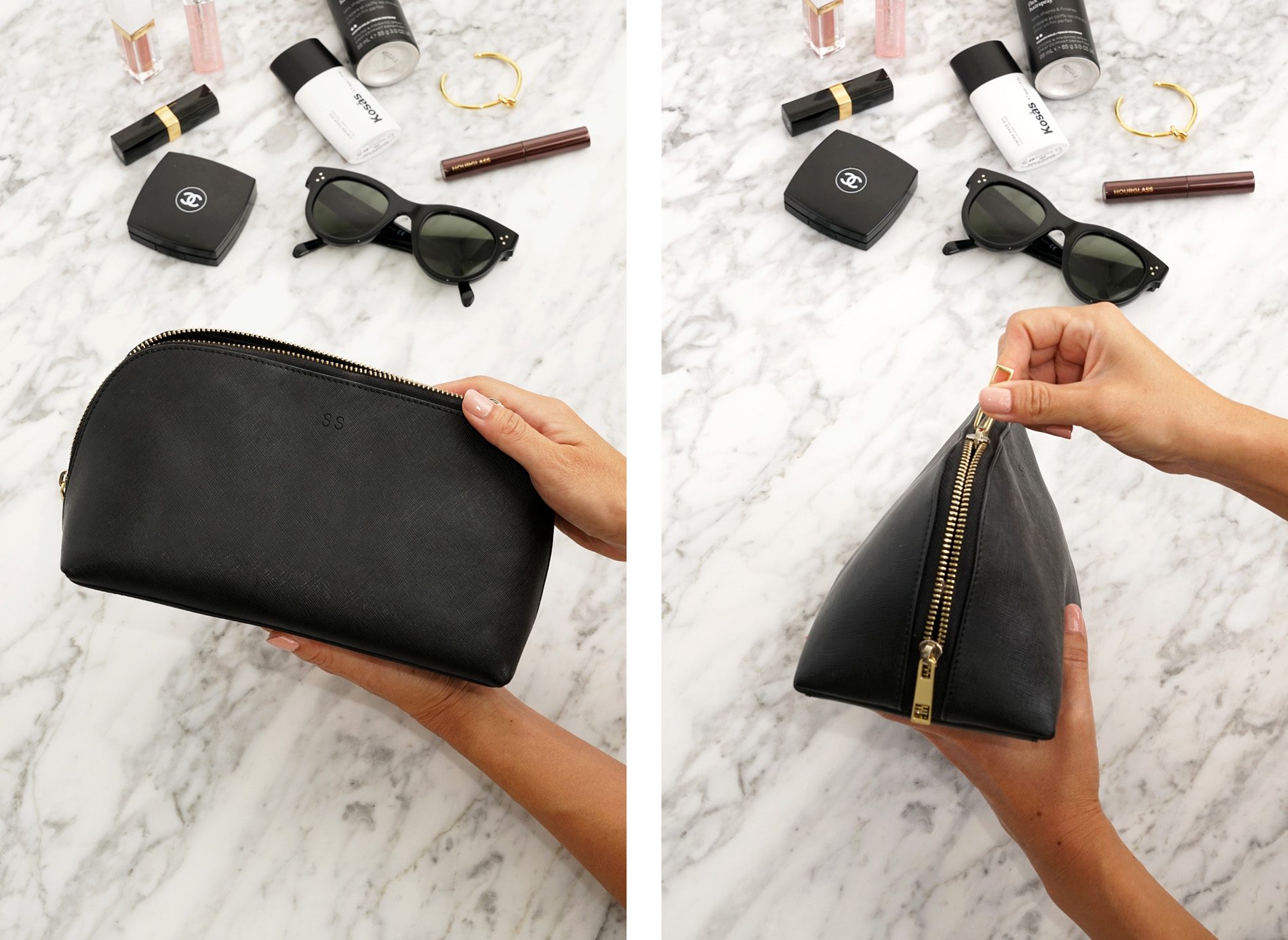 The Daily Edited Large Cosmetic Case $100 – I have this style in two colors, Taupe and Black. I love that you can customize the monogram with different styles of fonts or icons! I opted for the blind embossing for a more subtle look with these but love the gold lettering too. The large size has a really wide base which makes it sturdy to stand up on its own without tipping over. It has one large open interior compartment inside. I like this style (versus having pockets) because you can fit more inside.
The Daily Edited Clear Cosmetic Case
The Daily Edited Clear Cosmetic Case $60 is another favorite. This is smaller than the Large Cosmetic Case and is clear so you can see everything inside. I like that it's smaller so it is easier to carry around in a tote. The PVC is easy to clean (I like to use Novus Plastic Clean). They make a flat clear pouch too but seem to be frequently sold out of the colors. You can see a side by side of the cosmetic vs flat pouch in this post here.
Made of clear PVC, leather bottom/edging
Measures 4″ high, 8″ wide, 2″ deep
Cuyana
So many of you have asked for more reviews on Cuyana bags. I think they make beautiful classic staples that will last a long time. Before I ordered my first item I didn't think they would live up to the hype or be worth the price. However after buying several pieces I've fallen in love with the simple and minimalist designs! They're well made and functional. The overall composition of the Cuyana bags is thicker than The Daily Edited. Shape, designs, material and sizes are also different. I cannot say that one is better than the other, they're both different and special in their own ways.
Cuyana Leather Travel Case Set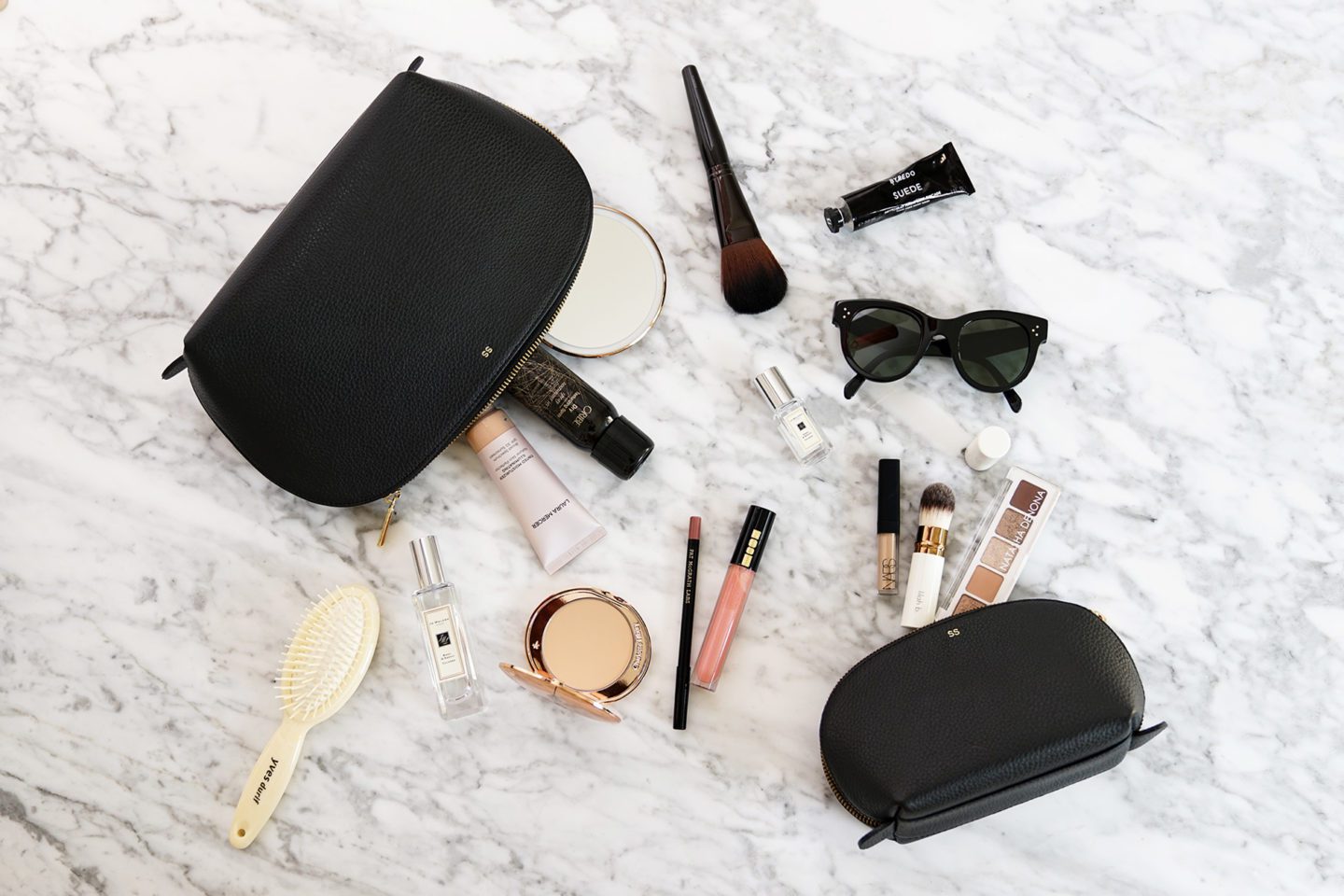 Cuyana Leather Travel Case Set $120 (additional for monogram) – This is the set so many of you asked me to review. I like it a lot more than I expected to – I actually love it. The leather is thick and sturdy, I love the lining which is easy to wipe clean. The small one is perfect for on-the-go and the large one is nice for travel or larger bottles. I opted for the smaller font monogram but wish I had picked the larger option. (All sales are final for monogram pieces so I couldn't exchange it.) Also a part of me wishes the monogram feature was included in the price like The Daily Edited, but I'm still happy with my purchase.
Made of a thick durable pebbled leather
Microsuede interior, large one has a flat pocket inside, small is open without a pocket
Large case measures 12″ wide, 7″ tall, 3.5″ deep
Small case measures 8″ wide, 5″ tall, 2.5″ deep
Cuyana Vanity Case and Tech Case
Two additional items I have are the Cuyana Vanity Case $95 and Tech Case $65. These are available individually and made of the same material as the Travel Case Duo. I've actually featured the Vanity Case in the Ecru color before but it seems they've recently updated it so it no longer has an exterior pocket and pouch. The Blush featured above is the current version. I like the Tech Case as a makeup bag but it's also really nice to carry cords, chargers etc because of the compact size.
Vanity Case $95
Measures 9.5″ wide, 5.5″ tall, 3.38″ deep
Interior flat patch pocket
_______
Tech Case below $65
Measures 7″ wide, 3.5″ tall, 2.5″ deep
_______
Truffle
Long time readers know I'm a huge fan of the Truffle Clarity Jetset $88 and the Clarity Clutch Mini $40. Both are great for travel or for packing up essentials on-the-go. Having a clear pouch makes it easier to see everything inside so there's not as much digging around trying to find things. The jetset option is compact enough to fit inside a medium tote or beach bag. The flat clutches won't hold as much since they're flat but it's perfect for holding a few essential items and keeping things more compact/organized.
There are other variations and sizes available for travel. You can see other Truffle options I've used for travel in this post here.
Luxury Splurge: Dior
Last two are splurge items! I bought the Dior Oblique Jacquard Pouch in the blue variation and I love it! It's made of a canvas material and has an interior pocket for cards if you want it to double as a clutch. It's relatively small and petite so I can use it either as a super fancy makeup pouch or clutch. It measures 15 cm high by 19 cm tall and 5 cm deep. For reference I believe it's similar in sizing to the Louis Vuitton Toiletry Case 19. This was more of a recent splurge purchase so I haven't had a chance to use it very much but I love the print and think it's just so beautiful!
Luxury Splurge: Hermes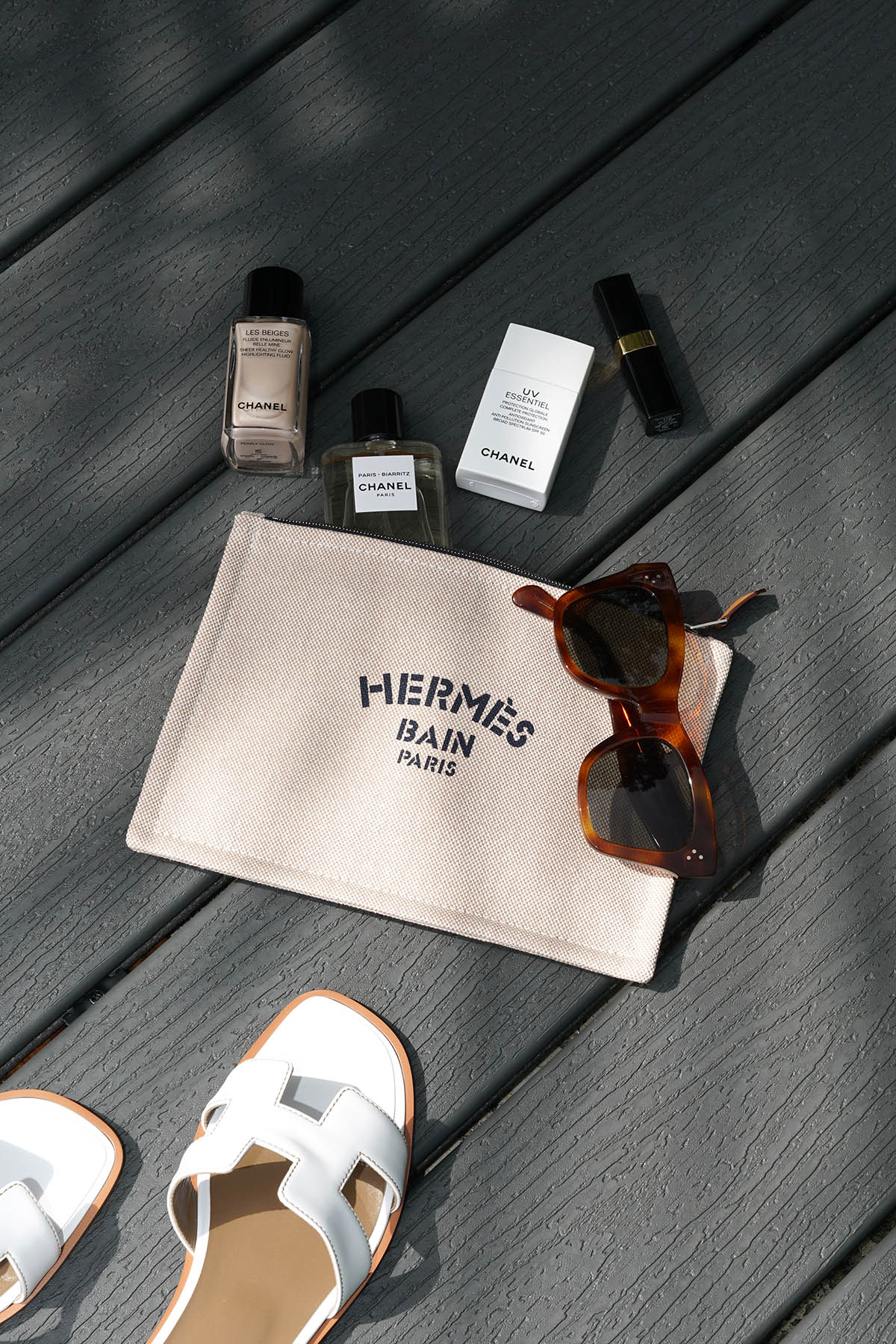 The last splurge I want to share is a flat canvas pouch. I ordered the Hermes Bain New Yachting Case in the small size in Navy and Red (one for Andrew, one for me). They're approximately 9″ wide by 6 inches tall, flat, made of canvas and perfect to carry small on-the-go things like a mini camera, small sunscreen, lip balm, mini perfume etc. It's made of cotton canvas so I don't know how long it will stay clean or last but I thought they were so cute!
Leather Care
I don't usually use any product to treat or clean my leather goods, but I just started looking for some cleaners and moisturizers. Three options I've tried on a few makeup bags are from Coach and Cuyana – I really like the Coach set. I also tried the Cuyana Cleaner and it worked well to clean up small makeup smudges I had on the exterior of a few bags. I haven't put them to an extensive test yet but plan on using them more. Many years ago I used to use Apple Guard and remember liking it but haven't repurchased in a long time.
I had a recent mishap and accidentally splashed some nail polish remover on a leather wallet. Even though I wiped it immediately it still left some marks and made the leather look dried out with a slight white cast. After some research I decided to try the Coach Leather Moisturizer on it and thankfully it restored it back to normal! If you have any that you love let me know in the comments.
That wraps up my current favorite makeup bag roundup! Hope you found it helpful. Out of all the ones I own I can't pick a favorite. I think the quality and look of the Cuyana bags are the most luxe with the thick pebbled leather, but I also love how durable and sturdy the saffiano is with The Daily Edited.
Do you have a favorite makeup bag or bags? Let me know in the comments!
Shop the Post:

I'm hosting a summer giveaway! Open internationally but you must be 18 years or older to enter. ONE person will be selected from the entries in the widget below to win a $200 eGift card to either Cuyana or The Daily Edited. Simply use the widget and complete ALL the entry steps (partial entries will not qualify). Giveaway runs through August 1, 2020 11:45 PM EST. I'll select a winner within 72 hours after the giveaway ends and email them directly. Selected winner must respond within 72 hours or another person will be selected in their place. Not sponsored or affiliated.