Happy Monday! I have a look at the new Chanel Rouge Allure Laque ($40 each, 20 shades) today! These are Chanel's new satin liquid lipstick with a lightweight feel and shiny finish. Coverage is natural looking with medium pigment but they can be layered for full coverage. Texture is light and smooth with a weightless almost airy feel to them. They're comfortable on the lips with medium lasting power. These come with a beveled sponge tip applicator for an easy line and fill kind of swipe. Available now at Chanel.com.
In terms of similar coverage and feel these remind of the NARS Velvet Lip Glides (which I think are being phased out). Soft almost whipped texture, good coverage, weightless, nice satiny finish with a soft shine. Downside is they are not budge-proof and they do transfer if you touch your lips to a cup or mask (or anything else). I haven't had a chance to give all 20 shades a full day wear test, although for the handful I have worn, I've been able to get very good lasting power. They have stayed fresh looking around 4-5 hours before I took them off for a snack. I do think some of the darker and bolder ones can get even better wear time, but the neutrals I tried wear very nicely on my lips.
The Chanel Rouge Allure Laques aren't scented although there is a soft scent that is hard to describe. It's exactly what I'd think a lip gloss would smell like – once on the lips I don't detect the scent very much. Colors and swatches of all 20 shades below.
60 Inflexible, 61 Continuous, 62 Still, 63 Ultimate, 64 Exigence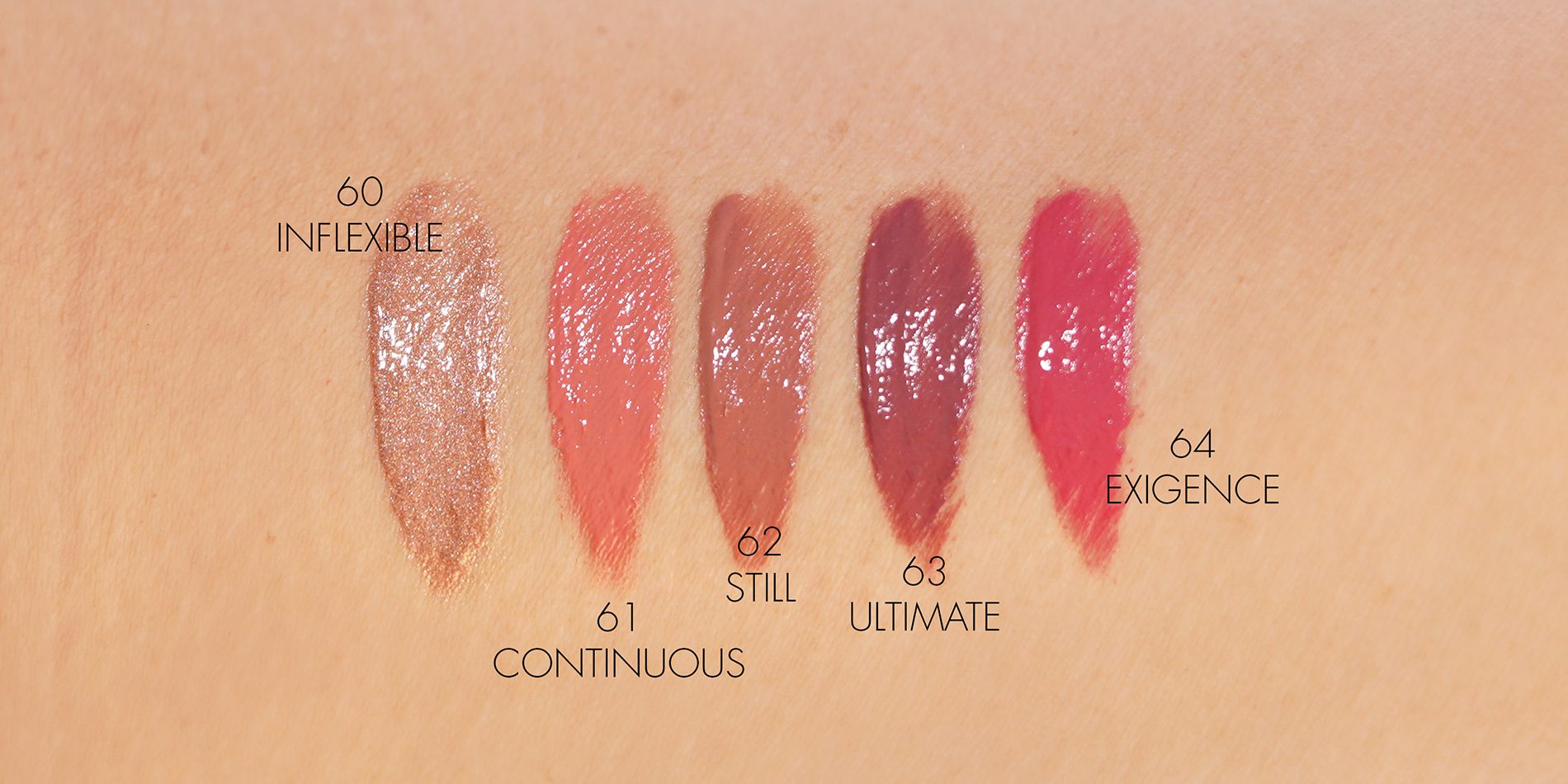 60 Inflexible – medium shimmering beige gold
61 Continuous – medium peachy apricot
62 Still – soft beige pink
63 Ultimate – soft muted mauve rose
64 Exigence – pretty rose pink
______________
65 Imperturbable, 66 Permanent, 67 Steady, 68 Unlimited, 69 Remanence
65 Imperturbable – coral pink
66 Permanent – medium-deep rose with a hint of plum tones
67 Steady – bright coral
68 Unlimited – bold orange
69 Remanence – bold hot pink
______________
70 Immobile, 71 Mythe, 72 Iconique, 73 Invincible, 74 Experimente
70 Immobile – bright red with pink
71 Mythe – shimmery bold warm red
72 Iconique – muted red with a hint of shimmer
73 Invincible – bold orange red
74 Experimente – plum red
______________
75 Fidelite, 78 Tenacious, 79 Eternite, 80 Timeless, 81 Obstination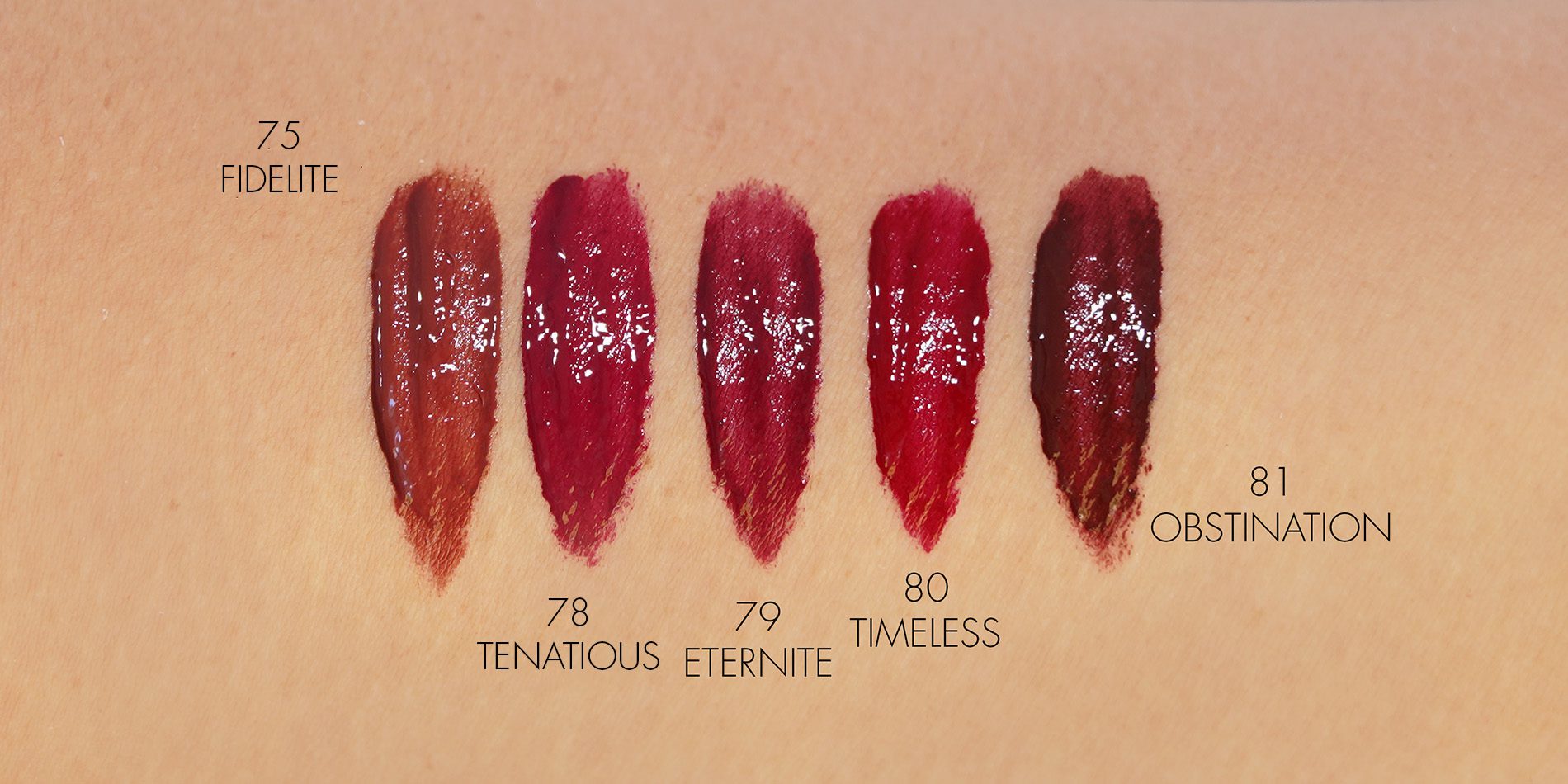 75 Fidelite – brown plum cream
78 Tenacious – plum with a hint of berry
79 Eternite – deeper plum
80 Timeless – reddish plum
81 Obstination – blackened plum
______________
I wasn't able to get all 20 lip swatched but here are a few for you. I will try to have the rest of them swatched on the face/lips by the end of the week in a second part. I just got a much-needed hair cut and my stylist added toner to help blend out the remaining highlights and it looks so dark now! Also wearing:
Bottom line, I love what I've tried so far. If you loved the Rouge Allure Ink I think you'll definitely love the Rouge Allure Laque. I feel like I am the only beauty lover that did not like the Rouge Allure Inks in the neutral colors. They barely showed up on my lips and did not last long at all, although the bolder/deeper shades performed well. I think these Rouge Allure Laques are a better version of the Rouge Allure Ink with better coverage (although still medium/natural), better lasting power, and a better glossy finish.
By comparison I think the Chanel Rouge Allure Ink Fusion (reviewed here) has the best pigment/coverage and lasting power for a weightless liquid lipstick, although the colors are matte and pull darker while the Rouge Allure Laques are more glossy/translucent.
The Chanel Le Rouge Duo Ultra Tenue (swatches here) has the longest wear for a liquid lipstick in the Chanel line, although the concept is different with the full coverage matte base for color and glossy top coat.
If you liked the NARS Velvet Lip Glides you will also love the Chanel Rouge Allure Laques. I know some of you loved them (just like me) while others did not like it because the lasting power wasn't long enough.
I hope you find these swatches helpful! I have more saved on my Instagram Reels @beautylookbook if you're looking for swatches in different lighting.
View this post on Instagram
I hope you found this Chanel Rouge Allure Laque review helpful! You can find the Chanel Rouge Allure Laque available now at Chanel.com. Currently available in 20 shades. Also available in a Rouge Allure Laque Trio Set (with 64 Exigence, 73 Invincible and 80 Timeless).
10 shades provided by Chanel for review, 10 purchased by me.