I have a new Chanel lip haul with a look at some of the newRouge Allure Ink Fusion colors, a new Rouge Allure Ink shade and additions to the Le Rouge Duo Ultra Tenue Gloss formula. I ordered everything sight unseen as the colors are currently only available at Chanel.com (coming to counters soon). I'm 100% thrilled with every single item and think there are some great additions for fall.
Chanel Rouge Allure Ink Fusion + New Shades of Rouge Allure Ink
I've never really been a fan of liquid lipsticks or the Chanel Rouge Allure Ink formula. I found the original formula looked great in hand swatches with so many gorgeous colors. On my lips the colors didn't show up well and I found the finish too thin/streaky. I was willing to take some extra effort to make some of the colors work. The deeper/bold colors performed better but the neutrals were too sheer for me. The new Rouge Allure Ink Fusion is much MUCH better in terms of color payoff and pigment. It has similar packaging in the tube but the applicator is beveled. The new Rouge Allure Ink Fusion is more of a fluid liquid that dries to a matte finish. It's lightweight and has a similar feel/effect to the NARS Powermatte Pigments, only the Chanel does not dry down or shrink like the NARS does.
I ordered four Rouge Allure Ink Fusion shades to try them out. Swatches are tricky with liquid lips for me since the dry down often darkens the color and they always look SO different on my lips compared to others who have lighter pigment in lips or a cooler complexion. The olive in my skin also makes them look completely different than what I've seen online for lighter skin girls so please take note your mileage may vary. Formula is lightweight, has no scent, dries down to a soft matte finish without making the lips look like they've shriveled.
802 Beige Naturel is a pale beige cream, on me this turned more neutral/peach and while on others I've seen it swatched on, it looks more yellow-beige. 804 Mauvy Nude is a cool toned mauve rose, also darkens on my lips but perfect for fall! 806 Pink Brown is more of a deeper brown-rose on me than a pink brown, also lovely for fall. 814 Coral Peach is a bright vibrant coral.
There are also some new additions to the regular Rouge Allure Ink lineup. There are some mattes and also new metallic finishes. I bought 216 Legerete which is the most beautiful rose pink color. The formula is still the same as the Rouge Allure Ink, slightly streaky but I can make it work. The color is beautiful!
Chanel Rouge Allure Ink Fusion vs Rouge Allure Ink applicator:
Swatches below: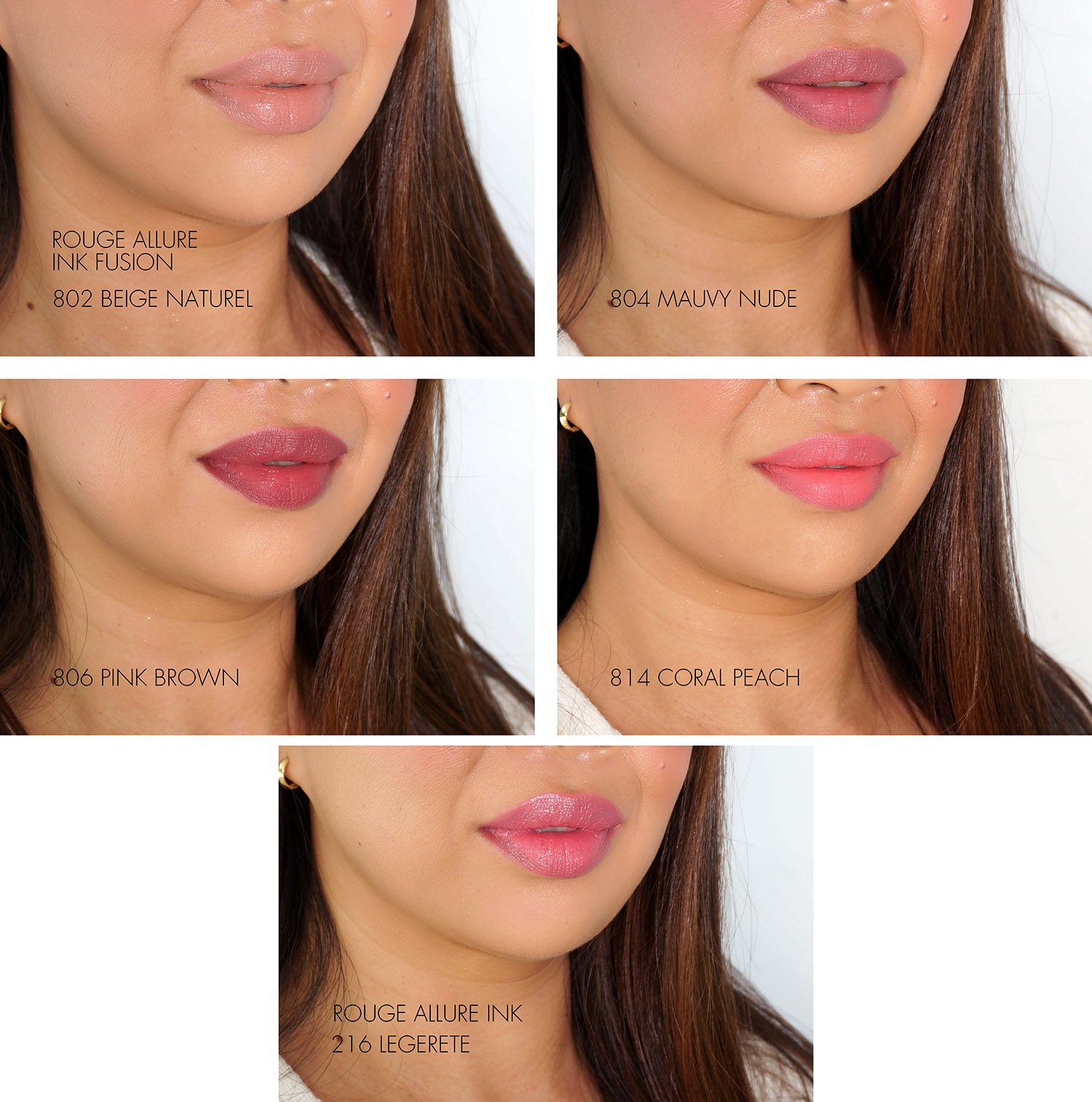 Some comparison swatches, I didn't find dupes but thought this lineup might help you compare and contrast how light/deep the colors are. The Rouge Allure Ink Fusion has a similar fluid texture and dry town to the NARS Powermatte. By comparison the newer Cle de Peau Radiant Liquid Rouge Mattes have a more whipped matte finish.
Three of the colors in full face looks, Chanel Rouge Allure Ink Fusion 802 Beige Naturel, for skintone reference I'm wearing Chanel Ultra Le Teint Velvet in B50:
804 Mauvy Nude:
Pink Brown 806
Le Rouge Duo Ultra Tenue – New Shades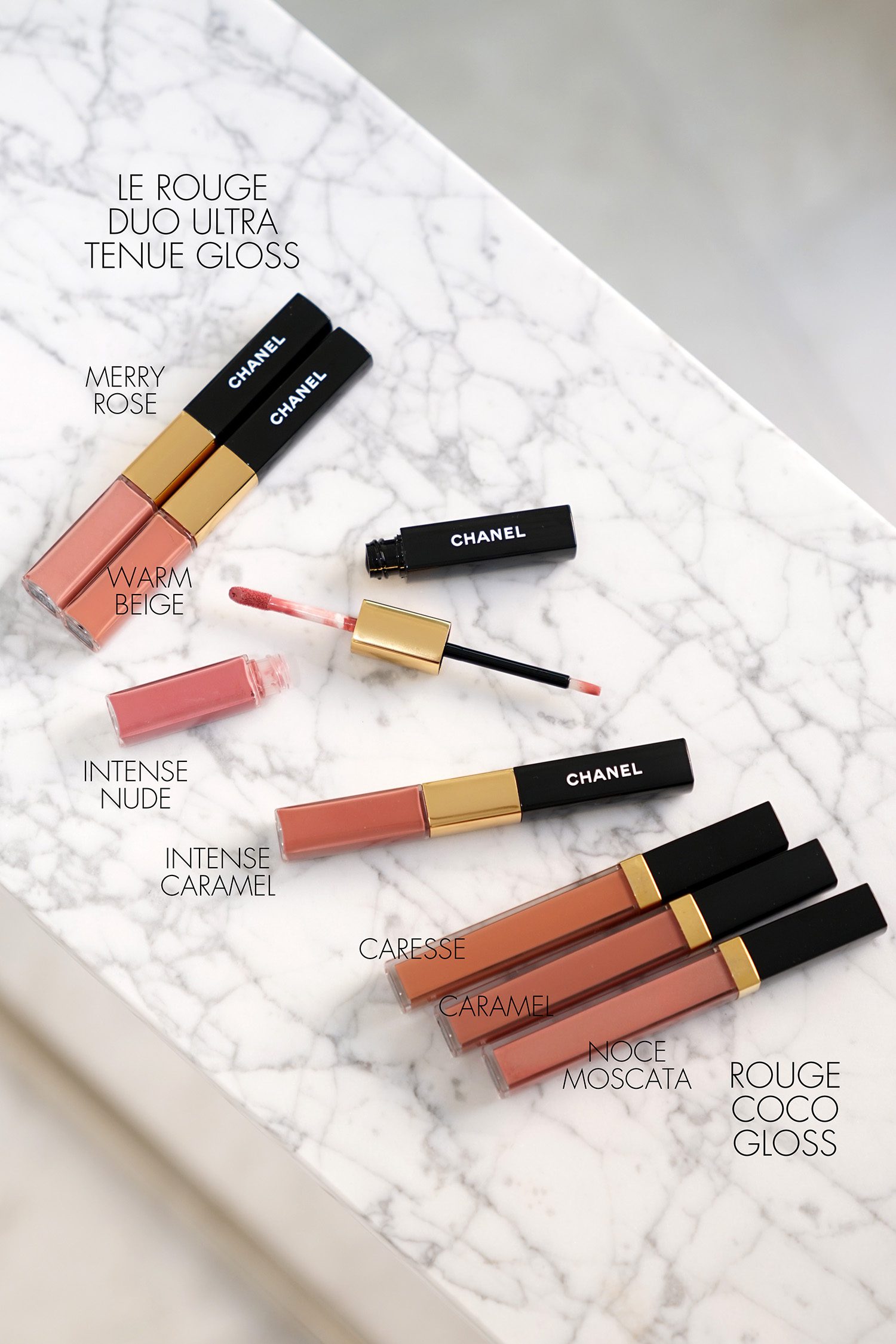 Chanel also added some new colors of the Le Rouge Duo Ultra Tenue Gloss which I just rediscovered. They changed the packaging and formula a little while ago but I think it's pretty much the same as the original. I picked 2 of the new colors in Intense Nude 152 which a gorgeous soft cool pink and Intense Caramel 154 which is a medium neutral beige. There is a liquid lipstick side that you apply all over the lips and then top with the gloss top coat. These are super long lasting and I think I need to check out more colors soon.
Since I'm a huge fan of neutrals I added other shades from my collection above and swatched below for reference. I have two other Le Rouge Duo Ultra Tenue colors in Merry Rose and Warm Beige alongside Rouge Coco Gloss neutrals in Caresse (discontinued), Caramel and Noce Moscata:

The new Le Rouge Duo Ultra Tenue Gloss in Intense Nude and Intense Caramel on the lips:
Full face look wearing Intense Nude:
Overall some solid wins and a successful haul. I wish Chanel would reformulate all the Rouge Allure Inks into the Rouge Allure Ink Fusion formula – I think it's SO good!. Based on the color selection I think I would have also loved a plum color but for now am happy with the colors I bought. I may splurge on one more down the line once they hit counters and I can see them in person.
You can find the new Chanel lip launches available now at Chanel.com – I suspect they will be at counters soon in the US. Have you tried any of the new shades yet? What did you think?