Victoria Beckham Posh Lipsticks recently launched and I could not be more excited! She launched nine colors of hydrating lipsticks and I ordered six of them from her website Victoria Beckham Beauty. The lipsticks seem to be an exclusive on her website for the time being, but you can also find her products at a few other places like Violet Grey and Net-A-Porter. Her Posh Lipsticks come in a slim twist up tube and retail for $38 each.
The formula is ultra smooth and creamy. They glide on the lips in a beautiful way and have a slight waxy feel. I would say coverage is sheer-medium with most of the colors except the darker ones which have medium pigment. A few swipes back and forth covers the lip entirely with a natural sheen. Finish-wise I would say they're somewhere in between lightweight and heavy – but they are really comfortable. Lasting power is ok – they fade within a few hours but these days I don't mind something that doesn't last super long since I have to take off lip color anyways anytime I wear a mask. To extend the wear or have more pigment, I'd definitely recommend layering with a lip pencil.
I skipped the lightest shade, the red and one of the browns. All the colors are creams (no shimmer). I think they're beautiful everyday kinds of classics! I have a lot of natural pigment in my lips so if your lips aren't as dark, these will show up a lot better on your lips/complexion. While I was able to get full coverage I still feel like my natural lip showed through a little.
Colors I hauled:
Girl

is a light pink beige cream

Spice

is a brown beige ginger

Pout

is a sheer light pink peach

Pose

is a muted mauve

Sway

is a soft mauve berry

Play

is a deeper wine plum
Swatches in different lighting, top is with full flash. Bottom photo with different lighting also next to the Victoria Beckham Beauty Lip Pencils I have (you can see the review in this post here):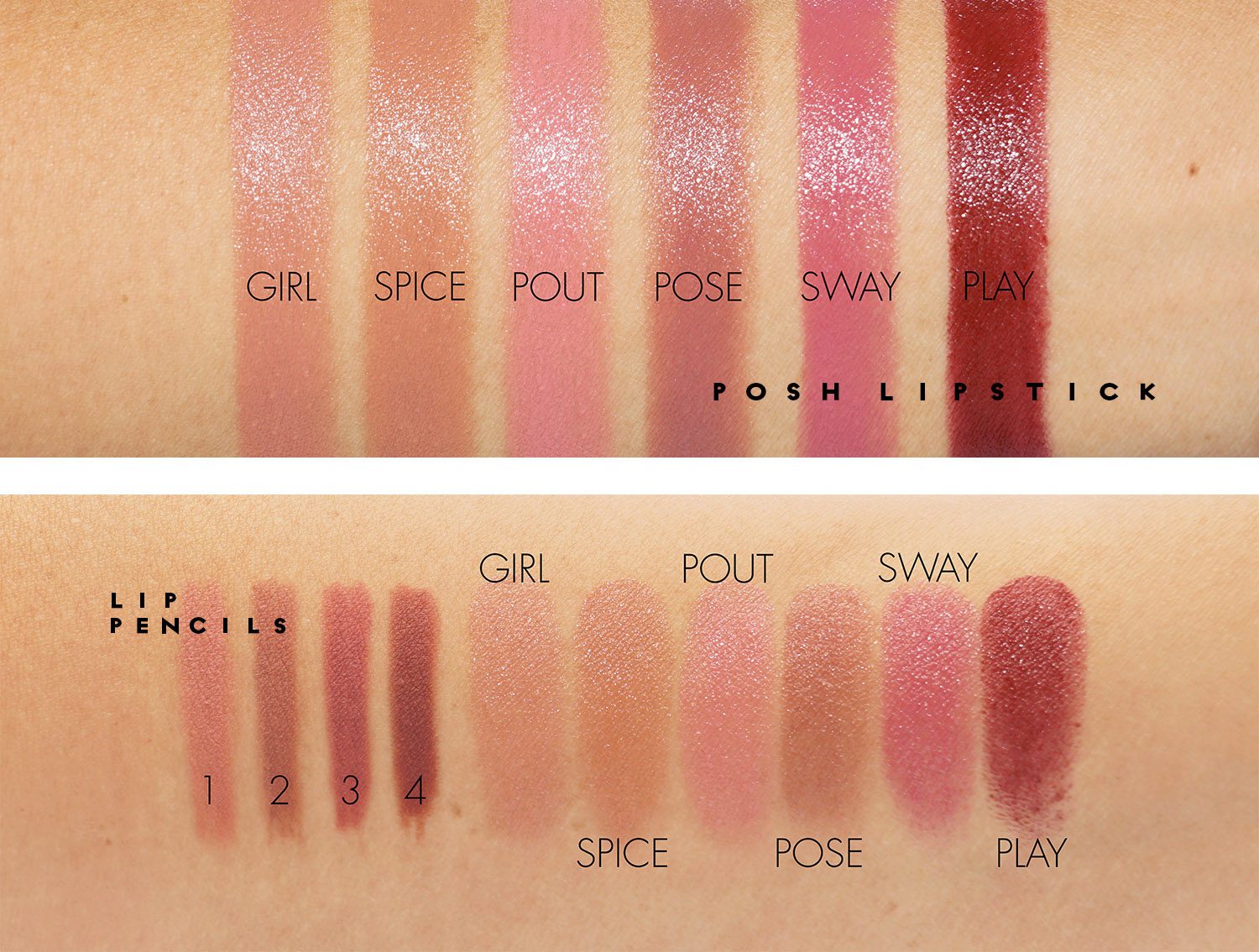 Full face swatches, also wearing: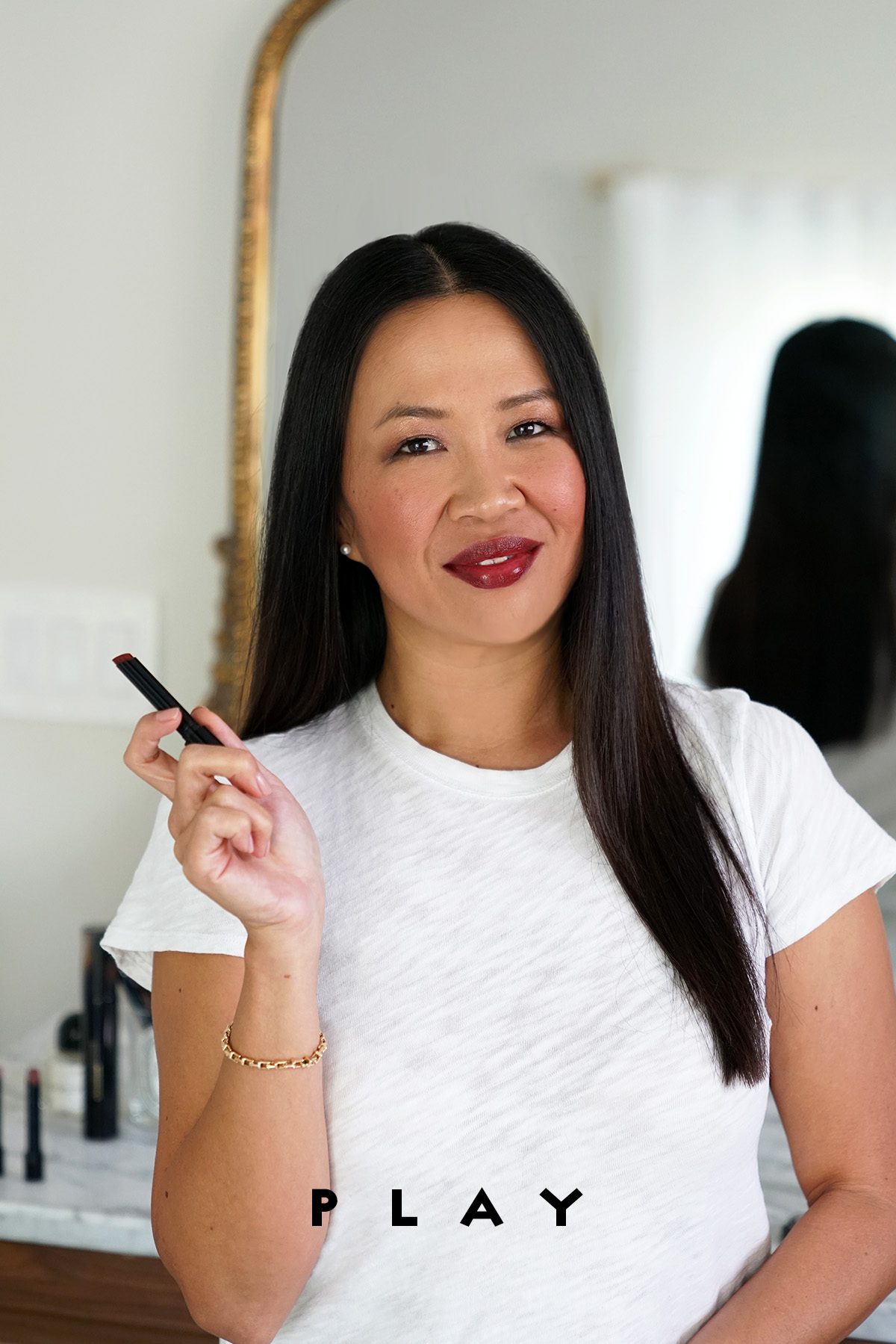 _________
Below top to bottom: Spice, Girl, Pout, Sway, Pose and Play
Girl and Pout are both a bit too light for my natural lip color but if I wear a lip pencil underneath and blend first I can make them work. I love the look of Spice even though it pulls a bit brown on my skin. My favorites are Pose and Sway. Based on my swatching experience I think Fringe (a brown shade I skipped) might have been a good one too!
Overall experience is positive for me and I'm happy with my haul picks. I love the sleek slim packaging and even though these are on the spendy side I do think they were worth ordering. I would have liked to see more color options in the medium color range (versus the pale or deep end) – but I think this is a great start to the lineup. They perform well, texture is beautiful, pigment is sheer but lovely. They're a great no-fuss kind of classic lip that offers hydration and sheer medium coverage.
Formula-wise I wouldn't call these the best of the best simply because I prefer colors with a little more pigment but I think they are very good. For me my heart still belongs to the Pat McGrath lineup because of the color selection and pigment. I also prefer the Chantecaille Lip Veils (for pigment and color selection).
You can find the Victoria Beckham Beauty Lipsticks available online at her website Victoria Beckham Beauty. Have you tried any of these yet? What did you think?