I have a Victoria Beckham Beauty haul to share today! Everything looked so beautiful in a polished yet effortless kind of way and I was really curious to see what they looked like in person. This is the first time I've tried anything from a Victoria Beckham Beauty line. Past launches with Estee Lauder always sold out so fast, I felt like I blinked and everything was gone. Her current collection can be found on her website Victoria Beckham Beauty and also at Violet Grey.
I ordered directly from her website and everything arrived relatively fast for standard shipping. Products came in a white drawstring bag and everything was well packed/protected. I have on item in the haul that I'm not reviewing yet which is her Cell Rejuvenating Moisturizer because I need more time to test. First impressions are positive from me but more on this later.
Lip Definer
Her Lip Definers were the products that interested me the most. I ordered Shades 01, 02, 03 and 04. They're smooth full coverage lip pencils in shades designed to enhance the natural lip color. They're described as waterproof and I found them very opaque and long-wearing. Colors I bought and some lip pairings I've tried:
When I used these pencils alone to line and fill the lips the result was too opaque, dark and rich for my skin tone. But this is the case with most lip pencils. The best way to wear these is as a lip pencil to outline and define the outer edges of the lip and pair with a lipstick or gloss. I am still experimenting with the combinations but overall I think the colors are really beautiful and easy to wear.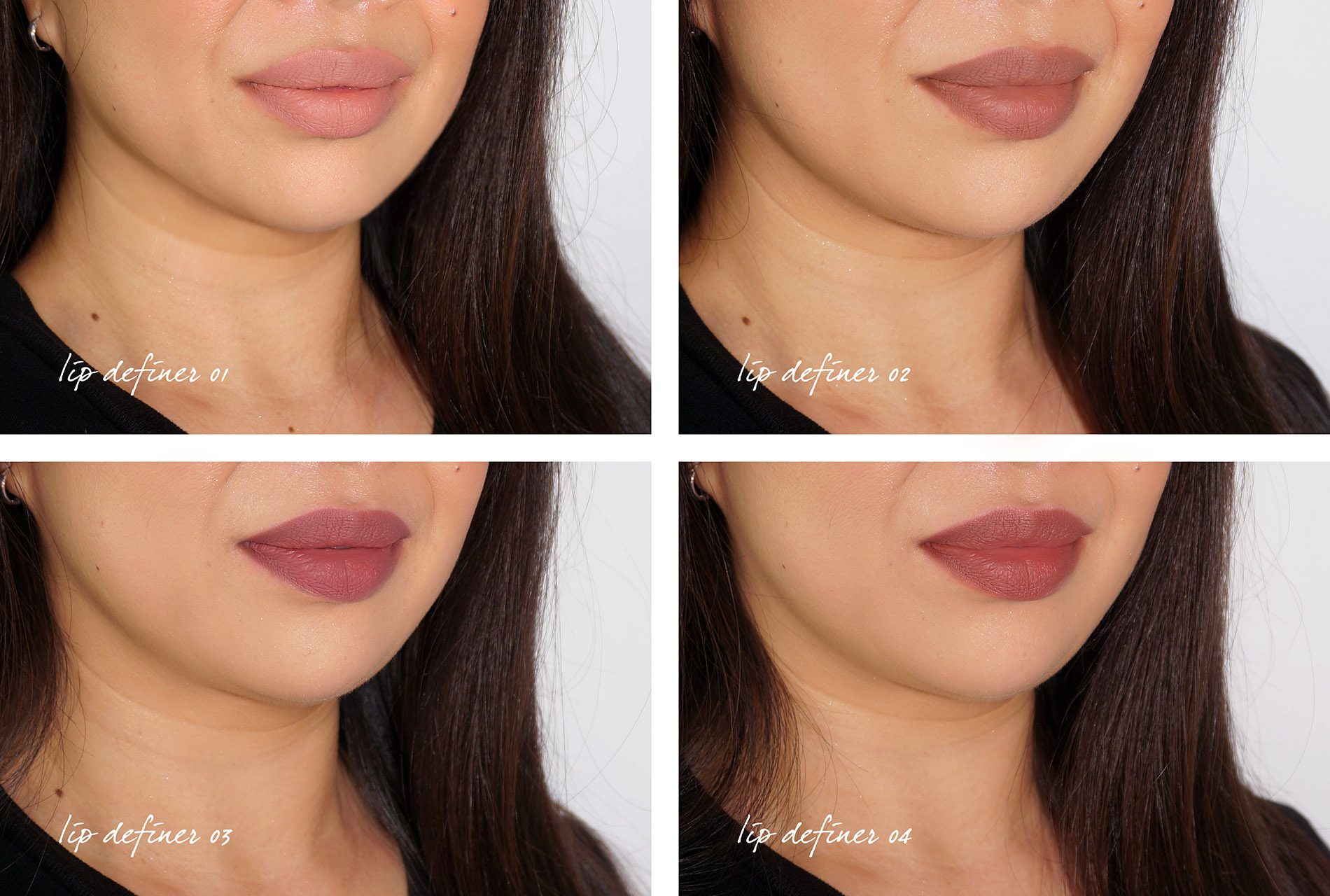 Comparison swatches to MAC Lip Pencils in Whirl, Stripdown, Boldy Bare, Dervish, Chanel Lip Definer in Nude, Pat McGrath Permagel Lip Pencil in Contour, Done Undone, Suburbia, Bare Rose, Charlotte Tilbury Lip Cheat in Pillow Talk and Marc Jacobs Poutliner in Primrose
Bitten Lip Tint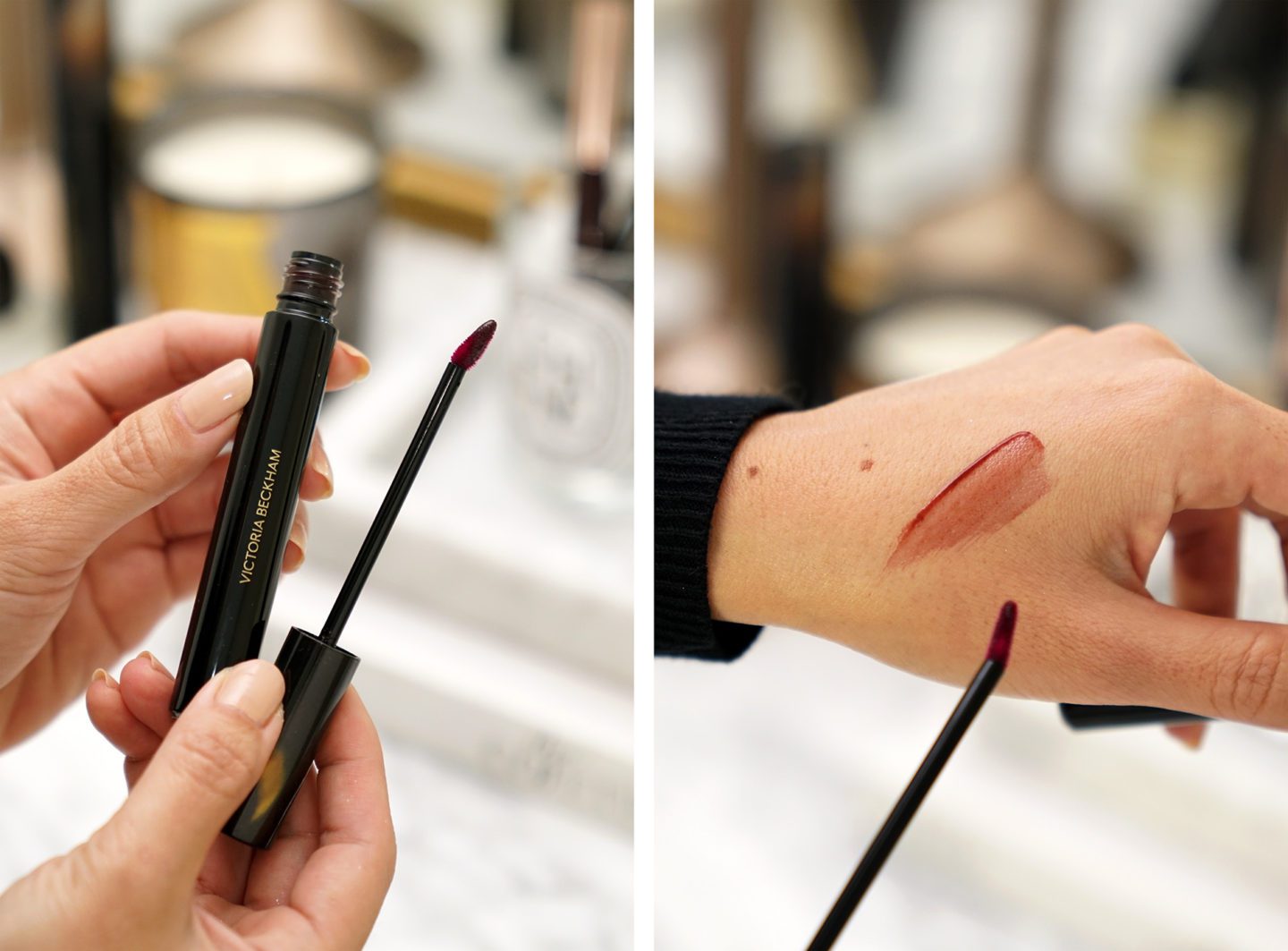 I have mixed feelings about the Bitten Lip Tint. It has a berry tint that looks beautiful on the lips but being a stain that is semi sheer – one coat was a bit streaky. Two coats evens out better. It's non drying and has a very slight sheen to it. Once on the lips it stains the lips purple. As it faded it left an unflattering purply brown look on my lips but it did last a very very long time. It's a gel tint with a sponge tip applicator – however there is no room inside for any air flow in or out of the tube so when I put the sponge back into the tube to close it, the air from the inside popped the top insert out. It was easy to push back in so its not a deal breaker.
Satin Kajal Liner
The Satin Kajal Liners come in 3 colors and I tried Bronze which is more of a golden brass shimmer rather than a bronze to me and Black which is a true black. They're ultra soft and pigmented. There's a sponge tip on one end to smoke out the color. When applied along the top lashes it blended beautifully and it stayed put all day. However I tried it on the bottom of the eyes and it smudged on me. I think they're nice to try but if you absolutely need something long wearing I think the Sisley Phyto Khol Eyeliners are far superior.
Lid Luster
The concept of the Lid Lusters appealed to me but only one of the colors looked like something I could see myself wearing. They're pressed pigments with lots of sparkle and pearl and they blend beautifully! Mink is a sparkling ultra shimmery deep silver taupe with brown tones. It applied a lot cooler-toned than I anticipated but is still really lovely. I think the formula is better than Hourglass Scattered Light Eyeshadows and those are among my favorites. I do wish they had more colors to pick from. Hopefully they will expand the line. They glide on so easily and I had no fall out issues with the sparkles.
Natasha Denona Biba Palette Eyeshadows + Victoria Beckham Lid Luster in Mink + Satin Kajal in Black
Swatch comparisons to Hourglass Scattered Light Shadows (review here and here), Laura Mercier Caviar Eye Stick in Intense Moonlight, By Terry Ombre Blackstar in Bronze Moon (review here)
Look wearing Lid Luster in Mink and Lip Liner 03:
Overall thoughts are that I think she has a beautiful beauty line to start. I would have loved to see some coordinating lip sheers or lipsticks to go with the lip pencils with the initial launch. I think the Lid Luster formula is really phenomenal and I hope she expands the color range!
You can find her current collection can be found on her website Victoria Beckham Beauty and also at Violet Grey. Have you tried anything yet? What did you think?