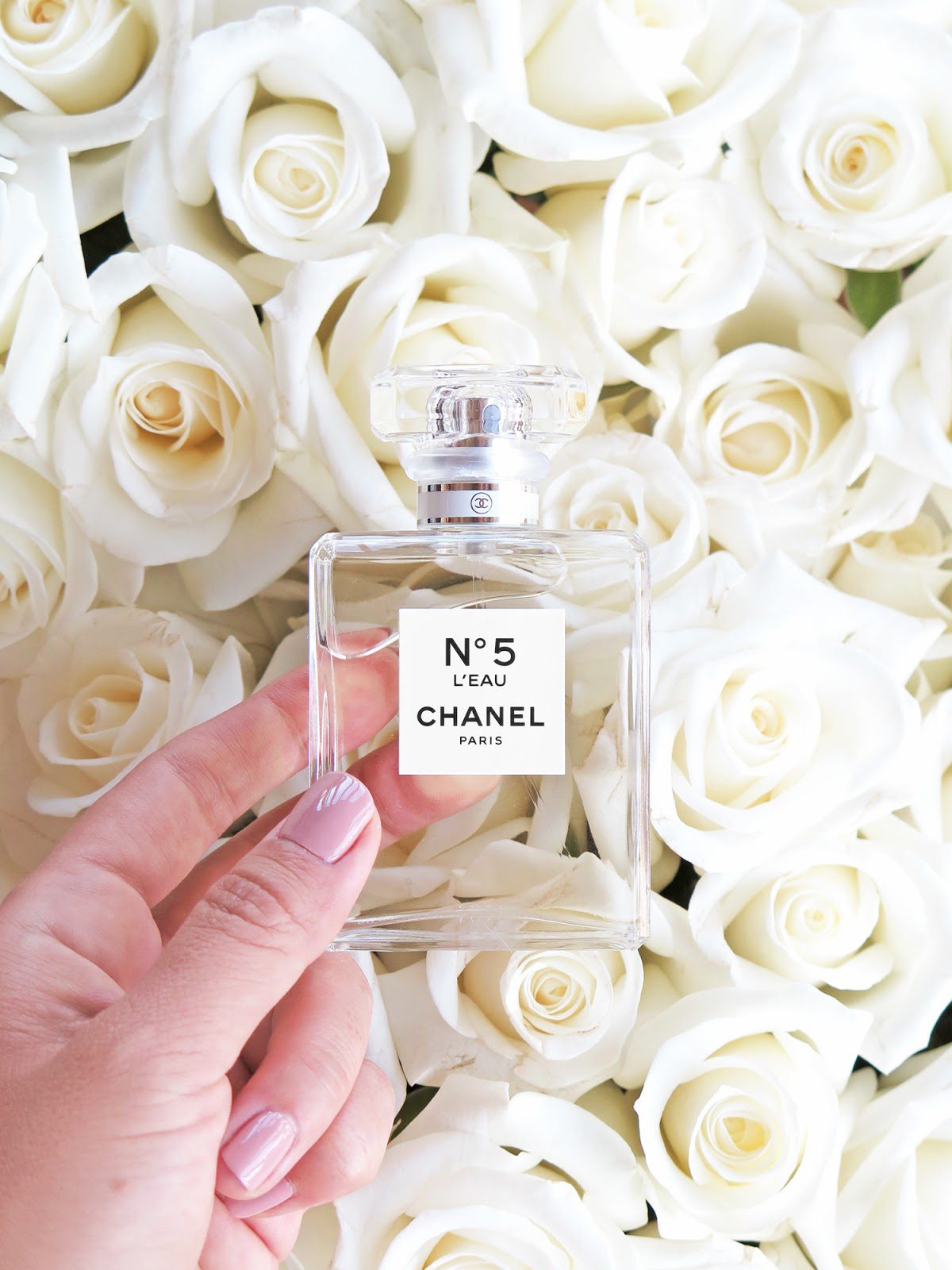 On September 1st Chanel launched a new perfume for fall called
N°5 L'EAU
($100 to $132) which is modern fresh take on the classic N°5. The new N°5 L'Eau is very different from the original, it is significantly lighter in feel with a very clean almost green zesty feel but floral with hints of musk. Notes per Chanel:
"Composed by Chanel perfumer Olivier Polge, N°5 L'EAU features dynamic, crisp top notes of Lemon, Mandarin and Orange that reveal lightheartedness and transparency. The emblematic heart of the bouquet unfolds with Rose, Jasmine and a new fraction of Ylang Ylang, more modern than ever. Behind this floral whirlwind lies an unprecedented sense of liveliness: the vibrant echo of Cedar, accompanied by soft and cottony Musk notes."
Smelling this seems to give me that fresh feel of spring but the combination of musk, ylang ylang and jasmine makes it one that I feel one can truly wear year round. Part of me wishes it was launched in the spring though because I would have worn this all season long and loved it. That being said I will wear this for the upcoming season.
Strength-wise it's in the Eau de Toilette form and it's a light scent so I can spritz generously without having to worry about overdoing it. Lasting power is not as good as an Eau de Parfum, but I can smell it from morning until about lunch time before I find it has disappeared completely. I rarely reapply perfumes mid-day even if they fade on me unless they have a travel size you can buy separately. I know there are a number of travel size spritzers and vials that you can fill with your own scent but I feel like they aren't as well packaged and tightly sealed like the ones that are made by the brands themselves.
To date my favorite Chanel fragrance is the
Les Exclusifs de Chanel in Beige
. I've sampled a number of others each time I'm at a store that carries them (you can't find them at all counters). Gardenia, Jersey and No 22 have all been tempting but my heart still belongs to Beige. I sniffed Boy last month and found it interesting too, I'm undecided on it as so many fragrances have captured my attention I need to limit myself to ones I truly love. The N°5 L'Eau is a clean floral like Beige, but at the same time it's very different in overall feel and effect. N°5 L'Eau is brighter, cleaner and has a bit more of a powdery feel by comparison.
I've always wanted a Chanel perfume in that classic bottle that came in a spray form and now I do. I had the
original N°5
before (it was gifted) and it simply wasn't me so I gave it away so I cannot compare it to the newly launched L'eau version.
Bottom line: modern, clean and fresh that dries down to a powdery floral. As perfume is very personal and scents often shift depending on your body chemistry, I don't think there is any universal kind of scent. This one won't be for everyone and if you need something with very strong lasting power, this definitely won't be for you. I like it and will wear it frequently. You can find the Chanel N°5 L'Eau Eau de Toilette in a 50 ml for $100 and 100 ml for $132, both exclusively online at
Chanel
. The one I have featured in this review is the smaller size. If you've tried this I'd be curious to hear your thoughts! If not, let me know what your go-to is for this upcoming fall season. I always love reading about what my readers are wearing.
Chanel N°5 L'Eau provided courtesy of Chanel for review.