Tom Ford Beauty launched new eye makeup with three new Eye Color Quads and a long-wear collection called Emotionproof. I have a look at the three new quads, two of the cream shadows and the new mascara.
New Eye Color Quads
Tom Ford launched three new Eye Color Quads in Body Heat*, Double Indemnity and Suspicion. I was surprised three new ones popped up since he launched seven late last year. In case you missed it you can see the seven here. For those not familiar to Tom Ford Beauty, there are several different formulas of his shadows. The three new ones have that metallic stiff texture similar to Nude Dip, Honeymoon, Virgin Orchid and Daydream. They're still powders but have an almost foiled sheen to them.
The three new palettes are a lot more wearable for my medium-tan warm olive complexion. I'm really loving both Body Heat and Suspicion for something a little more fun than your standard everyday neutral.
Body Heat
Body Heat has a shimmering pale rose, shimmering soft reddish rose, medium shimmery coffee brown, shimmery deeper brown. The two browns are very close to my eye, the deepest one does work to intensify the look and is slightly cooler toned. I think this palette goes well with a soft rose or pink lip. Application is smooth, pigment blends and layers beautifully, lasting power is excellent.
Double Indemnity
Double Indemnity is one of the best smokey eye palettes I've seen. Most traditional smokey palettes are too cool-toned with silvers and greys. This has a unique mix which makes it more wearable for my olive skin. It has a pale shimmering icy white, a shimmering silver with a hint of sage, shimmery smokey cool brown and a black with silver flecks.
Suspicion
Suspicion has the golden tones that I pretty much live for. It does pull a little yellow and the orangey-gold is pretty vivid. When you layer all the colors together it neutralizes the yellow a little for a more neutral warm gold sheen. This one is the most metallic of the three. If you can't wear ultra metallic shades you might want to pass on this one and I'd recommend you opt for either Chanel Lueurs Ambrees (so pretty) or the Pat McGrath Sublime Bronze Ambition (for more variety in colors at a better price point)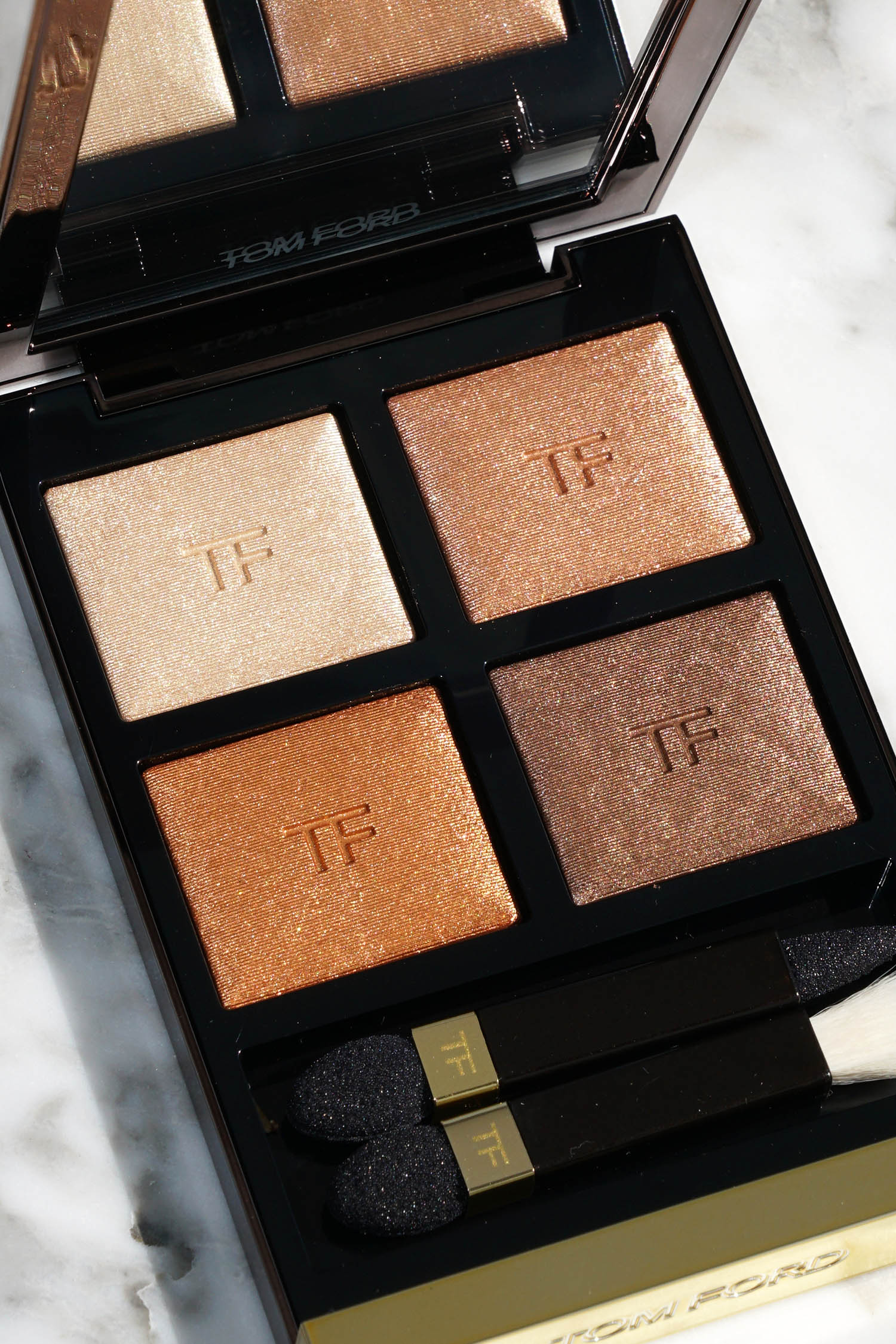 Comparison swatches to other Tom Ford quads:
Tom Ford Nude Dip, Body Heat, Honeymoon
Titanium Smoke, Double Indemnity, Supernouveau
Golden Mink, Suspicion, Leopard Sun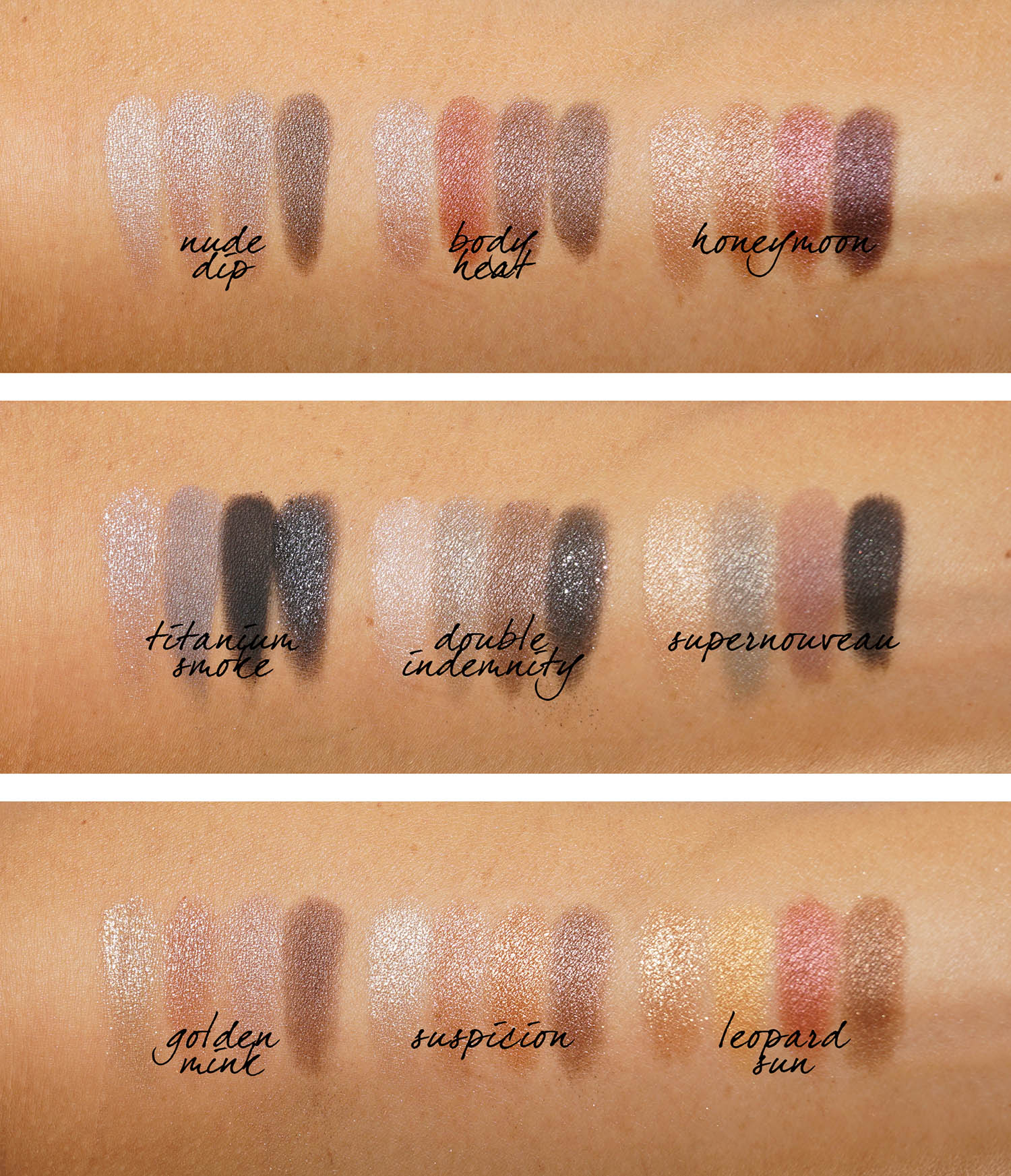 Looks with each of the three palettes, for skintone reference I wear the Tom Ford Traceless Perfecting Foundation in Natural (usually around MAC NC35):
Look 1: Tom Ford Body Heat, wearing Charlotte Tilbury Matte Revolution in Pillow Talk with Fenty Beauty Gloss Bomb in Fussy
Look 2: Double Indemnity, wearing Fenty Beauty Gloss Bomb in Fenty Glow
Look 3: Suspicion, wearing Charlotte Tilbury Matte Revolution in Sexy Sienna with Lip Lustre in Blondie on top
Three Beauty Looks
Emotionproof Mascara
There's a new Emotionproof Mascara which seems to have replaced my holy grail Waterproof Extreme. To me they perform the same – it adds volume, holds the curl, does not smudge. The only difference is Emotionproof tends to clump on the brush very quickly after a couple uses. I'm used to some level of clumping with mascara on the brush as it picks up product. I wish the interior had some kind of design to wipe off product a little better. Still anything that won't smudge and that holds the curl is a winner in my book. I can just clean off the wand every 4 uses or so.
Emotionproof Eye Colors
Last I bought two of the Emotionproof Eye Colors in Brut Rose and Casino. I'll start with the pros: both shades I bought are really pretty and easy to wear. They set pretty quickly and once they do set they don't budge. Cons: everyone seems to say these are like overpriced MAC Paint Pots and I pretty much agree. I think they're nice if you want a long lasting budge-proof cream shadow. However since they dry so fast you have to blend and apply quickly – once they set, layering more cream on tends to make it look streaky and dry. I don't think they're horrible like some reviews have said, but I definitely don't think they're anything special or splurge-worthy unless you absolutely love the colors. I think Brut Rose is really pretty but it seems pretty dupeable.
Swatch comparisons to Laura Mercier Caviar Chrome Eye Stick in Magnetic Pink, By Terry Ombre Blackstar in Frozen Quartz, Laura Mericer Caviar Eye Stick in Burnished Bronze and Charlotte Tilbury Eyes to Mesmerize in Mona Lisa
__________________
Overall loving the new quads the most. Based on what I've seen from other Tom Ford quads you can find some similar options among different palettes. I really like the look of Body Heat the best. If you want more variety and color range within a single palette but still like shimmer finishes I think you'll find more of a diverse options within a compact by trying out the Pat McGrath palettes. I think the new Emotionproof Mascara is good, but part of me thinks it's just Waterproof Extreme with a slightly different tube (because of the clumping issue) and different name.
You can find the new Tom Ford Eye Products out now. I bought mine from Sephora and Nordstrom. Also available at Neiman Marcus, Bloomingdale's, Beautylish and Saks Fifth Avenue.
Body Heat sent as a press sample. Other items purchased by me.