I have another round of Pat McGrath Labs lip products to review today including her Lip Fetish Lip Balm ($38) and more shades of her LuxeTrance and Matte Trance Lipsticks ($38 each, available at Pat McGrath and Sephora). I discovered her lip products last holiday and reviewed nine of her lipsticks in this post here. I think her lipsticks are among the best I have ever tried for the creamy texture, rich pigment, smooth application and color selection. If you haven't tried them I highly recommend you do.
Since my initial review, I purchased two more lipsticks and her lip balm. She has also launched new shades and I received three shades as press samples. Everything is excellent in quality, pigment, and lasting power. They do run on the high side price-wise but I think her products are 100% worth the splurge. Update: The shade I labeled Full Bodied is actually called Full Blooded. Sorry for the typo!
Thoughts, swatches and lip swatches below.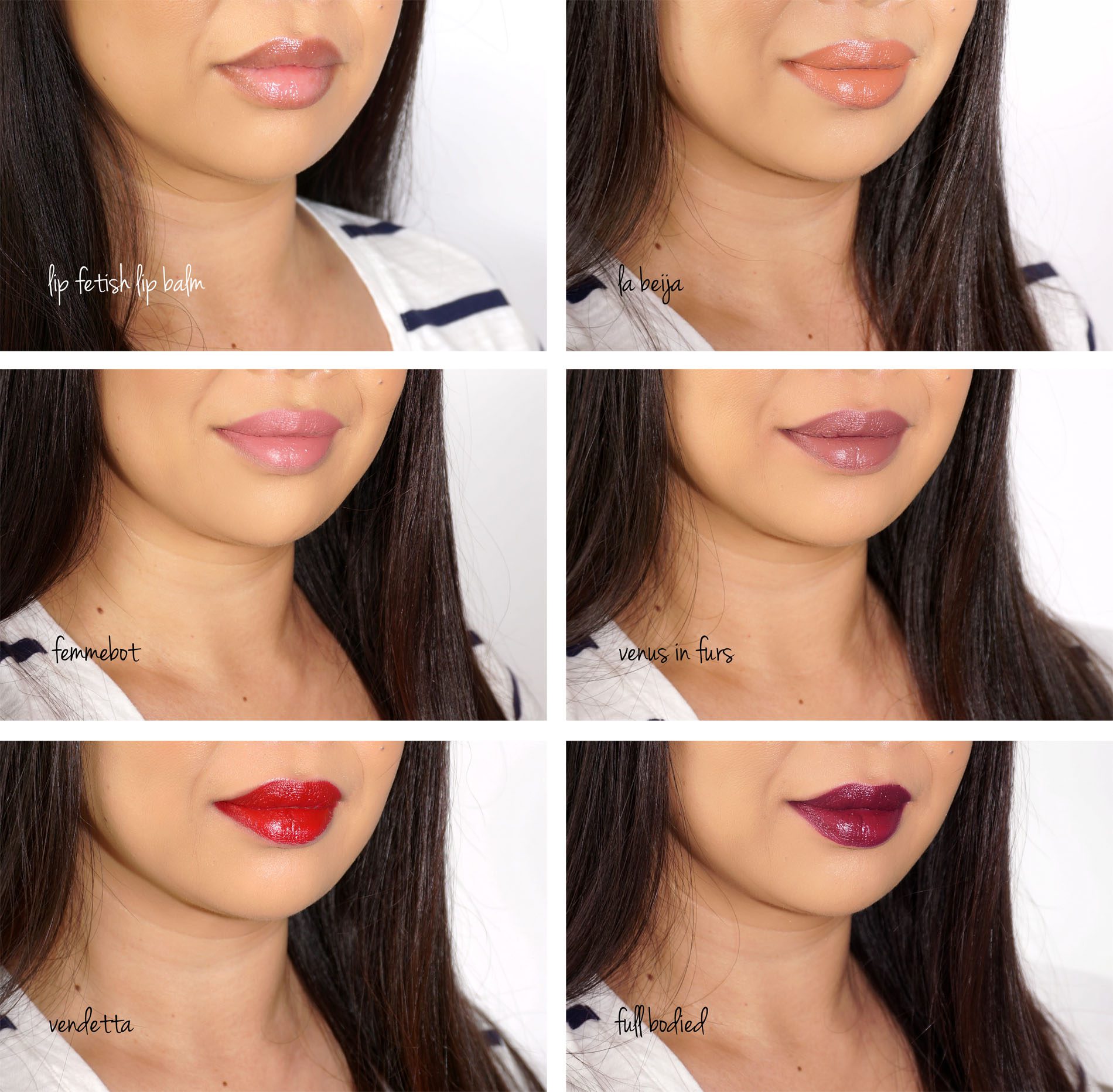 A few swatch comparisons. You can see these reviewed in my original Pat McGrath Labs LuxeTrance, MatteTrance, Permagel Eye and Lip Pencil Review. I'm missing Sextrology because I forgot to add it in the swatch lineup. I've added Charlotte Tilbury Pillow Talk for reference as it's one of my favorite everyday neutrals.
Overall thumbs up on everything. I gravitate towards neutrals and she has a lot of amazing colors for neutral lip lovers. There is a nice range of different undertones to suit every skin color. They do have a soft vanilla scent but I love it. Lip products are full coverage but have a smooth finish. Long-time readers know I don't like matte finish lipsticks in general. Her MatteTrance lipsticks have a velvety matte that doesn't look flat or dry. They feel comfortable on the lips and last a long time. Her Lip Fetish Lip Balm was definitely worth the splurge for me. I'm not sure it's something I'll repurchase once I use up, but I do really like it and find it's nice to have a balm in a twist up form that is dense enough that it doesn't break at the base.
Out of all the new shades, my favorites are Femmebot and Full Blooded. In terms of her best neutrals for me I still like Realness and Sextrology the most. Bottom line there is a lot to love, formula and color-wise. I was really intrigued by Peep Show at Sephora but I swatched it on my hand and felt it was going to be a little too pale for me (Valletta is the best light-neutral for me in her lineup).
You can find Pat McGrath Labs products at Pat McGrath and Sephora. Have you tried any of her lip products? What did you think?
Venus in Furs, Vendetta and Full Bodied are press samples. All others purchased by me.