I'm a sucker for minis so when I saw the Sephora Favorites Give Me Some Nude Lip Set ($28, limited-edition) it didn't take me long to buy one. It sold out online but just restocked so if you haven't seen it yet I hope these swatches will either help you decide to splurge or save $$$. I also got their Beauty Insider Birthday Gift and redeemed my points for a Tarte mini so I thought I'd round them all up in one post here.
The Sephora Favorites sets have a lot of great options to sample products in mini sizes. I have my eye on the Ultimate Travel Bag because it looks like it has a little bit of everything. I bought and reviewed their spring version back in January. The one for summer is just as fun. Quick note first – the current set still comes with the black stuffing, but I swapped it out for some white stuffing I had from a different set simply because it was easier to see the product.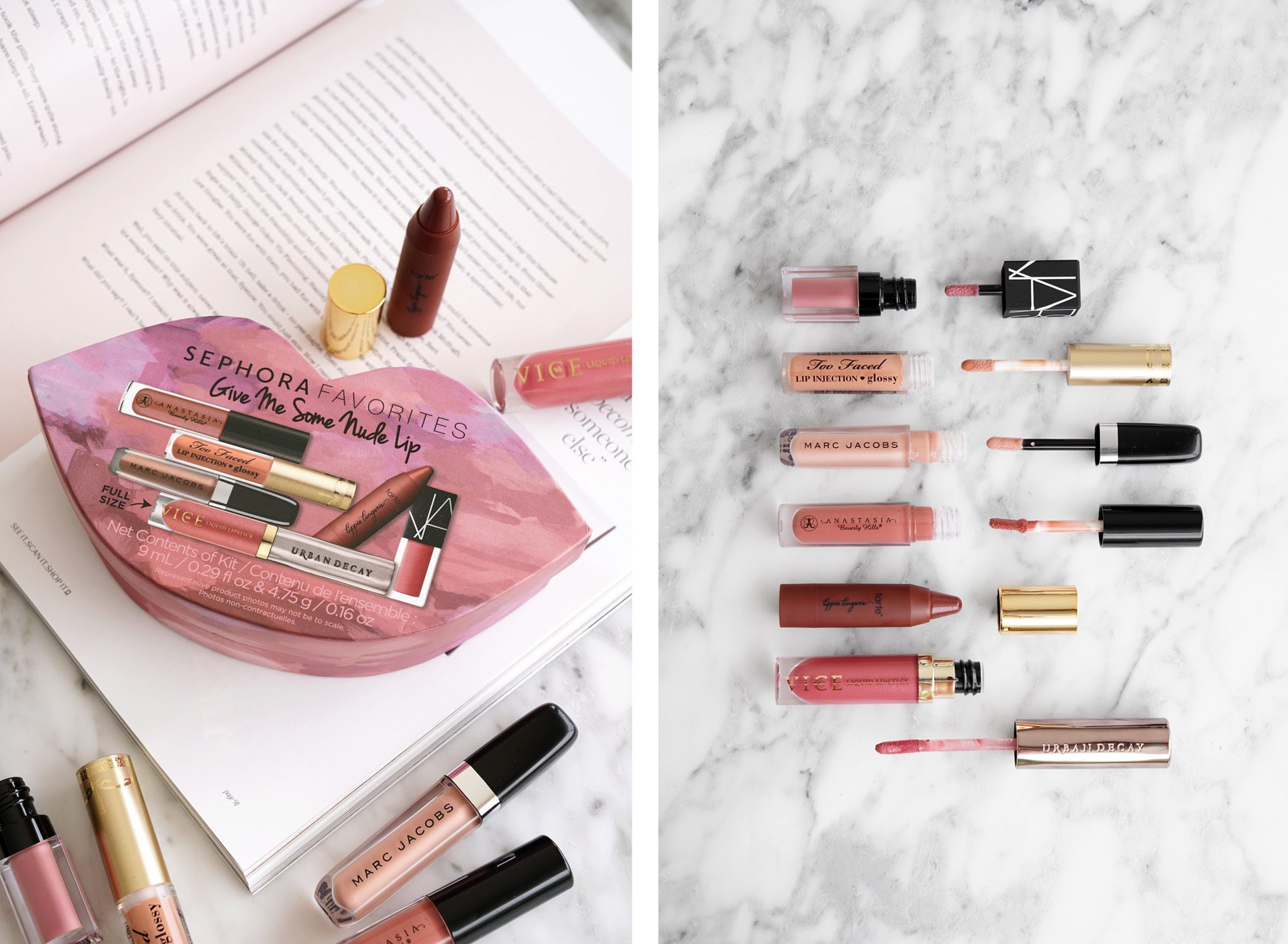 How cute are the minis?! (On the nails is Essie Spin the Bottle)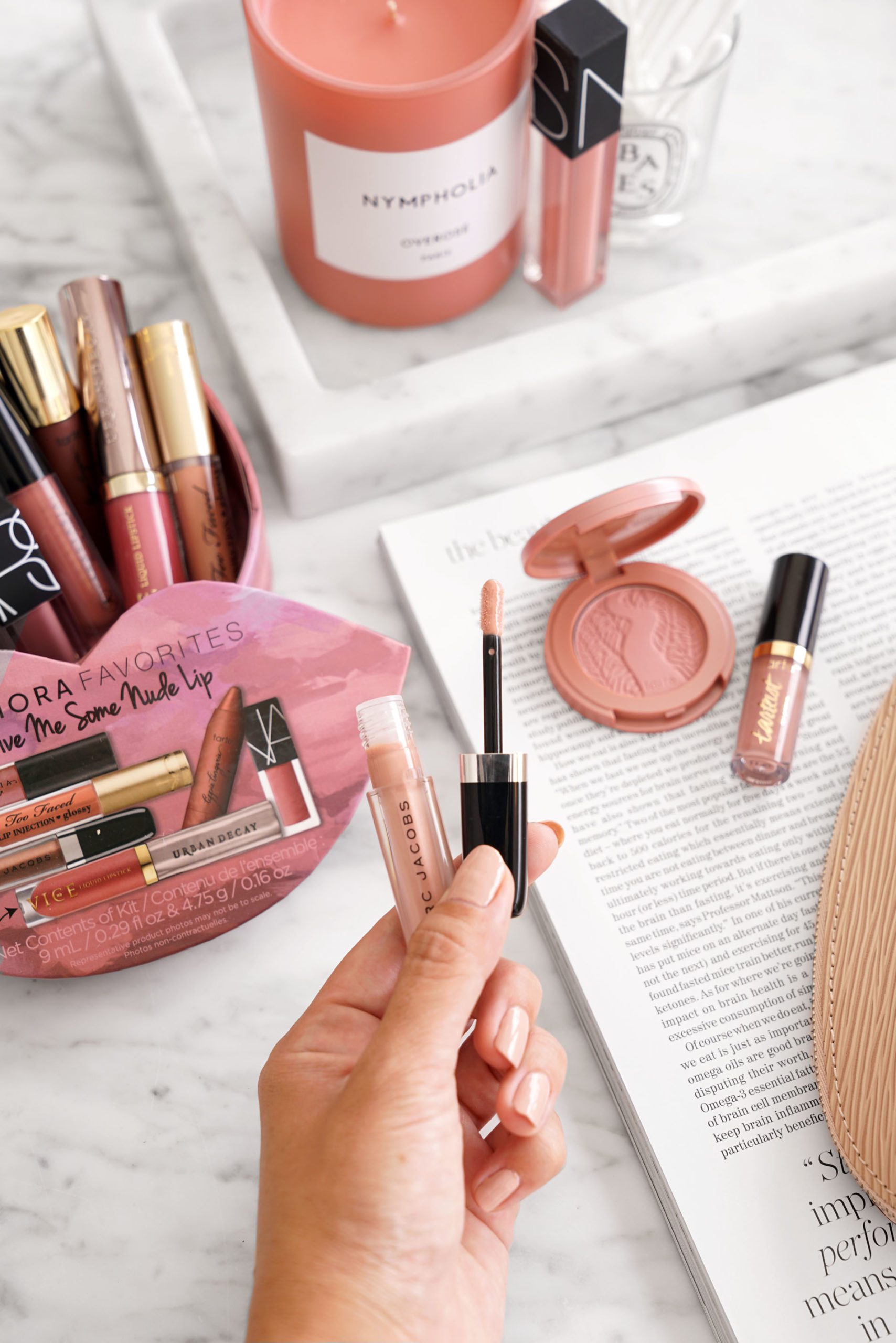 Inside the Give Me Some Nude Lip Set you get 6 lip products, all are minis except for the Urban Decay lip which is full-sized:
Tarte Lingerie Lippie Matte Tint in Revealed

is a mocha brown shade. I love the formula, pigment, texture and finish – I just found the color too dark for my personal preference. It's a smooth finish chubby stick with a semi velvety finish. It says matte but it's not flat looking and feels super lush on the lips. I will definitely try to check out other shades in this formula.

Anastasia Beverly Hills Lip Gloss in Kristen

is one of my favorite opaque glosses, I already own it in the full size. It's a neutral pinky brown color and perfect for any occasion. I love the rich opaque pigment and high shine. The color is just perfect.

Marc Jacobs Beauty Enamored Hi Shine Lip Lacquer in Sugar Sugar

is a light nude champagne color. For me this one is best when worn over another lipstick or liner. Alone it has a sharper contrast to my natural lip tone making it look like I have a dark rim around the lips when I wear this because my lip shows through. The glosses in line have a lush cushiony feel without the tacky sticky finish.

Too Faced Lip Injection Glossy in Spice Girl

is probably the most painful lip product I've ever tried. Tingles scare me because I've tried a few in the past where my lips literally flare up from an allergic reaction. This one started to sting within 10 seconds in such a sharp burning manner. I couldn't wear it long enough to test because it hurt so much. I had it on probably 5 minutes just swatching and photographing it. The color and finish is really pretty but I just couldn't tolerate the tingle.

NARS Velvet Lip Glide in Bound

is another one I own in the full size. I definitely should have read the labels on the box to see if I already owned most of these, but the minis got me. This one is a perfect soft mauve color. It has the word "velvet" in it but on me these still have a slight sheen to them.

Urban Decay Vice Waterproof Long Lasting Liquid Lipstick

is a full size metallic rose color. I've tried this one before and it was a total fail for me. The color dried on the lips in a way that make them look dried out and shriveled. In the past when I tested this one it dried out my lips so bad they peeled for several days after. They do last a long time as in they don't budge all day long so if you don't have sensitive lips this formula might be worth a try. Based on my one experience with this color though I'm passing on all the rest.
Next are some Beauty Insider Perks. This year you have a couple options for the Beauty Insider Birthday Perk. You can pick between skincare from Caudalie and makeup from Tarte. I opted for the Tarte options but in reality I should have gone with the skincare as they would have been perfect to travel with. The Tarte set comes with the Amazonian Clay 12 Hour Blush in Paaarty (1.5 g/0.05 oz) and a Creamy Matte Lip Paint in Birthday Suit (1 ml/0.034 fl oz). Both are really pretty neutrals, the blush is a matte pink brown and the lip paint is a creamy nude pink that doesn't wash me out. I also picked up a mini Quick Dry Matte Lip Paint in Rose (1 ml/0.034 fl oz) as a 100 point perk. I actually already own this one in the full size but couldn't resist the mini. It's a warm rose peachy color on me. I'm not the biggest fan of matte lips or matte liquid lipsticks but the colors from Tarte are pretty good and I can add a bit of balm or gloss on top.
In summary I like Tarte Birthday Suit enough to consider buying the full size. It's a good neutral nude color that works for my skin tone and doesn't wash me out. For the Give Me Some Nude Lips set turns out I like the colors I already own the best (NARS Bound, Marc Jacobs Sugar Sugar and Anastasia Kristen). The others were nice to try and even though I didn't like the colors or formula so much at $28 it was worth it for me to try. That being said $28 could still have gone towards a full size gloss or lipstick that I really wanted – but I never use the lip testers in store on my lips because of all the germs so sometimes it's hard to guess what a color will look like. I'll swatch lip products on my hand and then hold it up to my face to see if I can kinda tell what it will look like, but I'm one who cringes when I see others using store testers on their lips.
Bottom line not a total win, but not a total fail either. You can find the Sephora Favorites Give Me Some Nude Lip set at Sephora. It's limited-edition and they've launched a few variations over the past few seasons.
Have you picked up any Sephora Favorites sets lately? If so which sets did you try and what did you think?