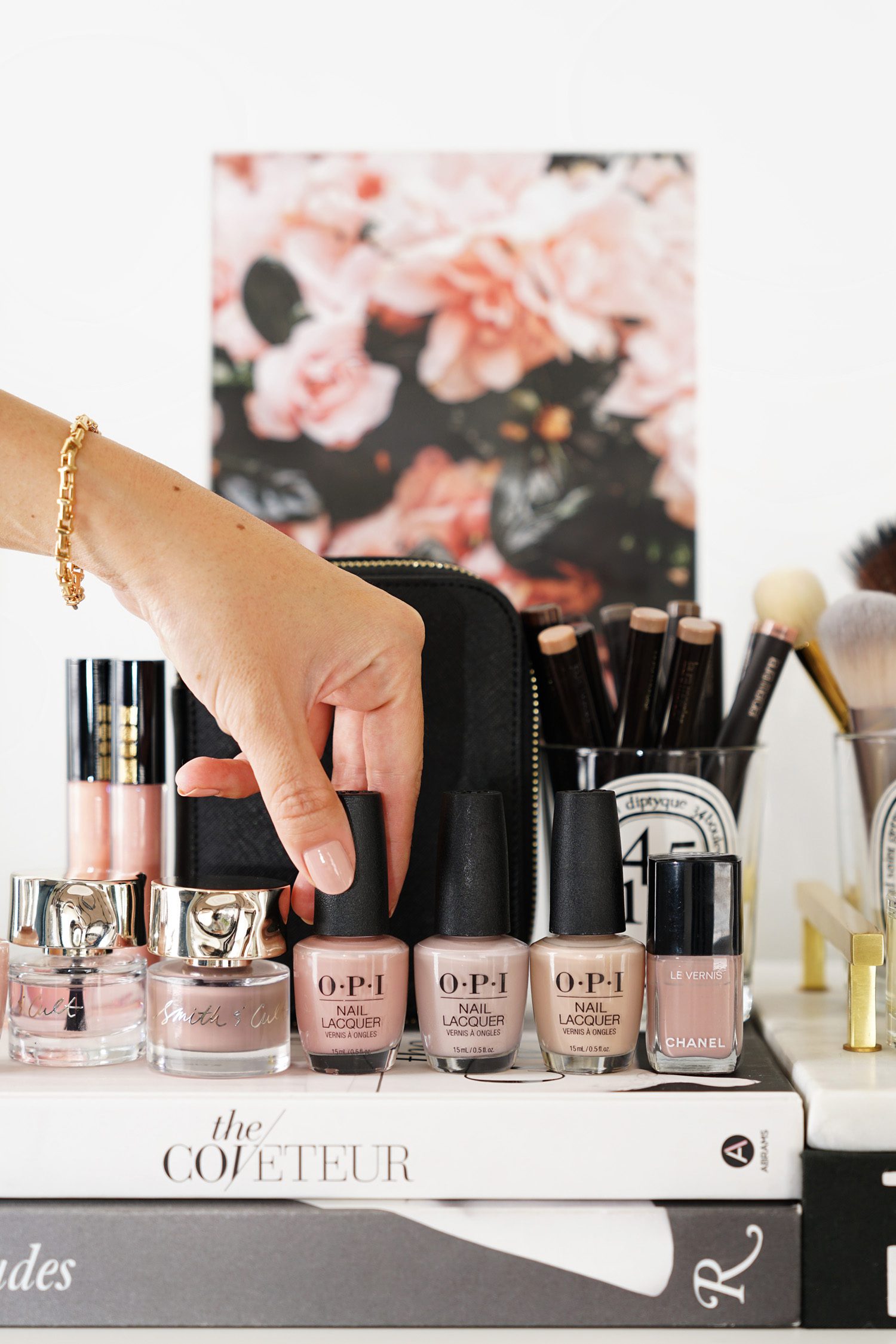 By popular request I'm sharing my top five most worn neutral nail polishes. I've done a few rounds of my favorite neutrals in past years and these days I feel like it's all I want to wear on my fingers. I'm constantly asked for neutral polish recommendations every single week! There are so many different definitions and variations of "nude" for polish. When someone asks me for a good everyday nude polish they can mean so many different things. Some think of a pale off white neutral, others a pink neutral, some envision a camel beige, neutral beige, pink beige, brown pink, mauve nude etc. What neutral looks like also depends on skin tone and how well the color matches or contrasts with your skin tone.
I like something that is lighter or a lot lighter than my skin tone. Something that matches exactly ends up looking like mannequin hands which is not a good look on me. These are my current top five nude nail polishes I wear the most and also always get compliments or questions on.
Top 5 Neutral Nail Polishes for Sabrina
____________________
Smith and Cult Peaceful Paranoia is a neutral creamy neutral cool beige-pink that flashes iridescent pink. It is one that matches my skin tone fairly close but has enough contrast to give a polished look. Marc Jacobs Flourescent Beige is similar but something about the mauve-grey base didn't go well with my skintone. More swatches of Peaceful Paranoia here.
____________________
OPI Machu Peach-U is the most perfect neutral nude peach ever made. I'm so sad it appears to be limited-edition. If you can locate it buy it immediately. It's part of the Peru Collection and I think it should be made permanent! I was able to find some at my local Ulta even though it's not online. You can still find it on Amazon.
____________________
OPI Tiramisu for Two has been a go-to neutral beige pink for years. I love that it has full smooth coverage and doesn't turn or look yellowish on the hands. It has a tiny bit of pink/cool undertone to prevent it from looking too beige. It's the perfect everyday neutral. OPI has so many great neutrals but a lot of them are sheer. This one is opaque which makes it a winner in my book.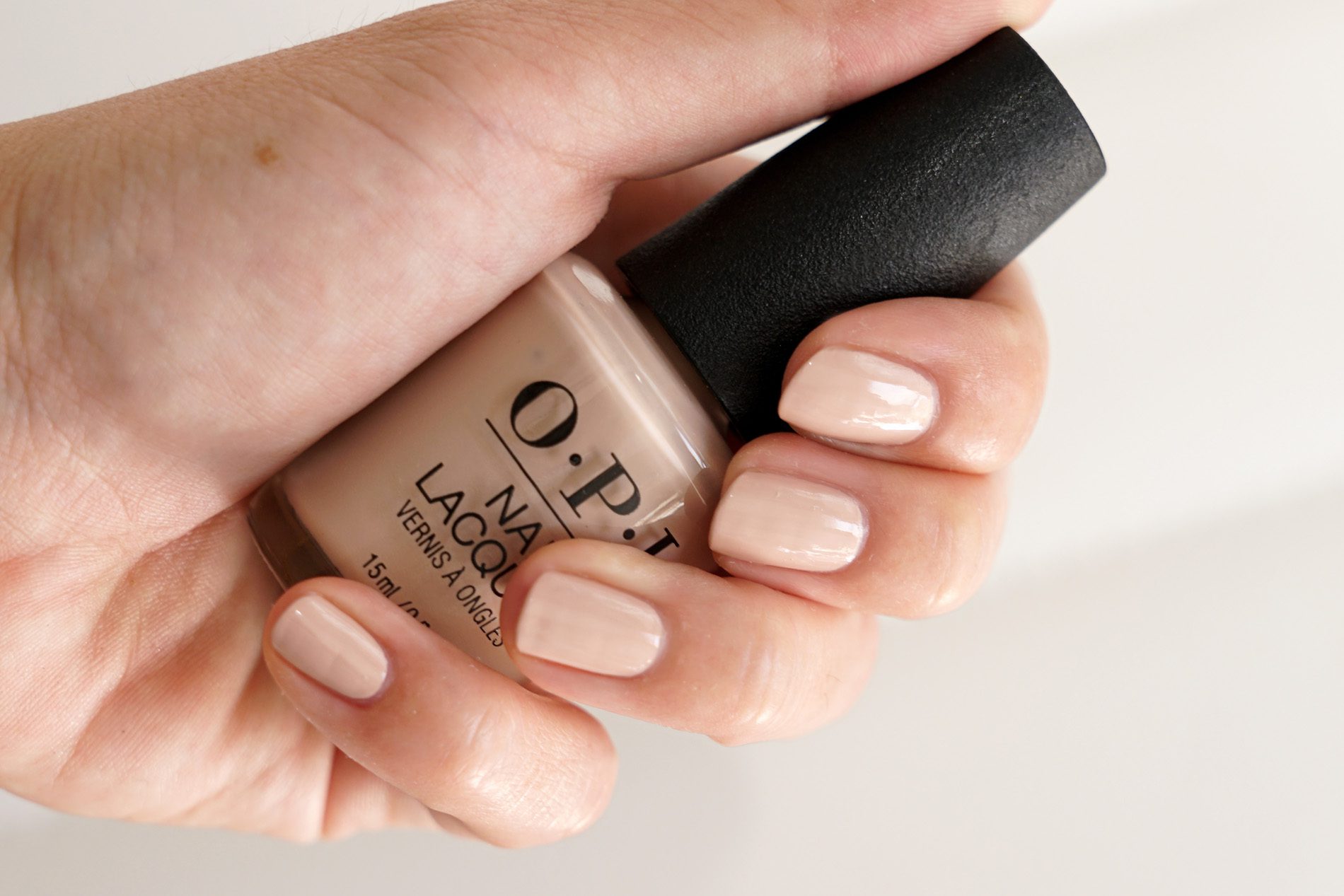 ____________________
OPI Samoan Sand is one of the sheer ones but it's not as sheer as Bubble Bath. I still need 3 coats for full coverage but for a beige it's really so perfect I don't mind. Finding a good beige nude is hard because of the yellow undertone in so many. It ends up making my skin look sallow. This has enough peachy undertone to make for the perfect sheer beige nude.
____________________
Chanel Le Vernis in Organdi is the most complimented nail polish I own (as listed in this post here). It's neutral and pink and just perfect for any season or occasion. It applies perfectly with just two coats. The Le Gel Top Coat is the best one to make Chanel polish last.
____________________
I wanted to add one more swatch for you since so many of you sent me Direct Messages about the spring colors from Chanel. I was pretty let down by the offerings this season (and last season too) so I only bought 2 of the spring nail polishes. Neither made my heart sing even though I really tried to love them. This Instagram post I did about the Bleached Mauve Le Vernis was one of my most liked posts on Instagram this year though which means it might be right up your alley! It matches two of their Rouge Coco Glosses which I love in 714 and 716 so I thought it would be perfect, but I'm sad to report that it did not work for me. It's too brown/warm but maybe my skintone isn't the right shade to go well with this. I feel like OPI's Dulce de Leche is close but has a tiny bit more pink to make it more wearable. I do think the new Pierres de Lumiere polish colors look absolutely stunning based on stock photos. The entire collection just launched online.
Runner ups for color:
Other recommendations:
I've accumulated quite a few polishes over the years. My 2017 favorites linked here. I've since found myself wearing the same neutrals more often on the fingers. Recent pink polish colors have been from the OPI Tokyo Collection which I'll review soon (Rice Rice Baby and Another Ramen-Tic Evening are perfect!). On the toes I often do nudes or bright corals. I don't have any go-to rule about mixing or matching nails on tips and toes, I feel like you can really do anything your mood calls for!
Hope you found this helpful for my top 5 most-worn neutrals! Would love to hear about yours and what your definition of nude polish is!

Have a great weekend!