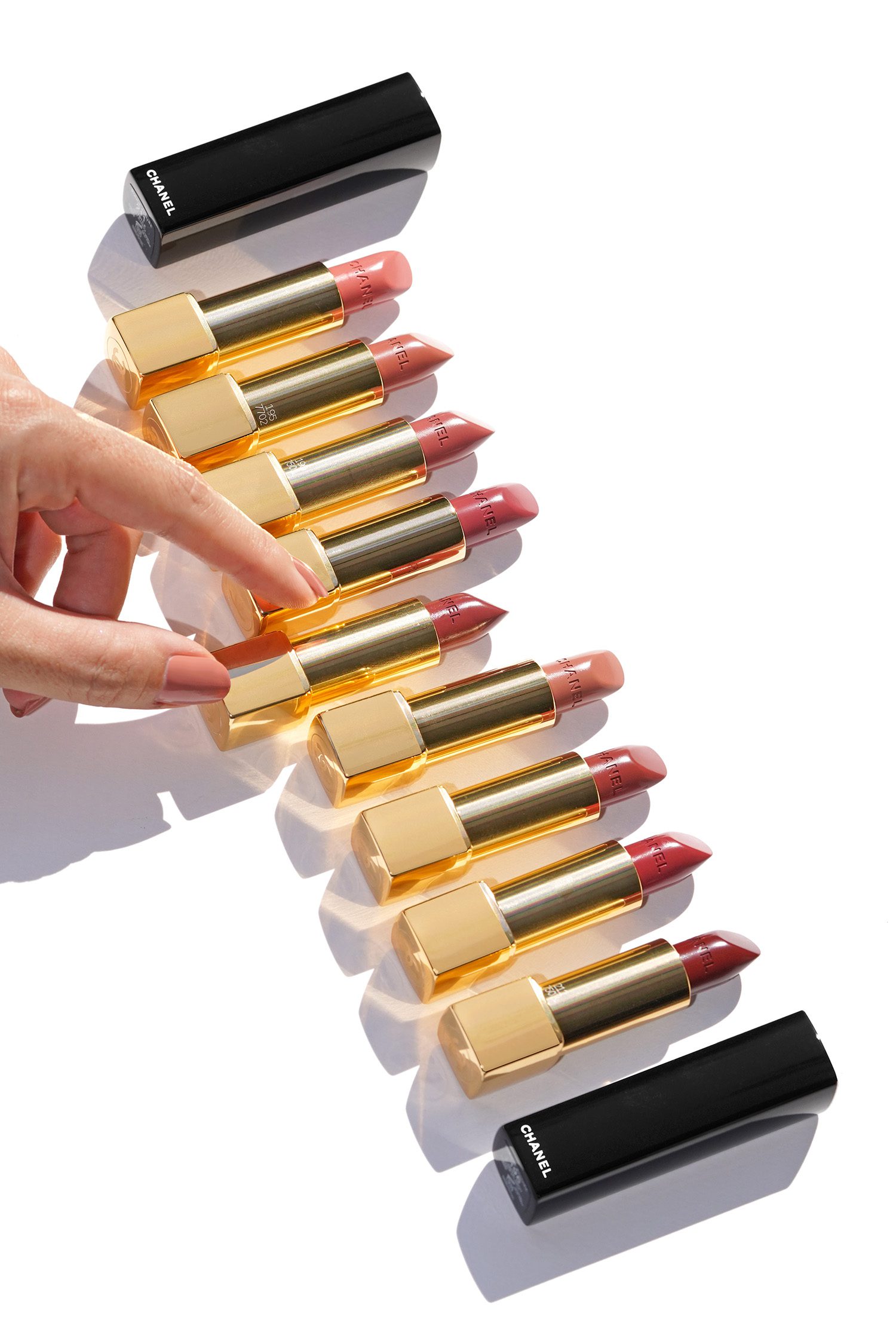 As promised I have a look at the new Chanel Rouge Allure Luminous Lip Colors ($45 each) for fall. I have 9 of the 12 new neutrals to share swatches of. As a neutral lip lover I could not be more excited for these! All of the colors are available now online at Chanel.com.
The Rouge Allure Lipstick is one of my long-time favorite formulas, although a number of my favorite shades were limited-edition or have been discontinued by now. This is a classic lipstick formula with a luminous glow. Glides on beautifully on the lips. Medium buildable coverage with most shades, the bolds being very opaque. These have a very subtle almost skincare scent but it's barely there.
Lasting power is medium – they have a glossy finish so they're not super long wearing but they will stay put as long as you don't have any contact with your lips. It's a formula I don't mind re-applying!
Colors for fall are in the neutral range. There are light shades, medium tones and deeper colors. I skipped the brown tones since I rarely end up wearing them. Every single color I tried has a beautiful smooth texture. The lighter shades are smooth and have very good pigment. The deeper tones are also smooth (no streaking or patchy texture).
In indoor natural light:
I received 5 shades in PR and then ordered some additional shades to review:
194 Sensibilite is a light peachy pink
195 Mise A Nu is a beige
196 A Demi Mot is a neutral medium pink
198 Nuance is a rose pink
199 Inattendu is a muted mauve brown
206 Illusion is a pale beige nude
209 Alter Ego is a soft brown
211 Subtile is a deeper berry
212 Caractere is a medium brown
Lip swatches below wearing:
So many great colors to pick from and I love them all. I cannot pick a favorite although I have been wearing 194 for several days and I also love 196 A Demi Mot and 198 Nuance. Have you checked these out yet? What colors do you have your eye on?
Fall 2022 Le Vernis colors swatched here.
You can find these available now online at Chanel and Nordstrom.