I hauled a few items from the latest No 1 de Chanel Skincare collection and have a review with some thoughts to share today! The lineup has products with their Red Camellia extract and oils to refresh and hydrate the skin. You can find the collection now at Chanel.com and Ulta Beauty. What I hauled:
I skipped most of the new skincare and tested everything with other Chanel skincare items I own and love including the Hydra Beauty Water Cream, Hydra Beauty Micro Serum and La Solution 10 de Chanel. The new foundation formula worked beautifully with these.
Revitalizing Foundation
The No 1 de Chanel Revitalizing Foundation is a fluid illuminating foundation with sheer-medium coverage. It's very lightweight with a nice glowy finish. On its own it's very glowy but I liked that it wasn't greasy feeling. It has a plumping smoothing effect on the skin with the Red Camellia Oil. Finish has medium lasting power even when set with a powder. Since it's dewy/luminous adding a powder on top will cancel out the shine and glow with most formulas. I found the Les Beiges Healthy Glow Sheer Powder added on top helped set and tone down the shine but still allowed the glow to show through.
I picked B40 and BD41 and my perfect shade match now is BD41. I also picked up B50 for summer.
Overall feels and looks nice on the skin. If you have oily skin it may be too hydrating for you. Right now it works for me but in the summer months I suspect I will gravitate more towards the Les Beiges Healthy Glow Foundation or CC Cream.
Compared to the Les Beiges Moisturizing Tint the new No 1 de Chanel Revitalizing Foundation has more coverage, a more fluid texture and is more lightweight.
Just the Revitalizing Foundation in BD41 on the skin:
Full makeup look wearing:
Swatches below compared to other formulas including the Charlotte Tilbury Beautiful Skin Foundation in 6 Neutral, Les Beiges Healthy Glow Moisturizing Tint, Les Beiges Healthy Glow Foundation and NARS Light Reflecting Foundation.
Lip and Cheek Balm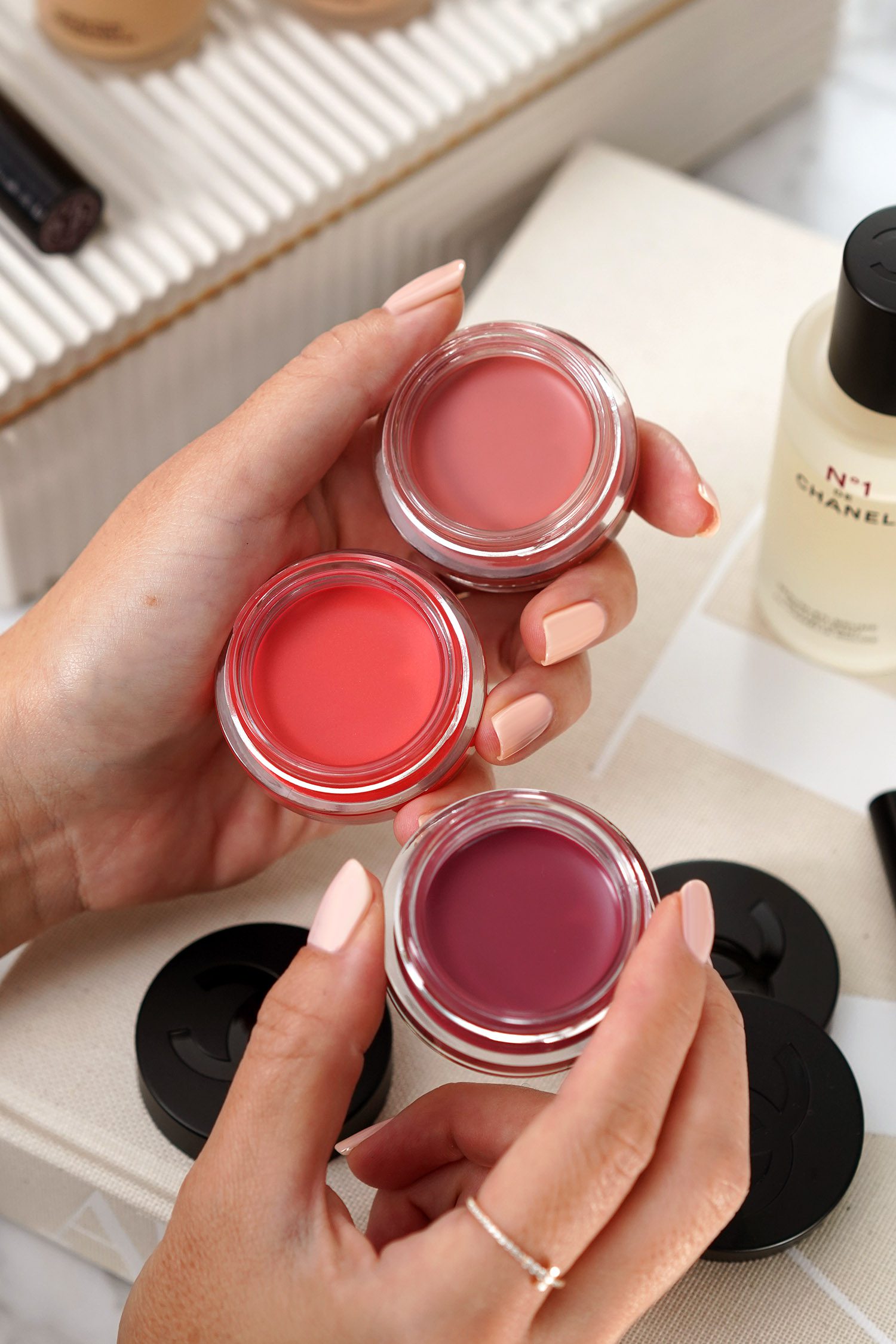 There are six shades of the Revitalizing Lip and Cheek Balms. I picked three to try knowing that there would be a chance I would not like these on the cheeks and I was right. These are luminous tinted balms. Applied with the fingers you will get a more lightweight tint but if you apply them with a lip brush you will get more pigment.
I have mixed feelings about these. They're not bad, the quality and performance is quite good. But they are too dewy for my personal taste on the cheeks and I found they had no dry down which makes them have a sticky texture. They have a more sticky/tacky feel compared to the Baume Essentiel sticks but have the same amount of glow/shine in the finish.
On the lips they're more comfortable and easier to wear but I would have preferred something in a twist up stick format instead.
Healthy Pink is a medium nude pink color, applied on lips (with lip brush) + cheeks
Wake-Up Pink is bright coral pink on lips + cheeks 
Lively Rosewood is a mauve plum (on lips + cheeks)
No 1 de Chanel L'eau Rouge Fragrance Mist and Revitalizing Serum-In-Mist
The last two items I hauled are my favorite! The No 1 de Chanel L'eau Rouge Fragrance Mist was a huge surprise for me. It has a soft refreshing soothing kind of scent to it. To me it's hard to describe, it has a similar vibe to the Hydra Beauty skincare line and also smells like some of the Shiseido skincare line. Chanel describes it as:
"Opening with an energetic burst of citrus and red berries, the scent unfurls into a heart of jasmine and rose, the iconic signature of the House's fragrance, along with comforting iris and musk notes."
To me this is a must-have but I know scent is so personal it might not be for everyone. It's currently sold out at Chanel but still available at Ulta and I am ordering a backup.
I also really adore the No 1 de Chanel Revitalizing Serum-In-Mist. It's a bi-phase formula with Red Camellia Oil and camellia water for a dewy refreshed mist of moisture. The oil is noticeable on the skin but it's still lightweight. If you don't like the emollient feel I'd recommend their Hydra Beauty Essence Mist instead for a more lightweight feel.
Overall some nice pieces in the collection. I think the foundation is beautiful but it's not my favorite simply because I prefer something with more coverage and something less dewy. The stand outs are the L'Eau Rouge and Revitalizing Serum-In-Mist. I like the concept of infusing makeup with skincare.
Shop the Post
Available now at Chanel.com and Ulta Beauty. I suspect it will be available at other stores soon! Have you checked out anything from the collection? What did you think?