I'm excited to share a roundup of Celine Fragrance Collection today! I love all things Celine but only recently tried their perfumes while in Miami over the holiday. During our most recent trip one of the associates walked past me and I had to stop her and ask what she was wearing. She pulled out the Parade fragrance and it was love at first spritz. I bought the 3.4 ml of Parade ($255) along with the Ivory Travel Spray Case ($135) and travel refills ($100 for a set of 2) and I've been wearing it nonstop since Christmas.
I shared a sneak peek of my Celine haul on my stories back in December and I received a record breaking amount of DMs about the perfume line. Which ones did I try in store? What are the best ones? What did I think about Black Tie? Reptile? I actually only smelled that one scent Parade while I was in store. I liked it so much I didn't even think to try the others but my curiosity got the best of me and I ordered the Coffret Miniature II Discovery Set ($385 for 10 minis x 0.34 fl oz each).
After testing all 10 in the set I still think Parade is the best but there are definitely 3-4 others I could see myself wearing. I've reviewed these in order of my favorites (most favorite to least). On me all of these have really good lasting power. For Parade I notice that I don't smell it on me after around 4 hours but I think my nose just gets used to it. Andrew can smell it on me long after I can't smell it on my skin.
The packaging and presentation is stunning with these perfumes. Very simple and streamlined and they come with a magnetic cap. The full sizes come in two options 3.4 fl oz or 6.8 fl oz. I bought the smaller one.
Now a look at all 10 perfumes in the set. Quick note that at this time there's one more scent that's not in the set that I didn't try Bois Dormant.
PARADE
BERGAMOT, NEROLI, VETIVER, MUSK, OAK MOSS
Parade is one of the most unique beautiful citrus scents that with a juicy sparkling bold vibe. It could definitely be unisex as it's not an overly sweet citrus. The bergamot is balanced with the vetiver and oak moss. You girls know I love the Les Eaux de Chanel in Biarritz and Riviera (also citrus scents). Both of those are lighter and brighter while the Celine pulls a bit more complex and mossy.
_______
DANS PARIS
BERGAMOT, CORIANDER SEED, LAUREL BLOSSOM ACCORD, MUSK, VANILLA
This is my second favorite in the lineup! It's a unique light vanilla scent. Smooth and well balanced, slightly sweet, not too heavy or rich, has a powdery vibe slight hint of musk. The laurel blossom adds a really interesting mix that adds a tiny bit of freshness. It has a subtle floral feel, but mainly has a vanilla feel to it.
_______
SAINT-GERMAIN DES-PRES
NEROLI, PETIT GRAIN, WHITE ORRIS BUTTER, HELIOTROPE, VANILLA
Saint-Germain Des-Pres is another beautiful scent. It's a fresh powdery vanilla citrus floral mix. The powdery feel is subtle but definitely there. The vanilla adds some warmth and petit gran adds some earthy vibe. The neroli adds some green freshness. The mix is really unique and fresh. Smells like a breath of fresh air.
_______
BLACK TIE
WHITE ORRIS BUTTER, CEDAR, TREE MOSS, VANILLA, MUSK
Black Tie is a beautiful vanilla. This one to me is the most vanilla-dominant scents. It has a powder sweet feel but still super smooth. For me I love the idea of a good vanilla scent but finding one I can wear can be a bit tricky in the hot humid months. This is different from any of the others I've tried and loved and I think it is one I could wear year round. While I love Diptyque Eau Duelle, Creed Sublime Vanille, Guerlain Spiritueuse Double Vanille – they pull stronger and rich. Celine Black Tie has a smoother feel to me.
_______
LA PEAU NUE
BERGAMOT, ROSE ABSOLUTE, WHITE ORRIS BUTTER, RICE POWDER, VETIVER
La Peau Nue is a fresh soft floral and slightly green and powdery. Smooth and clean without being too crisp. Has a very luxurious soft hint of rose. Almost like a well-balanced fresh rose with a watery vibe in the sense that it smells fresh.
_______
EAU DE CALIFORNIE
BERGAMOT, WHITE ORRIS BUTTER, PALO SANTO ACCORD, TREE MOSS, PATCHOULI
Eau de Californie is a scent that Andrew picked out on one of our trips and it smells amazing on him. It's an amazing combination with a sophisticated vibe. It's a little smoky, earthy and woody. The bergamot notes adds some freshness and rounds it out beautifully and to me prevents it from being too smoky. I tried this and like it better on him. I found it really potent on me but it pulls more subtle on him.
_______
COLOGNE FRANCAISE / RIMBAUD / REPTILE / NIGHT CLUBBING
COLOGNE FRANCAISE
NEROLI, FIG TREE, WHITE ORRIS BUTTER, TREE MOSS, MUSK
Cologne Francaise pulls very masculine to me. Stronger and more potent than Eau de Californie. It has a more of a green feel with the fig and tree moss. To me this smells like a classic men's cologne.
_______
RIMBAUD
LAVENDER, NEROLI, ORRIS BUTTER, WHEAT ACCORD, MUSK AND VANILLA NOTES
Rimbaud is another interesting mix. I'm one who loves lavender in a candle or bubble bath but not really a fan of wearing it. Rimbaud is a lavender perfume with a complex mix. The lavender dominates while the mix of neroli, musk and vanilla make for a really interesting perfume. It's so hard for me to describe but you can definitely smell each of the notes as it dries down on the skin.
_______
REPTILE
CEDAR, PEPPER, TREE MOSS, LEATHER ACCORD, MUSK
Reptile is one I've seen quite a few reviews for! It's another leather + woody scent with heavy mix of cedar and moss. This has a very smooth kind of feel to it. Not one I can see myself wearing but I am going to try to convince Andrew to try this one. He's a die-hard loyal fan of Creed scents and it's pretty much all he wears these days aside from the Eau de Californie.
_______
NIGHT CLUBBING
GALBANUM, WHITE ORRIS BUTTER, PATCHOULI, TREE MOSS, VANILLA, MUSK
Nightclubbing is such a unique scent. I think it would smell amazing on Andrew but this is one that did not work well with my body chemistry. It smells amazing in the bottle or spritzed on paper but turned on my skin (in a not so pleasant way). If you like scents heavy on the musk and patchouli with a hint of vanilla this one is worth checking out.
_______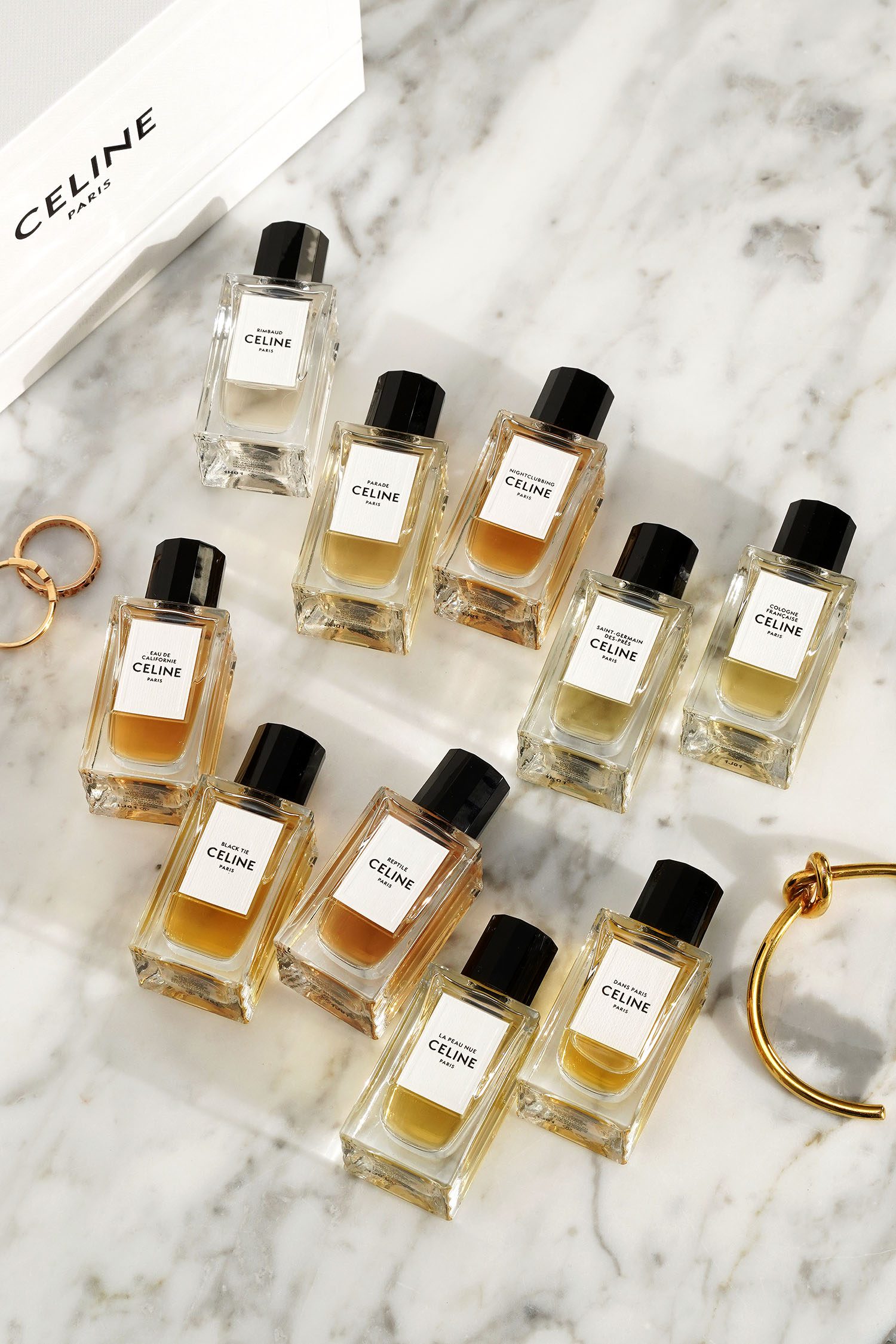 Out of the 10 I tried my top 5 are Parade, Dans Paris, Saint-Germain Des-Pres, Black Tie and La Peau Nue. The Discovery Set is stunning and although it's extremely pricey they give you a decent amount to sample. I wish the bottles had spritzers instead of the twist off caps and then I would rate it 10/10.
Parade is still my favorite and since these perfumes are spendy I don't know that I'll be buying a full size of any others yet. I have a lot of perfumes I want to work my way through anyways. Celine also carries a collection of candles and stunning candle accessories but I did not want to tempt myself so I didn't allow myself to even look at them while I was in store.
If you want to see what I hauled over the holiday I posted a reel on Instagram!
View this post on Instagram
That wraps up my Celine fragrance review. If you order a full size perfume online they provide samples for you to try first. The set and standard perfumes are sealed in a clear cello wrapped so as long as the wrapping is still intact they'll allow you to return. I wish they sold the smaller samples – I hope they will in the future!
Available online and in stores at Celine.
Have you tried Celine perfumes? What did you think?