It's been a while since I've done a What's In My Bag purse review! I'm still really loving minis and one of my favorites right now is the Celine Belt Bag in the Pico size. Long time readers might remember I used to own the Mini (which wasn't really mini) when they had only 2 sizes. I was a huge fan of the Belt Bag in the Mini when I owned it. I loved it so much I bought it in two colors! I loved them while I owned them. When Celine came out with smaller options I felt they would be much better for my height and frame but it seemed redundant to own the same bag in multiple sizes. I sold them in one of my blog sales. They've since discontinued the largest size and now have it available in the Mini, Micro, Nano and Pico. You can find the size information, colors and pricing on the Celine website under their Belt Bag section.
I splurged on the Pico Belt Bag in the color Light Taupe for my birthday. I purchased it from the Celine store in the Miami Design District and was debating between the Pico or Nano size. At 5'3" it can sometimes be hard to find a good size mini bag that doesn't overwhelm my height/frame. I love anything with a strap that I can wear crossbody too.
Reposting a photo of the Pico (in grey) vs Nano (in light taupe) from the Miami store in May. I think both sizes are super cute! They had some really fun colors when we were there last October but they were limited-edition and I'm a bit sad they're no longer available!
The Belt Bag I have is made of grained calfskin. It has a magnetic closure, zipper, removable crossbody strap and a handle at the top. The Pico Size currently retails for $1,850 and measures 6 x 5 x 4 IN (15 x 13 x 9 CM). It fits my iPhone 11Pro with a lot of extra room to spare. There are no pockets inside, it's one large open compartment.
I've only been using this one for a few weeks but love it. The magnetic closure was cumbersome to open and close in the larger size but I think it was because of the weight and size of the larger variation. The Pico (and even the Nano I tried) is still very secure with the zipper and magnetic closure but is easier to get things in and out of.
The bag fits quite a bit more than I thought it would! Since it has a single compartment without any pockets or separators I can fit in more than I do with the Tory Burch Perry Bombe Bag. Also because the shape isn't round like the Chloe Mini Marcie I feel like I can fit more inside this Celine style.
A lot of you asked me how durable it is with color transfer. Since moving to Florida I have not worn dark colored denim as much, mainly because of the heat – so I have not had any issues with dark jeans transferring onto light colored bags. That being said I do remember wearing a lot of dark denim while living in San Diego and never had an issue with transfer on the bag I owned back then.
What I can fit inside below. I don't always carry a lot but I find as the week progresses I usually accumulate a bit more and more items as each day goes on. I empty, clean out and rotate weekly.
Small wallet or card case (Gucci or Celine)
Hand Cream (Chanel)
Hand Sanitizer (Aesop)
Multiple lip products
Lip Balms (from Fresh)
Lip Pencils (swatches below)
iPhone
Sunglasses will fit without the case, although I rarely stick them in a bag without a case because they'll get scratched
Keys
Mini perfume (love the Jo Malone minis)
My two favorite small leather goods right now are the Celine Coin and Card Pouch in the white Triomphe Canvas and the Gucci Leather Card Case Wallet.
The Celine Coin and Card Pouch has one compartment. It's a zippered style with a key ring attachment. There are no pockets inside. Also comes in a few other colors. Measures 5 x 4 inches.
The Gucci Leather Card Case Wallet is a classic style and super durable. Closed it measures 4.3" wide x 3.3" high x 1.2" deep. This particular style comes in a few patterns and material options. I love how compact and functional it is! I don't carry a lot of cards with me so this is perfect for my drivers license and 3 cards (but you can fit a few more cards inside too). There's a zippered compartment for coins and also room for bills.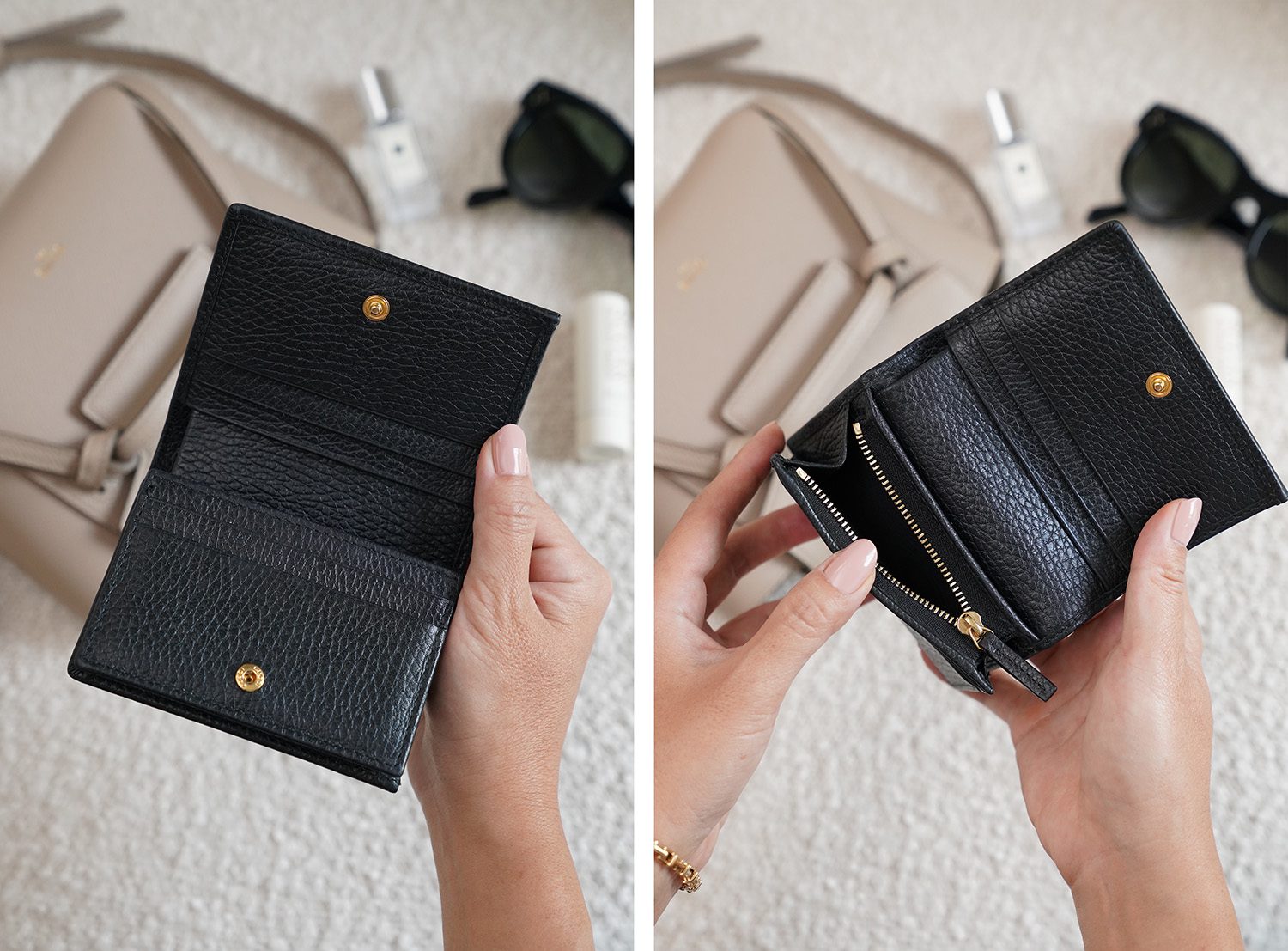 I'm almost never without some kind of hand product. I really like the Aesop Hand Sanitizer and Chanel La Crème Main (because it has a velvety dry down). Fresh Beauty makes some of my favorite lip balms and I wanted to let you know they're having 25% off sitewide SALE with code 25OFF now through 6/29 online at Fresh.com. My favorites include the Rose Petal-Soft Lip Cream, Sugar Lychee and Sugar Advanced Therapy.
I don't know why I always end up packing in so many lip products but I am thrilled to hear from so many of you that you also tend to carry more than one lip product with you as well. My favorite gloss is the Pat McGrath LUST Gloss. I love so many of the colors, in particular Peach Perversion and Flesh Astral. Dior Nude Look 100 is my perfect everyday nude pink lip for the Lip Pencil and Rouge Dior lipstick. I also ordered the Rouge Forever Liquid Transfer-Proof Lipstick in Forever Nude 100 which is a nice nude rose pink with a matte finish. (I still prefer the lipstick formula.)
I swatched a few other nude lip pencil favorites for reference below: Chanel Le Crayon Levres in Nude Brun and Rose Naturel, Charlotte Tilbury Lip Cheat in Pillow Talk, Sisley Lip Liner in Beige Naturel, Huda Beauty Lip Contour in Terracotta, Dior Lip Pencil in Nude Look and Pat McGrath Permagel Lip Pencil in Buff.
Outfit wearing: Rag and Bone Tee, Agolde Parker Shorts, Tory Burch Miller Cloud (summer sandals review here)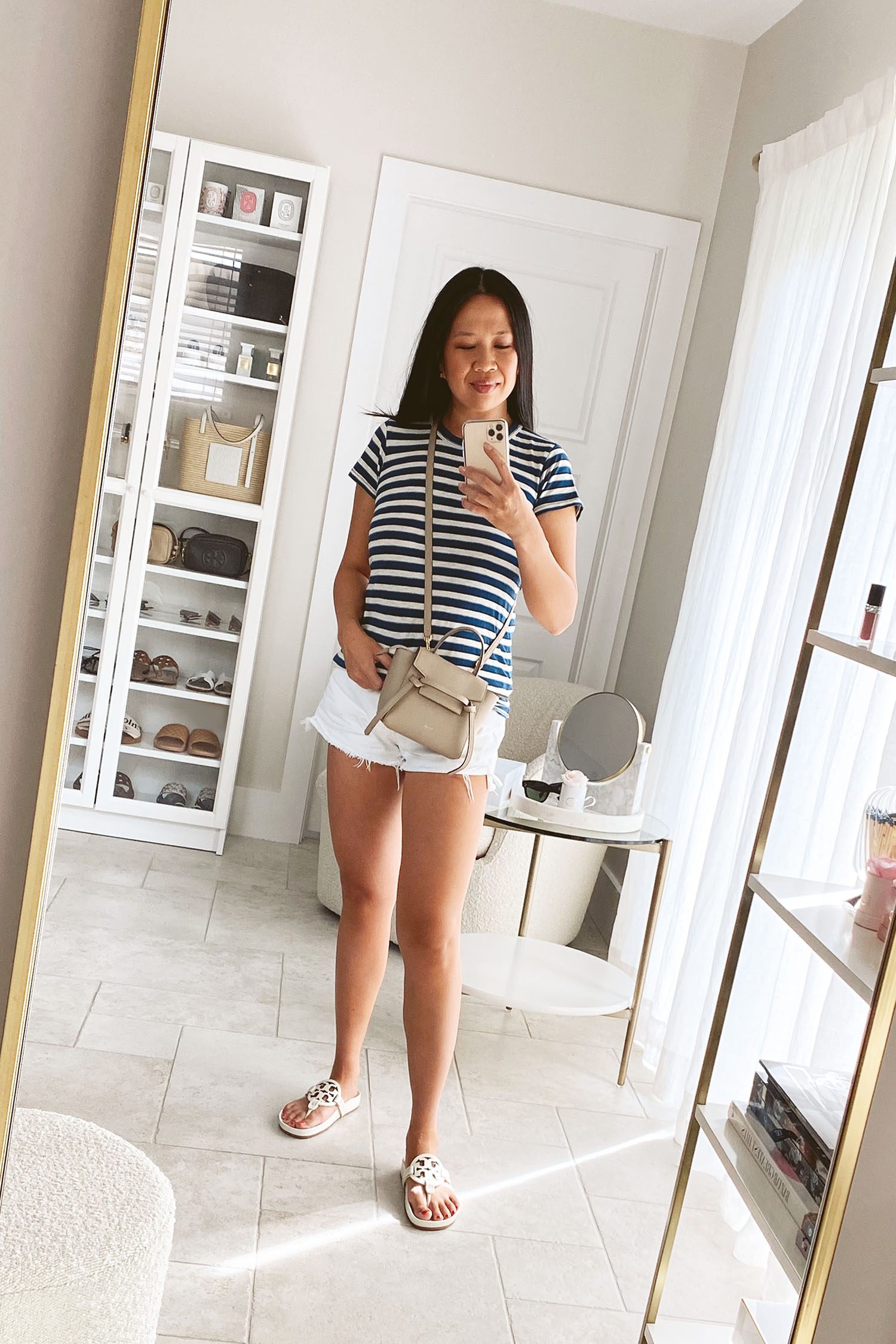 Hope you found this review helpful! You can find Celine at their boutiques and online at Celine.com. Also available in stores at select locations for Nordstrom, Neiman Marcus, and Saks Fifth Avenue. Do you have a favorite mini bag right now? Or do you mainly carry larger totes?
Shop the Post: