I have a MAC haul to share today with swatches and a few beauty looks! I haven't been this excited about a MAC launch in a long time and I have a MAC Loud and Clear + Glow Play Blush haul today. Several things have already sold out so if you haven't checked out the collections yet you may have to do a bit of hunting. If you have your eye on anything I highly recommend buying sooner than later. I found mostly hits with the two collection launches and have a few misses.
Glow Play Blush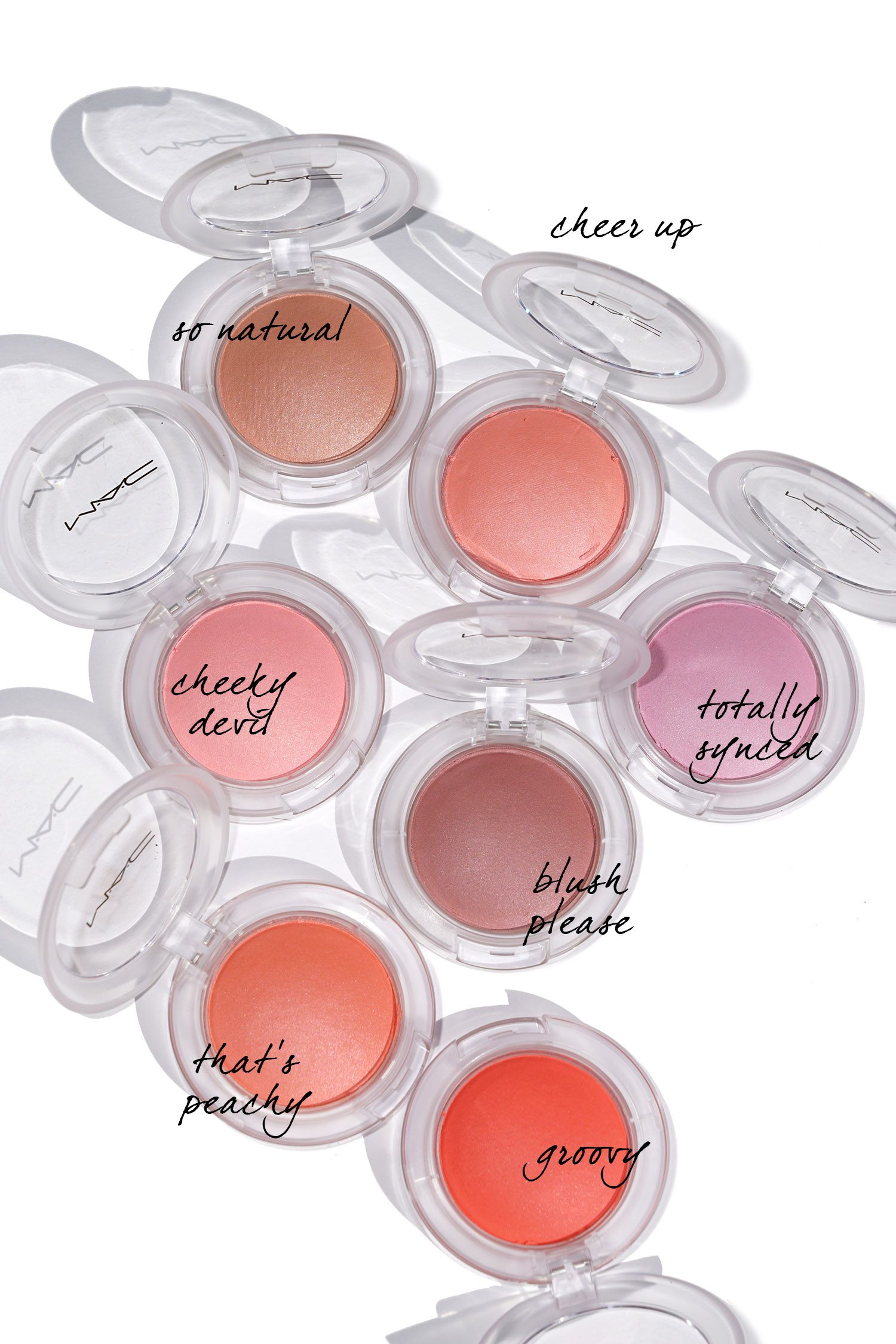 The Glow Play Blushes ($30 each) are a unique cushiony creamy blush. They have almost a bouncy feel and apply like a hybrid cream-powder. The colors are buildable and also easy to blend out but there were a couple of shades that didn't show up on my medium skin. Colors I hauled:
Totally Synced is a pale lavender, I swatched with a very heavy hand below, on my face it is quite a bit more sheer, for this one to show up I have to layer heavily and once layered, the purple pink is a bit odd on my complexion
So Natural is a gorgeous natural beige with a hint of shimmer, this is a very natural color, I also have to layer heavily for this to show up, but I really like that it gives a super natural contour on my face
Blush Please is a really pretty natural mauve rose with a slight sheen
Cheeky Devil is an ultra pale pink, it's sheer so it barely shows up on my skin
Cheer Up is another light pink, this is also lighter on my complexion and is most likely going to be best for fair to light skin tones
That's Peachy is a pretty soft peach (my favorite!)
Groovy is a bright coral peach that I think will be perfect for summer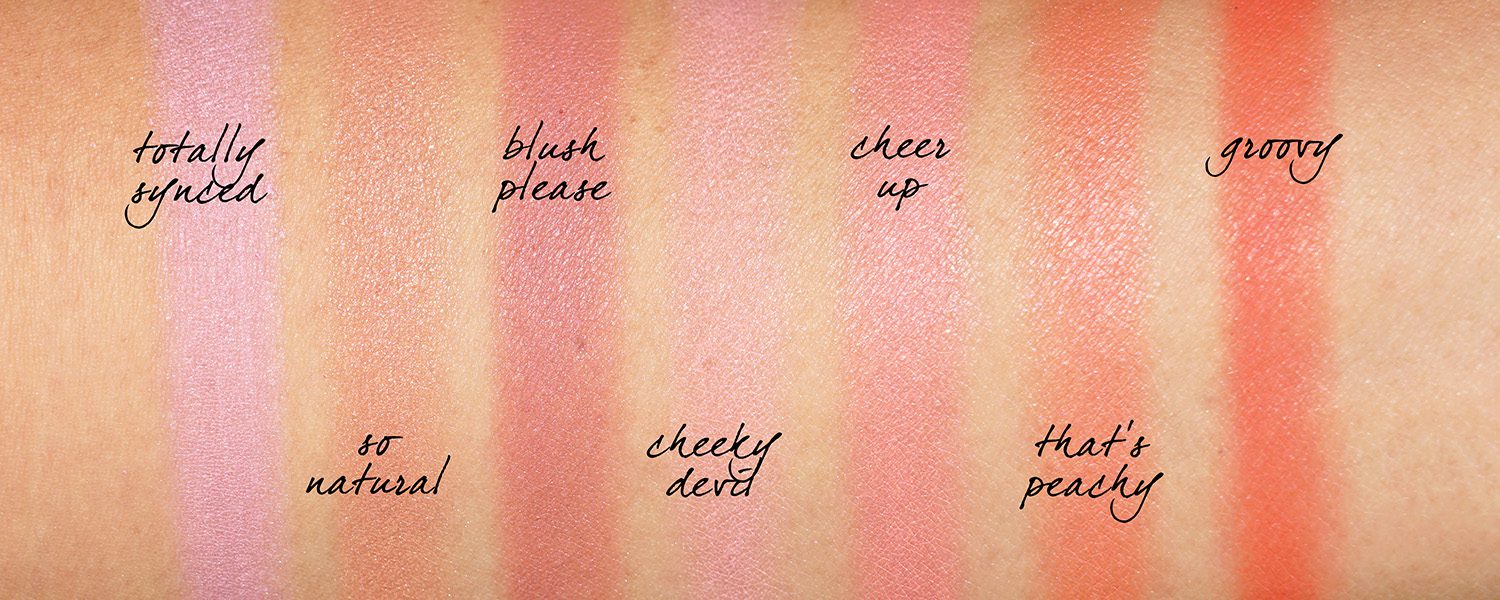 On my skin I found they lasted all day and blended in seamlessly to the face. They have a slightly creamy feel but dry down to a powdery finish. Texture is really quite nice! My only hope is that the formula won't dry out in the compact eventually as it's not sealed 100% and these do feel like creams.
Loud and Clear Lipglass
I am in love with all of the Loud and Clear Lipglass colors ($18.50 each) – some of the colors are a bit light for my pigmented lips but they layer so well with lipsticks or a liner.
Deco A-G0-Go is a pale milky beige, best when layered with a lipstick to soften the color
Female Gaze is the prettiest sheer shimmery beige
Heart Heist is a pale milky blue-based pink
Painted Lady is a perfect light peach
Voyeur Is Me is a 90s like pink brown cream
Loud and Clear Lipsticks
By the time I ordered the Loud and Clear lipsticks a lot of the colors were sold out. Colors I picked are all full coverage, creamy, smooth and last long on the lips:
Sugar Sweet Cameo is a pale peach, this is a bit light for my skin, I pair it with a slightly deeper liner and blend with Stripdown, Whirl or Boldy Bare
Fleur D'Coral is a bold coral pink
Yash is a repromote and part of the regular lineup, this is one of my favorite nudes
Baroque the Internet is the prettiest rose pink matte
Loud and Clear Eyeshadows
Most of the Loud and Clear Eyeshadows looked like mattes and they seemed similar to existing colors. I picked two to try and I found these to be disappointing in texture. They feel ultra dry and aren't the easiest to blend. They're more pack on and pat kind of colors for me. I was able to use these to smoke out the eye and pigment is decent. I'm calling these a miss mainly because of the texture.
Omega is a repromote which is a matte grey
Bougie Babe is a matte brick red brown
Loud and Clear Extra Dimension Skinfinishes
The best items in the collection for me are the Extra Dimension Skinfinishes. These have a really pretty flattering undertone and the shimmer is just perfect! Finish is smooth, pigment is medium but buildable, shimmer isn't too strong.
Post Modernist Peach is a shimmery champagne gold
Hot Damnoiselle D'Avignon is a shimmery peach gold
_______________________
A few makeup looks with some different combinations. Right now I'm in between NC30 and NC35, pulling closer to NC35.
Look 1:
Foundation – Tom Ford Soleil Glow in 6.0 Natural
Powder – MAC Studio Fix Powder in NC35
Eyeshadows – MAC Pigment in Tan, MAC Eyeshadow in Omega + Bougie Babe
Brow – Anastasia Brow Wiz in Soft Brunette
Eyeliner – Victoria Beckham Kajal in Black
Blush – MAC Glow Play in That's Peachy
Lips – MAC Lipstick in Yash + Lipglass in Female Gaze
_________________
Look 2:
Same base + eyes as above
Blush – MAC Glow Play in Blush Please
Lips – MAC Lipstick in Baroque the Internet
_________________
Look 3:
Same base + eyes as above
Blush – MAC Groovy
Highlighter – MAC Post Modernist Peach
Lips – MAC Lipstick in Sugar Sweet Cameo + Lipglass in Deco A-Go-Go
_________________
Look 4:
Same base + eyes as above
Blush – MAC So Natural
Highlighter – MAC Hot Damnoiselle D'Avignon
Lips – MAC Lipglass in Painted Lady + Lip Pencil in Subculture
_________________
Overall some really lovely easy to wear launches for spring! My top picks are the Glow Play Blushes in So Natural, That's Peachy and Groovy alongside the Extra Dimension Skinfinishes in both colors! I think the lip colors can be easily duped although I do like how the lipsticks and lipglasses layer together in this collection.
You can find the MAC Glow Play Blushes and Loud and Clear Collection out now. I hauled my picks from Nordstrom and MAC.
Have you checked out anything from these launches yet? What did you think?