I'm excited to share a look at the Rouge Hermes Shiny Lipsticks today! I'm late to review these as I picked these up over a month ago. We've been traveling so I'm a bit behind on reviews! These are limited-edition colors for spring but they're still in stock at Bloomingdale's, Neiman Marcus and Hermes. They are very steep in price at $72 each but I think the colors and formula are so good, I feel they were worth the splurge for me.
These are translucent lip colors with a glossy finish. The color payoff is exceptional for something that has a translucent finish. They're pigmented but balmy and glossy with a slight transparent quality to them. The colors were inspired by a garden filled with light and water and I couldn't have described them better!
There are three colors:
Beige d'Eau is a sheer beige but still shows up as alight peachy beige on my lips
Orange Capucine is my new favorite bright coral orange, bright but wearable
Rose Nymphea is a gorgeous bright cool pink lilac, surprisingly wearable on my olive complexion even though it's more cool-toned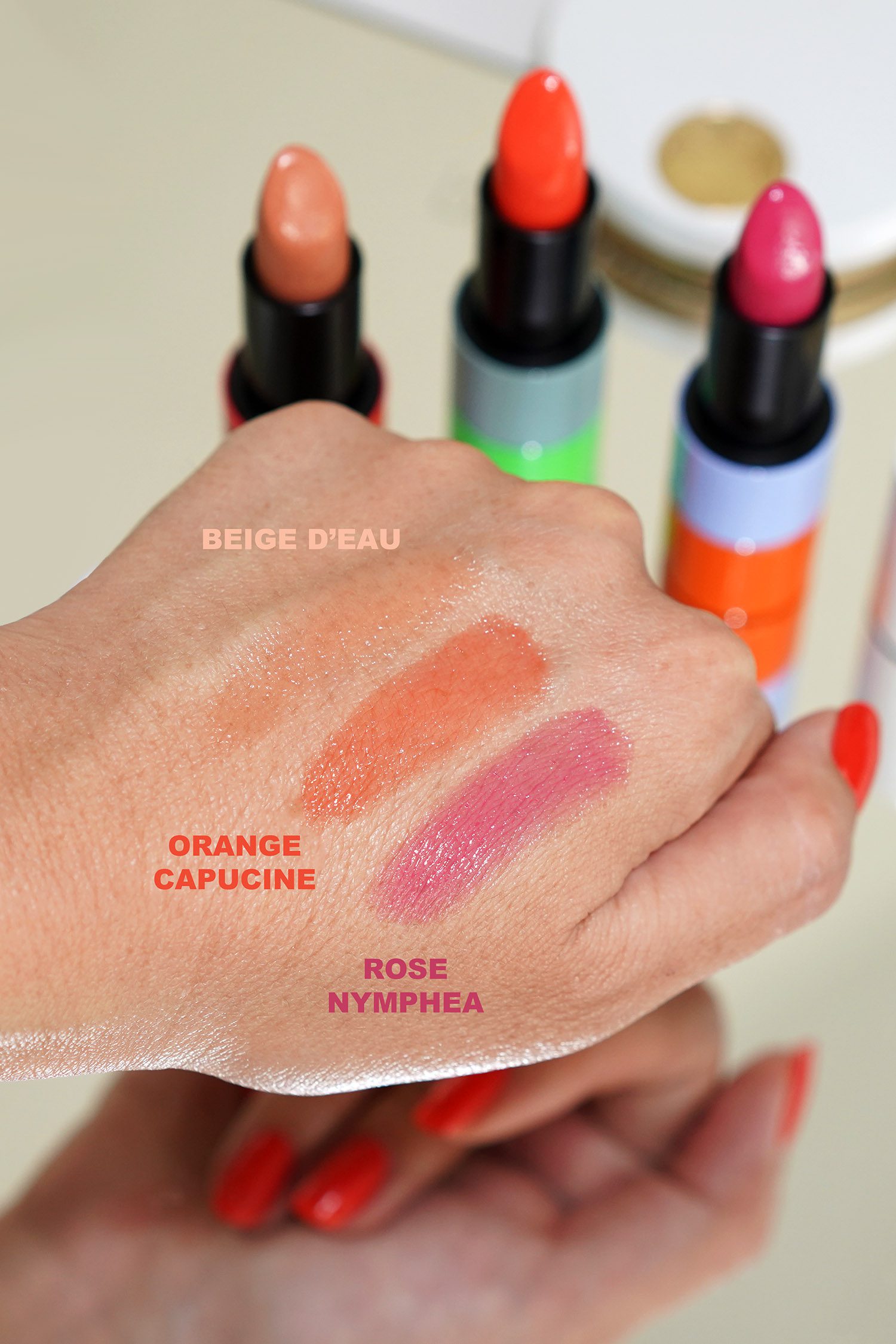 Makeup worn:
Texture is smooth and glossy. They have an almost balm-like feel. The colors are flawless and bring the complexion to life! I love that they're bright but not too bright. These make for a nice change from my everyday neutrals. If you can splurge I highly recommend these for both color and quality.
Also wanted to share a look at three of my favorite Hermes Nail Enamels ($45 each). These still are harder to find. They keep selling out on multiple sites but will pop back on every now and then. Sometimes Saks will allow you to pre-order online (how I got several of the colors). Some shades also available now at Bloomingdale's.
I've been asked if these are "worth the price" and I still don't think any nail polish is worth $45. I do love the formula, I think the colors are perfect and really flattering. I have no regrets with my splurges.
Rose Horizon is the perfect mix of pink and coral
Orange Poppy is a bright vibrant orange
Rose Incarnat is a bright pink
Formula has great lasting power (no chips or peeling). I can get 7 days of wear without any chips or tip wear although some sunscreens completely ruin my polish (top coat and all) so I don't always get to wear it for a full week. I've had Orange Poppy on my toes for nearly 3 weeks now and it's held up remarkably well.
Shop the Post
You can find the Shiny Lipsticks still available online at Bloomingdale's, Neiman Marcus and Hermes. Have you tried these yet? What did you think?